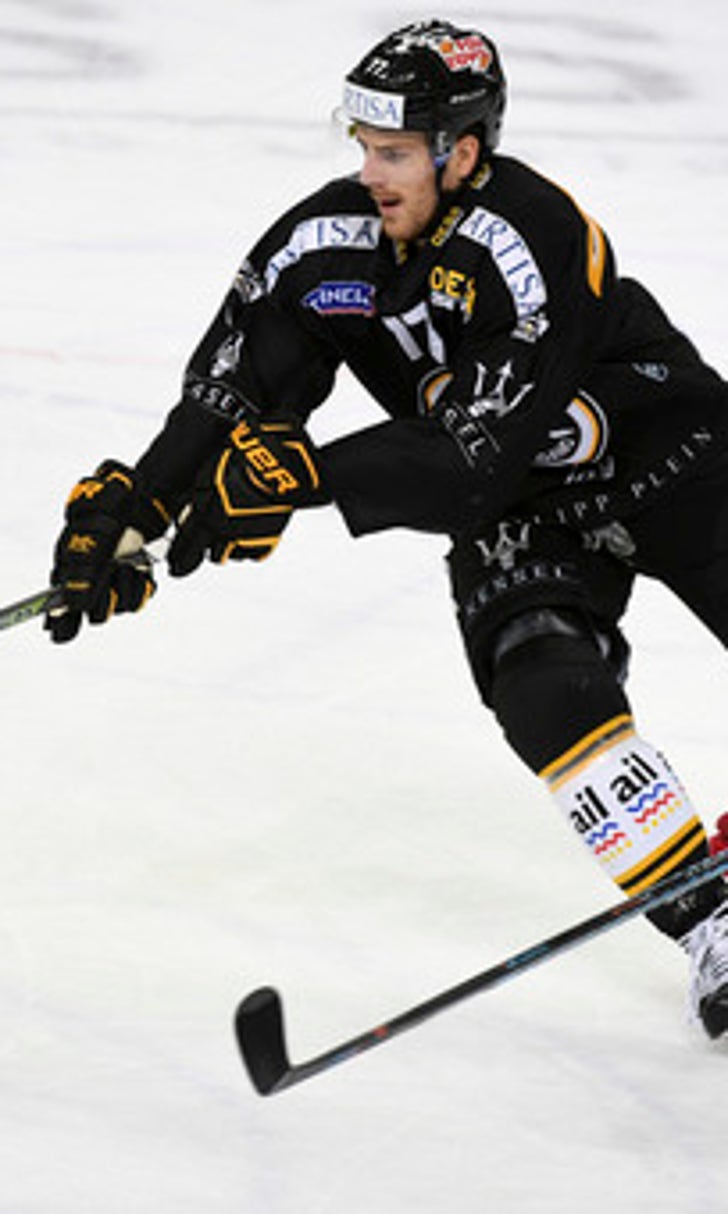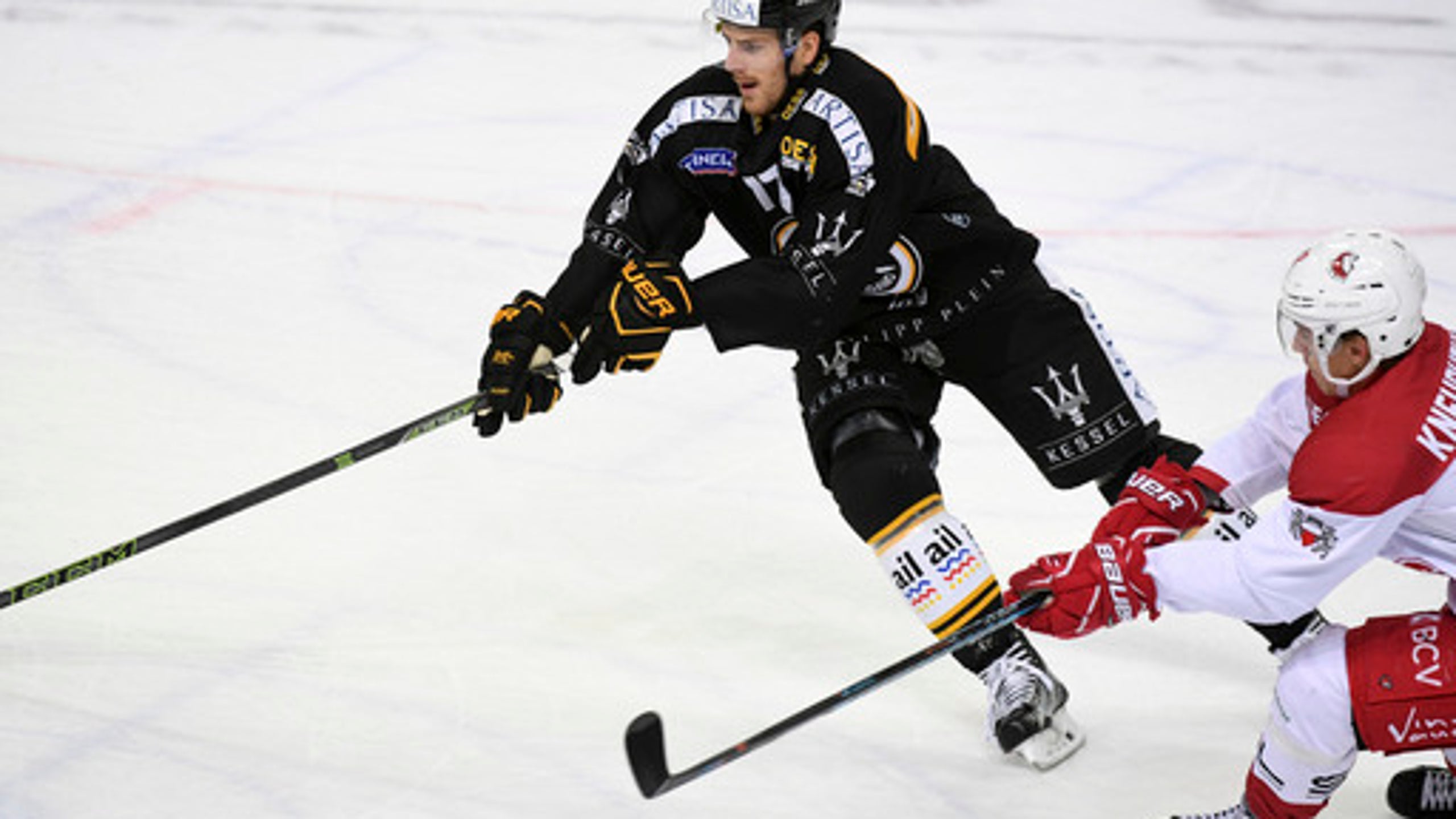 Olympics could be next stop on Bobby Sanguinetti's journey
BY AP • November 3, 2017
Bobby Sanguinetti had long given up on this dream.
It began during 90-minute car rides to hockey practice as a 10-year-old, and it was very much alive when the New York Rangers drafted him 21st overall in 2006. But when the highly touted defenseman's career stalled in the minors and he left for Europe, the Lumberton, New Jersey, native figured his Olympic hopes were dashed.
''I never even considered it,'' Sanguinetti said.
Then a funny thing happened: The NHL decided it wouldn't send players to South Korea in 2018, ending a run of five consecutive Olympics featuring the league's players. Now, Sanguinetti and others who left the NHL behind could get the chance of a lifetime in February on the biggest international stage.
''That's the positives of the Olympics not using NHL players,'' said Stan Butler, Sanguinetti's coach in his final junior season. ''Players like Bob Sanguinetti are going to get that opportunity to play maybe in the Olympics.''
The Olympics will be full of familiar, if not memorable, names. There's Canadian Gilbert Brule, who was the sixth overall pick in 2005; Finn Mika Pyorala, who was once considered the best hockey player outside the NHL, and Russian Sergei Plotnikov, who played for three teams during his one season in North America.
Yet few Olympic hopefuls have journeys as turbulent as Sanguinetti. He has gone from first-round pick to NHL bust to now a stable, well-rounded defenseman playing in Switzerland, where he lives with his wife and newborn son.
''No one's seen more different sides of the game,'' said Danny O'Brien, Sanguinetti's youth coach and mentor. ''Here's a first-rounder who struggled to make it all the way. He brings an awful lot of experience, and it's not all high-end experience, either. He's seen his share of downs.''
The downs include zero points in his only five games with the Rangers, hip surgery that cost him a large portion of one season and the realization that maybe he wasn't going to make it in the NHL. After the highs of putting up 212 points in 265 junior games in the Ontario Hockey League and being an American Hockey League All-Star, Sanguinetti had just two goals and four assists in 45 NHL games.
''As a first-round pick, you obviously want to prove to people that you're an NHL player,'' Sanguinetti said. ''More than anything, with the experience, you kind of realize it's not as easy as everybody thinks. Just because you're a first-round pick doesn't mean you're going to be given every opportunity.''
It looked easy for Sanguinetti growing up playing for O'Brien's New Jersey Rockets and then in the OHL. As Butler put it, the 6-foot-1, 182-pound Sanguinetti ''checked off all the boxes'' as a dominant offensive defenseman who could quarterback the power play and fill the role of the modern-day puck-mover.
''That puck-moving, the skating game, the power-play mind that he had was what we liked about him,'' Rangers director of player personnel Gordie Clark said. ''He was getting stronger, bigger - the things we look for.''
Even in the AHL, Sanguinetti showed off his offensive prowess. Hartford assistant and former NHL defenseman J.J. Daigneault raved about Sanguinetti's skating, hands, wrist shot and hockey IQ but said, ''Maybe sometimes I think he was thinking offense too much.''
Sanguinetti played only five games for the Rangers in 2009 and had zero points in 57:40 of ice time.
''It just shows you how tough it is to play in the National Hockey League,'' Clark said.
After being traded to the Carolina Hurricanes and missing most of the next season following hip surgery, Sanguinetti appeared in three games for them in 2011-12 and stuck around for most of the lockout-shortened 2013 season. He just didn't put up the stats he did at other levels.
''As a father, you're always convinced he still could've played,'' his dad, Bob Sanguinetti, said. ''You got to be a little bit lucky, too.''
Sanguinetti and his now-wife, Sarah, moved to Russia in 2013 as he tried playing in the Kontinental Hockey League. That 15-game experiment with Atlant Mytishchi gave Sanguinetti confidence in his defensive game, but when he tried the NHL once more, he played two more AHL seasons and didn't make it back.
''If you're not overly big, you've got to be either super quick or fast and solid and strong,'' said Mike Stothers, who coached Sanguinetti for three OHL seasons. ''There's a big difference at the NHL level.''
Perhaps Sanguinetti was undersized, but years of on-ice production and a positive attitude toward coaching and improving made it seem like he'd have a long NHL career.
''Quite frankly, I'm a little shocked that it never worked out,'' Butler said. ''Unfortunately, in this crazy game of hockey, sometimes it doesn't work out the way people would hope.''
Moving back overseas, this time to Switzerland, proved an easier adjustment than he imagined. The smooth-skating Sanguinetti looked right at home on the wider, international-sized ice, piling up the points and earning a strong report from the Rangers' European scout and praise from his new coach.
''He feels good about where he is all over the ice, at both ends of the rink and on both sides of the puck,'' HC Lugano coach Greg Ireland said. ''He's got good stick-on-puck abilities, he uses his feet and his hockey sense to be in good position to defend well and I think he brings the puck up the ice extremely well.''
Sanguinetti's play in Europe caught the attention of U.S. Olympic general manager Jim Johannson, and Sanguinetti will play for the U.S. at the Deutschland Cup Nov. 10-12 as an audition for Korea.
''He's finding his way both as a player and in the style of hockey that it is: a little bit more time, a little bit more puck possession,'' Johannson said. ''That takes time for those guys to develop that as players, and I think he's shown that consistency.''
Sanguinetti found consistency in life, too, as Sarah gave birth to the couple's first son, Jackson, on Aug. 20. A lighter slate of games, practices and travel allows him to spend more time at home as he focuses on making a living for his family, and his father said he doesn't know if he's ever seen his son this relaxed.
''When you're in the AHL, you're kind of always geared up to get the call-up,'' his dad said. ''Over there, he knows what's in front of him and is just kind of focused on getting the job done. They have adjusted very well over there in Switzerland. ... It maybe wasn't the ultimate goal down the line, but I think he's very content with it.''
Sanguinetti is at peace with his whirlwind, unconventional route. O'Brien, who Sanguinetti considers the biggest influence on his career, is proud of the appreciative man he has become and that he ''never buried anybody'' about things not going as planned.
But Sanguinetti's career is far from over. While Sanguinetti turns 30 in February, O'Brien points out that playing fewer games in Europe makes him more like a 26-year-old, and several coaches and scouts figure he could get another chance in the NHL next season, especially if he plays well at the Olympics.
''With the way the NHL is going, they're looking for those puck-moving defensemen joining the play type of players,'' Stothers said. ''He's certainly not old. He's basically just maturing into what could be a very steady and reliable defenseman.''
---
Follow Hockey Writer Stephen Whyno at http://www.twitter.com/SWhyno .
---
More AP NHL: https://apnews.com/tag/NHLhockey
---
---