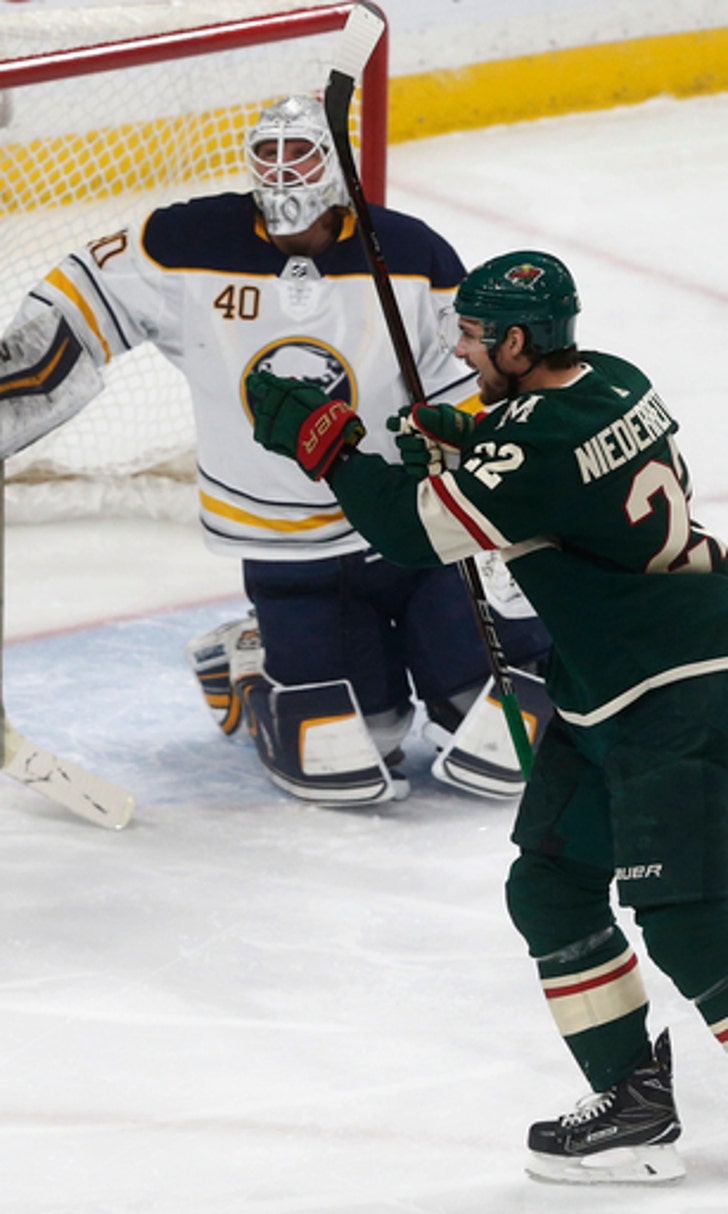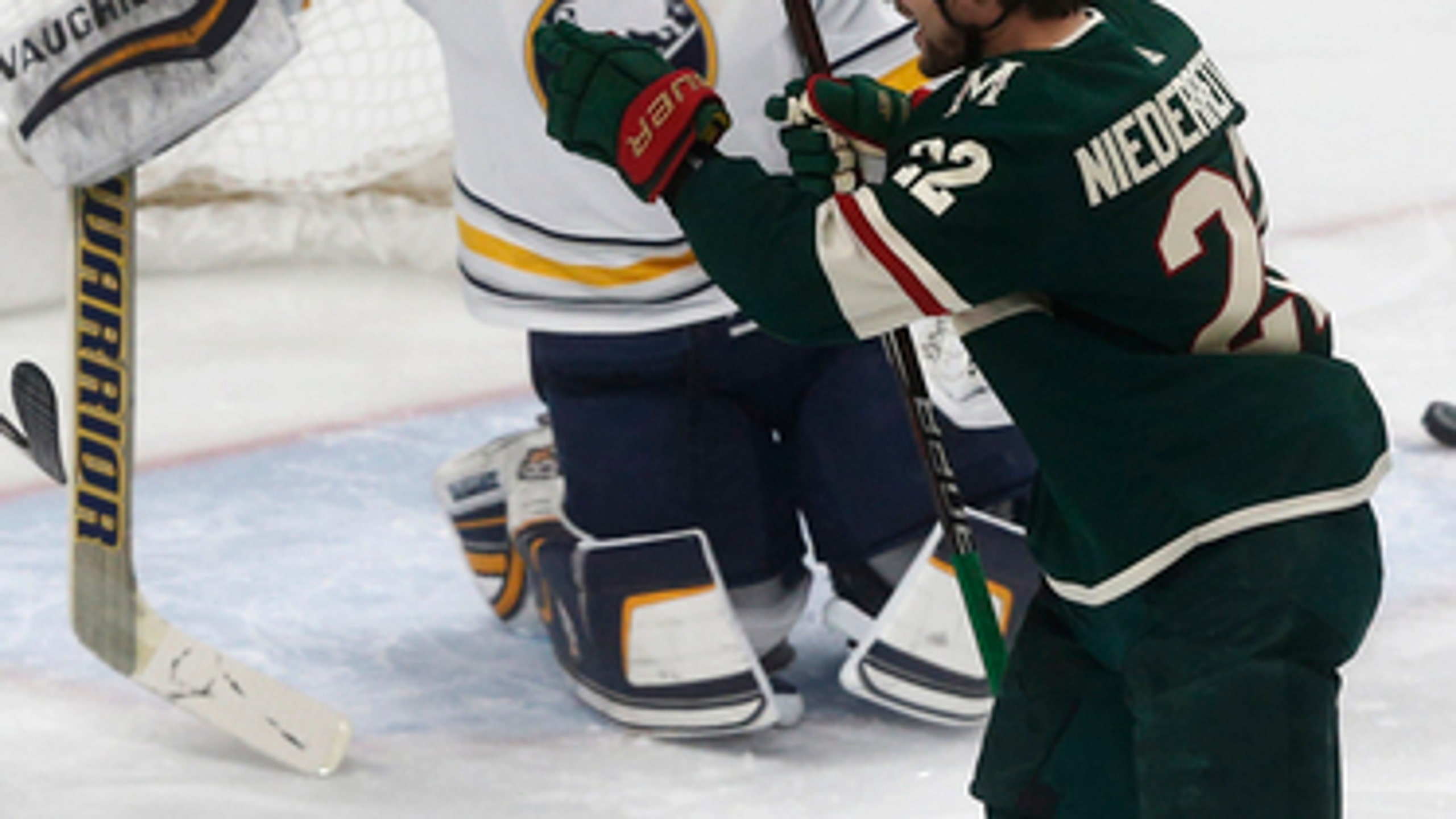 Niederreiter's hat trick fuels Wild in 6-2 win vs Sabres (Jan 04, 2018)
BY AP • January 5, 2018
ST. PAUL, Minn. (AP) Nino Niederreiter's return made the Minnesota Wild whole again, just in time for the second half of the season.
He turned this into quite the celebration.
Niederreiter marked the end of his five-game injury absence with his second career hat trick, Mikko Koivu contributed a goal and two assists, and the finally fully healthy Wild beat the Buffalo Sabres 6-2 on Thursday night.
''I know we have the ability for every line to go out there and score,'' Minnesota coach Bruce Boudreau said.
Daniel Winnik and Charlie Coyle also scored for the Wild, who improved to 11-1-1 in their last 13 home games. They're 14-4-2 this season at Xcel Energy Center, with a 60-41 advantage in goals.
Niederreiter, who missed the previous five games because of a lower leg injury, needed less than 25 minutes of game time to get his third goal . His parents were even in attendance, visiting from his native Switzerland.
''It's always great having them around here,'' Niederreiter said.
The Wild essentially expressed the same sentiment about Niederreiter, who also missed six games in October due to a similar injury.
''Sometimes it takes a little bit for guys that come back from injuries to feel confident again,'' Coyle said. ''He's probably feeling pretty confident right now.''
Devan Dubnyk took a shutout into the third period for the Wild, until Sam Reinhart scored early and Evander Kane got a goal late. Dubnyk is 11-2-1 in his last 15 starts since Nov. 9.
With Zach Parise skating for just the second time this season and Niederreiter back in action, the Wild finally had their full complement of forwards as they reached the midpoint of the schedule. With seven of their first nine games at home this month, this is the time for them to make their move back above the playoff cut in the Western Conference.
''Just makes the game a little bit easier. We have four good lines right now. It's fun to play like that,'' said Mikael Granlund, who had three assists.
The final stretch began to feel more like an exhibition, and given all the connections between these teams it almost could have been an alumni game.
Sabres right wing Jason Pominville and defenseman Marco Scandella, who were sent east by the Wild last summer in a salary-shedding trade for right wing Tyler Ennis and left wing Marcus Foligno, were honored with a highlight video before the opening faceoff.
Scandella is one of four former Wild draft picks and players on the Sabres roster, along with left wings Benoit Pouliot and Johan Larsson and defenseman Justin Falk. Larsson was dealt to Buffalo nearly five years ago in the first Pominville trade consummated by the two clubs. Another former Sabres player on the Wild, right wing Chris Stewart, was a healthy scratch.
Sabres coach Phil Housley and right wing Kyle Okposo each grew up just a few miles from the arena, albeit many years apart, and Okposo also played two seasons in college for Minnesota.
This was the back-to-normal game for Buffalo, coming off an overtime loss to the New York Rangers in the Winter Classic outside at Citi Field on New Year's Day. The Sabres, who have the fewest wins and most goals allowed in the Eastern Conference, were probably glad this one didn't have the same media coverage.
Niederreiter scored just 69 seconds into the contest , snapping a behind-the-net pass from Granlund beneath the pads of Sabres goalie Robin Lehner.
Rasmus Ristolainen was ejected for a five-minute major penalty for interference after delivering a bloody blow to Koivu's face midway through the first period. With 1:23 remaining on the extended power play, Niederreiter knocked a ricochet past sliding defenseman Zach Bogosian that Lehner was too slow to stop.
''I think there should have been a call on the play, but I don't agree with five minutes,'' Housley said.
Koivu returned with stitches and a puffy upper lip in the second period and exacted his revenge, going low for a one-timer off Granlund's pass to give the Wild a 5-0 lead. Granlund, who had a hat trick himself last week, has eight points in the last five games.
The Wild are 10-3-2 in their last 15 matchups with the Sabres, outscoring them 54-31, since March 9, 2007. That includes a 7-0 victory at Buffalo on Jan. 15, 2015, which was Dubnyk's debut with the team and the largest margin of victory in franchise history.
In the Wild's 5-4 win at Buffalo on Nov. 22, Niederreiter scored twice as Chad Johnson was pulled after giving up three goals on 13 shots in the first period. Lehner made 17 saves in relief to help keep the Sabres close.
''He's been playing really well, and then we didn't help him enough tonight,'' Ristolainen said.
NOTES: Niederreiter's previous hat trick also came against the Sabres on Nov. 13, 2014. ... Dubnyk moved past Manny Fernandez into second place on the Wild's career list with 114 wins. Niklas Backstrom is first with 194. ... This was just Lehner's second regulation loss in his last eight road appearances.
UP NEXT
Sabres: Play at Philadelphia on Sunday afternoon.
Wild: Play at Colorado on Saturday night.
---
For more NHL coverage: https://apnews.com/tag/NHLhockey
---
---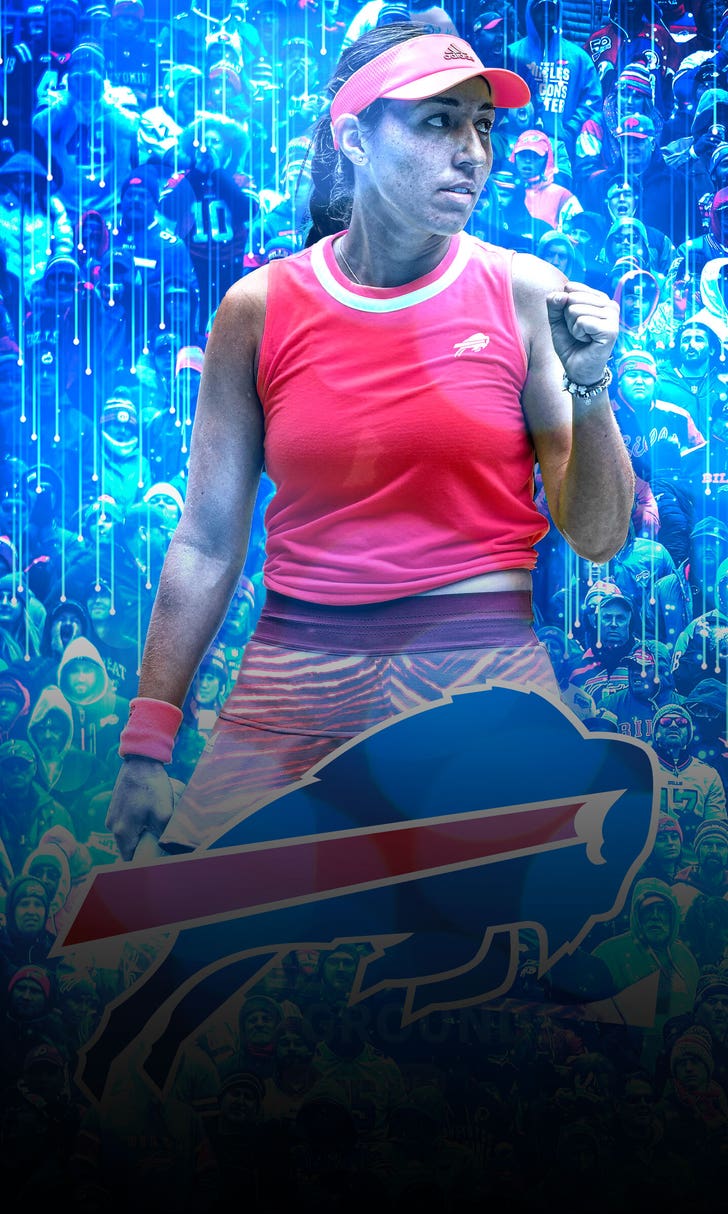 Bills Mafia In Australia
Bills Mafia In Australia
Jessica Pegula, the daughter of the Buffalo Bills' and Sabres' owners, is on a career-best run at the 2021 Australian Open.