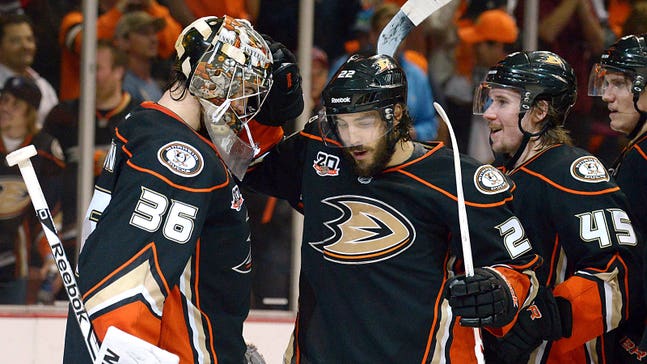 NHL takeaways: We've found our playoff hero - can he play savior, too?
Published
May. 13, 2014 2:31 a.m. ET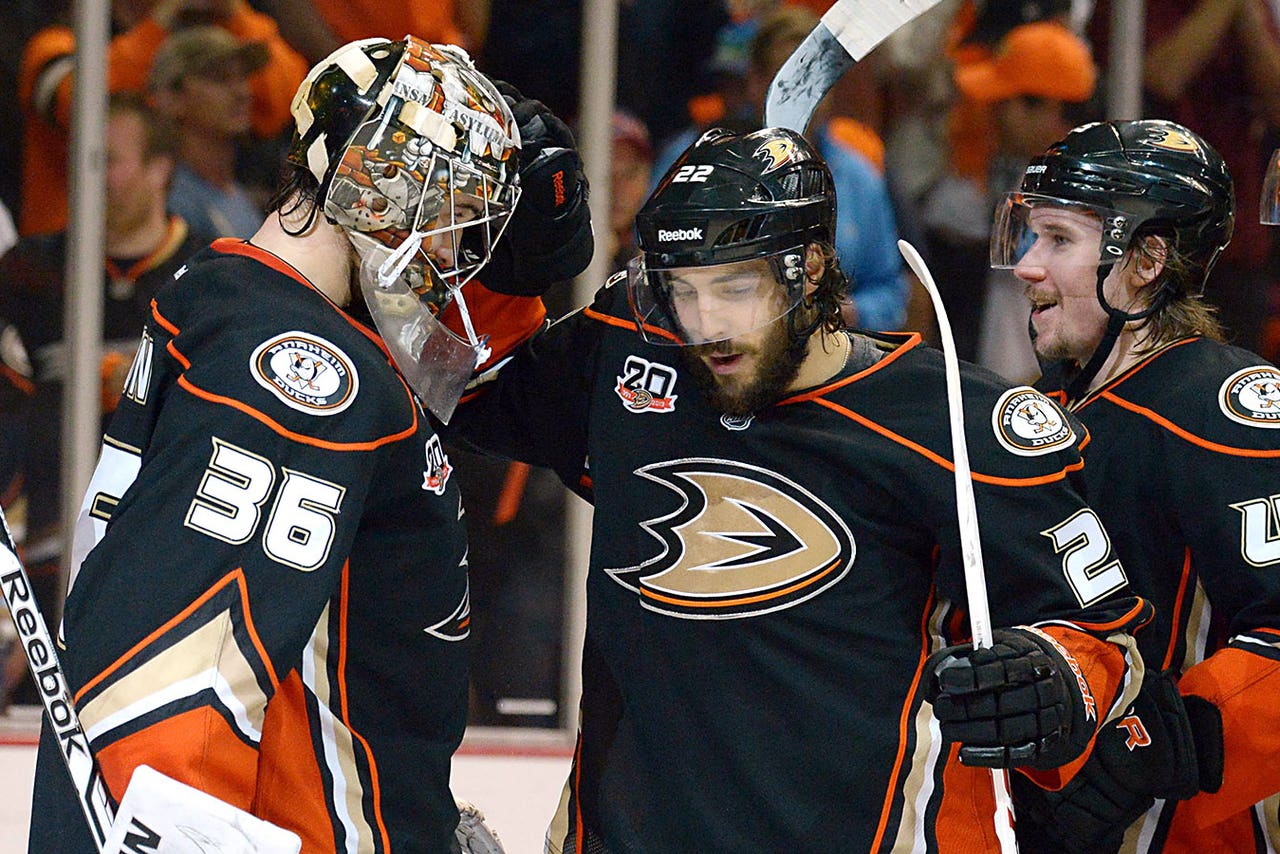 When the playoffs began, Dallas coach Lindy Ruff noted how new playoff heroes are born every year — some out of relative obscurity.
It's impossible to say what shape Anaheim goalie John Gibson's career arc will take after this postseason, or even after this week. But Gibson has turned the Ducks series with the Los Angeles Kings on its head.
Before the Southern California rivals faced off for the first time in the postseason, L.A. had the decided edge in goal with 2012 Conn Smythe Trophy winner Jonathan Quick a proven playoff winner. But when Gibson started Game 4 in place of injured Frederik Andersen and jilted Jonas Hiller, he posted a shutout in his first career playoff game. All bets were off from that point. If the Ducks could get that kind of goaltending, the entire complexion of the series had the chance to change — and it has.
Gibson came up big again in Game 5 on Monday while Quick, through very little fault of his own, looked small and unspectacular at the other end.
The end result? A 4-3 Ducks win — the first in the series by the home team — and a 3-2 series lead for Anaheim with the series headed back to Staples Center.
Anaheim, everyone's favorite playoff upset victim, is one win away from the conference final. The same goes for the Montreal Canadiens, who answered the bell against Boston in a convincing Game 6 win at Bell Centre.
GAME OF THE DAY
Anaheim 4, Los Angeles 3: From the onset, the Ducks were flying, using their speed and energy to force L.A. into a dangerous, up-tempo game that also happens to be a whole lot more entertaining to watch. The pace created space and Anaheim used the Kings' poor positioning and decision-making to post the most goals by either team in a game this series. In the end, the Ducks needed every one of those goals. It was Anaheim's third straight win over its Southern California rival and its first lead in this series (3-2).
PLAY OF THE DAY
Getzlaf's gorgeous dish: Anaheim had just taken a 2-1 lead on a thread-the-needle pass from Teemu Selanne to Mathieu Perreault (and off Devante Smith-Pelly for the goal) when Ducks captain Ryan Getzlaf intercepted an Alec Martinez pass in the neutral zone and spotted Smith-Pelly streaking toward the Kings net. In full stride, Getzlaf lifted a perfect saucer pass over Martinez's stick and onto Smith-Pelly's tape to set up Anaheim's second goal in a 1:23 span.
THREE STARS
1. Carey Price, G, Montreal: Stopped all 26 Boston shots to force a seventh game in the conference semifinal's most storied matchup.
2. Devante Smith-Pelly, RW, Anaheim: Scored two goals, drew a pair of penalties with his speed, dished out seven hits and fired four shots on goal in his best game of the postseason.
3. Max Pacioretty, LW, Montreal: Pacioretty had a partial breakaway goal on which he beat Zdeno Chara, and the primary assist on Thomas Vanek's first goal in the Game 6 whitewashing of the Bruins.
RECAPS
Montreal 4, Boston 0
Series: Tied, 3-3
Key stat: Montreal goalie Carey Price has four career playoff shutouts. All have come against Boston.
Key player: Thomas Vanek, LW, Montreal: Vanek has five of his eight playoff points in this series and four of his five goals after a two-goal effort on Monday.
What we learned:: The Canadiens have some fight in them — literally. Montreal recorded 39 hits, its highest total since its Game 1 overtime win in Boston. The Canadiens' aggression and the Bruins' frustration over a lopsided deficit led to a scrappy third period in which 32 minutes in penalties were called and punches flew. Not that they wouldn't have been focused in Game 7 otherwise, but this Bell Centre beatdown will stick in the Bruins' craw and probably fuel an intense Game 7 back at TD Garden. It was interesting that the Canadiens were targeting Bruins forward Milan Lucic, who can dish it out as well as anyone, but who also is known for cheap shots despite his incredulous denials. Lucic has been held pointless in the last three games of this series while Bruins mainstays David Krejci and Brad Marchand have yet to score a goal in the postseason. That the Bruins can still close this series out at home is a testament to their incredible depth. When asked what he expected from Game 7, Boston coach Claude Julien was succinct: "I expect us to win," he said. This is the ninth time the Bruins and Canadiens have gone the distance in a best-of-7 series, and the fourth time in their past five series since 2004. Montreal is 5-3 in the previous eight.
Next game: Game 7, Wednesday at Boston, 7 p.m. ET
Anaheim 4, Los Angeles 3
Series: Anaheim leads, 3-2
Key stat: Los Angeles goalie Jonathan Quick posted a sub-.900 save percentage for the third consecutive playoff game — the first time that has happened since 2010 when the Kings fell to the Vancouver Canucks in six games.
Key player: John Gibson, G, Anaheim. He didn't post another shutout, but he faced 42 Los Angeles shots and a dozen Grade-A chances. He stopped enough (39) — including Drew Doughty's late redirect — to put the Ducks in position to advance to the Western Conference finals.
What we learned: The Ducks are the counterargument to the NHL's possession preachers. They haven't been good at it all season but they haven't needed to be. Anaheim counters so fast sometimes it makes your head spin and Monday's game was a great example, with the second and third goals both coming in a heartbeat against one of the league's perennial possession powerhouses. Anaheim got a career-best game from Smith-Pelly, a typical game from Hart Trophy finalist Getzlaf and a retro game from Selanne, who was flying like the old Finnish Flash. Couple that with a second straight strong game from goaltender Gibson and the Ducks have the Kings on the ropes courtesy of a three-game winning streak. L.A. has been a bizarre lot in this postseason. The Kings lost their first three games against San Jose in the opening round and looked bad doing it. Then they won the final four and the first two of this series, conjuring images of the 2012 Cup team that got on an unstoppable roll. On Monday, Anaheim got the Kings into a fast-paced game and by the time L.A. realized it, it was in a 4-1 hole that it couldn't quite climb out of despite the continued brilliance of forward Marian Gaborik (two goals). Quick made some terrific stops on Monday but he hasn't been stealing games of late. That is where success begins with the Kings. Quick's save percentage has been below .865 in each of the last three games (all losses).
Next game: Game 6, Wednesday at Los Angeles, 9:30 p.m. ET
Final thought: Is it too much to ask for four Game 7s in the conference semifinals? The Eastern Conference has already assured us of two, with Pittsburgh-New York and Montreal-Boston both headed to a decisive game on Tuesday and Wednesday, respectively. Now it's up to Minnesota and Los Angeles to complete the playoff perfection with wins on Tuesday and Wednesday, respectively.
Follow Craig Morgan on Twitter
---
---