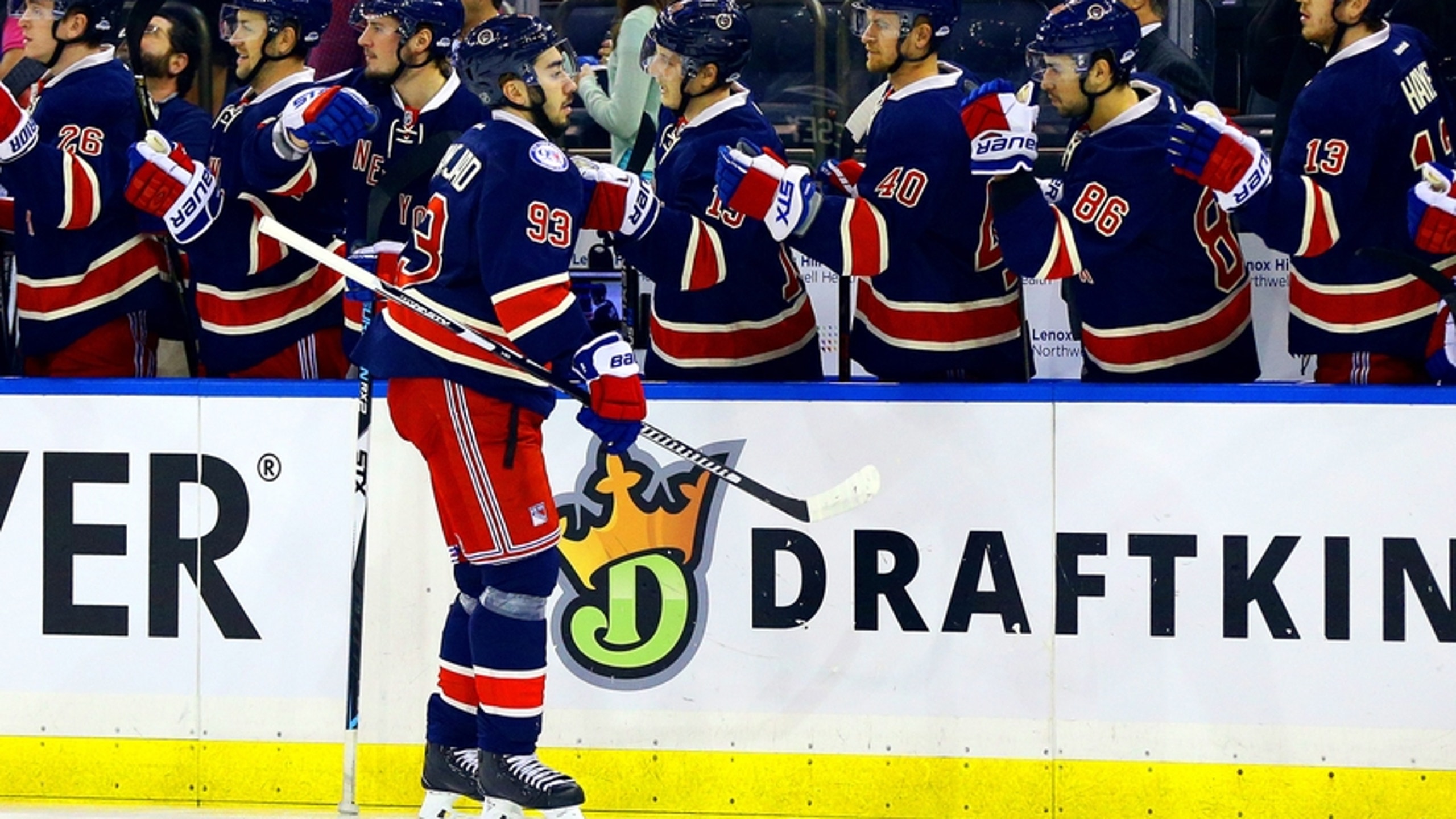 New York Rangers: Mika Zibanejad's Value Skyrockets Despite Absence
BY Fansided and Alexandra Russo/FanSided via Blue Line Station • January 14, 2017
Despite plenty of pundits questioning the Rangers acquiring Mika Zibanejad for Derick Brassard this offseason, the Rangers have found themselves a steal. Even in his absence, Zibanejad's value has risen. Let's take a look.
-Possession Statistics:
The NHL looks at Corsi percentages as an indicator of which teams will make a deep playoff run. Mika Zibanejad helps the Rangers extensively in this category. His corsi for percentage of 52.7% is higher than the team's average of 48.6%. With Zibanejad in the lineup, the Rangers saw increased time of puck possession in the oppositions zone. This allowed the team to score at a rapid rate and control the tempo of the game.
– Record With Zibanejad vs. Without
The Rangers recently had a 3 game winning streak, which saw only one game as a blowout (5-0 against the New Jersey Devils). The other two were won by one goal a piece. Before that, they alternated wins and losses for eight straight games.
With Zibanejad in the lineup, the team had a record of 13-5-1. Since then, they have struggled to maintain consistency in scoring and winning streaks. During that 13-5-1 span the Rangers had three separate three game winning streaks and a five game winning streak. The most they've been able to put together since then is three, only once.
The power play in and of itself hasn't struggled, as it shifts in the top ten places in the league. However, it could be even better with Zibanejad's right-handed shot. Currently, Derek Stepan is the only other right-handed shot, but having only one option isn't sustainable.
new york rangers
Blue Line Station 20hNew York Rangers: How to Contend for the Stanley Cup
More headlines around FanSided:
1 d - New York Rangers win Despite Lundqvist Injury Scare1 d - New York Rangers Rapid Reaction: Cody Eakin's Hit on Henrik Lundqvist1 d - New York Rangers: Oscar Lindberg Retooled and in the Lineup1 d - Rick Nash Leading New York Rangers Amid Uncertain Future1 d - New York Rangers: Understanding Adam Clendening's RoleMore News at Blue Line Station

– Zuccarello Without Zibanejad
Mats Zuccarello has been a huge part of the Rangers' organization for a while now, and a lot of his success is dependent on how the center plays. Last season, it was Brassard who helped Zuccarello score 57 points. This season, Zibanejad helped Zuccarello exceed expectations in the first 19 games, as he registered 13 points.
Since then, Zuccarello's progression has been stunted due to lack of chemistry between the lines. He has had some chemistry with Chris Kreider, but they need a center to be able to perform at their best.
– Brassard vs. Zibanejad
To this point in the season, even with his injury, Zibanejad has totaled more points than Brassard has with the Senators. Zibanejad has fifteen points in the 19 games he played, as opposed to Brassard, who has played 30, as of 12/15. In those games, he has totaled 12 points, tallying fewer goals, assists, and points than Zibanejad despite double digit more games played. Zibanejad has lived up to the expectations of being the talented, faster, younger version of Brassard.
Another important aspect of the trade was the amount of money that was saved. Brassard's income was $5M last season. Compare that to Zibanejad's $2.6M, and the Rangers have saved an important $2.4M.
That amount has allowed the team some breathing room instead of barely having enough money to cover everyone's salary. In turn, this breathing room is why the Rangers were able to pick up certain players, including Brandon Pirri and Michael Grabner. It's also the reason they were in contention for and were able to win over Jimmy Vesey.
These players have all been extremely vital to the Rangers' success. Together, they make up roughly 30% of the team's goals. Without the trade, the Rangers would not have owned the resources to aid their depth.
Zibanejad's time table for return isn't entirely clear yet. His injury was sustained on November 20th, so he should be back towards the middle of January. The team has missed him in his absence in many aspects, and his return should help the team with its consistency, which they will definitely need in the challenging Metropolitan division.
More from Blue Line Station
This article originally appeared on
---
---