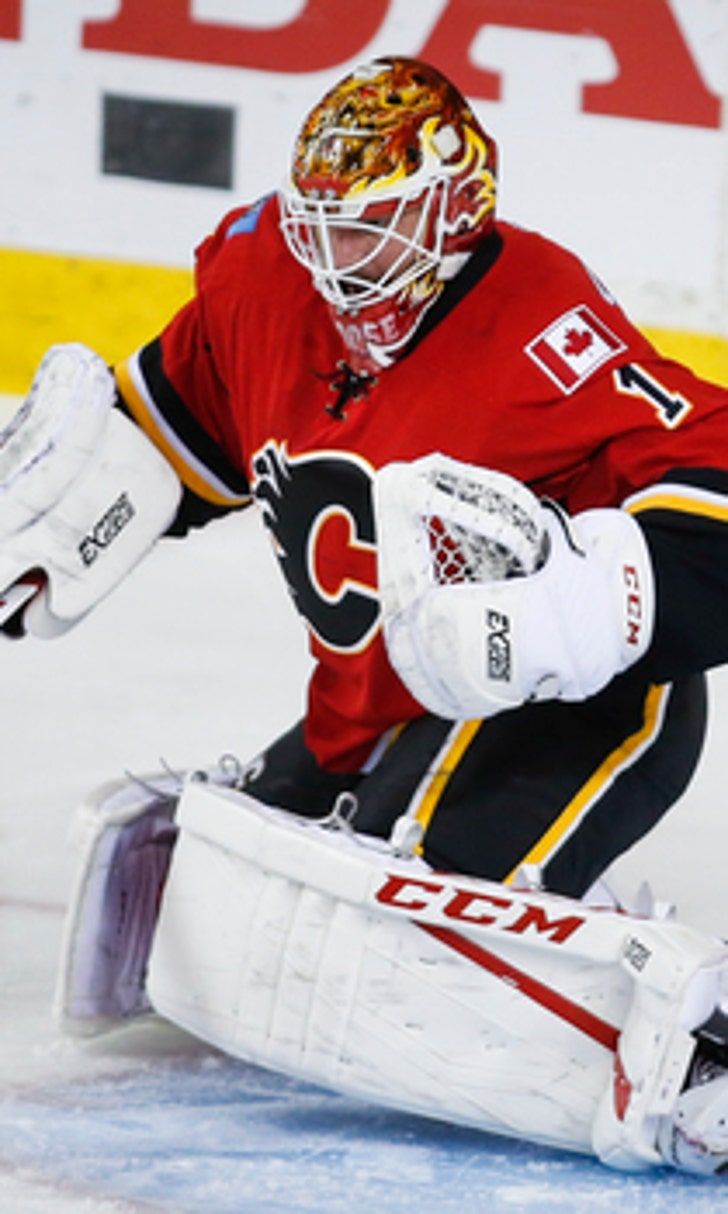 Mason, Elliott cash in on robust free agent goalie market
BY AP • July 1, 2017
Brian Elliott looked at the free agent landscape for goaltenders and knew it wasn't pretty.
There were only a handful of openings for starters or in platoon situations, making the process plenty stressful for him and his goaltending counterparts around the NHL.
Even in this climate, the goaltending market was robust on the first day of free agency as Elliott signed a two-year deal with Philadelphia, Steve Mason with Winnipeg and Ryan Miller with Anaheim.
''With the spots open to play a majority of the games and be a major contributor and not a backup, there weren't that many spots,'' Elliott said after signing a $5.5 million deal worth $2.75 million each season with the Flyers.
''You kind of knew what was out there and knew what everybody was thinking, so you just make your decision from there.''
Though there were no deals of any kind beyond seven years or more than $30 million, it was a big day for the goaltending carousel.
Despite an inconsistent season, Mason cashed in with an $8.2 million contract to start for the Jets, and despite being on the verge of turning 37, Miller got $4 million from the Ducks to split time with John Gibson.
Mason got the biggest contract among free agent goalies even after his .908 save percentage ranked 34th among those with at least 30 appearances last season.
Five teams expressed serious interest, and Winnipeg was willing to pay him $4.1 million a season to shoulder the load and mentor young Connor Hellebuyck.
''At 29 years old right now, I feel I'm entering the prime of my career,'' Mason said. ''I can come up with the big saves that we can need on any given night that can help us get over the edge here.''
Elliott had a number of teams calling about him after an up-and-down season with the Calgary Flames that ended with a first-round sweep. The 32-year-old has led the league in save percentage twice and will be given the chance to win the No. 1 job for the Flyers, competing against Michal Neuvirth in a market that's no stranger to goalie controversy.
While Mason said upon leaving Philadelphia that he didn't think a platoon works, Elliott pointed to the Pittsburgh Penguins winning the Stanley Cup with a two-goalie system as evidence.
Explaining his roller-coaster career that led to this free agent opportunity wasn't so easy.
''I'd write a book if I knew that,'' Elliott said. ''Everybody's been the best goalie in the NHL one night and everybody's been the worst. ... The NHL, there's so much pressure on every night that you have to perform.''
Miller has endured that pressure as the starter in Buffalo, St. Louis and Vancouver and found a home in Anaheim close to where actress wife Noureen DeWulf works. A good fit for his family also got Miller a two-year deal that's increasingly rare for goalies in their late 30s.
''I was exploring what people were open to, and the Ducks were open to that,'' Miller said. ''I feel like I have a lot of hockey left in me. I've been able to take care of myself. I can still play at a fairly high level.''
The biggest goalie contract of the day belonged to the San Jose Sharks' Martin Jones, who was extended for $34.5 million on a deal that kicks in for the 2018-19 season and counts $5.75 million per season after that. GM Doug Wilson said Jones plays big when it matters.
Not long ago Jones was a backup in Los Angeles to Jonathan Quick, and on Saturday a handful of current or new backups got good money. Jonathan Bernier signed a $2.75 million, one-year deal with the Colorado Avalanche, Chad Johnson got $2.5 million next season from the Buffalo Sabres and Anders Nilsson got $5 million over two years from the Vancouver Canucks.
''I had good conversations with different agents, with different goaltenders, but Jonathan Bernier, he's a guy that we thought was a good fit for us, especially with his experience,'' Avalanche GM Joe Sakic said. ''With (Semyon Varlamov) coming back (off surgery), we don't want him playing much more than 50 games. Jonathan played almost 40 games last year for Anaheim, so we know he can do it.''
Former Jets starter Ondrej Pavelec signed a $1.3 million, one-year deal to be Henrik Lundqvist's backup with the New York Rangers, Darcy Kuemper signed for $650,000 with the Kings and Antti Niemi went from being bought out by the Dallas Stars to taking a $700,000, one-year deal to join the Penguins and play behind Matt Murray.
The shifting goalie landscape means Mason and Miller are moving into more mentorship roles at this stage of their careers as they try to compete for jobs at the same time. Mason pointed to teaching young Anthony Stolarz the ropes in Philadelphia, and Miller had a similar circumstance in Vancouver with goalie of the future Jacob Markstrom.
''My role is going to change, and I'm aware of that heading into it,'' Miller said. ''You need to play the best you can to give your guys a chance to win. That's still a priority. That's what I'm focusing on. If I can help John along the way, I hope to.''
---
Follow Hockey Writer Stephen Whyno on Twitter at http://www.twitter.com/SWhyno .
---
More AP NHL: http://apnews.com/tag/NHLhockey
---
---