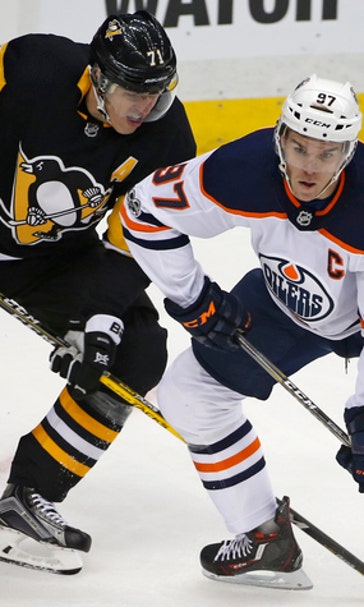 Kessel's OT winner leads Penguins past McDavid, Oilers 2-1 (Oct 24, 2017)
October 24, 2017

PITTSBURGH (AP) Connor McDavid keeps getting the better of Sidney Crosby. Statistically, anyway.
Considering the end result, it's a trade-off Crosby and the Pittsburgh Penguins can live with.
McDavid assured the struggling Oilers of a least a point by forcing overtime with a late goal , but Phil Kessel beat Cam Talbot 42 seconds into the extra period to lift the two-time defending Stanley Cup champion Penguins to a 2-1 victory on Tuesday night.
Challenged repeatedly by coach Mike Sullivan to shoot the puck more, Kessel sprinted down the slot, took a feed from Evgeni Malkin and slipped the puck past Talbot for his 299th career goal.
''Just trying to catch up to (Malkin) and get open,'' Kessel said. ''He found me and it was fortunate to get in. I've had some chances and they haven't gone in.''
McDavid ended a seven-game goal drought by chasing down a puck and flipping it by Matt Murray with 2:53 left in regulation, his fifth point in three career meetings with Crosby. It wasn't quite enough to snap the Oilers out of an early-season funk. Talbot stopped 42 shots but received little help from an offense that can't seem to get going.
Edmonton has just 15 goals through eight games, last in the Western Conference.
''We went through it a little bit last year later in the season, but we just have to relax,'' McDavid said. ''Just calm down. I mean, we're getting these chances in front of the net that should be automatic and we're not scoring them. Myself included.''
The 30-year-old Crosby still doesn't have a point when facing the 20-year-old McDavid, but the Penguins improved to 3-0 against Edmonton when McDavid is in the lineup thanks to a solid all-around defensive effort that included 29 saves from Murray and the kind of responsible play in their own end that was lacking in a 7-1 blowout loss to Tampa Bay on Saturday that cost backup goalie Antti Niemi his job.
''We knew as a team we could play a lot better than the effort we had in Tampa,'' defenseman Brian Dumoulin said. ''That wasn't who we were. That wasn't our identity.''
The central figures in the biannual meeting between the best players of their respective generations tried to downplay the hype. Probably a good idea. For all the star wattage Crosby and McDavid bring, their respective teams have spent the opening weeks of the season trying to figure things out.
McDavid, who edged Crosby for the Hart Trophy as NHL MVP last season, is trying to help the Oilers build off the franchise's first playoff appearance in 11 years but can't seem to put the puck in the net. The Penguins have been erratic early, particularly on defense.
There was a definite buzz - at least what passes for buzz in October - as Crosby and McDavid skated to center ice for the opening faceoff. But both players, and just about everyone else, spent most of the night being upstaged by the goalies.
Talbot stretched out his left pad to stuff Kessel on a wide-open backhand early in the second to keep the game scoreless. Murray put together a dazzling sequence later in the period, sticking his paddle out to knock Mark Letestu's shot out of harm's way.
''I'm going to make that same shot 100 times,'' Letestu said. ''You have to, sometimes, give the goalie credit for the desperation there.''
The flurry ended with Dumoulin scrambling to the goalmouth to knock away a flip to the open net by McDavid.
''We had four guys playing goalie back there and making some saves,'' Murray said. ''Dumo made an unbelievable block with an open net on the far side. I'm really proud of how we performed.''
Ian Cole, wearing a full shield for extra protection after losing several teeth when he blocked a shot with them earlier this month, beat Talbot with a wrist shot that zipped by his blocker 3:24 into the third. Riley Sheahan picked up the secondary assist for his first point with Pittsburgh after coming over in a trade with Detroit last weekend.
It appeared that might be enough until McDavid, at the end of a long shift, found one last burst. He extended to catch up with a pass and fired a wrist shot from the left circle over Murray's glove.
NOTES: McDavid played 21:57 and finished with five shots. Crosby played 21:59 and also had five shots. ... Pittsburgh D Justin Schultz left in the first period with concussion-like symptoms after being tripped by Edmonton's Drake Caggiula. ... Penguins forward Carter Rowney has a broken hand and is out at least a month. ... The Penguins went 0 for 3 on the power play, ending a streak of six straight games with a power-play goal.
UP NEXT
Oilers: Begin a five-game homestand Thursday against Dallas.
Penguins: Host the Winnipeg Jets on Thursday.
---
For more AP NHL coverage: https://apnews.com/tags/NHLhockey
---
---