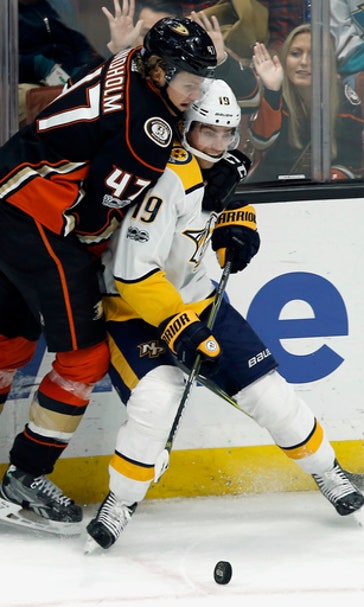 Josi, Predators hold off Ducks 5-3 in rematch of West finals (Nov 03, 2017)
November 4, 2017

ANAHEIM, Calif. (AP) In a rematch of last season's Western Conference finals, Roman Josi got the Nashville Predators off to a fast start.
The defenseman scored one goal and assisted on another as Nashville built a three-goal lead before holding off the Anaheim Ducks 5-3 Friday night.
Scott Hartnell, Matt Irwin and Viktor Arvidsson also scored for the Predators in the first meeting between the teams since Nashville won their 2016-17 playoff series in six games to reach the Stanley Cup Final. P.K. Subban added an empty-net goal with 18 seconds left to seal it.
''I thought we started pretty well and had a good first period,'' Josi said. ''Obviously, it was huge for us to have a 2-0 lead after the first and I'm just happy I had a part in it.''
Josi's goal was his fourth of the season, a blistering wrist shot from inside the blue line.
''He's our leader. He's our rock back there,'' Irwin said. ''He takes on heavy minutes against the other team's top lines and when he's rolling, he's contributing offensively like he is right now.
''He's making plays that very few guys in this league can do from the back end.''
Pekka Rinne made 35 saves for the Predators, who had lost four straight in Anaheim since their previous victory on April 4, 2014.
Antoine Vermette, Hampus Lindholm and Jakob Silfverberg scored for the Ducks. John Gibson stopped 25 shots.
''It's like we were caught in a funk the first 20 minutes,'' Anaheim coach Randy Carlyle said. ''We didn't demonstrate any emotion that was necessary. It all starts with execution.''
Following a sloppy start, however, the Ducks made a charge and pulled to 4-3 in the third period after trailing by three late in the second.
''You don't want to be chasing all night and that's bigger when you're on the road,'' Irwin said. ''We knew they were going to fight back, and they did.''
Anaheim has been riddled with injuries all season and can hardly afford to fall into a 3-0 hole. But early on, the Ducks had trouble passing and controlling the puck.
''We need to push it for 60 minutes and that just didn't happen,'' Chris Wagner said. ''We have to be ready at the puck drop. It's kind of embarrassing to start that way. It's probably been the majority of our games this year.''
Anaheim got within one at 7:41 of the third. Derek Grant's shot went wide of the net and off the backboards before Silfverberg put in the rebound.
Nashville opened a 3-0 lead early in the second. Irwin fired a shot from just beyond the left circle and past Gibson for his first of the season.
Anaheim responded moments later, finally getting its passing game going. Nick Ritchie stole a pass at the blue line and sent it to Ondrej Kase near the net. When Rinne turned to face him, Wagner sent the puck to Vermette, who all but pushed it in.
Both teams scored on the power play near the end of the second. Arvidsson's slap shot put the Predators ahead 4-1, but Lindholm answered with 15 seconds left in the period to leave Nashville up 4-2 heading into the third.
Nashville took a 2-0 lead in the first. Josi made a sharp feed in front to Hartnell, who flicked it into the net. And with 49 seconds left in the period, Josi skated unmarked into the middle inside the blue line and sent a wrist shot past Gibson.
Carlyle was less than pleased that the Ducks again got off to a slow start.
''They dug back, reached down and started to play a much more intense game, and our execution and work ethic and emotion started to get channeled in the right direction the last 40 minutes,'' he said. ''But you can't win in the NHL playing 40-minute hockey.''
NOTES: The Predators are in the midst of playing four road games in seven days. . Lindholm's goal was his second goal and fourth point in his last six games.
UP NEXT
Predators: Move up the freeway to play the Kings in Los Angeles on Saturday.
Ducks: Head north to face the Sharks in San Jose on Saturday.
---
For more NHL coverage: https://apnews.com/tag/NHLhockey
---
---