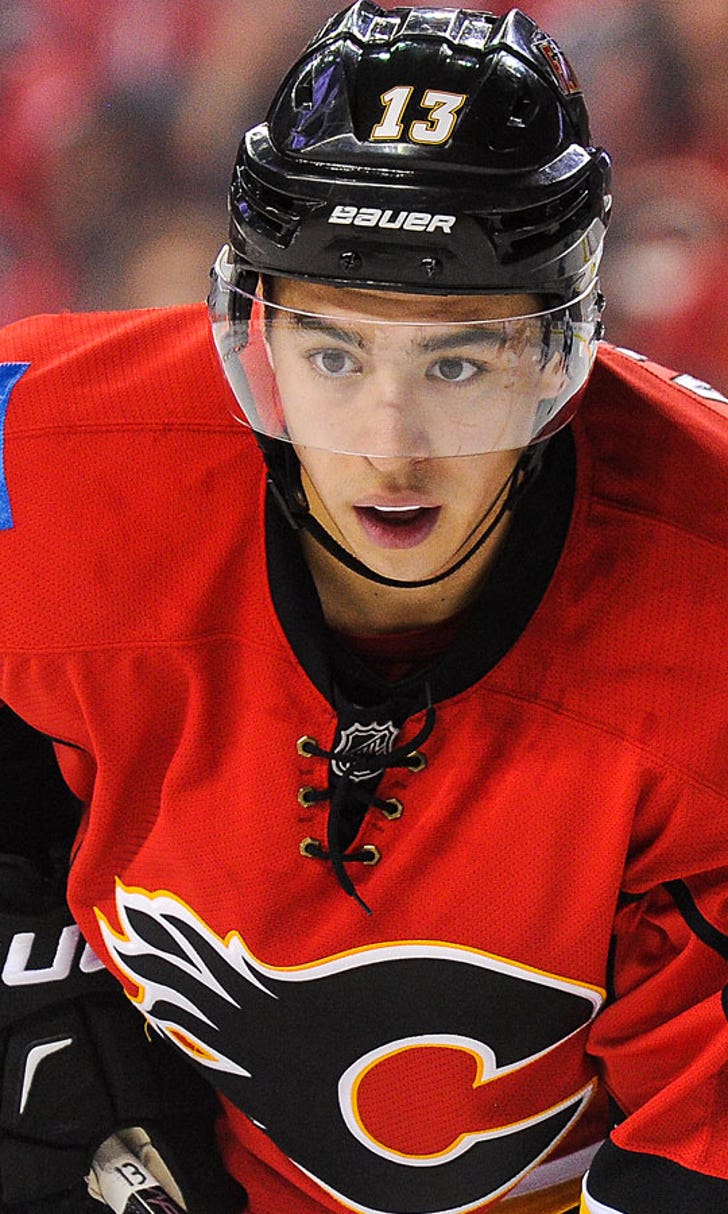 Johnny Gaudreau pushes hard work and patience on his brother
BY foxsports • November 17, 2015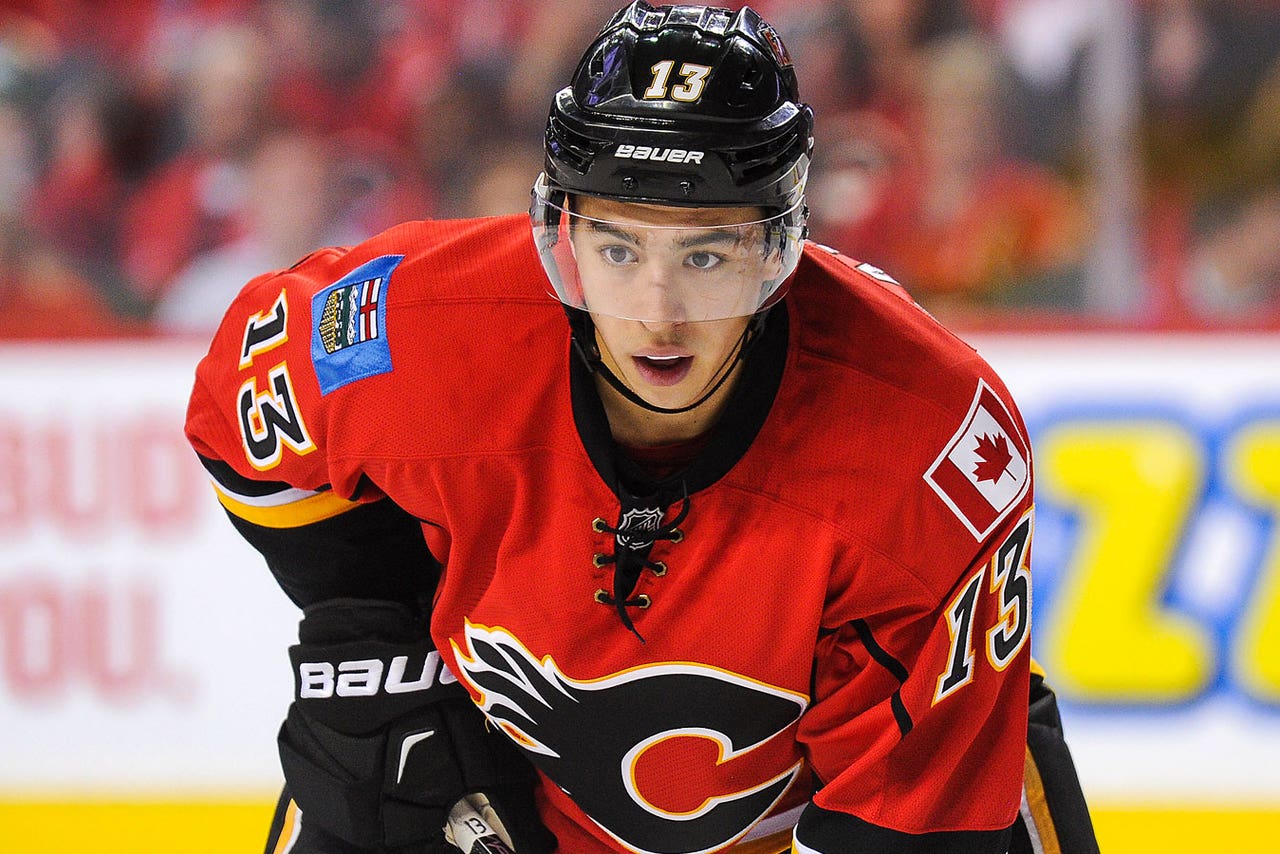 This time last year, Johnny Gaudreau was a wide-eyed rookie who was still trying to find his comfort zone within the NHL.
Gaudreau was given top line minutes as a 21-year-old, and on Nov. 17, 2014, Gaudreau had three goals and nine assists in 18 games.
Gaudreau, of course, grew into one of the hottest rookies of the year, finishing second in the Calder Trophy race after a 24-goal, 64-point campaign.
This year, the Calgary Flames' phenom has solidified himself as a premiere star, with four goals and 17 points in his first 19 games.
That status didn't come without a tremendous amount of hard work. Gaudreau, drafted with the 104th overall pick in the 2011 NHL Draft, willed his way through an unbelievable collegiate career at Boston College. 
His freshman year, Gaudreau scored 44 points in 44 games as his Eagles won the National Championship. He followed that with 51 points in 35 games, which earned him First All-American team honors and a title as a Hobey Baker finalist. But Gaudreau's junior year is when it all came together. His 36 goals led the NCAA, as did his 44 assists, final marks that earned him the Hobey Baker Award as the NCAA's top player. Gaudreau chose to forgo his senior year in favor of an early arrival in pro hockey.
Gaudreau doesn't fit the bill as your standard hard-nosed, gritty hockey player. At 5-foot-9 and 157 pounds, Gaudreau is one of the smallest players in the NHL. Accompany that with the fact that he has a boyish appearance and you would expect a difficult transition to professional hockey, despite all of his impressive college accolades.
But Gaudreau had a tremendous support system. He had a coaching staff that was willing to work with him and correctly utilize him all throughout the season.
He had veteran presence from guys like Jiri Hudler and Mark Giordano to show him the way. But he also had a core group of talented, young players that were just trying to find their place on the team.
He had Sean Monahan, then he had Micheal Ferland later on in the season, and then he had Sam Bennett for the playoffs. All three were forwards around Gaudreau's age, and all were going through the same NHL growing pains he was going through. And when you have a group of people you can relate to going through the same transition, it can make things, well, more simple.
"It makes it a lot easier to try to fit in here," Gaudreau said last week. "Obviously Monny and Benny are two younger guys who both came in at the same time here (as I did). We get to feed of each other and learn from each other. You know, just go through this whole process together, which is nice."
Gaudreau is well beyond that beginning process today. He's made it as a NHL player, and he's a pretty good one. But he's not exactly done helping others trot along the path towards the NHL.
Matt Gaudreau, Johnny's younger brother, is still working toward his professional hockey career. Matt plays for Boston College, just like his older brother did. The two were teammates in Johnny's final year. Matt suited up for eight games his freshman year, tallying a single goal, but he primarily watched on as his brother won Boston College's third overall Hobey Baker.
This year, Boston College is a powerhouse. With a 9-1-0 record, the Eagles hold the second overall ranking in the NCAA. Johnny, like any great alum, keeps up with the team by checking in with his inside source, Matt.
"I talk to him as much as possible," Johnny said. "It's exciting to hear how well they are doing."
Matt is starting to take a leading role. The junior's six assists are third on the team, and his seven points on the year in just 10 games already surpassed his sophomore season's effort.
Matt, 20, wasn't selected by a team in his NHL-eligible draft year. But like every Division 1 college player, he maintains that dream of one day suiting up for a professional team.
This offseason, Matt skated with the New Jersey Devils at their development camp. He reportedly received tryout offers from a number of teams, including the Philadelphia Flyers.
Matt is facing an uphill battle, with an outside chance at a professional hockey career. But what he also has is a supportive brother who has been there before, who is willing to tell him what he needs to work on in order to make it to that next level and will tell him to take things one step at a time.
"I think right now he's just focused with his team at B.C.," Johnny said. "He's got a long way to come. He definitely needs to improve a lot of parts to his game, and work out in the weight room as much as possible (Note: Matt's also 5-foot-9, 150 pounds soaking wet). But he's got two long years before he needs to worry about that."
Matt admits that his offensive skill set isn't quite as strong as his older brother's. But he does believe he has the edge in one part of his game.
"I don't like to say he's not a defensive guy, but I feel like in the defensive zone, I'm much stronger and can anticipate where the play is going," Matt said in June at the Devils' development camp. "Defensively, I can get my stick in the way. I'm stronger in the defensive zone, but in the offensive zone I just try to make plays."
That very well could be Matt's ticket to the next level. He just needs to continue to develop and work hard in his final two years at Boston College, two years that should consistently put Matt through the grinder with a successful program. But, perhaps more importantly, Matt needs to just have fun.
"I just (tell) him to enjoy college, enjoy your team mates," Johnny said. "Enjoy spending time at college. It's the best time of your life. And then, after that, you worry about what's next."
---
---