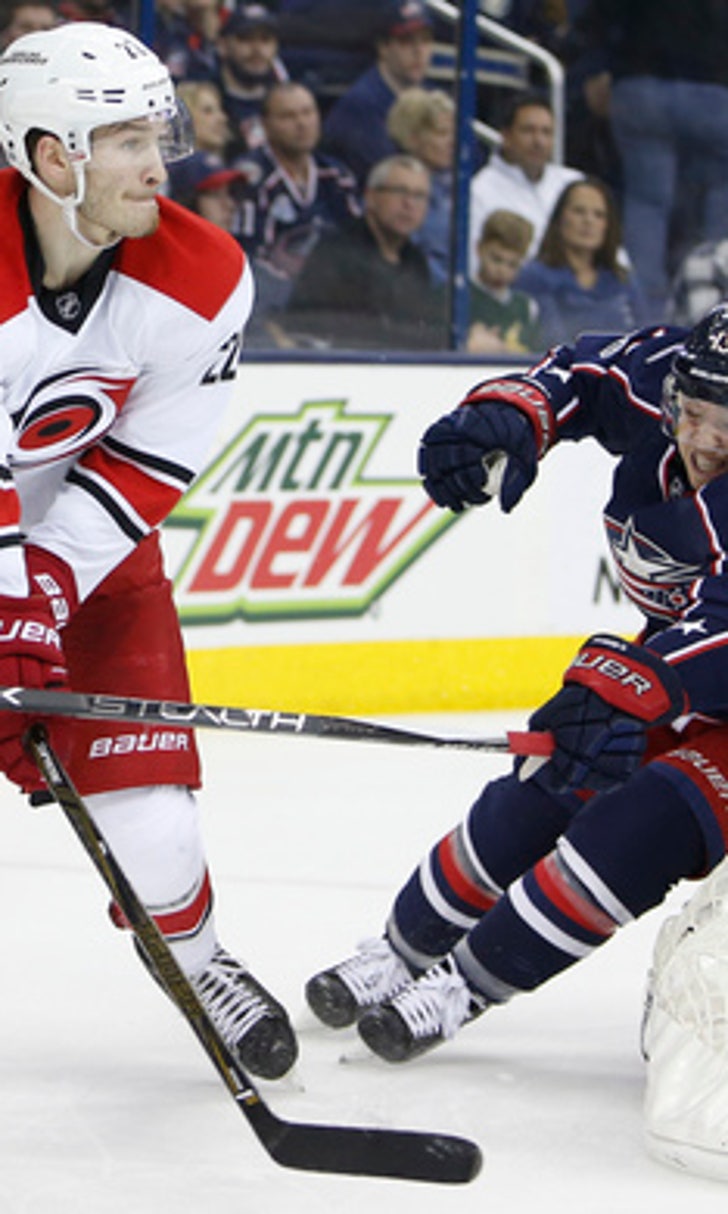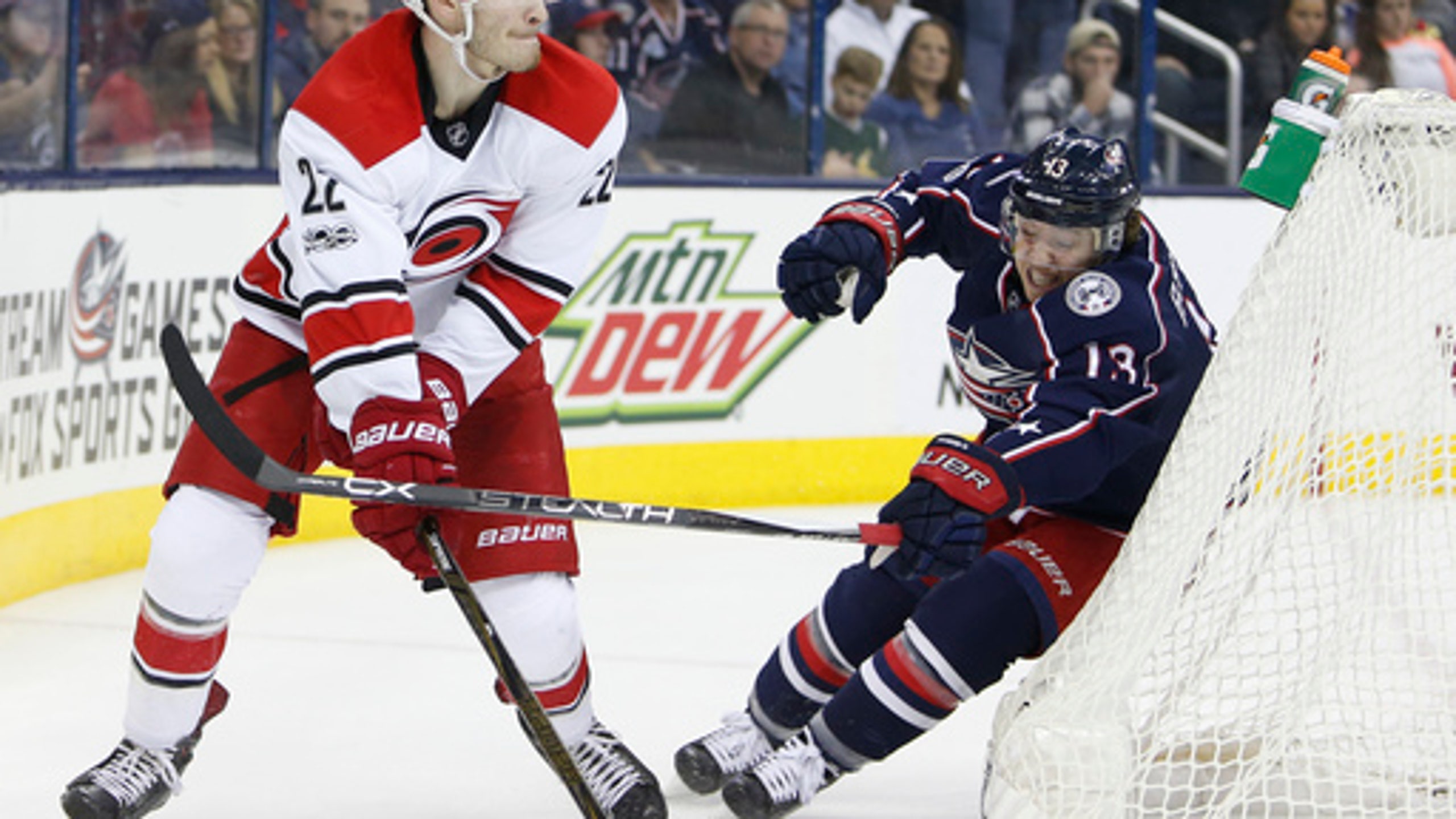 Hartnell snaps tie as Blue Jackets beat Carolina 3-2 (Jan 21, 2017)
BY AP • January 21, 2017
COLUMBUS, Ohio (AP) The Blue Jackets would just as soon forget the second period of Saturday's game, when the Carolina Hurricanes rallied from a 2-0 deficit to tie it.
Columbus didn't play much better in the third but withstood 15 shots and killed three penalties. Midway through, Scott Hartnell scored his second goal of the game , and the Blue Jackets beat Carolina 3-2.
Columbus got the win despite being outshot 37-20.
Hartnell scored in the first period and then netted the tiebreaker, helping the Blue Jackets overcome a horrendous second period - in which they managed only two shots on goal - to beat Carolina for the second time this week.
''It's nice to win a game where you don't play a complete 60 minutes,'' Hartnell said. ''That second period was just terrible hockey from us.''
Markus Hannikainen also scored, and Sergei Bobrovsky had 35 saves for Columbus.
''We have no chance if Bob doesn't play the way he does,'' coach John Tortorella said of the Blue Jackets' dependable goaltender.
Sebastian Aho and Justin Faulk scored in the second period for Carolina. Michael Leighton, recalled from Charlotte of the AHL on Thursday, started in place of Cam Ward and stopped 17 shots.
Hannikainen poked in the first goal for Columbus 4:49 into the game off a rebound in front of Carolina's net. The shot through traffic resulted in the first goal and point of the 23-year-old rookie's NHL career.
About 10 minutes later, Hartnell got a breakaway and slammed a slap shot past Leighton's glove from just inside the blue line to put Columbus up 2-0 at the first break.
''I just tried to bury my head and shoot as hard as I could,'' Hartnell said.
The second period belonged to the Hurricanes.
Carolina got the first one back on a power play 9:05 in when Aho picked up the loose puck off Jaccob Slavin's blocked slap shot and found the net from eight feet out.
Faulk tied it at 2 when he carried the puck through the neutral zone and snapped off a shot from the right circle that rattled off the bar and in with 4:33 left. Carolina outshot Columbus 9-2 in the period.
Hartnell got the winner when he took a pass from Sam Gagner and knocked it in from 13 feet with 9:35 left.
Carolina pulled the goalie with 2:32 left and had a 6-on-4 power play for about a minute but couldn't tie it.
Carolina center Jordan Staal said his team wanted to play a strong game after being routed by Pittsburgh on Friday night, so the comeback was encouraging.
''We wanted a good bounce-back, and I thought we did that,'' he said. ''I thought we played the way we wanted to play. Sometimes you don't the results.''
NOTES: Columbus killed five of six penalties in the game. ... LW Matt Calvert was a healthy scratch for Columbus, and D David Savard and D Markus Nutivaara were out with injuries. Little-used D Dalton Prout and Scott Harrington were in the lineup, making up the third defensive pair. Both got assists on Hartnell's first-period goal, and Prout got another on Hartnell's goal in the third. ... Carolina D Noah Hanifin, D Matt Tennyson and LW Teuvo Teravainen were benched after the team's loss to Pittsburgh Friday night. ... Alex Nedeljkovic, who replaced Ward during Carolina's loss to Columbus on Tuesday, was sent back to Carolina in favor of Leighton. ... Columbus D Ryan Murray played his 200th NHL game. ... Columbus is 4-5-0 since its franchise-record 16-game winning streak ended.
UP NEXT
Carolina: Play at Washington on Monday night.
Columbus: Begin a season-long five-game trip against Ottawa on Sunday.
---
Follow Mitch Stacy at http://twitter.com/mitchstacy
---
---