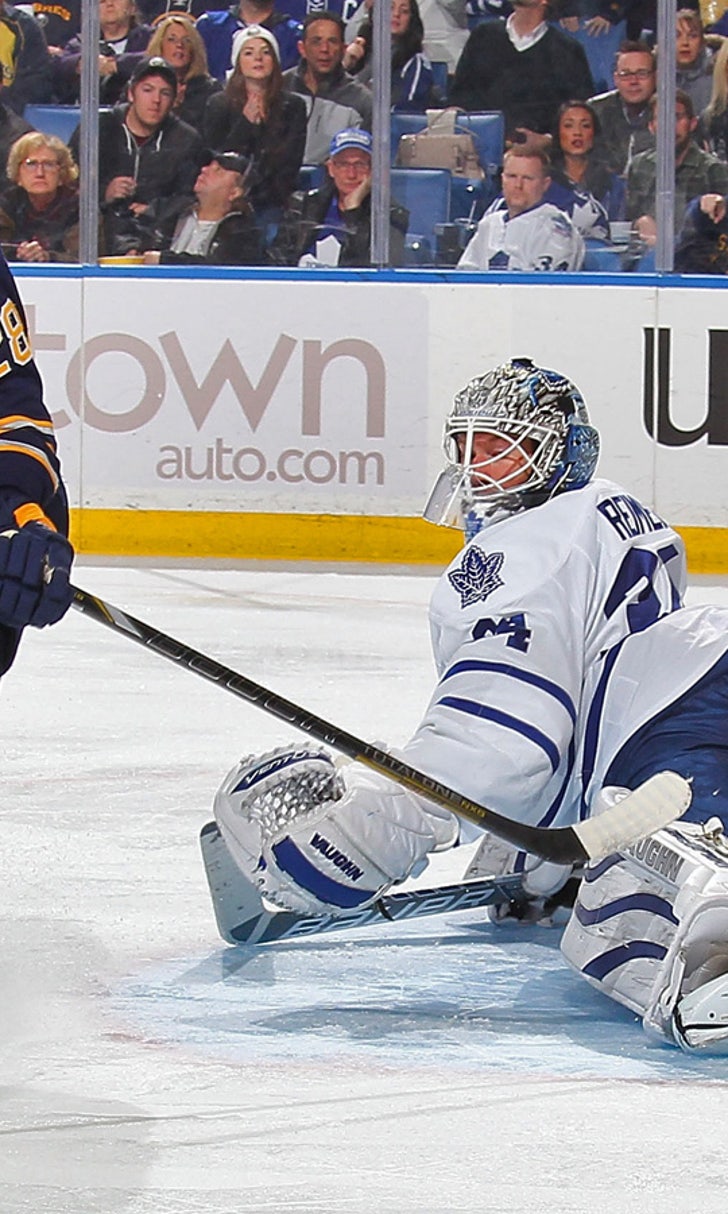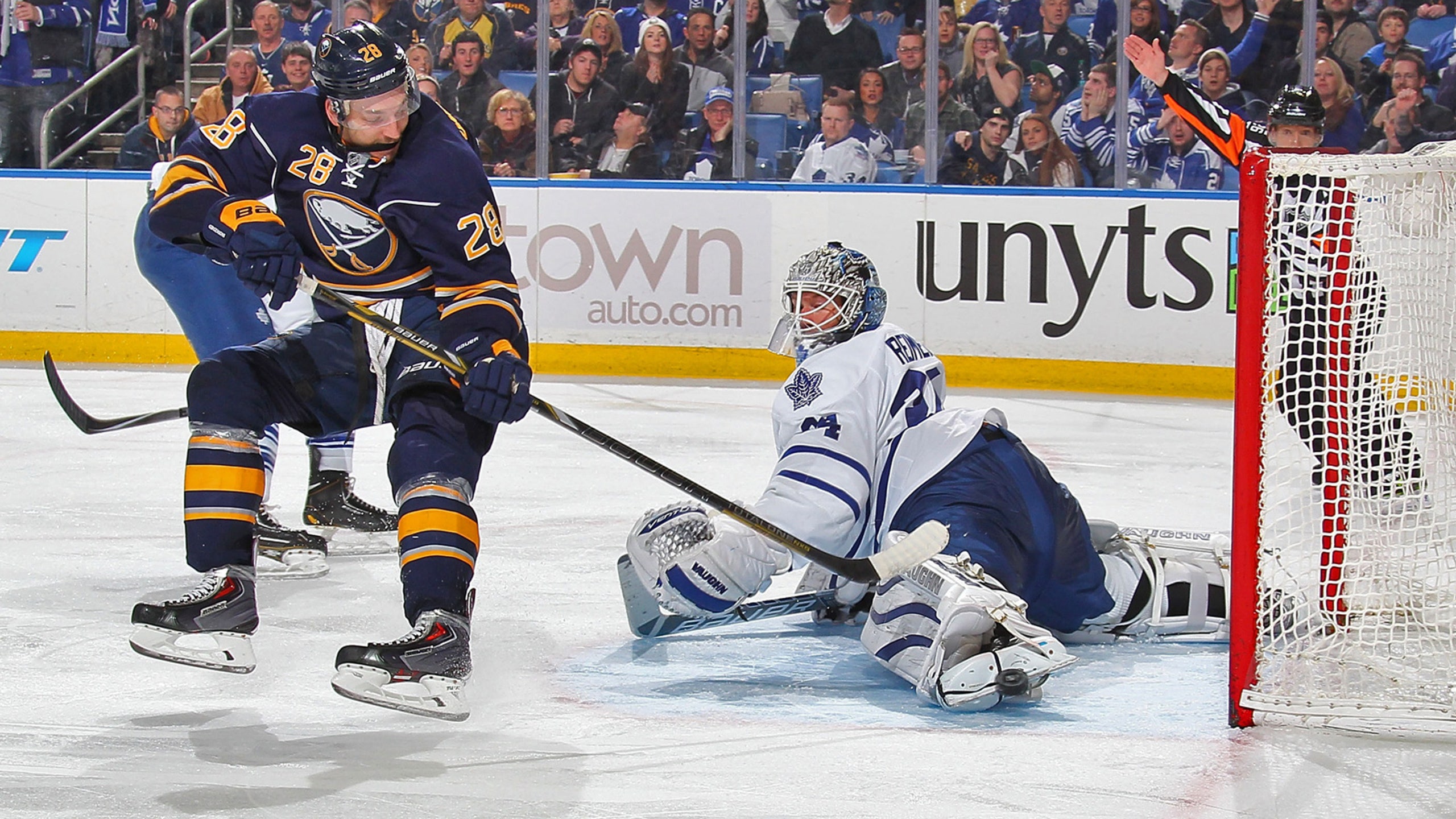 Girgensons scores 2 goals, Sabres to Leafs to snap 5-game skid
BY foxsports • November 16, 2014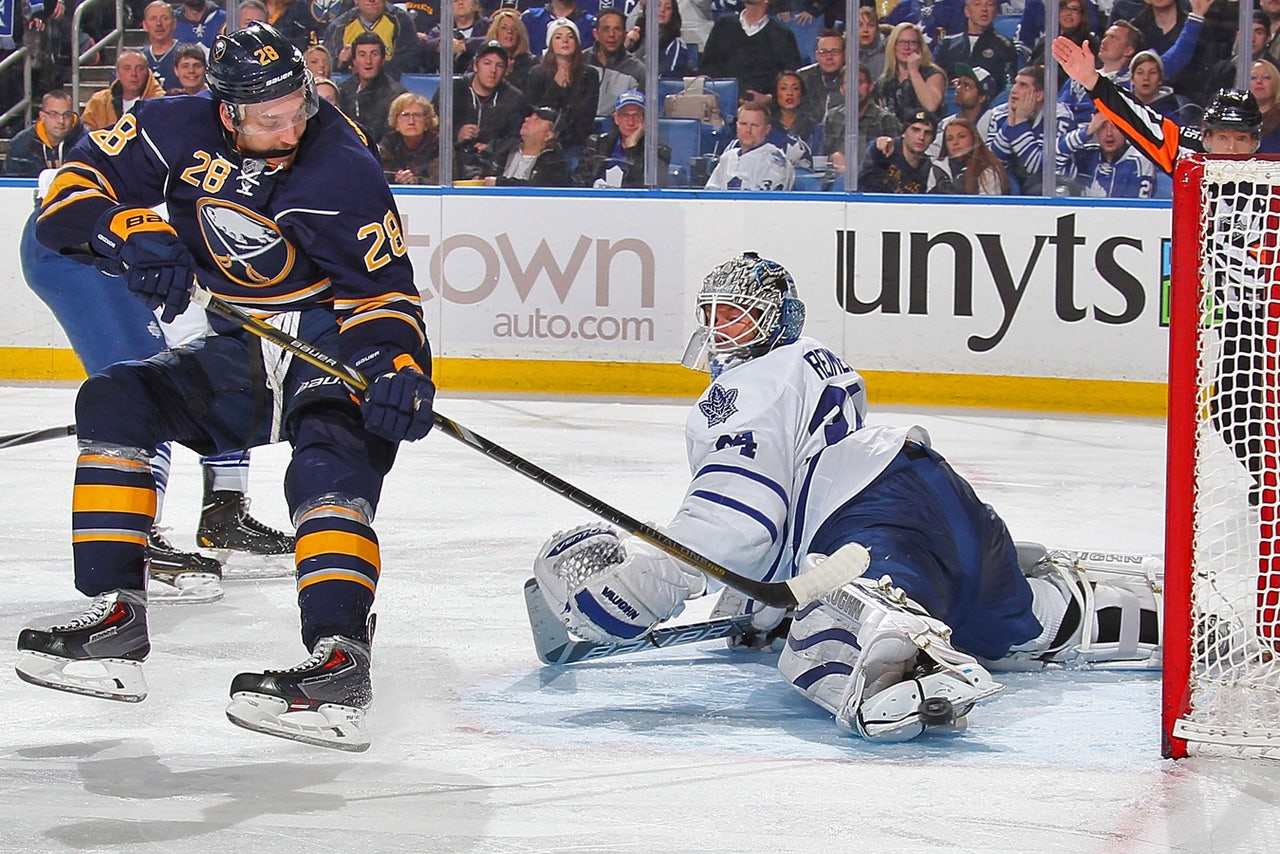 Zemgus Girgensons and the Buffalo Sabres found themselves in an unfamiliar position - the winning side of a blowout.
Girgensons scored two goals, and the Sabres beat the Toronto Maple Leafs 6-2 on Saturday night, snapping a five-game losing streak and posting their biggest win in three seasons.
''We've had a tough season, and it's hard enough when you don't win games, but today was absolutely different how we played, 10 times better than what we've done,'' Girgensons said.
Girgensons scored a short-handed goal in the first period and added a highlight-reel breakaway tally in the third, quieting a Toronto-heavy crowd that delayed the game several times by tossing Maple Leafs jerseys and beverages onto the ice.
''You don't see Buffalo fans out doing that with the kind of season we're having,'' Girgensons said. ''I don't think that's right from the fans.''
Tyler Ennis scored a goal and added two assists for the Sabres, who also got goals from Drew Stafford, Tyler Myers and Matt Moulson.
The Sabres scored their most goals since a 7-4 win at Boston on Jan. 31, 2013, and posted their largest margin of victory since a 5-1 victory over Washington on March 27, 2012.
''I don't remember the last time we had a regulation win like that,'' Stafford said. ''So for us to get one, a good solid effort, it felt like that was one of our most complete games.''
Michal Neuvirth was sharp in the first period for the Sabres and finished with 32 saves.
David Clarkson and Phil Kessel scored for Toronto, which also lost Friday to Pittsburgh.
Buffalo had allowed six goals in each of its last three games before setting a season-high by scoring six against Toronto. The Maple Leafs hadn't allowed six goals in a game this season.
''Did we double our input for the season tonight?'' joked Sabres coach Ted Nolan. ''They were nice goals. The Girgensons short-handed one, and the big one I thought was Moulson's goal right after they scored those two.''
Toronto's James Reimer struggled, allowing all six goals on 35 shots.
''This wasn't our night,'' Reimer said.
Josh Leivo produced the Maple Leafs' first scoring chance with a drive to the net that forced Neuvirth to make a pair of early saves.
A 2-on-1 pass from Tyler Bozak to James van Riemsdyk ended with a shot that Neuvirth deflected away.
Neuvirth again found himself with a point-blank shooter, but turned aside Dion Phaneuf 12 minutes in. Moments later, he sprawled to stop a wraparound attempt by Bozak.
Buffalo grabbed a 1-0 lead by taking advantage of a goalie interference penalty against Clarkson. After Stafford took two shots on Reimer, Ennis flipped the loose puck over the prone goalie at 15:40.
Buffalo scored its second goal with help from Reimer. He came out at a charging Brian Flynn, who slipped around him. Girgensons fired Flynn's pass into the vacated net for a short-handed goal at 18:33.
Stafford drifted across the slot 7:10 into the second period and put a wrist shot through traffic to beat Reimer over the shoulder.
''It's always fun beating those guys,'' Stafford said. ''Especially with that type of atmosphere out there, with their fans showing up, and kind of sticking it to them on a back-to-back so they know what it feels like to be us.''
The Maple Leafs fans livened up when Toronto got on the board late in the second. Cody Franson's slap shot was deflected in by Clarkson to make it 3-1.
It took Buffalo 16 seconds to respond, as Moulson beat Reimer between the legs off a feed from Ennis.
''Leaf Nation is very strong, and they were here in full force tonight,'' Nolan said. ''It was almost like winning a road game for us.''
Kessel came right back with a low shot to beat Neuvirth. It was 4-2 after three goals within one minute.
Myers restored Buffalo's three-goal lead when he lunged into the crease to poke a loose puck past Reimer.
Then came Girgensons breakaway goal, as he charged toward Reimer with speed before slipping to his backhand to score Buffalo's sixth goal.
''Heat of the moment what happened there,'' Girgensons said. ''I just happened to get a breakaway and just put it in.''
NOTES: Hockey Hall of Fame broadcaster Rick Jeanneret called the first period in his first game back in the booth since being declared cancer-free. He was given a standing ovation. ... Sabres D Josh Gorges missed his second game with a lower-body injury. ... Toronto will begin a three-game homestand on Tuesday against Nashville.
---
---