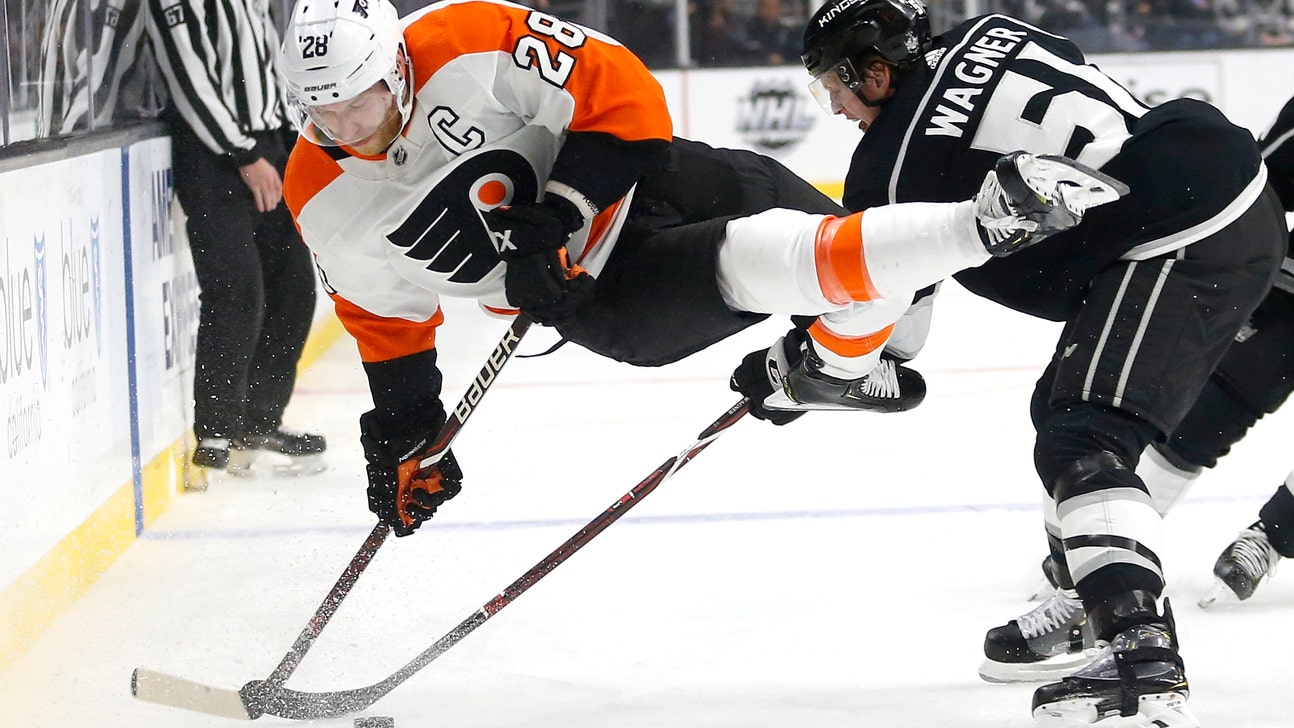 Flyers top Kings 5-2 for first winning streak of season
Updated
Mar. 4, 2020 3:39 p.m. ET
LOS ANGELES (AP) — The Philadelphia Flyers are starting to find ways to overcome their own mistakes.
They proved it against the floundering Los Angeles Kings, putting together their first winning streak of the season in the process.
Oskar Lindblom had a goal and an assist as the Flyers defeated the Kings 5-2 on Thursday night.
Ivan Provorov scored for the second straight game and the Flyers won consecutive games for the first time. Brian Elliott made 25 saves, and Claude Giroux and Wayne Simmonds each had a goal.
"We've played pretty good hockey at different times," coach Dave Hakstol said. "We just haven't been consistent enough from one game to the next. And there's been games we haven't been consistent enough period to period. That's what we've been able to do the last two nights is put consistent play together for 60 minutes."
Ilya Kovalchuk had a goal and an assist, and Jeff Carter scored a power-play goal for the Kings, who have lost seven of eight. Los Angeles has allowed at least three goals in each of those eight games.
Jack Campbell, who will be the starting goalie for three to six weeks as Jonathan Quick recovers from knee surgery, made 26 saves.
Lindblom made it 3-1 at 14:05 of the second period when a video review determined he kicked the puck in off Kings defenseman Sean Walker's stick, confirming the original call on the ice.
Kovalchuk cut the deficit to 3-2 at 18:49, his fifth point in two games. Kovalchuk has two goals and three assists during that span.
Giroux put the Flyers back up by two at 14:27 of the third, and Robert Hagg added an empty-net goal at 16:49.
"It's not where we want it to be, but I think we're doing lots of good things," Flyers defenseman Radko Gudas said. "I think we're stepping in the right direction."
The Flyers went in front 2-1 on Simmonds' goal at 10:53 of the second, 49 seconds after Carter scored on a backhand following up his own rebound.
Philadelphia mounted a similar response in a 3-2 win at Anaheim on Tuesday, with Nolan Patrick scoring the winner 21 seconds after the Flyers allowed the tying goal.
"We're learning from our mistakes earlier," said center Sean Couturier, who had an assist. "It's a long game and we're getting some good response right after, and we need that. It's a tight game, you've got to keep playing. The next line, that's two games in a row where we do a great job getting a big lead back."
While the Flyers have been better able to respond positively to those circumstances, Carter viewed allowing the goal so quickly as a reflection of the Kings' largely stagnant play.
"It's just kind of the way things are going right now for us," he said. "We need to stick together and use that positive momentum to our advantage. We're getting it and we're giving it right back. It's tough right now."
Provorov put the Flyers ahead 1-0 at 17:35 of the first period, scoring in the slot on a one-timer from Dale Weise.
Jordan Weal pressured defenseman Derek Forbort into losing the puck in the neutral zone, the kind of breakdowns Kings coach John Stevens said have been occurring too frequently.
"A step slow with the puck, and a step slow checking to get the puck back, and too much time in your zone," Stevens said. "Too many bad things happening."
NOTES: Flyers G Michal Neuvirth did not dress for what the team described as precautionary reasons. Calvin Pickard served as Elliott's backup. ... Kings D Paul LaDue is day to day after sustaining an upper-body injury in practice Wednesday. ... Flyers forward Corban Knight will be out four months after undergoing surgery on his collarbone.
UP NEXT
Flyers: Visit the San Jose Sharks on Saturday.
Kings: Continue their seven-game homestand Saturday against Columbus.
---
---