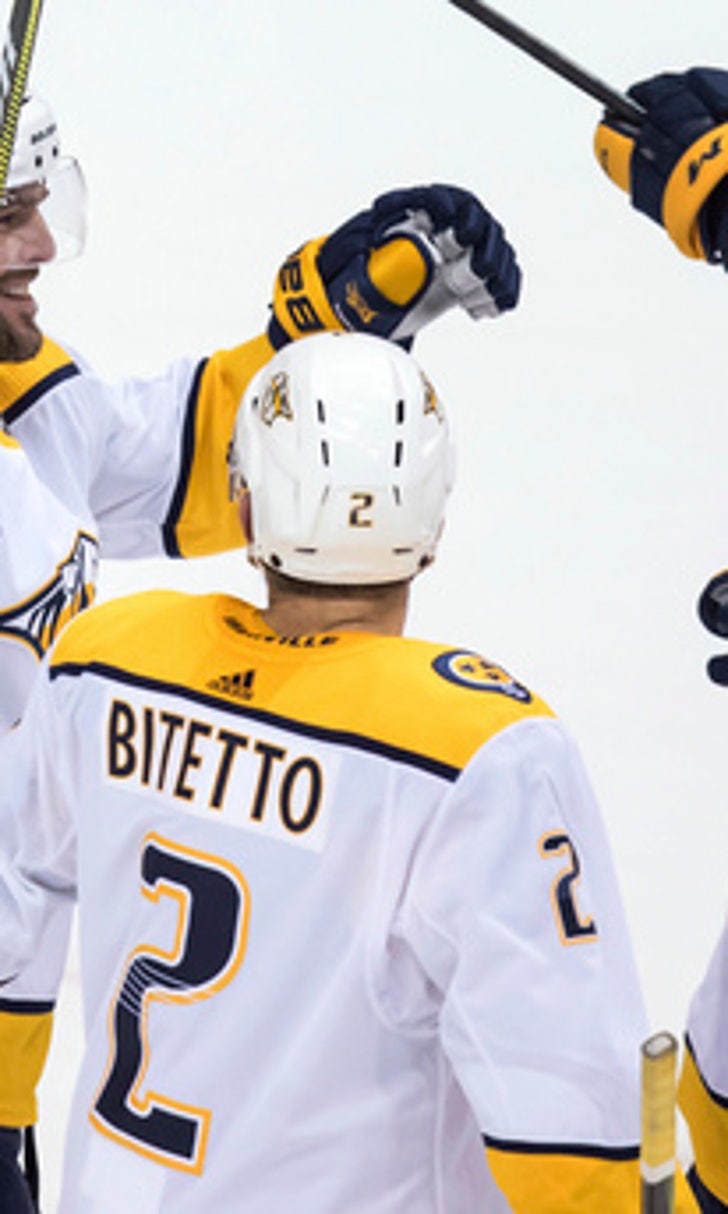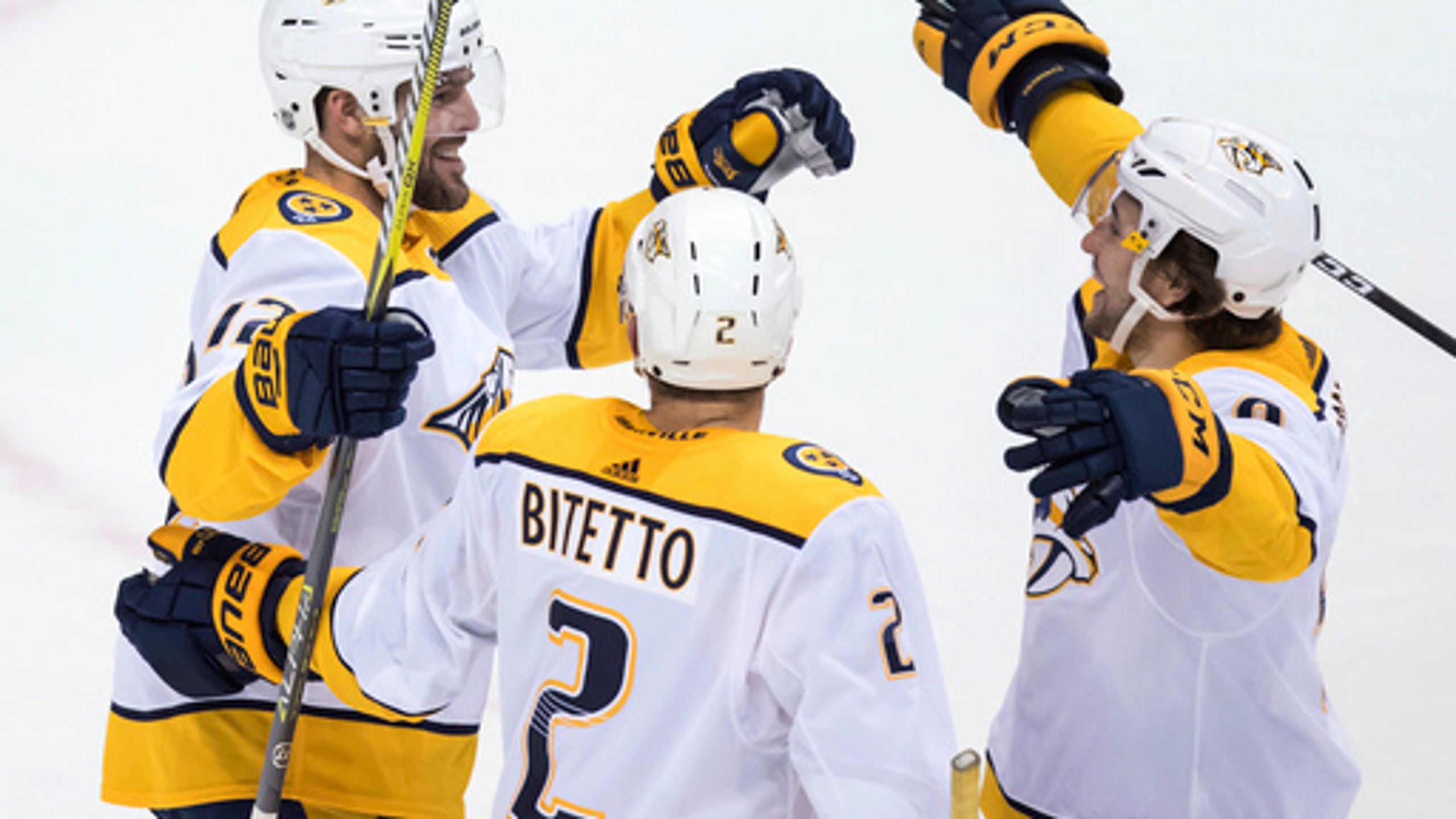 Fisher scores in 1st game back, Predators top Canucks in OT
March 3, 2018
VANCOUVER, British Columbia (AP) Mike Fisher's return to the Predators quickly became a coming-out-of-retirement party.
Fisher scored in his first game back and Calle Jarnkrok won it 43 seconds into overtime as Nashville beat the Vancouver Canucks 4-3 on Friday night for its seventh consecutive victory.
The 37-year-old Fisher, who announced his retirement just more than six months ago, changed his mind and decided to come back for an eighth season with the Predators. He returned to practice with the team earlier in February and signed a one-year deal.
''They say sometimes rest is a weapon. We'll see,'' Fisher said. ''I was trying to keep the shifts as short as possible, but it was easy fitting in with my linemates, the team, the way they have been playing and working. It was fun.''
If rest is indeed a weapon, the Predators seemed intent on using it Friday. They opted to give the night off to four regular players: Roman Josi, Craig Smith, Scott Hartnell and Yannick Weber. The victory in their absence showed just how much depth there is in Nashville's lineup.
''We had a couple guys gone today, but we still managed to win the game and we played a great hockey game,'' Jarnkrok said.
Kevin Fiala and Ryan Ellis also had goals for the Predators (41-14-9), who matched their longest winning streak since November 2009. The defending Western Conference champions lead the West by four points over expansion Vegas.
Backup goalie Juuse Saros made 24 saves for Nashville, which holds the top spot in the Central Division.
''They're deep throughout their lineup,'' said Brandon Sutter, who scored one of Vancouver's goals. ''They have four lines that can score. Their D is probably the strongest D corps in the league. But we stuck with them all night. It was a pretty solid effort for us.''
Bo Horvat and Daniel Sedin also scored for Vancouver (24-32-9), which is 3-8-3 in its past 14 games. Jacob Markstrom was impressive with 39 saves.
Alex Edler, who has played his entire career in Vancouver, had two assists to surpass Mattias Ohlund for most points by a Canucks defenseman with 326.
''It means a lot to be up there with (Mattias),'' Edler said. ''He was a mentor for me. It was great for me to have him here my first year. How he played on the ice and how he acted off the ice, too. I'm very grateful for that.''
Vancouver scored first while on the power play, off a faceoff in the Predators zone. Edler ripped a shot from the blue line that Horvat tipped in at 5:55 of the first period.
The Canucks made it 2-0 with five minutes remaining in the second as Sutter carried the puck from the side boards into traffic and scored on a backhand.
The Predators got on the board minutes later when Fisher swatted in a rolling puck following Filip Forsberg's shot. He almost scored again early in the third with a shot from the slot, but hit the post.
Nashville tied it midway through the period during a 4-on-4. Fiala fired a hard wrist shot from near the faceoff circle that went into the top corner.
Vancouver jumped ahead 3-2 on a power play. Sedin took a pass from twin brother Henrik Sedin and lifted his own rebound for his eighth goal in eight games.
The Predators tied it again with just more than two minutes left. Ellis' drive from the blue line cleared enough traffic to squeak by Markstrom and force overtime.
Jarnkrok won it when he fired a shot from the hash mark that beat Markstrom.
NOTES: The Canucks shut down winger Loui Eriksson (rib injury) on Thursday for the remainder of the season. ... Canucks forward Sven Baertschi left early in the second after taking a hard check from Alexei Emelin. Baertschi went to the locker room clutching his shoulder and did not return.
UP NEXT
Predators: Sunday afternoon at Colorado.
Canucks: Host the New York Islanders on Monday night.
---
More AP hockey: https://apnews.com/tag/NHLhockey
---
---