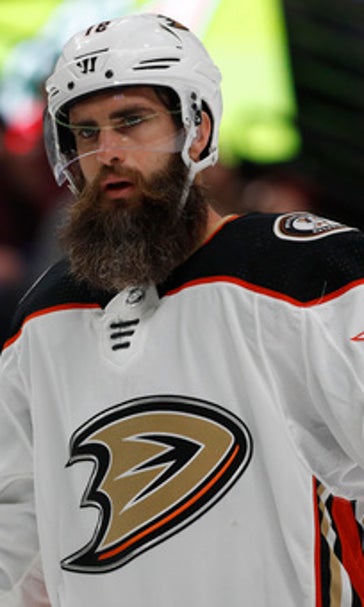 Ducks' Patrick Eaves recovering from Guillain-Barre syndrome
October 24, 2017

ANAHEIM, Calif. (AP) Anaheim Ducks forward Patrick Eaves has been diagnosed with Guillain-Barre syndrome, and his hockey career is on hold while he recovers.
The Ducks announced Eaves' diagnosis Monday, and the club disclosed that the veteran goal-scorer was in intensive care last week.
Eaves is still hospitalized in Newport Beach, California, but his condition has stabilized.
''I'm on the road to recovery,'' Eaves said in a statement issued by the Ducks. ''I've received tremendous amount of support over the last few days, most importantly from my family, friends and teammates. I'm determined to fully overcome this and return to the ice as soon as possible.''
Guillain-Barre syndrome is a rare disorder in which a patient's immune system attacks the nervous system, sometimes resulting in death. Eaves' condition was diagnosed early, an important factor in successful treatment.
Eaves thanked two specialists - Dr. Robert Watkins Sr. and Dr. Danny Benmoshe - for quickly discovering the disorder last week. Ducks general manager Bob Murray also praised the doctors.
''Our sole focus at this time is on Patrick's general health and well-being,'' Murray said. ''What defines Patrick Eaves is his strength of character, and that will serve him well in his recovery.''
The 33-year-old Eaves joined the Ducks from Dallas as a late-season trade rental in late February. He played a key role in their push for a fifth straight Pacific Division title, excelling on the power play and racking up 11 goals in 20 games.
Despite missing the final 10 games of the regular season due to injury, he finished with a career-high 32 goals between the Ducks and Stars. He played seven games in the postseason, but sat out the final 10 games with a sprained right ankle while Anaheim reached the Western Conference finals.
Instead of seeking bigger offers in free agency, he re-signed with the Ducks in June, agreeing to a three-year, $9.45 million deal. He was expected to be a key top-six forward for the Ducks this season.
Eaves also has suited up for Ottawa, Carolina, Detroit and Nashville during his 12-year NHL career.
---
More AP NHL: https://www.apnews.com/tag/NHLhockey
---
---