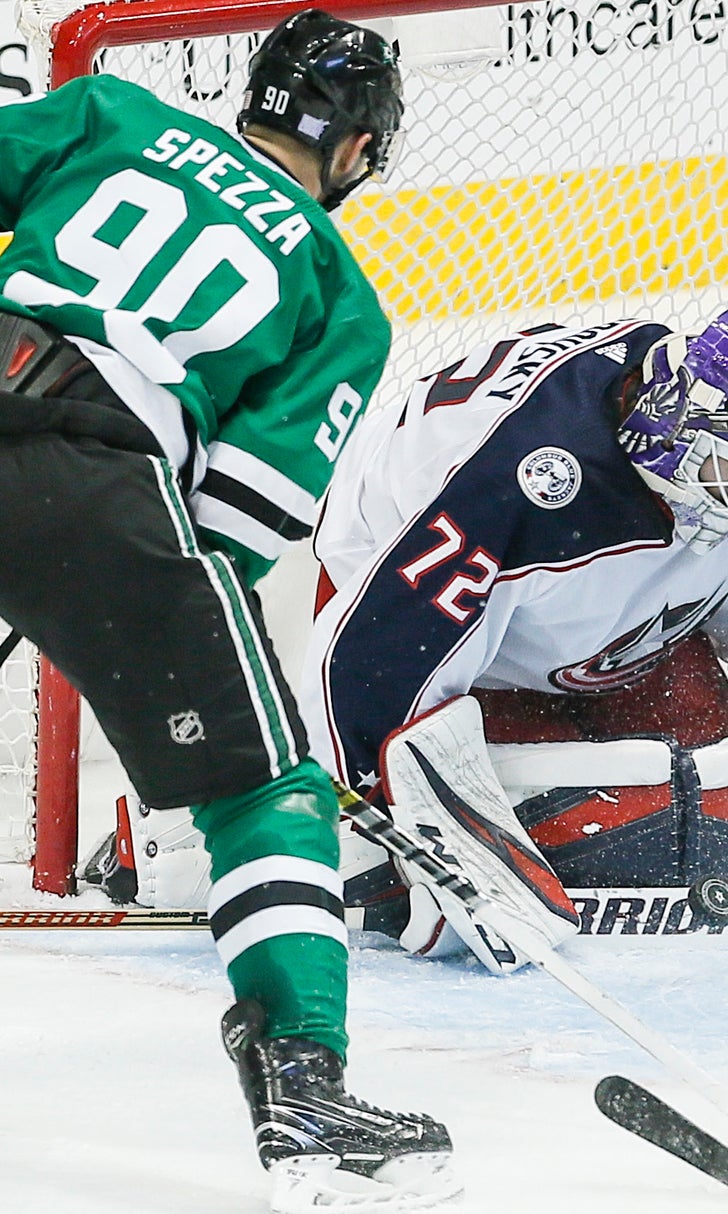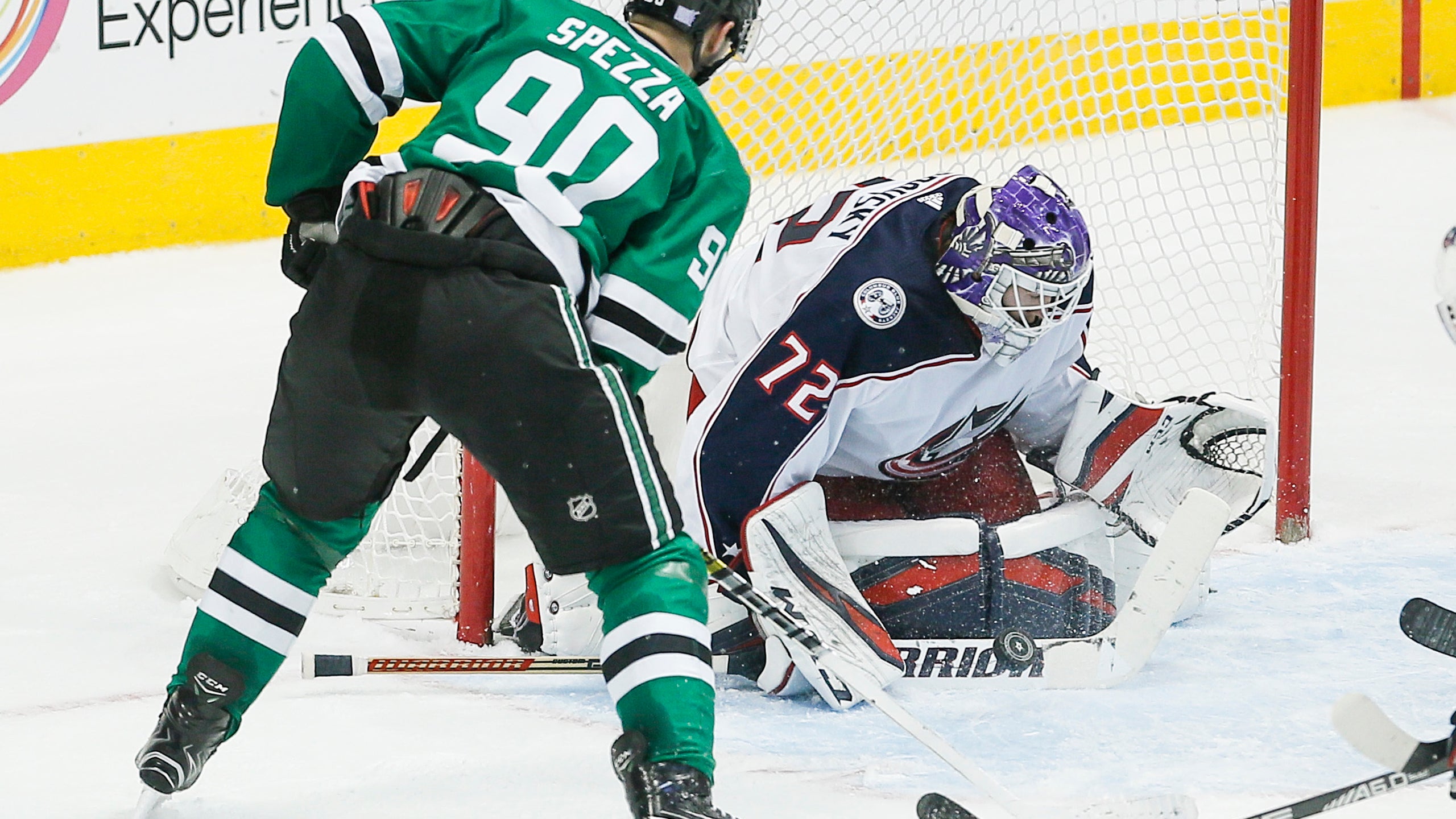 Dubois gets go-ahead goal, Blue Jackets beat Stars 2-1
November 13, 2018
DALLAS (AP) — Pierre-Luc Dubois thought he had a tiebreaking goal for Columbus in the third period before Dallas goalie Anton Khudobin came up with a big save. Seconds later, Dubois had another chance and made it count.
Dubois scored midway through the third period and the Blue Jackets beat the Stars 2-1 on Monday night.
"(Khudobin) made a really nice save. (You) hope you have it back," Dubois said.
The goalie didn't have much of a chance 29 seconds later when Dubois took a pass from Cam Atkinson behind the net and backhanded the puck under the crossbar with 9:39 left for his eighth goal.
"He's a good player," Columbus coach John Tortorella said, "and he's just beginning in this league."
Dubois credited Atkinson.
"Cam made a nice play to bring it back around the net," Dubois said. "I was lucky enough to get a stick on it."
Atkinson had scored the game's first goal in the second period.
Alexander Radulov, who returned to the Stars' lineup, tied the game in the second period.
The Blue Jackets extended their points streak to five games (3-0-2) and are two points ahead of the New York Rangers in the Metropolitan Division. Columbus has won its last seven games against the Stars.
Dallas maintained fourth place in the Central Division.
Each team had entered the game with a 9-6-2 record.
Khudobin and Columbus goalie Sergei Bobrovsky each had 26 saves.
The first period ended scoreless. Columbus killed all three Stars penalties and held Dallas to one shot on goal with the man advantage, while building a 10-9 edge on shots for the period.
"The power play cost us the points," Radulov said. "It's all about work, winning the battles. (Columbus) did a good job obviously, but we've got to come up stronger."
The Stars' only penalty in the first was a major to Jamie Benn for a fight with Columbus forward Josh Anderson.
"It's close to what the game should be played like," Tortorella said. "A fight. A couple high sticks here and there. And scrums. Both teams played hard. Didn't give each other many scoring opportunities."
Stars coach Jim Montgomery was disappointed in Dallas' 0-for-4 power play.
"The word that describes it is discombobulated," he said.
It didn't take long for the Blue Jackets to get their first power play and a 1-0 lead. At 1:29 of the second period, 25 seconds after Benn went off for slashing, Atkinson took a pass from Seth Jones at the top of the right faceoff circle and sent a wrist shot past Khubodin.
The Stars blocked 15 shots in the period and tied the game 1-1 at 18:20 when Radulov put a wrist shot from the right circle into the upper left of the net.
It was Radulov's sixth goal in eight games. He had missed 10 of the previous 11 games because of a lower-body injury.
"He's a fiery guy," teammate Jason Spezza said. "He means a lot for us. You don't take a guy of that caliber out of your lineup and not miss him."
Montgomery thought Radulov's goal would provide a spark.
"We had a really good feeling going into the third. We didn't seem to be able to build momentum off of that," he said.
NOTES: Stars C Devin Shore (lower-body injury) left the game in the first period and didn't return. Montgomery said Shore was likely to miss 7-10 days. ... Dallas RW Brett Ritchie (upper-body) played for the first time in five games. ... D Julius Honka had a game-high five blocked shots, four in the second period. ... Blue Jackets D Seth Jones returned home for the game. He was born in nearby Arlington, Texas. ... A spectator who spent eight years in Arlington was former Texas Rangers pitcher Derek Holland, now with the San Francisco Giants but still a Stars season-ticket holder. Holland is from Heath, Ohio, near Columbus.
UP NEXT
Blue Jackets: Return home to play Florida on Thursday.
Stars: Complete a four-game homestand on Friday against Boston.
---
---