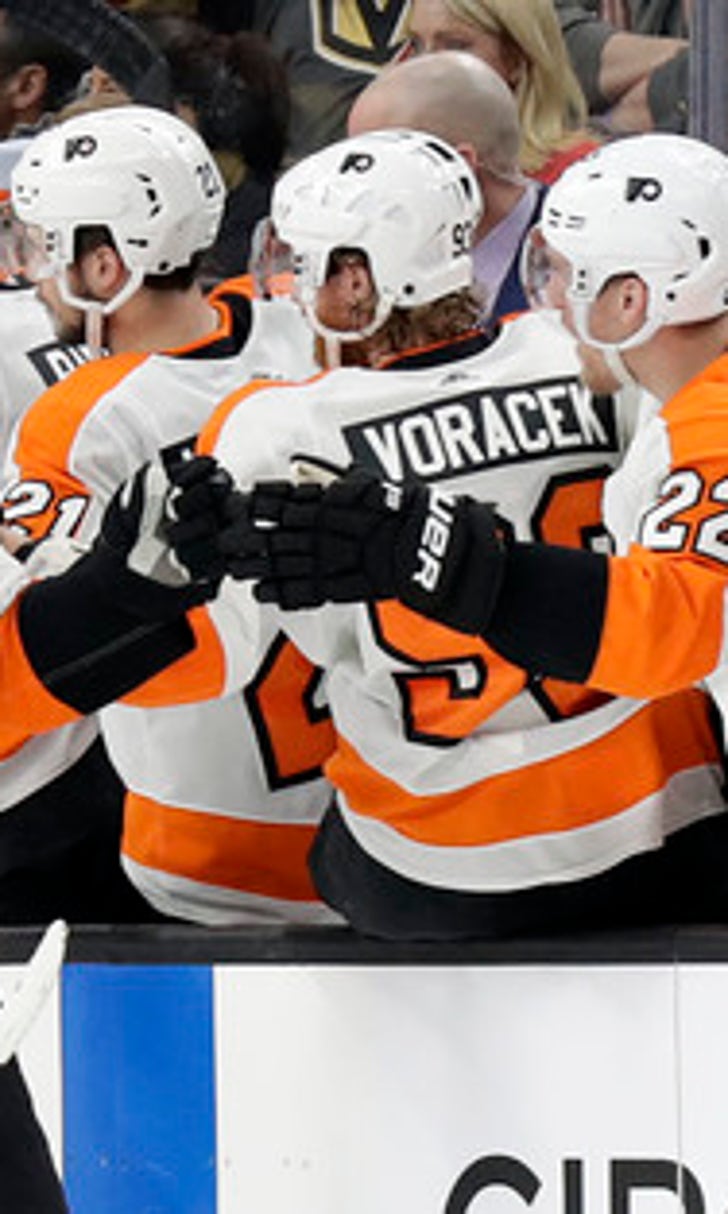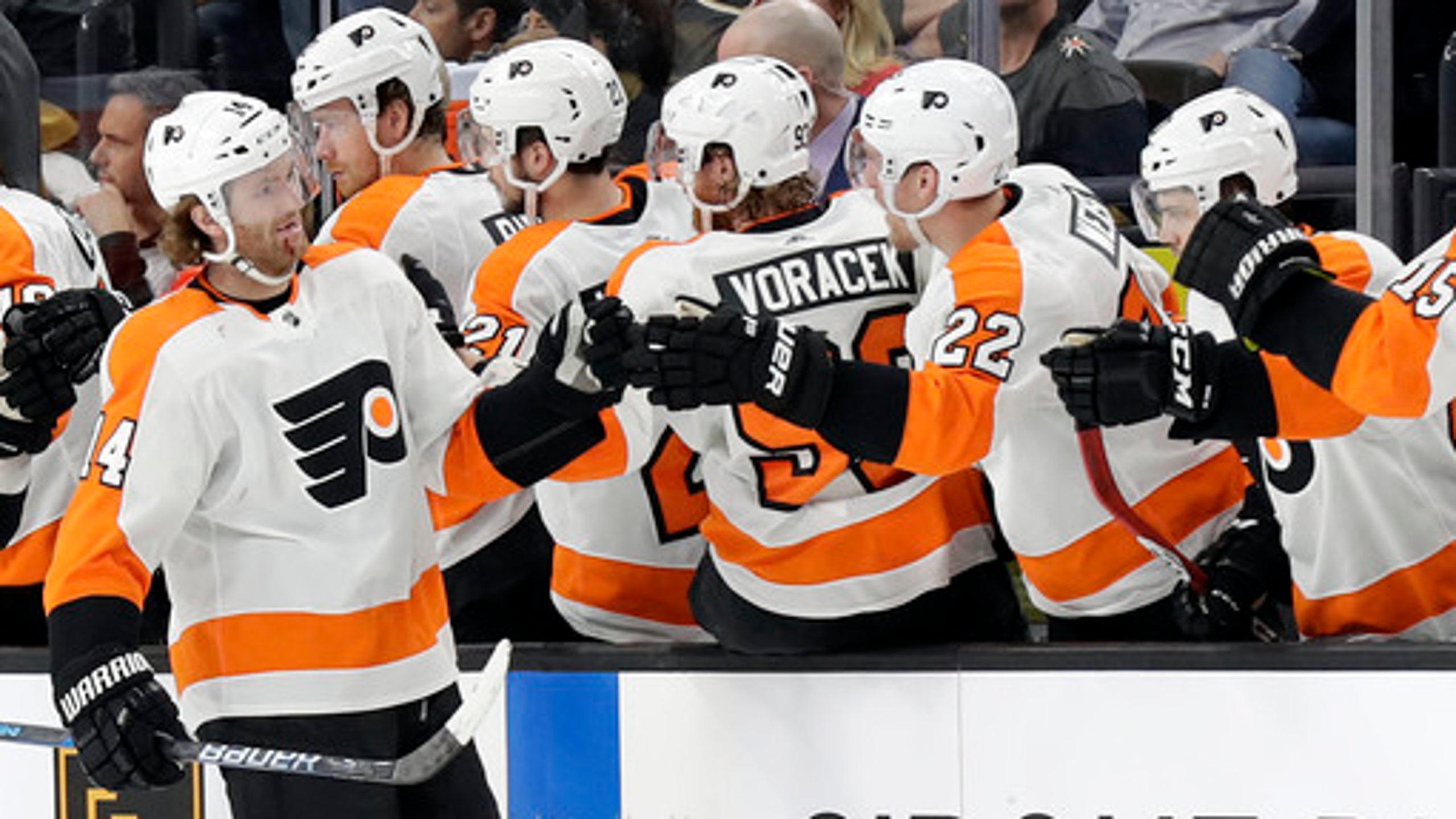 Couturier has goal, 2 assists as Flyers beat Vegas, 4-1
February 12, 2018
LAS VEGAS (AP) One week after the Philadelphia Eagles won the Super Bowl, chants of ''Fly, Eagles, Fly'' could be heard roughly 2,500 miles away from the City of Brotherly Love.
A loud and exuberant contingent of Philadelphia fans donning orange among the 18,220 in attendance watched Sean Couturier score a goal and two assists to help the Flyers beat the Vegas Golden Knights 4-1 on Sunday.
And just like backup quarterback Nick Foles led the Eagles to their first Super Bowl championship, backup goalie Michal Neuvirth stepped up for injured starter Brian Elliott by shutting the door on back-to-back nights for the Flyers.
One night after coming off the bench to stop five shootout attempts and help Philadelphia to a 4-3 win in Arizona, Neuvirth stopped 14 shots to improve to 7-7-2 on the year by defeating the Western Conference's top team.
''It was huge coming off the bench yesterday and shutting the door, it gave me a lot of confidence coming into this game,'' said Neuvirth, who was forced into Saturday's game when Elliott was injured while making a shootout save. ''It was a great game right from the start, great atmosphere, great crowd, and it's so much to fun to play in front of a crowd like that.
''On the way to the rink from the hotel I saw so many fans wearing our jerseys. Back-to-back wins, with our tough schedule, it's huge for us.''
The Flyers became just the fourth team to beat Vegas in regulation at T Mobile Arena.
Andrew Macdonald, Claude Giroux and Radko Gudas also scored for Philadelphia, which improved to 20-8-2 since Dec. 4 - when it ended a 10-game winless streak with a 5-2 victory at Calgary.
''Coming off a back-to-back it's kind of tough to get the legs going, but we grinded it out,'' Couturier said. ''They've got a good team. I think they probably outplayed us most of the night. Neuvie kept us in the game and we got a few lucky bounces to get us going a little bit. Every game matters, every point is important. We found a way to win and that's all that matters.''
The Flyers have won four straight to move into third place in the Metropolitan Division, just one point behind second-place Pittsburgh.
''For a night like tonight, to win on a back-to-back, you have to have good goaltending, and you have to have a whole bunch of guys that are willing to lay it on the line and scratch and claw and find a way,'' Flyers coach Dave Hakstol said. ''I think that sums up a little bit about our hockey team.''
Brayden McNabb scored the lone goal for Vegas, which is 19-4-2 at home this season. Marc-Andre Fleury, now 27-18-2 lifetime versus Philadelphia, finished with 38 saves.
The Golden Knights, who have 12 power-play goals in their last 10 games, had registered a goal with a man advantage in each of their previous nine games, which tied for the longest power-play goal streak this season. Vegas was 0-for-1 with their only power-play opportunity against the Flyers.
''We got a ton of shots but nothing that was really dangerous - that was the difference in the game,'' Vegas coach Gerard Gallant said. ''I thought we played well in the first, thought the second was a bad one for us. They did a good job protecting the lead in the third. We weren't hungry enough tonight. We just weren't competitive enough to score those goals tonight.''
McNabb opened the scoring with his fourth goal of the season at 11:22 of the first period, when he took a pass from Reilly Smith and skated in to beat Neuvirth with a blistering wrist shot on the goalie's glove side to give Vegas a 1-0 lead.
After some nifty passing in the attacking zone, Couturier one-timed a pass from Travis Konecny through the legs of Fleury, tying the game at 1-all with a little more than 2 minutes left in the first. It was Couturier's team-leading 28th goal of the season.
The Flyers scored twice late in the second period to take a 3-1 lead. First it was Couturier firing a shot that Macdonald deflected past Fleury with 2:52 remaining. Then, with 5.8 seconds left, Fleury's poke check turned into a pass for Giroux, who scored his 199th career goal.
Gudas' empty-netter with 2:26 to go provided the final margin.
NOTES: Philadelphia's Jakub Voracek snapped an eight-game scoring streak. ... Couturier needs just three goals to reach 100 in his career. ... Vegas' Deryk Engelland is one point away from tying his career high at 17. ... William Karlsson, who assisted on McNabb's goal, is two points shy of 100 for his career.
UP NEXT
Philadelphia: Hosts New Jersey on Tuesday.
Vegas: Hosts Chicago on Tuesday.
---
---