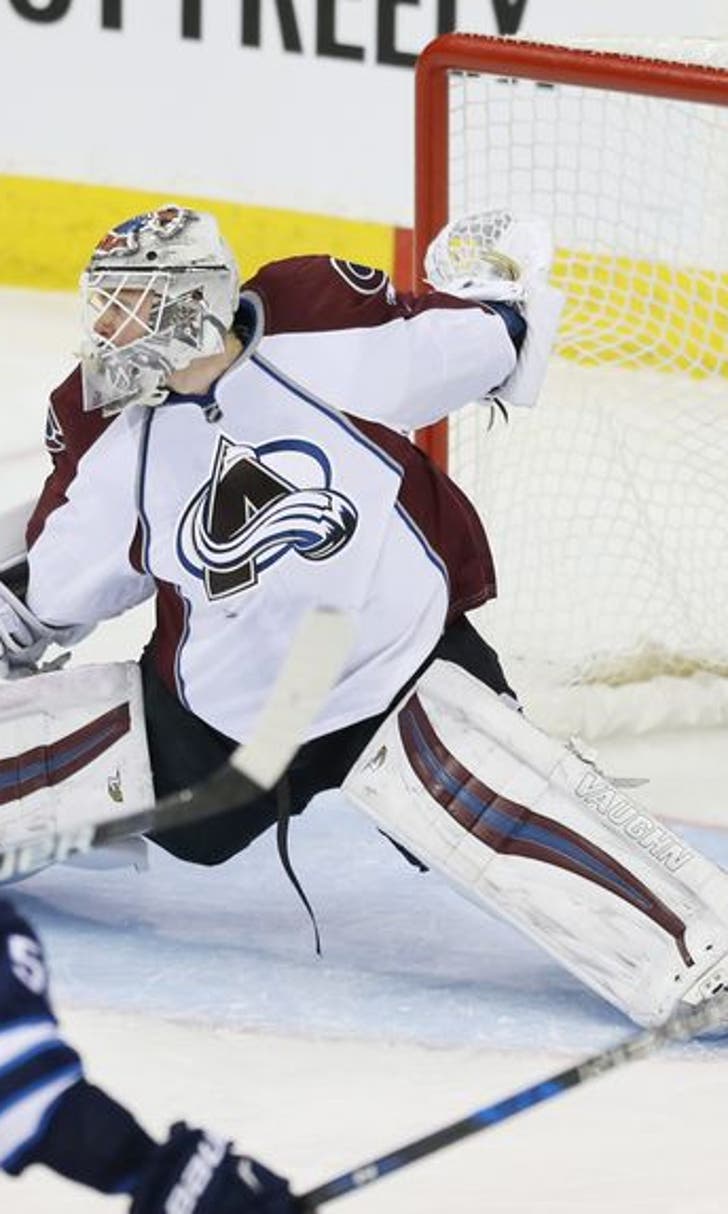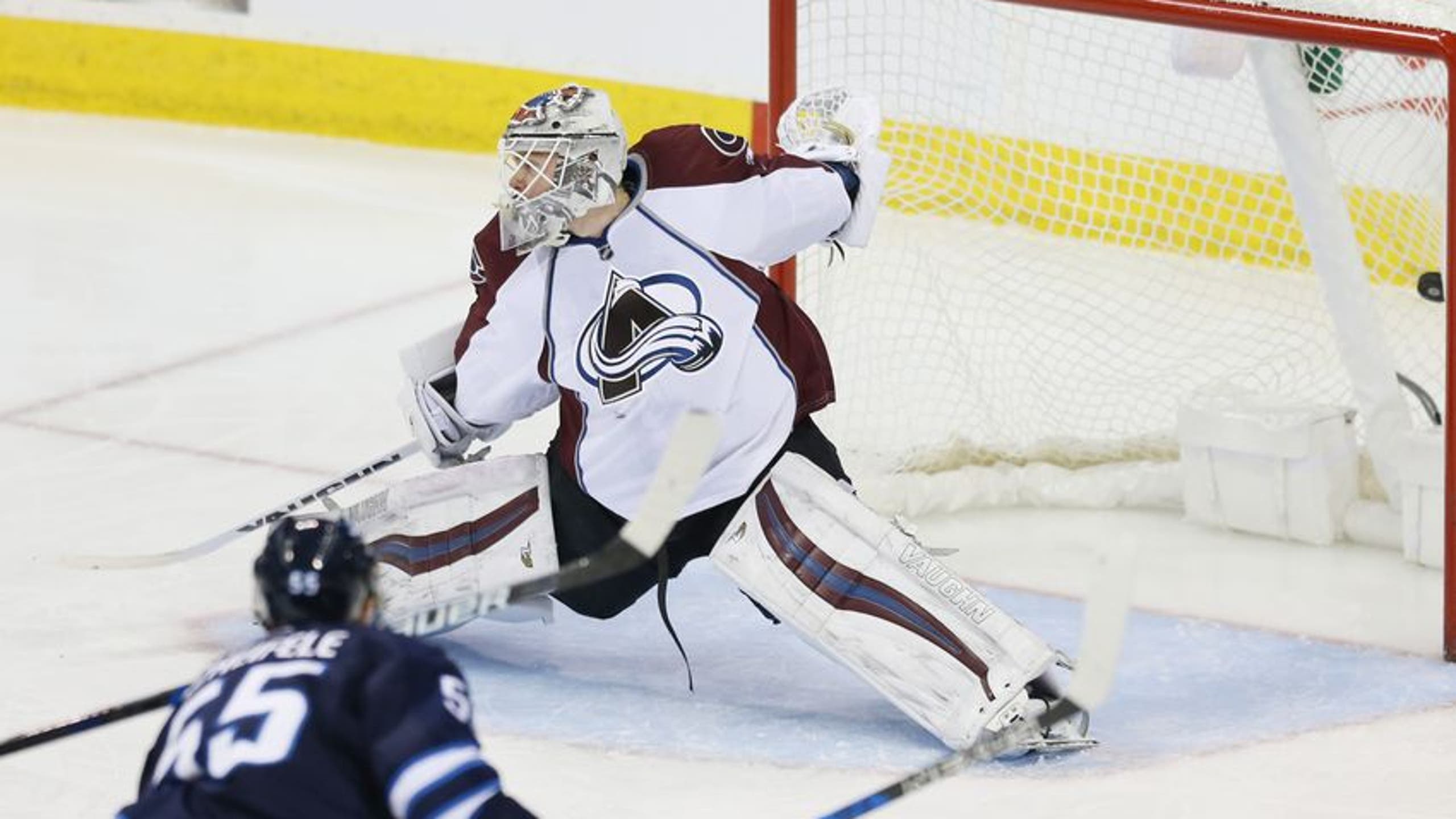 Colorado Avalanche Goalie Calvin Pickard Needs Support
BY Fansided and Nadia Archuleta/FanSided via Mile High Sticking • December 29, 2016
Calvin Pickard could eventually be the Colorado Avalanche's starting goalie. However, he needs some support from the team.
Colorado Avalanche goalie Calvin Pickard's statistics are finally catching up with the rest of the team's. After starting 14 games, Pickard is now one game under 500 at 6-7-1 after the other night's loss.
Pickard's statistics have long been better than Semyon Varlamov's, and they still are a little better. Varlamov's goals against average is 3.33, while Pickard's is 2.95. Varly's save percentage is .901 to Picks' .903.
The gap used to be wider, though. A large part of that reason is Varlamov usually gets more playing time as the starting goalie. However, because of his wonky groin, Varlamov has only started 20 games, going 6-14-0 (which is considerably worse than Pickard's record.)
What that all means is that a lot of the goalie statistics can be chalked up to team play in front of the goalie — otherwise the two very different goalies wouldn't be so close in stats once their games played drew so close.
What that really means is Calvin Pickard needs support — and I do mean Pickard specifically.
Pickard as Starter
The 24-year-old Calvin Pickard was the Colorado Avalanche's second-round draft pick in 2010, going #49 overall. He was the top-ranked goalie of his draft year. (That was the year Colorado selected Joey Hishon at #17.)
Pickard went pro in 2011-2012, which was also the year the Avalanche acquired Semyon Varlamov. Since then, the two goalies have circled around each other.
Varlamov is a talented goalie who unfortunately can run very hot or very cold. Pickard, on the other hand, is less talented but more stable. Varlamov can win or lose games for you. Pickard will win you the games you deserve to win and keep you in most.
Besides being hot and cold, and injury prone, Varlamov is also very expensive. He carries a $5.9 million cap hit. Pickard's is $1 million over the next two years.
I've long agitated for Pickard to be to the Colorado Avalanche starter. They'd have to find a way to shed Varlamov's contract. But if they could free that money up, they could get a stud defenseman — and that would go a long way toward giving Calvin the support he needs.
More About Calvin Pickard:
Skaters
avalanche
Mile High Sticking 13wColorado Avalanche: Avs' Strength on Display in Toronto
More headlines around FanSided:
13w - Colorado Avalanche Players to Consider for Fantasy Hockey14w - Colorado Avalanche: Nathan MacKinnon as a Power Winger14w - Colorado Avalanche Center Matt Duchene Banged Up at World Cup15w - Colorado Avalanche World Cup Concerns Overblown15w - Colorado Avalanche: World Cup Good For TeamMore News at Mile High Sticking

The game against the Calgary Flames is a microcosm of how Pickard isn't getting the support he needs. Colorado lost the game 6-3, which on the face of it looks bad for Pickard. However, four — four — of the goals against him bounced off of Colorado Avalanche players. That means if the skaters had been more savvy about positioning, the team could have won 3-2, or gotten a tied game if there was only the one bad bounce.
When you're watching a team that's really on its game, like the Washington Capitols last year, they almost seem to be running like a well-oiled machine. The Colorado Avalanche need that.
Part of the problem is the systems. However, they've had at least three new systems in as many years, and that hasn't been working.
Turns out a lot more of it is chemistry. Recently Nathan MacKinnon admitted that the team just doesn't have any chemistry. In a way, that makes sense — there's a weird mix of the young(ish) core, aging superstars and mid-age, mid-level grinders.
Additionally, the Avalanche defensive corps is much-maligned, and the defensive holes have been magnified by the loss of Erik Johnson to injury. However, it's the forward corps that hasn't been living up to its promise. The Colorado Avalanche have been shut out seven times this season — it's tough to win hockey games when you don't score.
Any goalie would be much improved with a better team in front of him. However, Pickard really could give the Avalanche a fighting chance because he doesn't cheat and doesn't over-rely on his talent. He simply needs adequate defense in front of him and forwards who are scoring.
Veteran Goalie
The other thing I'd like to see the Colorado Avalanche get for Calvin Pickard is a veteran goalie as backup. Right now, when Semyon Varlamov is out, Pickard has a goalie who's even younger and greener than he is as backup. When Varlamov is in, Pickard has a goalie who's protecting his own job.
Now, there's every evidence that Pickard and Varlamov are close. Last year, after a big win, Picks literally leaped into  Varly's arms in celebration.
However, if Pickard were to be groomed for the starting position, he needs a mentor. I'm thinking of J.S. Giguere to Varlamov three seasons ago.
The best case scenario would be to trade Varlamov, even if it's just for prospects or a draft pick because the point is to free up cap space. It would be hard to find a stud d-man now — maybe at the trade deadline. But, hey, this season is already a wash. Colorado also needs to pick up the Jarome Iginla of goalies, a man who was once great but is on his way out.
Well, maybe great is a reach. The Colorado Avalanche just need another Giguere to mentor Calvin Pickard. That way next season, with freed up cap space (Colorado has nine expiring contracts), the team could create a more solid core in front of Calvin.
If this post shows up on Fox Sports or any other site, note that the author is Nadia Archuleta, and the post originally appeared on Mile High Sticking.
More from Mile High Sticking
This article originally appeared on
---
---