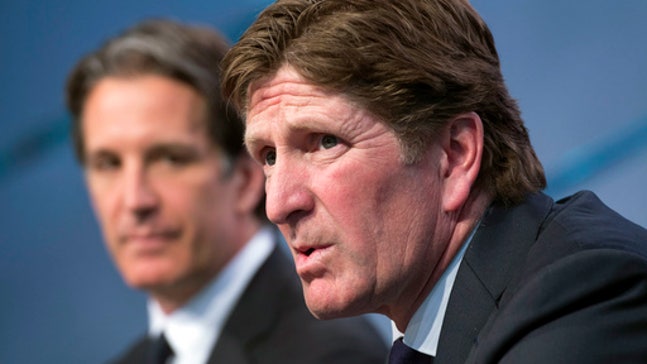 Coach's challenge on docket for NHL general managers meeting
Published
Mar. 13, 2016 8:19 p.m. EDT

At their annual March meeting this week in Boca Raton, Florida, NHL general managers will debate changes to the coach's challenge system that has gotten some calls right but caused plenty of problems in its first season.
The coach's challenge for goals on potential goaltender interference situations or offside plays has come under fire for inconclusive results, long video reviews and delay tactics. Ideas to tweak the system include allowing the league situation room to decide the reviews, making an unsuccessful challenge a penalty and even simply adding more cameras for more replay angles.
''I think there's challenges with the challenge,'' New Jersey Devils GM Ray Shero said. ''I don't know what needs to change. I'm looking forward to hearing all the different opinions from the GMs and certainly from the league on what the challenges have been.''
Unlike 3-on-3 overtime, which is drawing rave reviews for its entertainment value and reduction in shootouts, the coach's challenge hasn't been a flawless addition to games. Through the first 1,029 games, just 55 of 216 coach's challenges were overturned.
Most are well-intentioned, and those upheld cost a coach his timeout. But the notion that some coaches are challenging goals just to give their teams a longer breather led to the idea of making an unsuccessful one a delay of game penalty.
Shero said he likes that idea in concept but added that the lingering gray area over goaltender interference could make it a problem. Winnipeg Jets GM Kevin Cheveldayoff is more concerned about getting offside plays right by having some more camera angles.
''The hard part for me is that I think a lot of the challenges at least that we've been a part of, there's been an inconclusive type of remedy to it,'' Cheveldayoff said. ''If a foot's lifted, a foot's not lifted and it literally just depends on do you have enough camera angles or not to make that right ruling.''
The NHL is trying to get it right, but many video reviews this season have taken several minutes. Those lengthy delays have been the subject of criticism, but Detroit Red Wings GM Ken Holland is of the opinion that it's better to take time than be wrong.
''Which is worse, taking 6 minutes to come to the conclusion or making it in 2 minutes and finding out today that the decision that they made on video review was the wrong one because they didn't take the time to look at it close enough, there was an angle that maybe the TV hadn't shown?'' Holland said. ''You can't just say we want to have a video review and you got 2 minutes and the guys are whipping through it and then they find out a certain percentage of the decisions that they're making are wrong decisions.''
That's why some GMs would like the situation room in Toronto to take over coach's challenges from the on-ice officials. The goal would be to standardize goalie interference, which is inherently subjective.
One complaint from coaches on offside plays is that goals have been disallowed that came well after a team entered the zone. Holland said he'd be open to discussing changes to that rule.
''An offside that you miss by a fraction of an inch that caused the goal that had nothing really do with being offside, that's not what the rule's about,'' Toronto Maple Leafs coach Mike Babcock said. ''Does it matter? I don't know if it matters.''
Among the other topics expected to be discussed are inadvertent hits to the head, goaltending equipment and 3-on-3 overtime. Intentional head shots are already penalties and come with further discipline, but as the NHL tries to cut down on concussions it's possible the rules are expanded to include accidental ones.
With shootouts down and plenty of back-and-forth hockey, 3-on-3 overtime is a smash hit that Cheveldayoff said has ''gotten the desired result.'' Holland, who long pushed for 3-on-3, is pleased by how it has gone.
''I think it's incredibly entertaining ... and the players are enjoying the 3-on-3 because even if you did go to a shootout, it's 5 minutes of scoring chances, plays around the net, breakdowns and the players get an opportunity to showcase their skill,'' Holland said. ''It couldn't have been any better.''
---
---