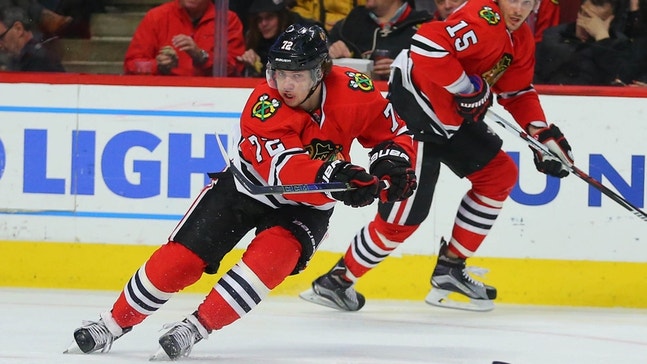 Chicago Blackhawks' Who's Hot And Not: Russians Stay Hot Despite Skid
Updated
Mar. 5, 2020 12:36 a.m. ET

Fansided, Aaron Goldschmidt/FanSided via Blackhawk Up
Dec 15, 2016; Brooklyn, NY, USA; Chicago Blackhawks left wing Artemi Panarin (72) and New York Islanders center Casey Cizikas (53) contend with an abandoned stick as they chase a loose puck during the second period at Barclays Center. Mandatory Credit: Brad Penner-USA TODAY Sports
While the Blackhawks have lost three games in a row for the first time this season, a positive is that Russians Artem Anisimov and Artemi Panarin are continuing to produce
In the last three games, the Chicago Blackhawks haven't given fans much to cheer about.  The Ottawa Senators, Colorado Avalanche and Winnipeg Jets all came to the United Center and sucked the life out of the building in different ways.
The Senators scored three goals in a second period that seemed it would never end and ultimately beat the 'Hawks 4-3.  The Avalanche somehow took the 'Hawks to overtime and won on a Nathan MacKinnon wrist shot after losing six games in a row.  And lastly, the Jets came to town and continued their domination of the 'Hawks this season, winning 3-1.
The Blackhawks did get some reinforcements when Corey Crawford and Artem Anisimov returned from IR, but that hasn't been enough lately.  Like many of us, the Blackhawks have looked "checked out" and ready for their holiday break.
Next we will explore who's been hot despite the current three-game losing streak.
Nov 26, 2016; Los Angeles, CA, USA; Chicago Blackhawks left wing Artemi Panarin (72) takes a shot on goal in the first period of the game against the Los Angeles Kings at Staples Center. Mandatory Credit: Jayne Kamin-Oncea-USA TODAY Sports
Who's Hot: Artemi Panarin
This just in: The Blackhawks have signed 25-year-old winger Artemi Panarin to a 2-year, $12 million contract.  Considering this league is performance based, I'm not surprised.
The Calder Trophy winner has had no signs of a sophomore slump and is on pace for another 30-goal season.  Now how the Blackhawks fit his salary under the cap is to be seen, but I know a lot of people are happy this deal got done.
In the last five games, Panarin has 2 goals and 6 assists and has been one of the top stars in the NHL in December.  On the season he has 15 goals and 22 assists, leading the team in points with 37.  Trailing him is last year's Hart Trophy winner Patrick Kane, who has only 10 goals on the year, a rate much slower than we're used to seeing him produce at.
I remember watching Panarin play one of his first games with the Blackhawks against the Dallas Stars.  He made a play where he stick-handled around three Stars players and made a nice pass up the ice.
Blackhawks fans oohed and ahhed at the fancy play, but that was just Panarin's raw talent they saw.  He has blossomed into a dual-threat winger playing alongside Kane, which I'm guessing had a lot to do with Panarin's decision to sign in Chicago again.  The chemistry between him and Kane is unteachable and will be a pleasure to watch for the next two years.
Dec 27, 2016; Chicago, IL, USA; Chicago Blackhawks center Artem Anisimov (15) shoots and scores a goal on Winnipeg Jets goalie Connor Hellebuyck (37) during the second period at the United Center. Mandatory Credit: David Banks-USA TODAY Sports
Who's Hot: Artem Anisimov
Anisimov returned from a few days on IR to play Tuesday against Winnipeg and hasn't missed a step.  He scored the lone goal off a beautiful pass from Patrick Kane.
Much of Anisimov's production has been greasy goals in front of the net, something the Blackhawks have been lacking recently.  At 6-foot-4 and 200 pounds, Anisimov has the size and strength to battle in front of the net and take faceoffs with top centermen in the league.
In the last five games, Anisimov has scored 4 goals and 1 assist, making him one of the top producers on the team.  The Blackhawks have been criticized of playing "too cute" at times when they look for the perfect pass, especially on the powerplay.  But with Anisimov, broken plays turn into rewards for being in good position for rebounds.
Anisimov pays a tough price but he is having one of his best starts statistically of his career.  He is also currently a plus-13, showing his productivity and dedication to defense.
It seems like yesterday we couldn't stop talking about who was going to be the Blackhawks' second-line center.  Now all we talk about is who will be the first-line left wing.  I'm grateful that Kane finally has a real centerman who understands his role and is reaping the benefits of playing on a line with two premier goal scorers.
Dec 27, 2016; Chicago, IL, USA; Winnipeg Jets defenseman Dustin Byfuglien (33) and Chicago Blackhawks center Jonathan Toews (19) go for the puck during the first period at the United Center. Mandatory Credit: David Banks-USA TODAY Sports
Who's Not: Jonathan Toews
Off to the worst offensive start of his career, Jonathan Toews is looking for something to get him going again.
With 5 goals and 10 assists on the season, seven different 'Hawks have more points than the captain, but Toews did miss some time from being on IR.
Because NHL teams are so vague about specific injuries, it's hard for those outside the organization to draw conclusions as to why individuals may be struggling.  Given Toews' past issues with concussions, let's hope this sort of injury has nothing to do with No. 19.
That being said, Toews is underperforming for being the highest paid player in the NHL at $10.5 million per year.  Many will support Toews saying he does so much more on the ice that isn't quantified, but this isn't an excuse.
There is no doubt he earned his contract giving the city of Chicago three Stanley Cups, but that was then.  Let's hope he can get his groove back in the second half of the season and in time for the playoffs.
Nov 13, 2016; Chicago, IL, USA; Montreal Canadiens center Andrew Shaw (65) checks Chicago Blackhawks defenseman Michal Kempny (6) during the third period at the United Center. Chicago won 3-2. Mandatory Credit: Dennis Wierzbicki-USA TODAY Sports
Who's Not: Michal Kempny
Some of GM Stan Bowman's overseas signings have worked out such as winger Artemi Panarin.  Others have not.  Enter Michal Kempny.
The 26-year-old Czech defenseman has found himself in coach Joel Quenneville's doghouse.  This generally means your ice time will be diminished until you can prove you can play unselfish Blackhawks hockey.
In his last five games played, Kempny has 0 points and is a minus-5.  On the year, he has 0 goals, 2 assists and is a minus-3.  On a positive note, Kempny has 47 hits and is very physical in the defensive zone.
With Michal Rozsival looking like he's simply on the team for veteran leadership, the Blackhawks will use all the depth they can get come playoff time.  The ice will shrink and the 'Hawks will need physical defensemen to win battles in the corners.
The second half of the season will hopefully be a different story for Kempny with the playoff roster soon to be solidified.  This experiment of carrying eight defensemen will possibly end and the trade deadline will potentially add more depth for a deep playoff run.
This could mean a couple forwards being sent down, even a player like Gustav Forsling who may not have the size and experience to compete come playoff time.  This could mean increased minutes for Kempny and a chance for him to redeem himself.
More from Blackhawk Up
This article originally appeared on
---
---