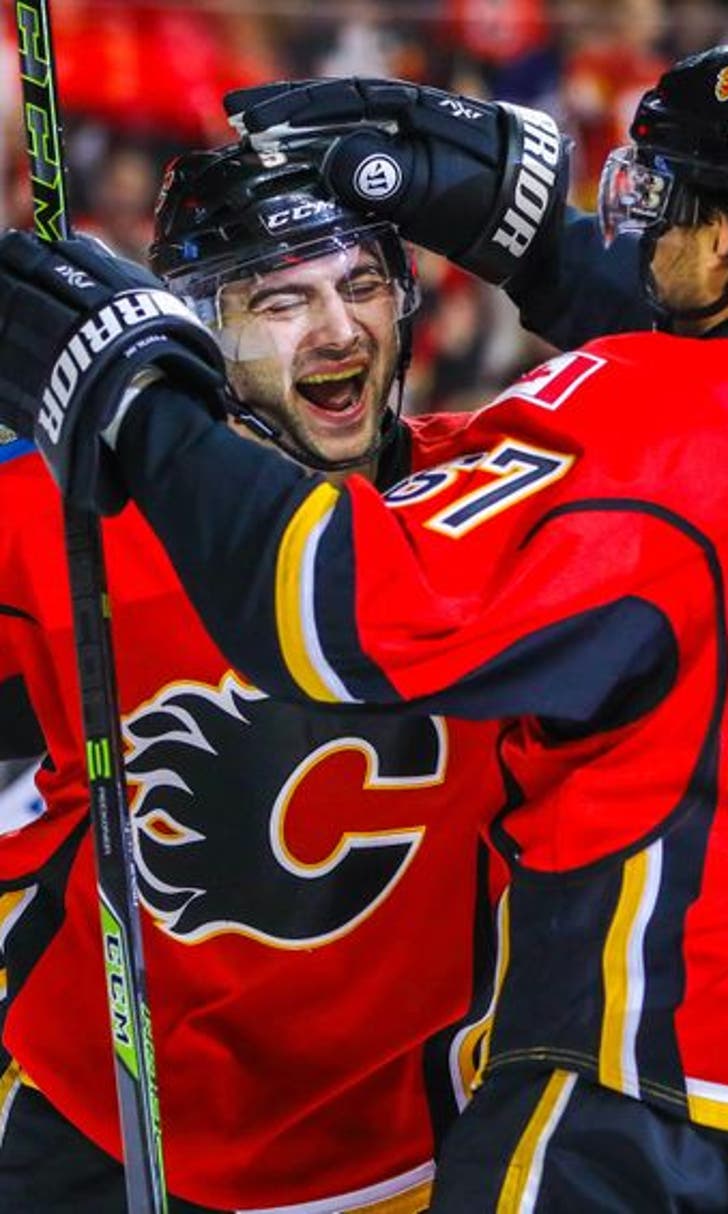 Calgary Flames: Five New Years Resolutions for 2017
BY Fansided and Ramina Shlah/FanSided via Flame for Thought • December 31, 2016
2017 is tomorrow and I think the entire world is excited for this. Mainly because of how bad of a year 2016 was. So what should be the New Years resolutions for your Calgary Flames? We've got it here.
It's no secret that 2016 was quite horrible. First, Carrie Fisher died. I'm still crying about that, thanks. And George Michael died ON Christmas day which I'm pretty sure is the most 2016 thing to happen. Please 2016, no more deaths. There's only a few hours left of the year. And of course, I mean this isn't as extreme as a death by any means, but the Calgary Flames had quite a bad year and didn't make playoffs.
But 2017 is so close and it cannot come soon enough. So what should be their New Years resolutions for 2017? We've narrowed it down to five things they should try to accomplish in the new year.
Dec 23, 2016; Calgary, Alberta, CAN; Calgary Flames defenseman Mark Giordano (5) celebrates his goal with teammates against the Vancouver Canucks during the second period at Scotiabank Saddledome. Mandatory Credit: Sergei Belski-USA TODAY Sports
5. Keep up their effective special teams
The Calgary Flames started their season horribly. And their special teams may have been somewhat to blame for that. Through their first 16 games until the November 15th, they went 5-10-1. They were second last on the PP and the PK with 9.4% and 93.0% respectively.
However, since that, they've drastically improved. It's like it's a completely different team. Through the second half of November, they went 6-3-1. Their special teams still weren't amazing by any means, however better than before. In that time frame, they went 11.5% and 85.3% on the PP and the PK respectively.
Now, since the start of December, they're 8-4-0 and their special teams are definitely a factor for this. They're 33.3% on the PP which is the best in the league this month as well as they're 90.5% on the PK this month which is fourth best. In their 12 games this month, they have at least one powerplay goal in ten of the games. They have 15 powerplay goals in those 10 games.
Furthermore, since November 15th in those 22 games, they're second on the PP with 25.4%. They're also fifth on the PK in that time frame with 86.6%.
Clearly, their special teams have some sort of relation with how well they do. In the New Year, if they can keep up these incredible special team stats and how much better they're playing, especially on the PP, I have no doubt they'll keep that playoff position that they're in right now.
Dec 29, 2016; Calgary, Alberta, CAN; Calgary Flames goalie Chad Johnson (31) makes a save as defenseman Mark Giordano (5) and Anaheim Ducks center Rickard Rakell (67) battle for the puck during the second period at Scotiabank Saddledome. Mandatory Credit: Sergei Belski-USA TODAY Sports
4. Chad Johnson to step up again
The Calgary Flames acquired goaltender Brian Elliott in a draft-day trade. But unfortunately, he didn't perform as well as he did the last few seasons. So thank goodness for Chad Johnson who completely stepped up when the Flames needed him most. He was absolutely incredible in November. He got three shutouts in eight games and tied a career-high for shutouts in a game.
In November, he was fourth for sv% and fifth for GAA out of goaltenders who played at least seven games in the month, with 0.939 sv% and 1.80 GAA. And then the start of December came and he was still incredible. In his first four games, he had 0.940 sv% and 1.71 GAA.
However, since that, he's started to fall a bit. He was relieved by Brian Elliott in the game against the Tampa Bay Lightning on December 14th  after the second period for letting in four goals on 21 shots. Then two days later, he played again vs the Columbus Blue Jackets and let in four goals on 29 shots. Both games resulted in ugly losses. Then he played again vs the San Jose Sharks and let in four goals on 34 shots, which isn't horrible, but not the Chad Johnson we've been seeing all season. That was his third loss in a row. His sv% and GAA in those three games was 0.857% and 4.55, respectively.
Brian Elliott has played the next two games (the last two the Flames have played) and has won those two games. So it may seem like the Flames will stick with him for a little bit for the time being. Just like they did with Chad.
Chad Johnson's New Years resolution is to get his game back. I haven't completely lost faith in him or anything. But a big reason for the Flames incredible win streak was because of Johnson. And being from Calgary and growing up cheering for the Flames, that must be quite special for him to put on a Flames jersey and be the unsung hero the Flames needed. Let's just hope he can get his game back and continue being that hometown hero. Clinching a playoff spot for this guy:
would feel great for that kid.
Dec 14, 2016; Calgary, Alberta, CAN; Calgary Flames left wing Johnny Gaudreau (13) against the Tampa Bay Lightning during the first period at Scotiabank Saddledome. Mandatory Credit: Sergei Belski-USA TODAY Sports
3. Johnny Gaudreau to learn his fruits and veggies
Alright, I know this is kind of a joking one. But hey, what's a New Years resolution list when you can't poke fun at yourself? Or in this case, at a team?
Everybody knows and loves Mr. Johnny Gaudreau. Everyone always jokes about how he's still a kid. I mean, he's not even 160 pounds. And then this hilarity happened at the All Star Game in 2015:
He may look like a kid, but he definitely acts like it too. First, he eats like a TON of skittles. Way more than any adult really should. He also doesn't really do his laundry and usually waits for his mom to come into town. Come on John, I know you look like you're 12 years old, but you're a 23-year-old who makes more in a year than many people will in a lifetime. It's time to do your own laundry.
But there's something else about Johnny Hockey. He also doesn't know his fruits and veggies.
In the kitchen scene, he doesn't know any of the fruits. He also thought an eggplant was a plum. No Johnny. Just, no.
Maybe in the process, he can stop scaring so easily too. He basically scares at any loud noises. Alright, are we sure this isn't actually a 12 year old pretending to be a professional hockey-playing-23-year-old?
Nov 18, 2016; Calgary, Alberta, CAN; Calgary Flames left wing Matthew Tkachuk (19) tangles with Chicago Blackhawks defenseman Gustav Forsling (42) during the first period at Scotiabank Saddledome. Mandatory Credit: Candice Ward-USA TODAY Sports
2. Stop taking so many penalties
Just thinking of how undisciplined this team is makes me sigh really loud. The Calgary Flames are the most undisciplined team so far this season. They right now lead the league in PIM, PIM/GP, minor penalties, and penalties in general. They have now spent almost eight hours sitting in the sin bin, in case anybody was wondering.
This is definitely affecting the team and this especially showed during the game against the Anaheim Ducks on December 29th. They took six penalties and you're definitely not going to win a game when you spend 20% of the game being down a man.
Want your voice heard? Join the Flame for Thought team!
Via Calgaryflames.com: "We've gotta stay out of the box," lectured Matt Stajan. "We can't keep playing the way we have most of the season. There are things you can get away with and things you can't. There's the line and we can't continue to cross it. We're taking lots of penalties and if you do you're going to be behind the 8-ball all night. It's a focus in this room. It cost us the game (Thursday)."
Thankfully, they have gotten much better on the PK since the start of the season (like I mentioned above). However, when you're taking six penalties a night, you're not going to be able to kill off all of them. Especially against a good PP team. And keeping themselves relatively disciplined will give them a big boost, especially when it comes to one-goal games.
Apr 21, 2015; Calgary, Alberta, CAN; Fans gathering up in front of Scotiabank Saddledome prior to the game between the Calgary Flames and the Vancouver Canucks in game four of the first round of the 2015 Stanley Cup Playoffs at Scotiabank Saddledome. Mandatory Credit: Sergei Belski-USA TODAY Sports
1. Make playoffs (obviously)
Now, of course this is going to be everyone's main goal in 2017. But the Calgary Flames have had a weird last couple of seasons.
In the 2014-2015 season, they were still supposed to be in a rebuild. But thank goodness for Johnny Gaudreau, who was a rookie at the time, who was one of the biggest factors in their season. They ended up clinching playoffs in the second last game of the season, and boy was that a fun game. Because not only did they clinch playoffs, but they also in the process eliminated the previous cup champions, the Los Angeles Kings. That was only the eighth time in NHL history that a team who won the cup the previous year didn't make playoffs the following year. Thanks Flames.
flames
Flame for Thought 1 dCalgary Flames Daily: Struggles Continue on Home Ice
More headlines around FanSided:
1 d - Calgary Flames Unsuccessful in Duck Hunting This Time Around2d - Calgary Flames: Twitter Reacts To Sam Bennett's Weird Hack2d - Calgary Flames Daily: Game Day, Brouwer Injured3d - Calgary Flames: The Injury Bug Is Making Rounds Again3d - Calgary Flames Daily: Lucky Bounces and Goalie ProspectsMore News at Flame for Thought

They made it to the second round, where not many people even thought they'd make playoffs, let alone get past of the first round. Even though they only made it to the second round, it was an incredible run and they were super fun to watch. That was also the first time they made it past the first round since their cup run in 2004 which I'm still not over.
And then the 2015-2016 season came and everyone was excited. Finally, the Flames would be out of a rebuild and can have a good chance this year!
… Or so we thought.
They ended up doing quite poorly to start off their season and couldn't quite come back from that. They were definitely not the same team everyone saw the year before.
So then came this season and again, everyone expected them to be in somewhat of a rebuild (again). And they started off their season pretty badly and that rebuild seemed to be true. And then, they continued to be bad and were among the last teams in the league.
But then they got good. And suddenly they got really good. And at one point, they were even first in the Pacific division. They went from the bottom of the league to first in the Pacific within two weeks.
Unlike last season, they seem to be turning their season around. Everything about them has gotten better. Their special teams, their top players, their defensemen, and their coaching staff. Let's just hope this slight turn around is foreshadowing into the New Year. And they end up making playoffs and give life to the Red Mile another time.
That's all for these New Years resolutions. Let's hope that this team can abide by all of these and make a big push into the second half of their season. And we can all rock down the Red Mile again.
More from Flame for Thought
This article originally appeared on
---
---