Detroit Red Wings
Detroit Red Wings
Brown, Kings look to pick up steam vs. Red Wings (Nov 28, 2017)
Published
Nov. 27, 2017 7:35 p.m. ET

DETROIT -- Two teams looking to right their ships will sail into each other Tuesday at Little Caesars Arena.
The Detroit Red Wings are 0-1-3 in their last four games. The Los Angeles Kings arrive in the Motor City off a 2-1 shootout win over the Anaheim Ducks, but they are 2-6-1 in their last nine games.
After an 11-2-2 start to the season, the Kings have hit the skids. They launch a four-game road swing Tuesday in Detroit.
"We got off to a good start and I think we've had a big serving of humble pie, really," Kings forward Dustin Brown told the Los Angeles Times. "Now we go on the road, where we can hopefully get that workman mentality. We have a good team. We have a good group.
"It's just a matter of playing the right way and getting that swagger."
Confidence can be fleeting, and for the Kings it packed up and left town a while back. They are hoping Saturday's win over the Ducks was the first step toward regaining their mojo.
"When things are going great, you feel like you could beat anybody," Brown said. "I think it's times like these that kind of build the character of the group for the long term.
"I think it's better to face this type of adversity early in the year and see what you're really made of."
The Red Wings have also endured their fair share of misfortune. Their current slide is the second-longest losing streak they've endured after dropping six in a row earlier this season.
But what makes this latest downturn even more puzzling is that three of the losses have come in overtime. Detroit is 0-4 in the five-minute, 3-on-3 session this season, and 7-17 over the past two campaigns.
Looking to solve this problem, Red Wings coach Jeff Blashill devoted a significant portion of Monday's practice to working on their 3-on-3 play.
"You don't get a chance to do it much, so we just want to get some reps in and we'll continue to have to get some reps in to make sure guys feel comfortable," Blashill said. "It gives us a chance to look at some pairs as well, and see if there's something we're missing in terms of usage."
Blashill felt the issue wasn't a strategic one as much as it was a case of execution.
"The less players on the ice, the less systematically you can do a whole bunch," Blashill said. "In the end, even as we watched a lot of three-on-threes, you've got to certainly make plays. The way it was the other night (in a 4-3 loss to the New Jersey Devils), I think we were just a little bit away from a real good two-on-one for us. Instead, we turn it over and it goes in our net."
The Red Wings will be without defenseman Trevor Daley (upper body) and right winger Martin Frk (groin). Left winger David Booth, who scored twice in Saturday's loss to the Devils while seeing action for just the second time in 16 games, will start the game skating on captain Henrik Zetterberg's wing on the top forward line.
"He earned it," Blashill said. "The two things we're going to have to do tomorrow is skate and compete, so the guys that want to skate and compete are going to play and the guys that don't skate and compete I just can't put out there, because if you don't skate and compete against L.A., we're not winning."
---
---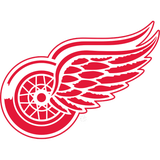 Get more from Detroit Red Wings
Follow your favorites to get information about games, news and more
---