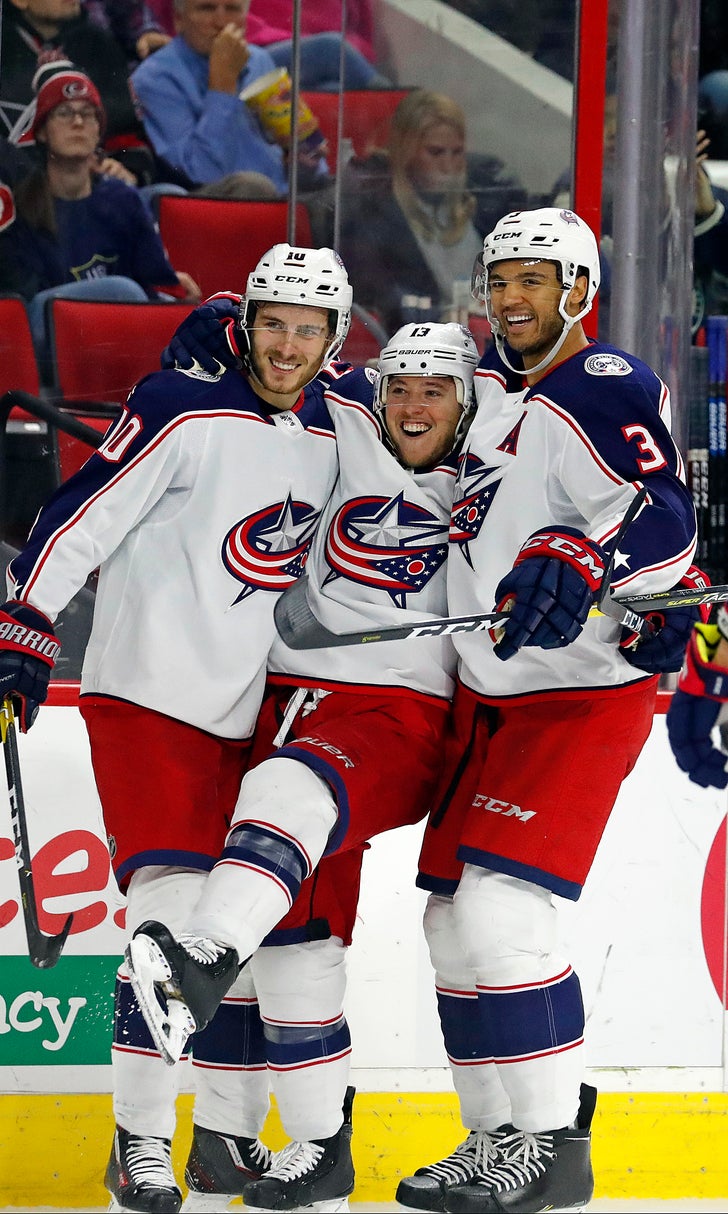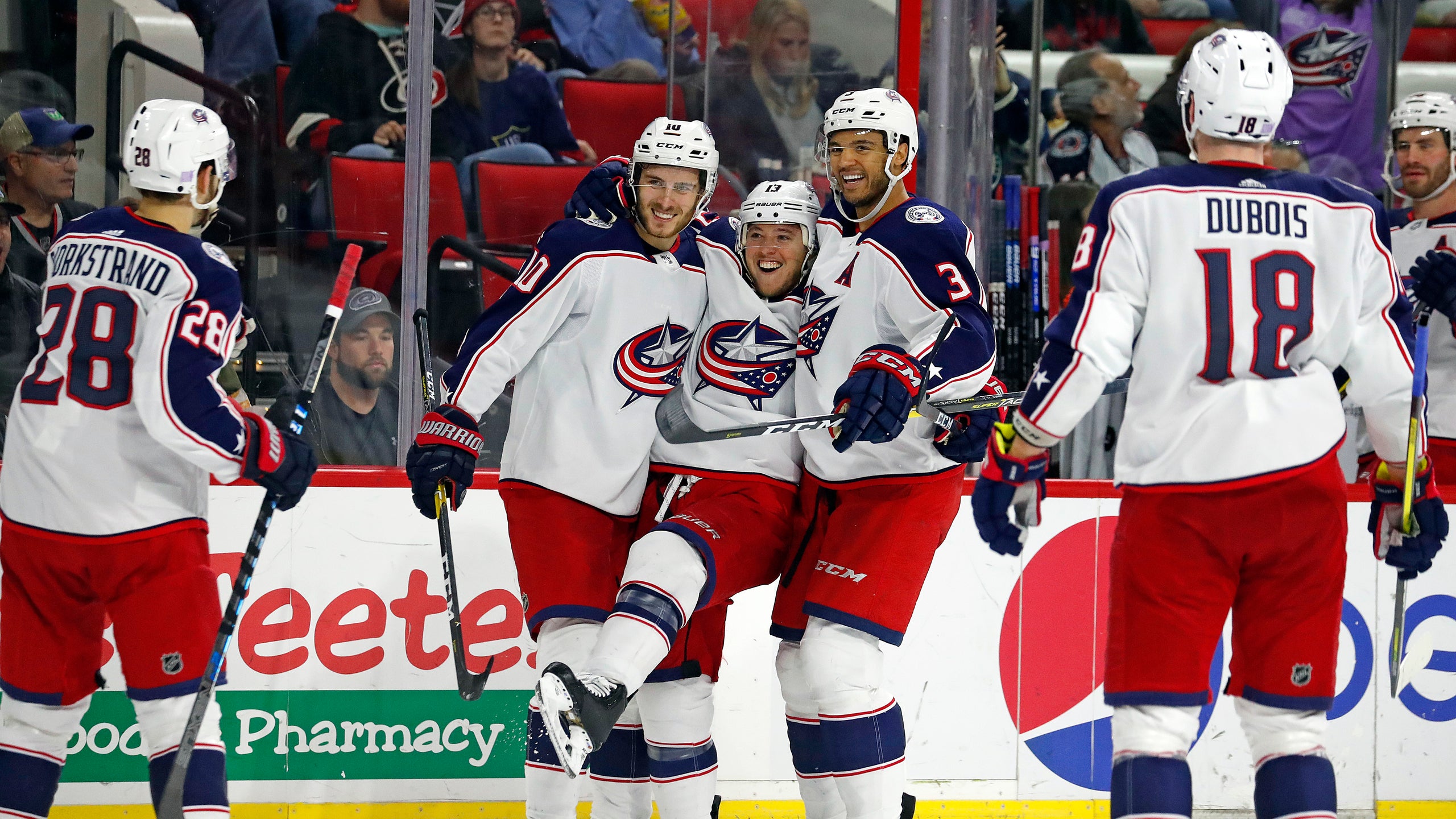 Atkinson's hat trick leads Blue Jackets past Hurricanes 4-1
November 18, 2018
RALEIGH, N.C. (AP) — Cam Atkinson anchored a top line that caused the Carolina Hurricanes fits Saturday night as the Columbus Blue Jackets won 4-1 for their fifth victory in six games.
Atkinson scored three goals and assisted on another, and fellow winger Artemi Panarin assisted on all of Atkinson's goals. Columbus center Pierre-Luc Dubois added two assists as Atkinson stretched his goal-scoring streak to six games.
"For all we talk about our balanced scoring, it's nice to have that one line that can do what they did tonight and really take a game over," said Blue Jackets assistant coach Brad Shaw, who spoke to the media after the game because head coach John Tortorella was ill.
The Blue Jackets (12-6-2) broke a six-game skid against Metropolitan Division rival Carolina (8-8-3). Sergei Bobrovsky stopped 30 shots to earn the win.
Sebastian Aho scored his sixth goal of the season 6:05 into the second period for the Hurricanes, cutting their deficit to 2-1 with a wraparound that slid just inside the far post. Just 1:17 later, Atkinson backhanded a pass to Zach Werenski in the slot for a wrister that beat Scott Darling on the glove side.
"It wasn't the goalie's fault," Hurricanes coach Rod Brind'Amour said. "We were giving point-blank shots up and you can't do that in this league."
Atkinson completed his fifth career hat trick 3:58 later on a power play with a shot from the top of the faceoff circle to the left of Darling, increasing Columbus' lead to 4-1. Atkinson has six of his team-high 12 goals in the last four games.
"He's an easy guy to put on the ice right now," Shaw said. "He's not just scoring, he's a big part of our penalty kill as well."
Panarin leads the Blue Jackets with 16 assists and 21 points. Atkinson has 20 points, and Dubois is next with 17 for Columbus, which played penalty-free hockey for the first 34 minutes.
Bobrovsky preserved the three-goal lead by stopping Jordan Martinook on a breakaway while Carolina was short-handed early in the third period. Later, Dougie Hamilton clanged a shot off the far post behind Bobrovsky.
"When you think of his best five or six saves, they were all 10-bell saves," Shaw said, "and they all either keep us in the game or keep them frustrated and let us feel good about what we're doing out there. He can make a huge impact in games, and he's certainly done that for us lately."
Brind'Amour said he hadn't been upset with his team's effort all season, but he wasn't happy Saturday. Carolina had three days off before this game.
"It came down to us playing a good team and they won all the puck battles," he said. "They were first to everything and they played like a first-place team and we didn't have the desperation that we needed to, and that was frustrating."
The Hurricanes are 2-5-2 in their last nine games. Columbus' only loss in the past 13 days came in a shootout against the New York Rangers last Saturday.
The Blue Jackets killed off all three Carolina power plays, including two late in the second period after Columbus was called for delay of game and too many men on the ice.
NOTES: Blue Jackets captain Nick Foligno was scratched because of a personal matter. ... Columbus has scored at least four goals in three of its last four games. ... Aho extended his point streak to four games. ... This was the third game of a six-game homestand for Carolina.
UP NEXT
Blue Jackets: At Toronto on Monday night.
Hurricanes: Host New Jersey on Sunday.
---
---