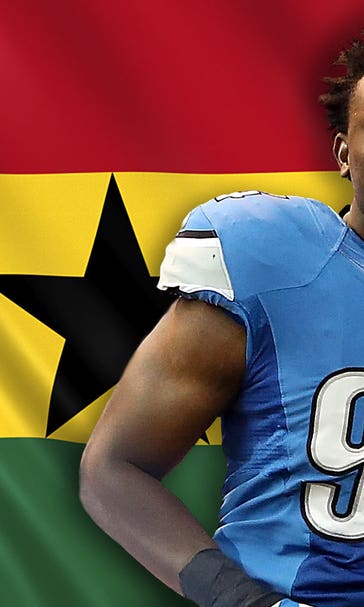 World Cup brings a tricky challenge for Lions star Ziggy Ansah (VIDEO)
June 15, 2014

With the third in what'€™s been a one-sided trilogy of World Cup matches between the USA and Ghana now less than 24 hours away, I went to the last place many would consider for some perspective on what it'€™s like being on the other side of the proverbial fence ... an NFL locker room in Detroit, Michigan.
It'€™s there, among Jim Caldwell'€™s Detroit Lions, where you'€™ll find second-year linebacker and Ghana native Ezekiel '€œZiggy'€ Ansah. A team employee tells me, "€œHe'€™s not a man of many words, but when it comes to Ghana futbol, he lights up."€
Ansah arrived in the United States in 2008 as a curious freshman on an academic scholarship at BYU. Originally from Accra, the capital city of Ghana, he showed up in Provo, Utah, having never seen or heard of the sport of American football. He tried out for the basketball team, hoping his 6-6 frame would be enough to get a walk-on spot, but failed to make the team. He gave it another shot in 2009, but wasn'€™t fortunate enough to land a roster spot, then, either. So, he gave track and field a try, making the Cougars track squad in 2009 as a sprinter and pole vault specialist. But there was a problem. Despite his incredible speed and athleticism, Ansah was growing too big, too fast, and was just too large to continue with the pole vault.
BYU track coach Leonard Myles-Mills tried helping Ansah lose weight, but he was just too heavy. '€"The poles are really strong, but with Ziggy'€™s weight I'€™ve never seen anybody with that weight pole vaulting before,"€ Myles-Mills told reporters a year ago. '€"To be on the safer side I thought, '€˜I don'€™t think track is good for you,'€™ so I said '€˜Have you thought about playing football?'€™"€
The rest is what they call, "€œhistory". Ansah, who never picked up a pigskin in the first 24 of his life, was introduced to assistant coach Paul Tidwell. Kyle Van Noy, a former BYU teammate who was coincidentally drafted by the Lions in April, says he didn'€™t even know how to put on the pads.
Sure enough, Ansah -- who at the NFL Draft Scouting Combine admitted he didn'€™t know much about the names Namath and Montana -- excelled at (American) football, made the BYU squad in 2010, and became a defensive superstar in 2012.
Then, in April of 2013, against all odds, he was drafted fifth overall by the Detroit Lions.
And all the while, through this wild rollercoaster of a story, Ansah has been cheering on the Black Stars, Ghana'€™s national soccer team.
This, of course, makes Monday'€™s match somewhat tricky for the second-year linebacker. After all, Ghana has eliminated the United States from the last two World Cups, and that Lions locker room? Well, it'€™s pulling for the red, white, and blue. Ansah says he watched the 2006 match, a 2-1 Ghana win, back in his homeland amongst family and friends. But in 2010, another 2-1 Ghana win, "€œI saw the one in South Africa when I was at BYU,'€" says the linebacker. '€œI was watching that, and it was fun seeing how the Americans support their team, but we do, too. People [on campus] gave me crap."
As for Monday'€™s much-anticipated match against the United States, Ansah is ready and focused. "€œWe need to win. No matter what happens, we need to win the game,"€ he says. "€œIt won'€™t be easy with the group we are in, especially since Portugal has the best player in the world right now, but we need to win this one."
Scouting report? Ansah'€™s got one. "We have a lot of individual talents, but our forward, Asamoah Gyan, I think he wears No. 3, he'€™s the guy to watch. We also have Kevin Prince Boateng, No. 9. They'€™re the two forwards. They'€™re the guys to watch on Monday."€
It'€™s Gyan, the Ghanan superstar, who'€™s faced with the awesome task of coming up with a celebratory dance routine for the team. With the azonto, a popular two-step move in Ghana, usually a part of the number, coach Kwesi Appiah recently revealed that a fresh new dance will be revealed after the team'€™s first goal of the tournament. Ansah says he'€™s ready to learn whatever the number is, and there'€™s a strong chance we'€™ll see it after a sack or a touchdown during the 2014 season.
Lions teammate Ndamukong Suh also grew up playing soccer in Oregon, and has a rooting interest for his family'€™s native land of Cameroon. "We don'€™t have a beef because we aren'€™t in the same group, but hopefully if they can get out of the group stage and meet, then we can have some one-on-one talk,"€ Ansah says with a smile.
Lions wide receiver Kevin Ogletree is a US soccer die-hard. He and Ansah have been "€œtalking" about the match for weeks. "We are waiting for Monday to see what happens. He is passionate about it. He always gives me crap."€
Detroit has a bit of soccer history. The Detroit Express had a nice little run in the NASL, the US faced Switzerland in the Pontiac Silverdome during the 1994 World Cup, and Real Madrid and Manchester United are set to play in Ann Arbor'€™s Big House on Aug. 2. But Ansah doesn'€™t know exactly where he'€™ll be to watch his Black Stars face the US on Monday.
"€œI haven'€™t decided where I'€™m going to watch it yet. I'€™ve got to make sure there are a lot of Americans wherever I go, though. I plan on getting my Ghana jersey and wearing it out all day."€
If it goes right for Ansah and Black Stars, you can expect him to be doing a little dancing, too. 
---
---