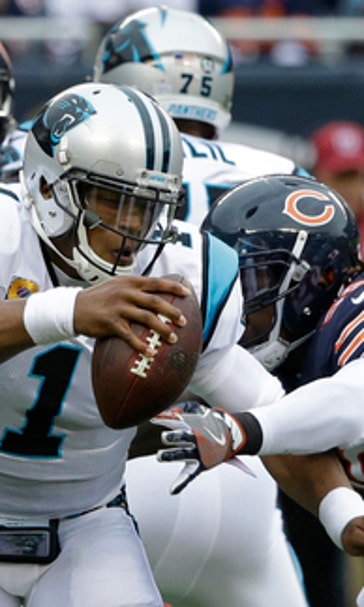 Turnovers hurt Panthers in 17-3 loss to Bears
October 22, 2017

CHICAGO (AP) Cam Newton and the Carolina Panthers marched down the field on a couple drives. Once they got into scoring range, everything fell apart in a hurry.
Big time.
Carolina held the ball for 38 1/2 minutes, limited Chicago to just 153 yards and lost. The difference was a pair of first-half turnovers that turned into defensive touchdowns for the Bears in a 17-3 victory Sunday.
''Three plays. It came down to three plays,'' Carolina coach Ron Rivera said. ''This game was won by the team that made those three plays and that's the bottom line.''
Playing behind a patchwork offensive line, Newton was sacked five times and spent much of the day dancing around the pocket. He was 21 for 34 for 211 yards and rushed for a team-high 50 yards on nine carries, but he threw two interceptions and missed some throws at key moments in the Panthers' second straight loss.
Two-time All-Pro center Ryan Kalil played for the first time since Carolina's season-opening win over San Francisco, but lasted only one quarter. His brother, left tackle Matt Kalil, limped off the field early in the second, but started the second half. Right guard Trai Turner injured his left knee late in the third and never returned to the field.
The injury woes contributed to Carolina's lowest scoring game of the season. The Panthers (4-3) failed to score a touchdown for the first time since a 9-3 victory against Buffalo on Sept. 17.
''Injuries aside, we still have to get the job done and offensively we didn't,'' Newton said. ''We didn't get an opportunity to get in the red zone and that's unacceptable. We will and we have to be better.''
Turner said he thinks he will be able to play next Sunday at Tampa Bay. Ryan Kalil, who was sidelined by a neck injury, stayed mostly quiet when asked about his health.
''I'm just pretty frustrated about the whole thing,'' he said. ''Just get back to Charlotte and figure out what the game plan is.''
Kelvin Benjamin, who had three receptions for 65 yards, also was hampered by soreness in his surgically repaired left knee. He missed two days of practice last week with a bursa sac issue.
''It just didn't feel good, so I'm frustrated,'' he said. ''I had surgery and I am still kind if dealing with it, the same knee, so it just kind of frustrated me.''
Even with the injuries, Carolina still had some success in the middle of the field. But the Panthers made life difficult on themselves with a pair of costly miscues.
Newton drove his team down to the Chicago 24 on its opening drive. But rookie receiver Curtis Samuel dropped a lateral on first-and-10 and Bears safety Eddie Jackson scooped it up on his way to a 75-yard return for a TD.
''I probably took my eyes off of it too early because I was worried about the defense,'' Samuel said. ''I have to make that play.''
Turns out, Jackson was only getting started.
On Carolina's fourth drive, a pass from Newton intended for Benjamin was deflected into the air by Bears cornerback Prince Amukamara. Jackson ran in, picked it off and returned it 76 yards for a 14-0 lead early in the second quarter.
''Those two turnovers hurt us and we just couldn't seem to get our (footing) back,'' Newton said.
The third play that caught the attention of Rivera was a 70-yard, catch-and-run by Tarik Cohen that set up a Chicago field goal right before halftime. Newton also was stopped short on a fourth-and-2 play on Carolina's first drive in the third quarter and was picked off by Bears linebacker Danny Trevathan midway through the fourth period.
Newton also threw three interceptions in Carolina's 28-23 loss to Philadelphia on Oct. 12. The Panthers have 13 turnovers this season and just four takeaways for their defense.
''It's very disappointing,'' Rivera said. ''We had opportunities last week, too. Again, I can't keep getting up here in front of you guys and saying it's disappointing. I've said that two weeks in a row.''
---
Jay Cohen can be reached at http://www.twitter.com/jcohenap
---
For more NFL coverage: http://www.pro32.ap.org and http://www.twitter.com/AP-NFL
---
---