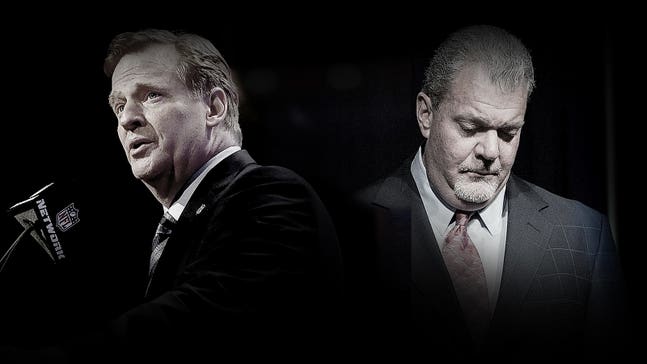 This time around, Goodell's punishment fits the crime
Published
Sep. 2, 2014 5:45 p.m. ET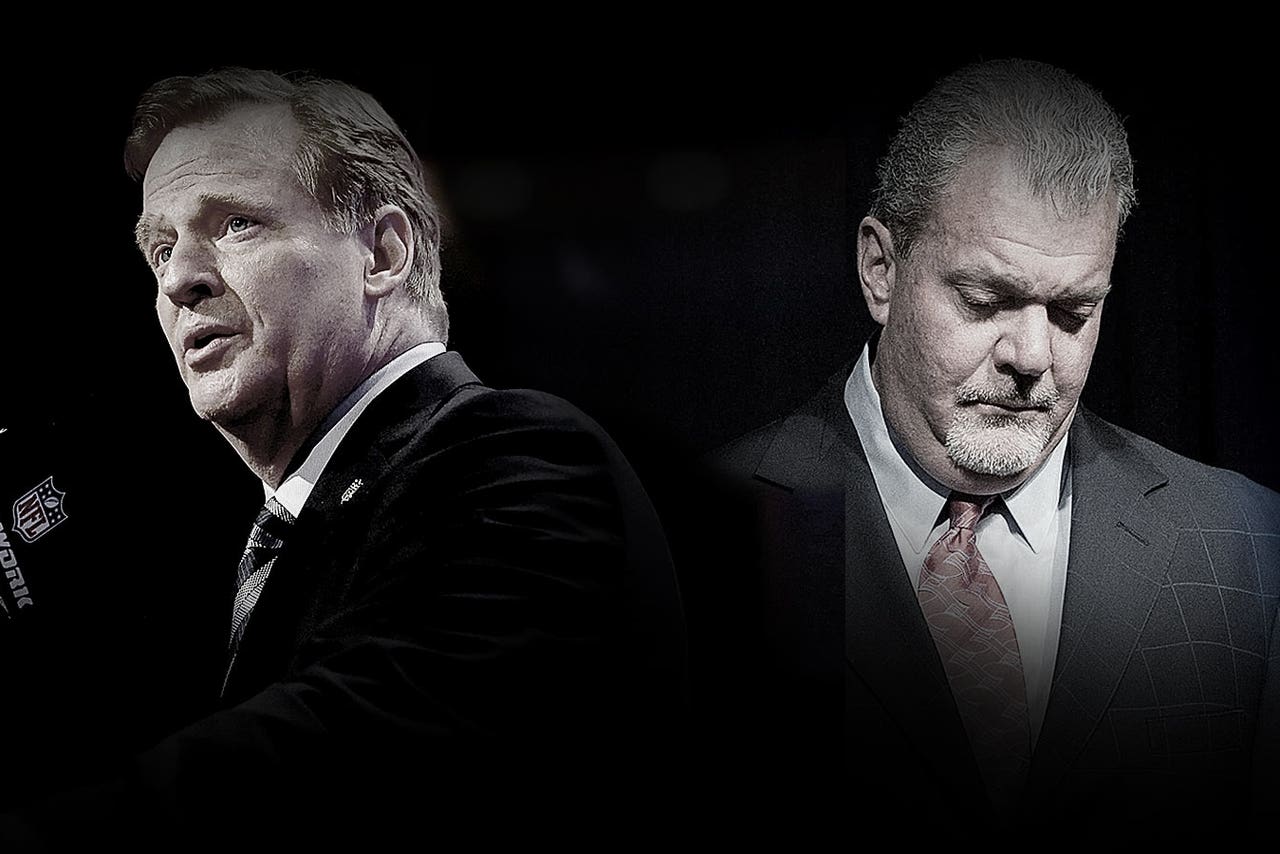 Roger Goodell got this one right.
Five weeks after flubbing the punishment for Baltimore Ravens running back Ray Rice -- then offering a surprising mea culpa -- the NFL commissioner faced another sticky disciplinary decision.
How much of a price should a team owner pay -- literally and figuratively -- for an offense that would result only in a slap on the wrist for a player?
Jim Irsay found out the hard way.
Mere hours after the Indianapolis Colts owner pled guilty Tuesday to operating a vehicle while impaired, Goodell suspended Irsay for six games and fined him the maximum amount allowed ($500,000) under rules of the NFL's constitution.
After 5 p.m. ET Wednesday, Irsay is barred from the team facility. He is prohibited from speaking with the press or engaging in social media (Irsay loves communicating with fans on Twitter and has more than 278,000 followers). He cannot represent the Colts at NFL meetings or participate in any of the committee functions that help shape the league's business plan. And he cannot attend any Colts practices or games.
The latter hurts far more than the $500,000 fine, which is a pittance for a fat cat whose team was valued by Forbes Magazine last month at $1.4 billion.
Irsay isn't an absentee owner like Seattle's Paul Allen, who takes a hands-off, low-profile approach toward his team. The Colts are in Irsay's blood, having been raised in NFL circles and inheriting the club from his late father, Robert, in January 1997.
Jim Irsay embraces being his franchise's No. 1 cheerleader. He holds ticket-giveaway contests on Twitter. He announces the franchise's roster moves. He even teased when Indianapolis was set to make a big acquisition in the 2012 preseason by trading with Miami for cornerback Vontae Davis.
Irsay's passion toward the Colts supersedes that for any of his other business ventures or hobbies, including an expansive collection of rock 'n' roll memorabilia that includes the late Jerry Garcia's prized "Tiger" guitar.
Of course, Irsay should have remembered all this last March before letting that OWI deal go down.
The son of an alcoholic, Irsay had beaten his addiction to prescription drugs more than a decade earlier but suffered a relapse. Irsay admitted to a Hamilton County (Ind.) judge Tuesday that he had two powerful painkillers in his system (oxycodone and hydrocodone) when he was pulled over in March while driving in Carmel, Ind.
Irsay, who immediately checked into a treatment facility upon leaving jail, now faces random drug testing from the court system. His driver's license also is suspended for one year.
"I acknowledge the mistake I made last March and stand responsible for the consequences of that mistake," Irsay said in a team-released statement.
Critics will say that Goodell made a mistake. That he went soft on one of the 32 owners who constitute his bosses. That the NFL sanctions should have included the loss of at least one draft pick and/or a salary-cap penalty. That Goodell didn't go far enough again like with the penalty toward Rice, who received a two-game suspension stemming from a domestic violence incident involving his now-wife. Following a public outcry, Goodell admitted he let Rice off too easy and introduced a new domestic-abuse policy last week with a six-game suspension for first-time offenders.
Goodell, though, can rest easy on his Irsay judgment.
As the commissioner explained in an NFL press release, draft pick and cap penalties weren't levied because Irsay's conduct "did not have competitive consequences," as when New England was fined $250,000 and stripped of 2008 first-round draft pick following the Spygate controversy.
That makes sense.
It also should be pointed out that Goodell again followed through on his promise that an NFL owner or key front-office member would be treated far more severely than a player who had committed the same offense. Under the league's collective bargaining agreement with the NFL Players Association, a first-time DWI/OWI offender must meet with a medical director for a prescribed course of action and treatment but wouldn't receive a fine or game suspension.
Irsay isn't in "Stage One" of the NFL's substance-abuse policy like a player would be under the same circumstances. The sanctions again would be far worse if he slips once more. However, Irsay says he will try to turn this negative into a positive for himself and others.
"I now know that the incident opened my eyes to issues in my life that needed addressing and helped put me on the path to regain my health," he said in his statement. "I truly hope and pray that my episode will help in some small measure to diminish the stigma surrounding our country's terrible and deadly problem of addiction. It is a disease like other progressive, terminal diseases -- one that can only be successfully treated by understanding, committed hard work and spiritual growth."
Because of Goodell, Irsay will now have extra time during the next six weeks to concentrate on those recovery efforts.
---
---