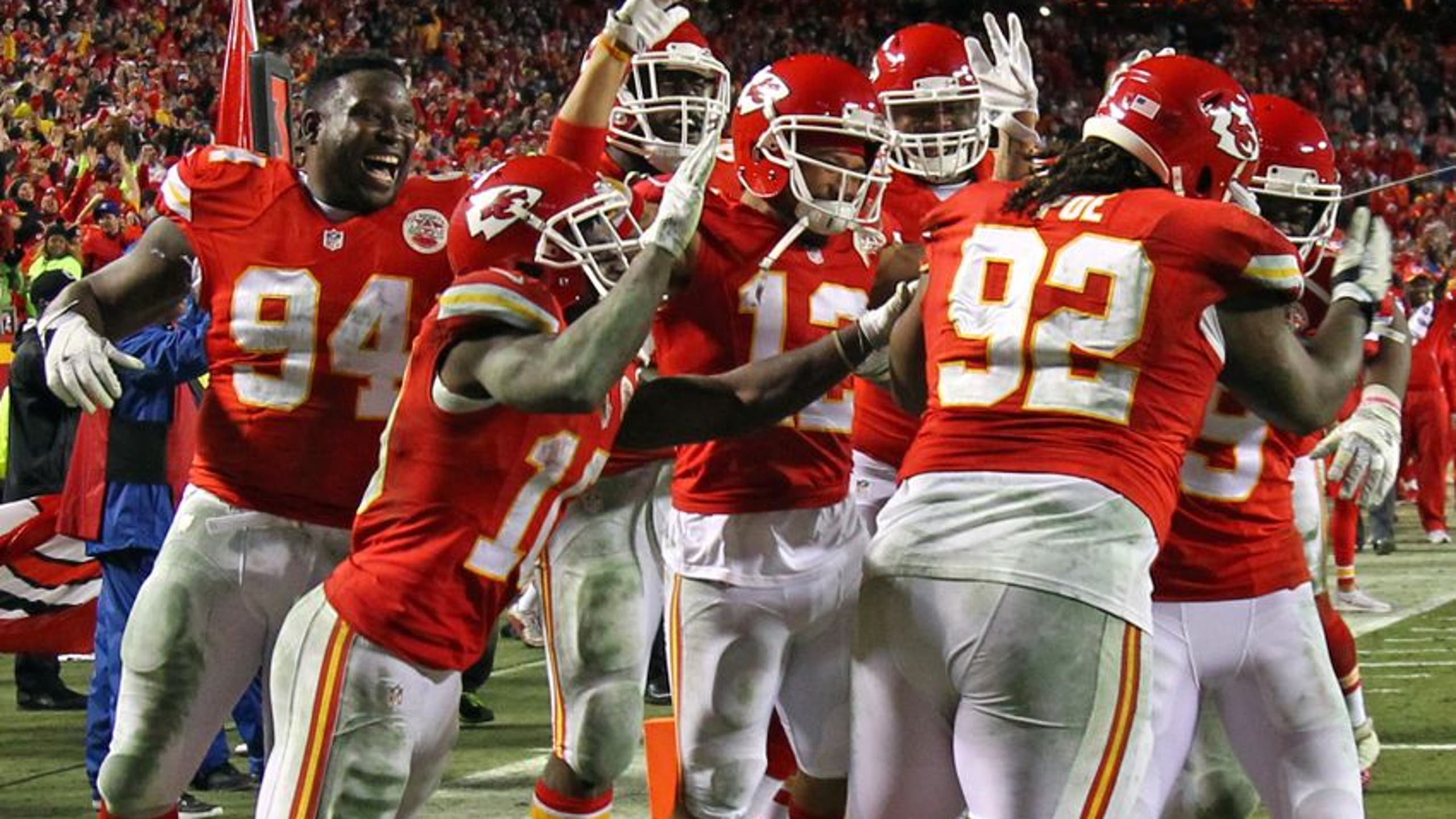 The Kansas City Chiefs are a wonderful frustration
BY Fansided and Lyle Graversen/FanSided via Arrowhead Addict • December 26, 2016
I love the Kansas City Chiefs. They are without question my favorite sports team and I will follow them through the good days and bad for as long as I am blessed to walk this Earth. I had a blast watching them play on Christmas surrounded by family. The celebration of Christmas, family, good food, and Chiefs football….it really doesn't get any better than that. Just that in and of itself would have been good enough but the Chiefs decided to fill our collective stockings even more. They also gave us the following gifts to be thankful for:
1. The Chiefs beat the defending Super Bowl Champions on Christmas night 33-10.
2. The Chiefs clinched a playoff birth Sunday AND eliminated their hated rival the Denver Broncos from the playoffs in the process.
3. Dontrai Poe threw an amazing leaping touchdown pass that both ended a recent second half touchdown drought and gave KC fans everywhere a play they can look back on and smile for years to come.
4. After a brutal loss to Tennessee last week where they failed to get the ball to their best offensive players (which I ranted about last Monday) they actually responded this week with a healthy dose of Tyreek Hill and especially Travis Kelce who went off for 11 catches, 160 yards and a touchdown.
5. The Kansas City Chiefs have a legit shot at the number two seed in the AFC and a first round bye if they can win against the Chargers next week and Denver can knock off the Raiders who now find themselves without their star quarterback.
You add those five things to a great day surrounded by friends or family and maybe some good food (and drink) and it's tempting to just say "Good night Chiefs fans, tonight was awesome and I'm going to leave it at that and get some sleep!" While I am going to keep this pretty short and I am extremely happy with everything I listed above I feel like its my duty to mention a couple other things.
Here's the deal, while the overall take away from this game is a huge positive there is still a lingering fear and frustration that I can't shake. Like the stench of last week's awful loss still hasn't quite disappeared. The Chiefs jumped out to an early lead in the first quarter just like they did last week and then spent the next two quarters refusing to put a team they were clearly outplaying away (also, just like last week). Now, to their credit, they did put Denver away in glorious fashion with that Poe jump pass (and a couple of field goals before that), but once again it felt like it shouldn't have needed to come to that.
I know, I know, I'm complaining about a 23 point win on Christmas against an arch rival that is also the defending Super Bowl champion. It's like I'm Ebenezer Scrooge but I slept through the three ghosts' visits and am still "Bah Humbugging" as the final minutes of Christmas day tick away. Maybe all the years of heartbreak are catching up to me, but I spent most of this game which the Chiefs led by double digits for almost the entire night worrying that they were going to find a way to mess it up.
The Chiefs are 11-4 and have one of the best records in all of the NFL and I still found myself spending more time during this fantastic win stressing about if they were going to mess it up than I did enjoying everything they were doing well. Is this a "me problem"? Am I the only one that was agonizing about them not slamming the door shut on this game much earlier? Am I becoming an old an jaded Chiefs fan that can't just sit back and enjoy a quality win in a big game? I don't want to be that guy!
I'd like to think that I'm not. I still see myself as an optimist and a bit of a homer fan with just enough realism to keep me grounded. I just REALLY want this team to live up to its full potential. I genuinely believe that this team has enough talent, even after all the injuries, to win the Super Bowl this season (or at least give it a good run). The problem is I only see flashes of that team here and there. They looked like world beaters in the first quarter and then suddenly it was back to the same frustrations as last week for two quarters. I want the world beater team for the ENTIRE GAME. If the Chiefs can do that I think they can play with anybody.
There are a TON of fans that would kill for their team to be where the Chiefs are. There are a TON of fans that would kill to be going to the playoffs for a second straight season. There are a TON of fans that would kill to have a head coach that consistently wins like Andy Reid. There are a TON of fans that would love to see their favorite team dominate their division rival in prime time on Christmas. We really are lucky in the overall universe of NFL fans. Being a fan of the Kansas City Chiefs is wonderful.
….except when its the most frustrating thing in the world.
I guess that's just life as a sports fan for most of us. I'm going to do my best to keep things in perspective and enjoy the ride as the end of this season plays out. I love this team and I truly appreciate what the Chiefs have accomplished so far this season. Unfortunately, there may still be some times where I throw things at my television, scare the dog out of the room with my cries of frustration, and bite my tongue because I don't want my eight year old daughter to hear me say the words I'm thinking out loud.
Ahhh…being a Chiefs fan, such a wonderful frustration. At least this Christmas it was more wonderful than frustrating. As long as the scales stay tipped in that direction we should be alright (fingers crossed). I hope you and yours had a wonderful holiday and that the good times keep on rolling into the new year.
As always, thanks for reading and GO CHIEFS!!!!!!!!!
More from Arrowhead Addict
This article originally appeared on
---
---