The General Manager Short List for 2017
BY Sports Illustrated and Albert Breer/Sports Illustrated via MMQB • December 15, 2016
In searches for general managers and coaches, every team looking to fill a corner office in January will publicly talk about casting a wide net and keeping an open mind. Whether they really mean that is a matter of opinion.
And while there are often coaching searches that quickly focus on one candidate, and become more pursuit than process, the problem has proven worse on the personnel side. As some evaluators explain it to me, the influx of search firms and veteran consultants has spawned a network connecting candidates to advocates and narrowing the process—making it easier for teams, and hard for everyone else.
"There's an absolute conflict of interest with those people," said one veteran executive. "One-hundred percent. If you're in with those people, forget about it."
Another exec explained it like this: "If you spoke to most people, the consensus is there are front-runners in every one of those situations, depending on who's running the search. You can just connect the dots. … What you hope for is the opportunity to go in front of people with an open mind, and hopefully that opens a door."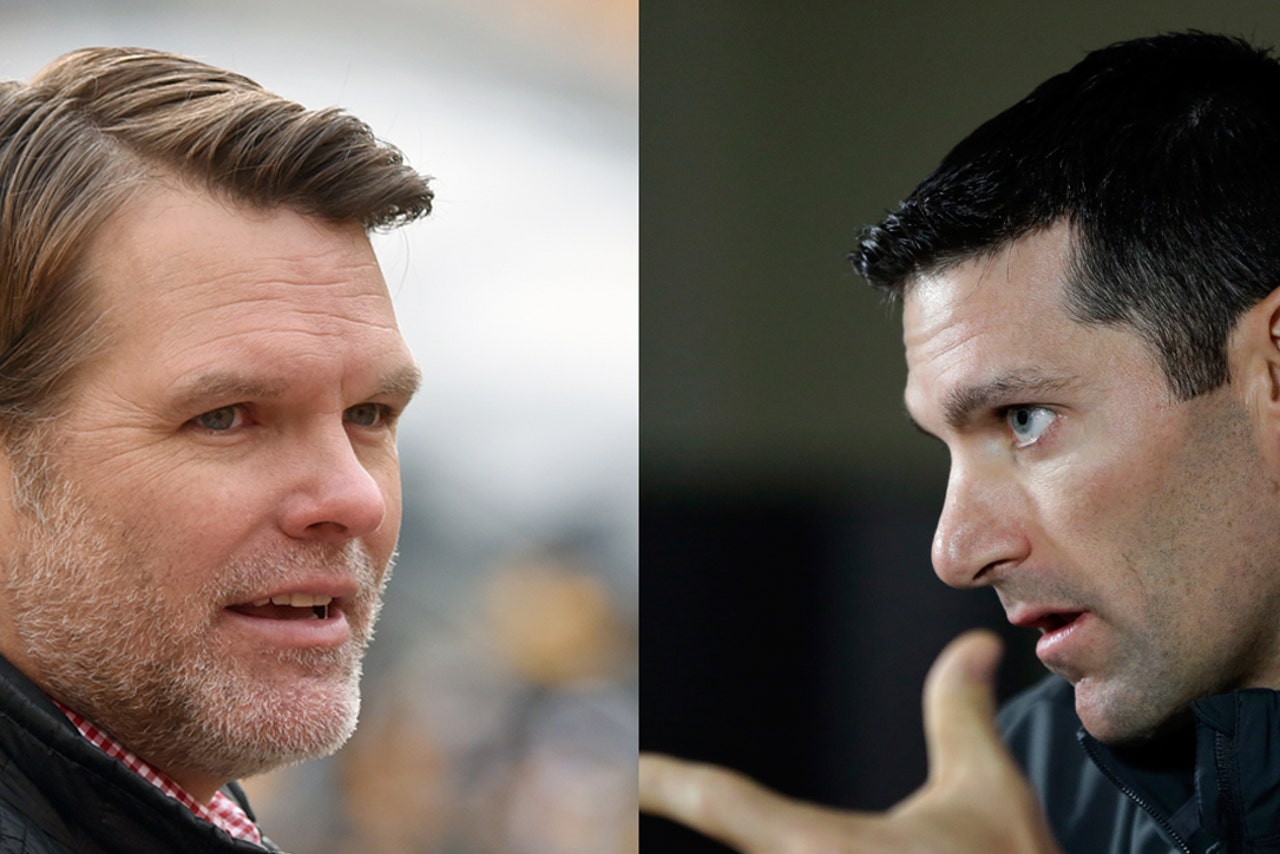 A third personnel man was more specific: "It's all full of nepotism. It's a joke. And it starts with Charley Casserly." So I called Casserly, the former Redskins and Texans GM, to try to figure where the flaws are in a process that's turned off a lot of people lately, and one that'll get going in earnest again here in just three weeks' time.
Elsewhere in this week's notes, we'll look at the Rams' situation post-Jeff Fisher, the future of Jim Harbaugh, the present of Sam Bradford, the Bucs' rebirth, a couple lesser-know college quarterbacks to watch, and 2017's franchise-tag figures.
But we start with my eighth annual future general managers list. It was born at the Boston Globe, went with me to NFL Media, and now I'm bringing it here to The MMQB for the first time. The idea was presented to me in 2009 by a young GM who wanted young guys on the personnel side (who were far less visible to owners than young coaches) to get recognition for their work and potential.
And when I started hearing the complaints the past few weeks about searches being rigged for certain candidates, it got me thinking back to the original idea for this. It was not only to help scouts, but also to give the public and even teams an idea of who was well-regarded in the talent-acquisition community. So all of this brought me to my former NFL Network colleague Casserly on Tuesday night.
Casserly, Ron Wolf, Bill Polian, Ernie Accorsi, John Madden, Tony Dungy and Carl Peterson make up the NFL's career development advisory panel, and the first five have figured prominently in consulting roles during GM searches over the past two or three years. Those guys compile candidate lists and handle invites for the symposium they hold in June.
Without question, they have sway. And as I detailed, in many corners, the belief is that an old boys' network has been formed. But Casserly, who led the Jets' 2015 search—which ended with his former co-workers Mike Maccagnan and Todd Bowles as GM and coach—takes exceptions to the idea that the process is cooked.
He said the search he ran in New York was open, and points out that the team gave Jon Robinson (whom he didn't know) and Chris Grier (whom he says he only knew through Chris's father, Bobby) their first GM interviews, and that he left the room for Maccagnan's interview. That said, Casserly acknowledged that connections help.
"It's so different than it is with coaches," Casserly said. "Coaches are so clearly defined. You know who calls the plays, you see them on TV, coordinators have press conferences. It's just not like that in scouting. Are they pro? College? None of them are making big decisions. What you need is networking. It's not politicking."
He continued with some advice: "Every time you're at workout, do your job, because people are watching. You need to show everyone you're a hard worker. But meet people, too. Ask a GM questions. Be the guy with the clicker. By doing that, you connect with people. That's how you market yourself. You need advocates. Someone needs to pick up the phone for you. If they aren't doing that, you're in a tough spot."
That won't quell the frustrations of candidates who believe that Polian delivered his protégés to San Diego and Jacksonville, or that Casserly made sure Maccagnan was front and center for the Jets, or that Wolf got Reggie McKenzie to Oakland. All this is, of course, complex, and these are big decisions that, in many cases, owners would rather have someone else make for them, which fuels the suspicion.
The truth? Every situation is different. And my belief is that this list, as I present it in two parts, does a little to open the minds of people who may think they already know who they want. So here's this year's group …
READY TO ROLL
Chiefs VP of player personnel Chris Ballard: Kansas City's continued success only enhanced the candidacy of an exec who's been on the cusp for some time. Bonus to hiring him: Widely held belief he'd swiftly assemble a robust scouting staff.
Patriots VP of player personnel Nick Caserio: He interviewed in Miami a few years back, and there was a feeling then that he was ready to take his shot. He hasn't interviewed elsewhere since, leading to a growing sense that it'd be tough to pry him away.
Ravens assistant GM Eric DeCosta: Good luck pursuing him. He's almost certainly going nowhere. If anything were to lure him, my sense is it would have to be full control and either a major market or an historic franchise.
Seahawks co-director of player personnel Scott Fitterer: The former college director was promoted last year. And while he's still on the road plenty, the change has given him experience in pro scouting and an office setting. His résumé = Seattle's roster.
Texans director of player personnel Brian Gaine: In many ways, Gaine has been the bridge between scouting and coaching, with his background speaking Bill O'Brien's language. And the Texans' resiliency this year speaks to the depth he's helped build.
Packers director of player personnel Brian Gutekunst: As the team's former college director, he's vital in how Ted Thompson builds the roster. And while Eliot Wolf is a bigger name, I've heard too many good things about Gutekunst to leave him off.
Seahawks co-director of player personnel Trent Kirchner: He was promoted from pro director when Fitterer was, and has since gotten more experience on the college side. He's interviewed with the Jets and Lions the last two years.
Cowboys assistant director of player personnel Will McClay: The Cowboys' offensive talent speaks for itself, but Dallas has been equally resourceful in stocking the defense. And in that regard, the team's top scout has been a difference-maker.
Cardinals VP of player personnel Terry McDonough: Part of the Ozzie Newsome tree, McDonough helped Steve Keim pull off a difficult rebuild-on-the-fly the past four years. The success of Tampa's Jason Licht coming from Arizona won't hurt either.
Vikings assistant GM George Paton: Like Ballard, he's been in the mix for a number of jobs—he was one of two finalists for the Rams post in 2012—and has helped build a proven winner. Minnesota's rash of injuries has only highlighted that.
Falcons assistant GM Scott Pioli: By all accounts, he's learned from his experience in Kansas City, and he left the cupboard far from bare. His impact in Atlanta can be seen in the recent influx of talent on defense and along the offensive line.
Bengals director of player personnel Duke Tobin: Most road scouts have an enormous amount of respect for the stoic Tobin, who has strong football roots, plus a deep, sturdy roster to show for his nearly two decades in Cincinnati.
Packers director of football operations Eliot Wolf: Once Seattle's John Schneider signed his extension, the assumption became that Wolf would succeed Thompson in Green Bay, maybe very soon. The rumor mill has also tied him to the Niners.
ON DECK
Brandon Beane, Carolina; Joey Clinkscale, Oakland; Joe Douglas, Philadelphia; Brian Heimerdinger, NY Jets; Chris Grier, Miami; Alonzo Highsmith, Green Bay; Brandon Hunt, Pittsburgh; Joe Hortiz, Baltimore; Jeff Ireland, New Orleans; Dan Morgan, Seattle; Kyle O'Brien, Detroit; Monti Ossenfort, New England; Chris Polian, Jacksonville; Jimmy Raye, Indianapolis; Matt Russell, Denver; John Spytek, Tampa Bay; Jamaal Stephenson, Minnesota.
* * *
FIVE NAMES TO WATCH THIS WEEKEND
• I know one thing other teams feared about Seattle was the chance it'd get a healthy Thomas Rawls back. That's happened. He has 27 carries for 173 yards the past two weeks. He's capable of changing the Seahawks offense. And you can see him try tonight.
• Speaking of that game, I'm fascinated to see what we get from Jared Goff against Seattle. You have a lot of offensive coaches who have shouldered a lot of blame for the Rams' struggles. Now, all those guys are fighting for the next step in their careers.
• I've been one of the biggest champions for Andrew Luck's ability to carry the team, but he threw a couple unsightly picks last week. It's on him now to right all of that with the Colts' season on the line, and a tough Viking D on deck.
• I don't think I need to explain why Dak Prescott is one to watch. Based on who I've talked to, there's no feeling in the building that the Cowboys are close to turning to No. 9. We'll see if Jerry Jones, Tony Romo's biggest fan, can resist getting antsy.
• The Bills get the Browns this week. I'm not saying Rex Ryan is coaching for his job. But taking care of business here would go a long way towards saving it.
* * *
FOUR DOWNS
1. Rams search starts with research. Maybe the most pivotal piece of the impending Los Angeles search, once the Rams figure out who else stays and who else goes—and primarily what becomes of GM Les Snead and his staff—will be the franchise picking an organizational structure. Five years ago the team dangled control over the 53-man roster as a carrot to convince Jeff Fisher to pick St. Louis over Miami. And in the time since, that type of circumstance hasn't been scarce—Adam Gase got it in Miami, as did Dan Quinn in Atlanta, Lovie Smith in Tampa and Chip Kelly in Philadelphia. In each of those three cases, it was largely the result of competition for the coach's services. Accordingly, in recent years, many of those types of structures have been modeled after how Seattle makes it work with GM John Schneider and coach Pete Carroll, the idea being that the GM controls the offseason (and the 90-man roster, free agency and the draft), and then hands the reins of the team and decisions on the 53- and 46-man (game day) rosters over to the coach during camp. If you can make it work, it's ideal, because it broadens the pool of coaches you can realistically pursue, and head coaching candidates are generally more sought-after than GM candidates, plus there are usually more coaching openings than GM openings.
The caveat here? If you're going to make that division of power work, you need to have not just the right people, but the right mix of people. Here's how Schneider explained it to me: "We do have a collaborative effort. I never give Pete a player he wouldn't want, and that works both ways. We're constantly talking about what makes sense in the draft, free agency and with the 53. And we never run into situations where we can't work it out. ... The important thing is he respects me and I respect him. And I respect him as an evaluator, and he respects me as a team-builder, which is the really important thing." So as I see it, that first decision—charting the organizational structure—is just as important for the Rams as the more newsworthy hires that'll follow that.
2. Harbaugh's future. How Jim Harbaugh will spend 2017 came up this week. And if he's still in Ann Arbor then—and I think he will be—this will come up again in 2018, then in 2019, and you get the idea. That's the (really easy to understand) price of admission for Michigan in employing its celebrity coach: Harbaugh's NFL success means that NFL teams will continue to try and lure him back to the pros.
So what's the endgame here? I don't think anyone but Harbaugh could know, and I wouldn't bet even he knows. What I do know is the widespread feeling in NFL circles is that he'll be back in pro football eventually. Could be in a year or two. Could be in 10 years. NFL teams will inquire between now and whenever that happens. But considering that the firestorm we witnessed, his classic response, and that this will come up again, I figured I'd go back to a conversation I had with him a few months ago. And specifically, the direct question I asked him: Do you miss the NFL?
"It's not like I 'miss' the NFL, because it didn't go anywhere," he responded. "I get great enjoyment watching, and I'm a diehard watching my brother, his team and what they're doing. There are things not coaching in the NFL that you do miss, those relationships with the players themselves, who are playing at the highest level. But I have those relationships with the players here, the NFL is still there, and getting them in a position to get to experience that is a very worthwhile thing, and I attack that every single day. Bottom line, it's not something to miss. It's still there. … I'm happy and challenged every day with what I'm doing right now."
At the time, he described his happiness in Ann Arbor as a "10 out of 10." I have no reason to believe that's waned in any way, or will. What I do think would eventually lure him back is the challenge, and a little unfinished business. But he's just turning 53 next week, so he's got plenty of time for that.
3. Sam Bradford's quiet fight. It's not common that a team goes through the kind of injury ringer the Vikings have this year—it's even extended to head coach Mike Zimmer—but they're quietly still sitting there in the playoff race at 7-6, and have a manageable finish to their schedule (vs. Indy, at Green Bay, vs. Chicago). And one reason for optimism is the play of Sam Bradford, who's putting together a really good season that's been underappreciated.
His completion percentage (71.2%) is currently tied for the NFL's single-season record, and his passer rating for 2016 (98.2) is eight points higher than any other season in his seven-year career. In six of his last seven games he's topped his career passer rating of 83.7, with three of those ratings landing in triple digits. And you can see it with the receivers he's had to learn to play with on the fly too—Stephon Diggs has caught 77.2 percent of the passes sent his way (78/101) and Adam Thielen is at 74.7 percent (56/75), both of which are percentages usually posted by running backs who catch short throws. As one Vikings staffer explains it, "That's just knowing the plan, and finding completions. If you look at him, he's been good."
Bradford is doing all this despite Minnesota's having lost both of its starting tackles and its bellcow back Adrian Peterson. And against Jacksonville, he struck deep too—hitting three times for plays of 40-plus to three difference receivers—and was the best player on the field for the balance of the game. Some credit absolutely goes to OC Pat Shurmur, for scheming around the problems and playing to Bradford's strengths. But Bradford deserves credit too, and he's at least made Minnesota's decision on what to do when Teddy Bridgewater gets healthy an interesting one. (Bradford, by the way, is set to make $17 million in cash and carry a $22.5 million cap number next year).
4. Bucs' best test. Sunday night against Dallas will be, in many ways, a reintroduction to the national stage for Jameis Winston, who hasn't played many national games as a pro. But to me, the group to watch is coordinator Mike Smith's rebuilt Tampa Bay defense, which has held three of its last five opponents to under 300 yards and four of the five under 20 points (San Diego scored 21 on the Bucs two weeks ago), while forcing 14 turnovers over that stretch. Not coincidentally, Tampa won five of those games, the last three against Russell Wilson, Philip Rivers and Drew Brees. And that's all after the Bucs spent the first half of the season yielding nearly 30 points per game.
Part of it is the group learning to play together. Three of the guys who started Sunday against New Orleans (Brent Grimes, Daryl Smith, Robert Ayers) were veteran free-agent additions, while another (Vernon Hargreaves) is a rookie, and there are other rookies, like Noah Spence and Ryan Smith, who have played key roles on that side. GM Jason Licht has methodically remodeled the roster—the focus this season was on fixing the defense, whereas in his first two years the Bucs spent most of their resources building up the offense. They had cornerstones in Gerald McCoy, Lavonte David and Kwon Alexander. They needed complementary pieces, and the hits in the draft and free agency have given them that. Smith has simplified the scheme and improved communication, and the group has gotten healthier. The buy-in is just better across the board, and that goes for the offense too. "The attitude has done a 180," said one Bucs staffer. "Dirk [Koetter] has loosened everyone up."  
Now, facing a stacked but struggling Cowboys offense, that group gets a good measuring-stick game. And if Smith's crew can keep up what it pulled off against Brees and company, you might hear Smith's name creep back into those to watch when the coaching carousel fires up in a few weeks.
* * *
THREE CHECKDOWNS
• We get a rematch of the AFC title game on Sunday with New England at Denver, but this one ought to look a lot different from last year, and I really don't think the biggest difference is in who's playing quarterback for the Broncos. To me it's the New England running game. In last year's regular-season finale, the Patriots tried—and failed—to reestablish any semblance of a run game to take into the playoffs. Wade Phillips took note, and three weeks later he treated every down like it was third down. The Patriots rushed for 44 yards, the Broncos teed off on Tom Brady, and Denver advanced to the Super Bowl. Last year New England was 30th in rush offense. This year the Pats are seventh, behind LeGarrette Blount's career year. Advantage: New England.
• This week Josh Norman gets his first shot at the team that drafted him, developed him, franchised him, then let him go. So why did the Panthers let him walk, rather than just have him play on the tag in 2016? My perception of it revolves around the mix they had in the locker room last year, which the coaches viewed as special. Norman's people and the Panthers were never close to doing a long-term deal—he was offered $11 million per and got $15 million per in Washington. And my sense was that the Panthers were concerned that an unhappy Norman could revert to the hot-headedness of his younger days, possibly affecting his play and the harmony of the team. Which, to Carolina, wasn't worth the $13.95 million he would have cost them on the franchise tag.
• I love the Chiefs-Titans game this weekend for one specific reason—Kansas City is the kind of tough, hard-edged team that Tennessee GM Jon Robinson and coach Mike Mularkey are trying to build in Nashville. The team invested deeply in its offensive line in the offseason, and brought in physical tailbacks to complement the guys up front, and now all that gets tested against Dontari Poe, Justin Houston, Tamba Hali and the Chiefs' front. And it'll happen in one of pro football's most difficult environments, Arrowhead Stadium.
* * *
COLLEGE PLAYERS TO WATCH THIS WEEK
Wyoming QB Josh Allen (vs. BYU, Poinsettia Bowl, Wednesday, ESPN, 9 p.m. ET): Plenty of people have wondered, since North Dakota State's Carson Wentz went second overall last spring, where to look for the next under-the-radar quarterback prospect. So it's at least interesting that the place might be one that the man who recruited Wentz to Fargo—Wyoming coach Craig Bohl—calls home. The 6'5", 222-pound Californian was lightly recruited out of high school and spent his freshman year at Reedley Community College in his home state. Last year he landed at Wyoming, won the starting job, then got hurt and redshirted. This year he's proven to be worth the wait—throwing for 2,996 and 26 touchdowns in leading the Cowboys to the Mountain West title game. Scouts have taken note. "He's a big ol' kid with a big arm, and he's pretty athletic too," said one AFC exec. "We gotta learn more about him, but the tools are there." Allen is still seen as fairly raw, and the finish to his season was far from perfect, but he's working in a pro-style offense and, as a redshirt sophomore, has plenty of time to grow.
Central Michigan QB Cooper Rush (vs. Tulsa, Miami Beach Bowl, Monday, ESPN, 2:30 p.m. ET): This particular bowl will mark Rush's 49th collegiate start, so he's no new commodity to scouts, but his game certainly got more attention this year for two reasons: 1) the Chippewas' crazy finish against Oklahoma State in September; and 2) Western Michigan coach P.J. Fleck predicting he'd be an "incredibly high draft pick" a few weeks later. The four-year starter has topped 3,000 yards and thrown for more than 20 touchdowns the last three years running, but the truth is, those paid to evaluate him aren't quite as smitten as Fleck was. "He may get drafted late because of the [lack of] quality at the position," said one area scout assigned to CMU. "He's an accurate thrower with deceptive athletic ability to extend plays with his feet. Not a dynamic or explosive athlete, but good enough to avoid the rush and create at times. Average arm at best, but he's got solid touch on intermediate and deep balls. He just lacks elite velocity." Still, quarterbacks have a tendency to go higher than they should, and Rush has a chance to build momentum in what, as the scout said, is a shaky year for quarterbacks.
* * *
EXTRA POINT
This week in Dallas, teams were given 2017 cap estimates and a hard number to work off of for budgeting purposes: $168.1 million.
The estimate is usually low so that clubs can be conservative enough in their planning. But even if that wound up being the number, it would represent a $48.1 million hike from the first year of the current CBA and a $45.1 million raise over the last year of the old one (which was roundly seen as a bad deal in ownership circles).
What else does having that number mean? It means we can start talking about franchise tags for 2017, and transition tags too (which will double as the fifth-year option numbers for picks 11 to 32 in the draft class of 2014, a group that includes Odell Beckham, Zack Martin, C.J. Mosley, Aaron Donald and Teddy Bridgewater. So here they are, based on a $168.1 million cap, franchise tags first, transitions second:
QB: $21.5M; $19.0M
RB: $12.2M; $10.0M
WR: $15.7M; $13.3M
OL: $14.4M; $12.6M
TE: $9.8M; $8.3M
DT: $13.5M; $11.0M
DE: $17.0M; $14.0M
LB: $14.6M; $12.4M
CB: $14.3M; $12.4M
S: $11.0M; $9.3M
P/K: $4.8M; $4.4M
The big name to watch is, of course, Kirk Cousins. I wrote about it a couple weeks ago, and the truth remains that much of the Redskins' approach here will likely hinge on their, and his, success in the postseason.
Elsewhere, here are some names to watch …
Steelers RB Le'Veon Bell: A legit Offensive Player of the Year candidate, Bell has been a force since coming back from suspension. That said, he's one step from a 10-game suspension, wants huge money, the tag is $12.2 million, and the draft class promises to be one of the deepest in decades at tailback.
Patriots TE Martellus Bennett: This one's tricky. Rob Gronkowski's contract (three years, $24 million left) sets a natural ceiling for talks, and Bennett already turned down an offer reported at $7 million per. The $8.9 million tag is affortable for a team with as much space as the Patriots have.
Chiefs S Eric Berry: In my mind, the only player franchised in 2016 who's a candidate to be tagged again. It won't be cheap—the tag on our calculations would come to $13.2 million. But Berry has very much become heart and soul of the K.C. defense.
Browns LB Jamie Collins: Word was Collins was looking to break the bank in New England, so it stands to reason that the freakish linebacker won't back off that now that he's in Cleveland. Have the Browns seen enough to pay him nearly $15 million? If they haven't, they'd likely get the '16 comp pick they traded for him back in '17.
Patriots LB Dont'a Hightower: The former first-rounder is now the team's defensive signal-caller, a captain, and occupies the locker that belonged to Willie McGinest and Jerod Mayo. That said, edge-rushers playing in a 3-4 have juiced the linebacker number. The Pats would probably be hesitant to pony up nearly $15 million.
Cardinals DE Chandler Jones: The edge-rushing dynamo only has 8.0 sacks, but Arizona believes he's changed the face of its front, and I don't think there's much chance he gets away. Bonus: Because he's playing OLB in Arizona, rather DE, tagging him will be more than $2 million cheaper.
Giants DE Jason Pierre-Paul: I think JPP is back in New York next year. That said, it'd be pricey to tag him a second time, especially considering what the Giants paid to Olivier Vernon last March.
Panthers DT Kawann Short: Would Carolina use the tag for a second straight year? And at $13.5 million for a player who hasn't been as dominant as he was in 2015? The difference between Norman and Short, to me, is that Carolina's identity runs through its front seven. So it'd be hard to let Short go.
• Question or comment? Email us at talkback@themmqb.com.
---
---