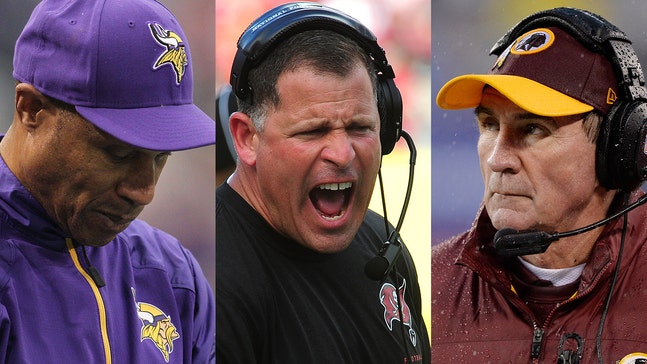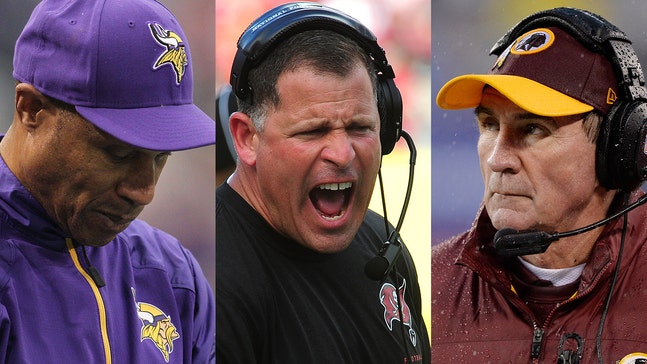 Surveying fallout from Black Monday: Who's coming . . . who still may be going?
Published
Dec. 31, 2013 3:31 a.m. ET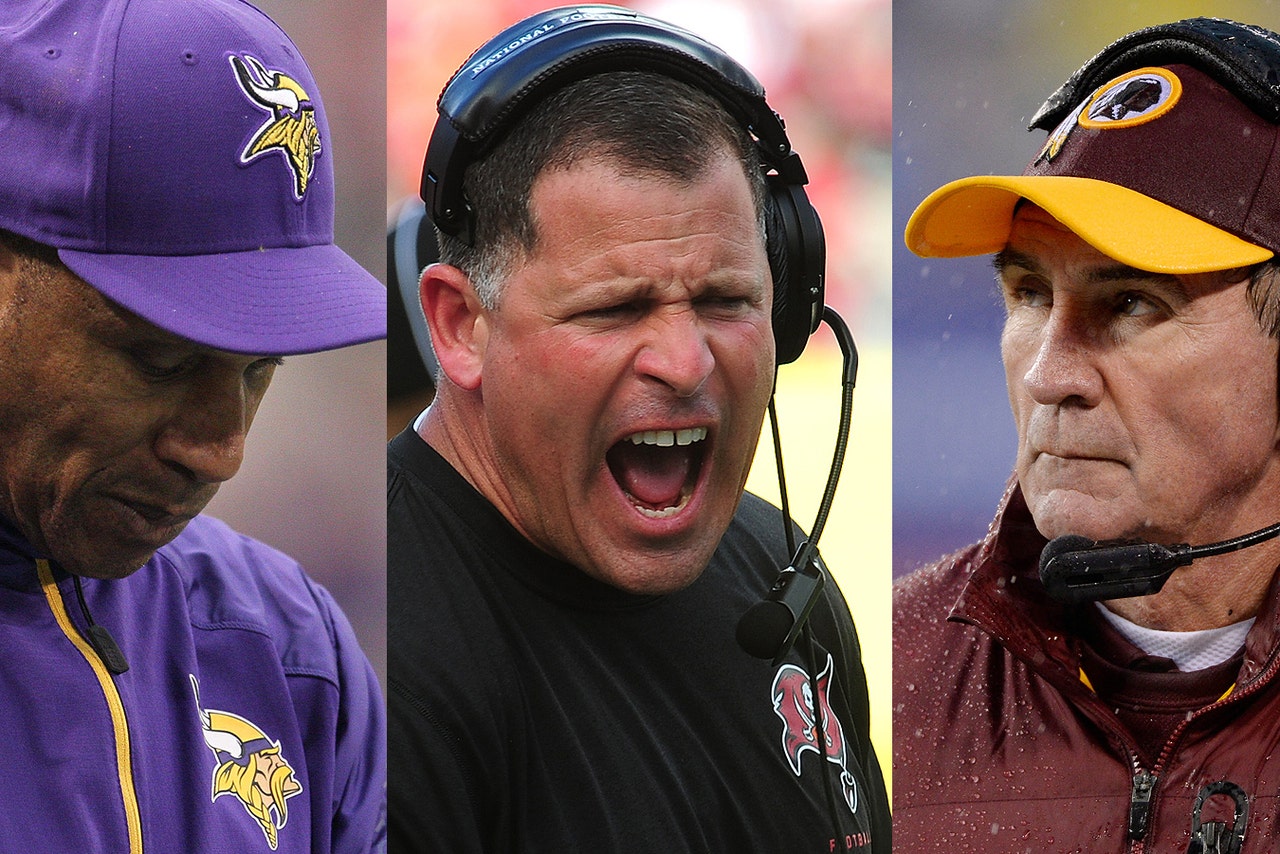 As Black Monday unfolded, nobody had the NFL covered like FOX Sports. From reporters on the ground to NFL Insiders working the phones across the league, we were there as the ax fell on five coaches — and dangled above numerous others.
And now that the smoke has cleared, it's time to ask: Who's getting the remaining NFL gigs? We've taken a shot at that, too.
So get a feel for 2014 by watching Brian Billick and reading Mike Garafolo. And for in-depth, on-the-ground coverage on Monday's moves, click on any of these reports:
Cleveland | Detroit | Minnesota | Tampa Bay | Washington | Dallas | New York Jets
And you can always keep up with the latest coaching comings and goings with our coaching tracker.
WHAT'S NEXT
By Mike Garafolo
Five NFL head-coaching firings on Sunday and Monday have opened up six spots to be filled in the coming weeks, with perhaps more on the way. It's not quite as many as last year (eight), but it's enough to get the rumor mill spinning quickly.
Here's a look at the six openings after Black Monday madness and how the teams with vacancies might go about filling them:
BROWNS
They'd better not screw this one up. Not after last year's hiring process, which is now officially a disaster following the firing of Rob Chudzinski after only one season. And don't forget the issues with last season extend beyond Chudzinski. The team gave defensive coordinator Ray Horton a four-year, $8 million contract last year and gave special teams coordinator Chris Tabor a two-year extension. Details on offensive coordinator Norv Turner's contract are unavailable, though it surely wasn't a bargain. The point being that's a lot of money to those three and Chudzinski — all of whom might be getting checks from Cleveland in 2014 to not coach the team.
Turner is surely on his way out of town, as he and Chudzinski are very close. In fact, a source told FOX Sports that Turner harshly criticized Browns brass over Chudzinski's firing during a meeting with the coaches Monday morning. The Browns went right after Denver Broncos offensive coordinator Adam Gase, though Gase turned them and any other interested teams away for now. He won't interview for any jobs until the Broncos' postseason run is over. In the meantime, Cleveland is left scrambling once again. We'll see if it ends in disaster once more.
LIONS
After five years of Jim Schwartz and a lack of discipline on and off the field, the Lions want to find a coach who will help get things in order for a roster filled with talent but in need of some guidance. Ndamukong Suh's style of play, the off-field issues that have plagued this team and an overall lack of mental toughness are the areas in which the Lions need to improve, as team president Tom Lewand and general manager Martin Mayhew said during Monday's news conference.
FOX Sports' Jay Glazer has mentioned Cincinnati Bengals defensive coordinator Mike Zimmer as a possible replacement for Schwartz. Zimmer is popular with his players but would also serve to tighten things up a bit in the locker room. Zimmer has struggled with previous head-coaching interviews because of his blunt style of speaking. But maybe the Lions will realize that's what they need for the next guy they pick to lead their team.
TEXANS
All indications continue to be that this is Bill O'Brien's job to lose at this point. O'Brien meets the requirements of Texans owner Bob McNair, who stated he wanted a coach with NFL experience and head-coaching experience. O'Brien has both, thanks to his two seasons at Penn State. With the Nittany Lions, O'Brien has compiled a record of 15-9 despite the sanctions that scared away recruits and left the program in apparent shambles after the end of the Joe Paterno era.
O'Brien's ability to build a new identity for the Penn State program is what has attracted the Texans, as well as several other interested NFL teams. The Texans got the jump on O'Brien by firing Gary Kubiak with a few weeks to go in the regular season. We'll see if it's too late for a few other teams to nudge their way into contention.
***UPDATE: Houston has reached an agreement with O'Brien to become head coach. (Tue., 11:07 p.m. ET)
VIKINGS
This will be the first time general manager Rick Spielman gets to hire a coach, and with the way Spielman mentioned his 13 characteristics he likes in a candidate, this could be an exhaustive process. Maybe not quite as thorough as the one the Chicago Bears conducted last season, but close. The Vikings have already shown an interest in Gase and also are looking to speak to Arizona Cardinals defensive coordinator Todd Bowles. That shows the wide range of interest they have in candidates.
The next coach will probably be working with a rookie quarterback because Spielman's Josh Freeman experiment didn't exactly work out. In fact, the $2 million the Vikings spent on Freeman only to see the coaching staff relegate him to being a healthy scratch was part of the reason Frazier was dismissed. An offensive mind to help a rookie passer get ready to play immediately could be the route the Vikings wind up taking.
BUCCANEERS
Midway through the season, when Greg Schiano was seemingly being nudged out the door, Lovie Smith was already being mentioned as the favorite to return to the Bucs and take over a locker room that had been pounded down by Schiano's iron fist. But then, a funny thing happened when the Bucs started winning, players came out in support of Schiano and it appeared the former Rutgers coach would be back for a third season.
But that wasn't the case, and now Smith is again being mentioned as the favorite to replace Schiano. Smith heard from the Bucs on Monday and will interview formally in the near future. With playmakers on every level of the defense (Gerald McCoy up front, Lavonte David at linebacker, Darrelle Revis at cornerback and Dashon Goldson at safety), the Bucs have the personnel Smith would love to coach. On offense, he's already lined up former Cal coach Jeff Tedford as an offensive coordinator. Tedford worked with Aaron Rodgers and could soon get his hands on Mike Glennon.
REDSKINS
What should be one of the most attractive jobs in the NFL is now considered poison by many candidates because of the latest flameout in relations between a head coach and owner Dan Snyder. Mike Shanahan was given all of the personnel power he desired and, with two Super Bowl rings on his hand before arriving, had the credentials to keep Snyder at bay. Or so it seemed. Snyder got too close to Robert Griffin III for Shanahan's liking, and the relationship between coach and owner deteriorated from there.
So now the Redskins have to go out and find a coach with a big enough name to appease their fan base while also making sure that coach has the chops to deal with Griffin and Snyder. That's not easy. In fact, an agent for several coaching candidates told FOX Sports one of his clients would make perfect sense for Washington "but I wouldn't wish that on him." The Redskins and Snyder have some work to do on this one. Unlike most coaching vacancies, the team is going to have to sell itself as much as the candidate will be pitching his wares to the club.
HOW MONDAY WENT DOWN
BROWNS
The Browns fired Rob Chudzinski on Sunday night after just one season on the job. On Monday, team owner Jimmy Haslam and CEO Joe Banner addressed the media and vowed they'd begin immediately searching for the "right guy."
"I don't know if it will take a week or a month," Haslam said. "The important (thing) is to get it right. There will be all kinds of rumors out there. We understand that. We'­re not going to respond to any of them."
Later Monday, Denver Broncos coach John Fox said the Browns had been granted permission to interview Broncos offensive coordinator Adam Gase. According to the Denver Post, Gase will wait until after the playoffs to interview for the Browns' vacant coaching position.
Various media reports stated the Browns also will seek to interview Seattle Seahawks defensive coordinator Dan Quinn and New England Patriots offensive coordinator Josh McDaniels.
—Zac Jackson
For more, click here.
In firing head coach Jim Schwartz, team president Tom Lewand and general manager Martin Mayhew said the right things in front of television cameras Monday, pointing out (credibly) that this might be the NFL's most coveted head coaching vacancy. They also made clear the new hire must be ready to win immediately — a sensible expectation, given the presence of quarterback Matthew Stafford and wideout Calvin Johnson on a talented roster. As Lions linebacker Stephen Tulloch observed Monday, the team's "window" is closing rapidly.
Mayhew acknowledged that NFL head coaching experience would be beneficial for the new boss, so you can expect plenty of Lovie Smith and Ken Whisenhunt rumors. The Lions don't have time for someone to grow into the role, as Schwartz did. Schwartz can be credited for a postseason berth in 2011 and general return to relevance. But someone with the résumé he had when the Lions hired him in 2008 — that is, a youngish defensive coordinator — will not be the next coach here.
—Jon Paul Morosi
For more, click here.
To understand the impact Leslie Frazier had on the Minnesota Vikings, one only needs to look at what happened Monday at the team's facilities after Frazier was fired.
Frazier addressed the team in an emotional final meeting with the players before leaving Winter Park, the team's headquarters.
"It was a somber moment," cornerback Chris Cook said. "Everybody was really kind of quiet and really just took it all in. He got a round of applause when he walked out of the room. I feel like everyone is sad to see him go."
Frazier was fired after three-plus seasons as Minnesota's head coach, including a surprising playoff appearance last season. But Frazier was ultimately undone by a 21-32-1 record, overwhelmed by poor play at quarterback and failed chances on Donovan McNabb, Christian Ponder and Josh Freeman in his tenure.
—Brian Hall
For more, click here.
Tampa Bay Buccaneers head coach Greg Schiano and general manager Mark Dominik were fired Monday after a tumultuous 4-12 season.
The turmoil included a dramatic quarterback change from Josh Freeman to rookie Mike Glennon, a MRSA issue that involved three players, an 0-8 start, injuries to key contributors such as running back Doug Martin and wide receiver Mike Williams, plus a 1-4 record in December.
Schiano, who arrived from Rutgers University with a reputation as a disciplinarian, finishes his Bucs career 11-21. Dominik, a long-time member of the Bucs' pro personnel department, sees his career with Tampa Bay end after he was hired to replace Bruce Allen in January 2009.
"The results over the past two years have not lived up to our standards, and we believe the time has come to find a new direction," Bucs co-chairman Bryan Glazer said in a statement.
—Andrew Astleford
For more, click here.
Although general manager Bruce Allen said the Redskins' plan to find a new head coach would move forward in earnest Monday night, there are two things we can already ascertain about Mike Shanahan's eventual replacement.
He won't have the omnipotent power over Washington's football operations that Shanahan enjoyed for four seasons. Allen now has that control. . . . Of course, the new head coach will have significant input. But it doesn't appear he will have final say, which will cool interest from some candidates – especially those who worry that Redskins owner Daniel Snyder may begin meddling in football affairs again after stepping back during the Shanahan regime.
Second, forging a more positive working relationship with quarterback Robert Griffin III is a must.
—Alex Marvez
For more, click here.
Not only did Cowboys coach Jason Garrett keep his job despite a third consecutive 8-8, no-playoff, Week 17-disaster season, but he was noncommittal about making any changes in personnel and even the coaching staff.
He said he would start that evaluation on Tuesday. The feeling at Valley Ranch is that if anybody gets fired, it will be defensive coordinator Monte Kiffin. The Cowboys were historically bad defensively in Kiffin'€™s first season.
Offensive coordinator Bill Callahan appears to be on somewhat more solid ground despite suspect play calling that followed him through the season, ending in the loss against the Eagles.
—Jen Floyd Engel
For more, click here.
Rex Ryan, less than 24 hours after being assured by New York Jets owner Woody Johnson that he'd be back for the 2014 season, survived another Black Monday, despite his team's missing the playoffs for a third straight season. If the video footage of the team's reaction to the news on Sunday wasn't enough proof of the Jets players' affection for their embattled coach, their words on Monday certainly were.
Coming off an inspired two-game win streak to close out the season and an unlikely 8-8 record, both veterans and rookies were upbeat about their coach's employment status. "When we found out, it was pure joy in the locker," quarterback Geno Smith said Monday. "We were all happy for him, and also selfishly, I'm happy to have my coach back because we really enjoy playing for him and we just look forward to the future here."
— Peter Schrager
For more, click here.
---
---