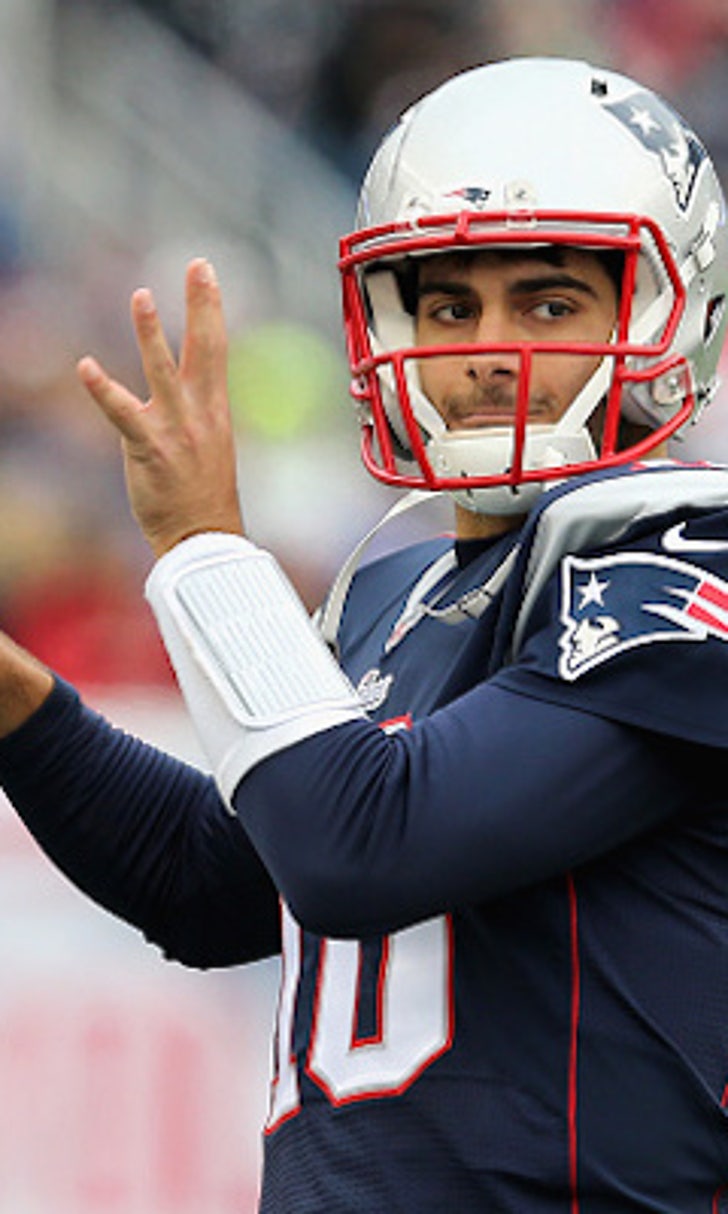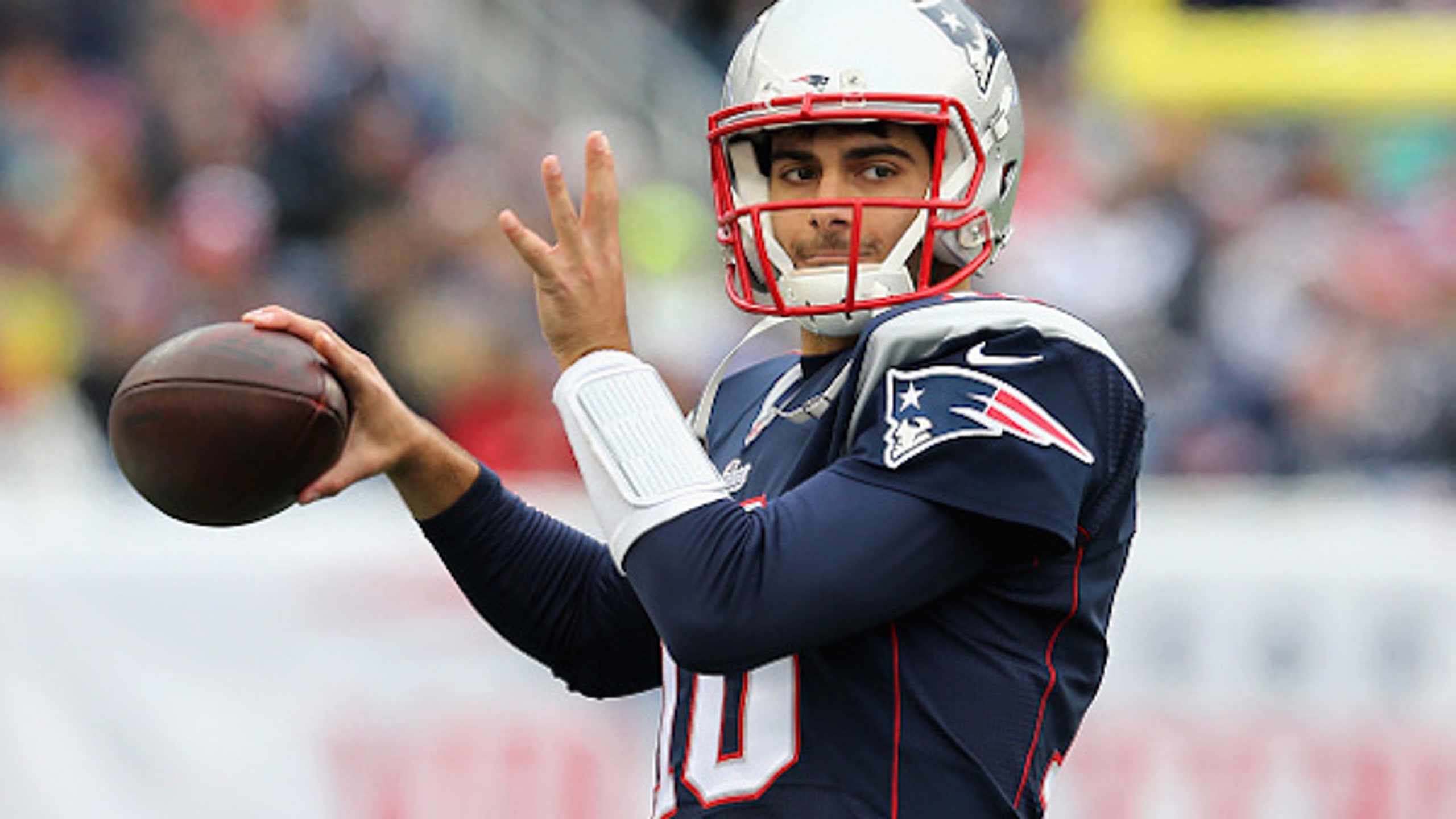 Should the Pats already be worried about Jimmy Garoppolo?
BY foxsports • June 11, 2015
By Ian Casselberry
With Tom Brady currently set to serve a four-game suspension this upcoming season, pending an appeal, the scrutiny on New England Patriots backup quarterback Jimmy Garoppolo is about to become much harsher. Actually, we may already be there.
Last week, during an 11-on-11 drill at the end of an OTA practice, Garoppolo threw five interceptions in his final 31 attempts. Though we're talking about practice, those kinds of numbers understandably raise an eyebrow, considering that Garoppolo could start the Patriots' first four games of the season. And even if Brady gets his suspension reduced on appeal, he'll still likely be out of the lineup for the initial one or two weeks on New England's schedule.
If Garoppolo is throwing balls to the defense frequently in practice, what is going to happen when he faces the Steelers and Bills, the Pats' first two opponents of the 2015 season? You could understand if Patriots fans are more than a little bit worried. But how do Bill Belichick and his staff see this? Is Garoppolo's practice performance cause for concern?
What this might illuminate is that Garoppolo isn't very good at running the two-minute drill. Those issues are even more glaring when compared to Brady, who excels in those situations. As the Boston Herald's Jeff Howereported, Garoppolo really began to struggle while the Patriots were in hurry-up mode, completing 15-of-25 passes with four interceptions. On an adjacent field, Brady went 14-of-15 and that one incompletion was a drop. If Garoppolo wanted to shine alongside Brady, he was doing it wrong.
To be fair, three of his five picks weren't the direct result of poor decisions. Two passes were deflections, though Howe notes that one of the balls was thrown behind receiver Aaron Dobson. And a third pass was batted at the line, then picked off by a linebacker. However, two interceptions were definitely on Garoppolo, one coming on an underthrown fade route in the end zone, while on the other, he threw too far ahead on a slant pattern.
The hope is that those mistakes would be ironed out with more repetitions in practice. If not, then Brady's absence will really be felt. But that certainly gives Garoppolo, his receivers and the Patriots' offensive coaching staff some issues to address between now and the opening of training camp on July 24.
"We did some good things," Belichick told reporters after Friday's practice. "There are a lot of things we need to work on."
Obviously, Garoppolo's numbers were tracked and reported by the media following last Friday's (June 5) workout. So it stands to reason that coaches are keeping track of such information, if for no other reason than to present it to players as evidence of what needs to be worked on or what's being done properly. ESPN's Mike Reiss was curious how many teams tracked such statistics, and an official from another team told him exactly that.
"We keep stats on everything from completion percentage to poor decisions," he said, "because you have to have something tangible to show the QBs."
But more than pure numbers, coaches are surely also judging by what they see from the sideline and on film. Did Garoppolo make bad decisions? (Indecisiveness seemed to be a noticeable issue during 7-on-7 drills, according to eyewitnesses.) Was his timing off on any of those throws? Did receivers make any mistakes on their routes? Does the defense deserve credit for making a play on the interceptions resulting from deflected passes?
Prior to Garoppolo's five-interception practice, Belichick told reporters that OTAs were more about teaching than evaluation. That would almost certainly apply to his backup quarterback. Five interceptions would seem to qualify as a teachable moment (or five teachable moments, to break it down further).
The impulse is to hit the panic button, especially when potentially losing Brady for one-quarter of the season could be the difference in getting a first-round bye or home-field advantage during the playoffs. But Garoppolo is also going into his second year in the NFL, only throwing 27 passes in live game-action last season. Expecting him to be a refined, polished product this early on — and with so few reps playing behind Brady — is probably unrealistic.
What that OTA performance indicates is that both Garoppolo and Patriots coaches have a lot to work on. Fortunately, they have plenty of time during which to do so.
More from This Given Sunday:
---
---