Los Angeles Chargers
Los Angeles Chargers
Seahawks' Moore trying to move past loss to Chargers
Published
Nov. 8, 2018 7:42 p.m. ET
RENTON, Wash. (AP) — David Moore tried his best not to let the final pass in Seattle's loss to the Los Angeles Chargers last week bother him for long.
It's not easy when it's a throw that could have potentially tied the game and forced overtime, but instead bounced off Moore's shoulder and fell incomplete on the final play of Seattle's 25-17 loss.
It was shown on seemingly every TV broadcast playing highlights of the game , and while it would have been an exceptionally difficult catch after getting tipped by a Chargers defensive back, Moore wishes he could have made the grab.
"I tried to stay away from it," Moore said on Thursday. "After a while, I'd say Monday after meetings, I tried to watch it and then I was like, 'It's over with now. I'm on to (the Rams).'"
The incompletion was the most difficult moment the second-year wide receiver has faced since becoming part of Seattle's wide receiver rotation. The Seahawks had an untimed down from the 6-yard line needing a touchdown and a 2-point conversion to force overtime.
Quarterback Russell Wilson stepped up away from the pass rush and Moore had flashed open running across the back of the end zone.
Wilson zipped his pass in Moore's direction, but just a couple of yards away from finding the receiver's hands, the ball was tipped by the Chargers' Jahleel Addae. The tip slightly changed the trajectory of the pass and it started severely wobbling offline. Moore was unable to adjust his hands in time and the ball thudded off his shoulder pads and to the turf.
"I (saw) it get tipped. I saw the dude come across and I tried to adjust to it but it was a little bit too late," Moore said. "It was a fastball coming in hot, getting touched, it's kind of hard to get your hands where it needs to be after that."
Moore said he spent time Sunday night wondering if there are even drills to mimic having a pass change as that one did so close to the receiver.
"It's a really tough catch. He's tracking the ball, he sees it coming and all of a sudden the ball takes kind of a strange turn," Seattle offensive coordinator Brian Schottenheimer said. "He was really dejected, really upset. Got a chance to talk to him after the game, said a lot of things still had to happen. That wasn't the reason we won or lost that game, but it was a very difficult play."
Moore's development has been one of the big stories of the season for Seattle. His progression from an unknown seventh-round pick in 2017 to becoming the Seahawks' No. 3 receiver was so rapid Seattle felt comfortable releasing veteran Brandon Marshall last week to open a roster spot.
While it wasn't a dropped pass, the final play is the first major adversity Moore has faced this season. He was emotional after the game, but said the moment was quickly put in perspective.
"At first I took it kind of hard, but then I had Doug (Baldwin) and Tyler (Lockett) and all the brothers and stuff, and all the coaches tell me stuff like this happens all the time," Moore said.
---
---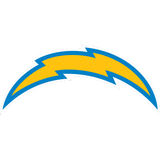 Get more from Los Angeles Chargers
Follow your favorites to get information about games, news and more
---