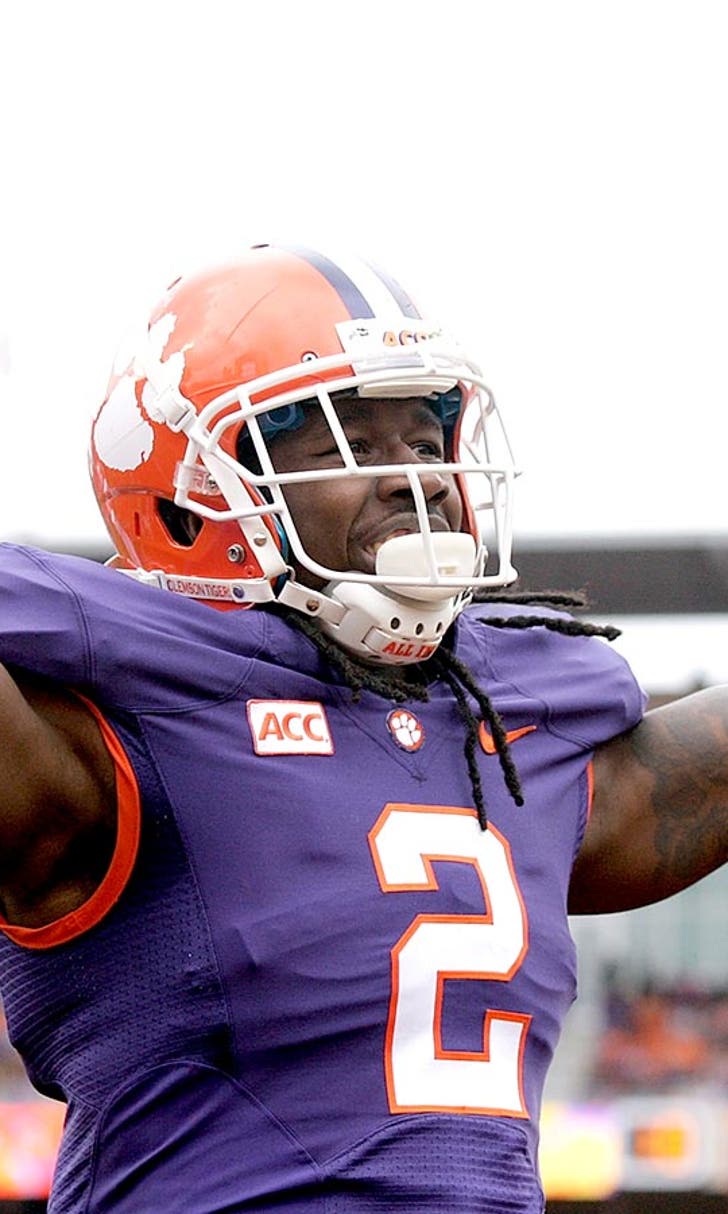 Sammy Watkins says playing in Lions offense would be 'crazy'
BY Ross Jones • March 17, 2014
Former Clemson wide receiver Sammy Watkins isn't concerned which team he lands with as long as he's one of the first players picked in May's 2014 NFL Draft.
But if the Lions, who were recently reported as having interest in Watkins, were to select him the 20-year-old wide receiver would fit right in.
"I think that would be crazy," Watkins told FOXSports.com. "You wouldn't be able to double-guard Megatron. You wouldn't be able to double-guard me. Basically it would be pick your poison and then you have Golden Tate in the slot. He runs nice routes and is a very physical guy. Then you have Reggie Bush in the backfield. There would be a lot of speed in that offense.
"That's the type of offense that I want to play in. It's a very explosive offense. Being with good coaches, an older wide receiver and a quarterback would definitely help me out a lot."
Watkins, who showed off his blazing speed earlier this month at his pro day, ran a sub-4.4 in the 40-yard dash. He also displayed natural catching ability by hauling in former teammate Tajh Boyd's passes. During Watkins' pro day, Ravens wide receiver Steve Smith was in attendance and shared some wisdom with him.
"He gave me some great advice, period," Watkins said. "He told me it's just football, but it's faster. He told me it's a business so you have to handle the things that you can control. How you watch film, how you carry yourself. You just have to be a professional."
Watkins, however, isn't the only Clemson wide receiver going through the draft process. Martavis Bryant, who measured in at 6-foot-4 and ran a 4.34 40-yard-dash in Indianapolis, has flown under the radar up until this point. Watkins believes that Bryant is a special player and will continue to develop as he makes the leap to the next level, as well.
"He's a great player," Watkins said. "He's a freak with his body size. He can go up and get the ball. I think he was overshadowed by me and DeAndre [Hopkins]. He didn't get as much playing time as he should have. Over the years I have seen improvement in every area of his game. He came back this season and put up some great numbers. He helped our team a lot."
While Watkins continues to go through the draft process, he is eager to begin his NFL career so he can start working towards his ultimate goal. When asked if he would rather have a Hall of Fame career or win the Super Bowl, he kept his answer short and sweet.
"I would definitely say win a Super Bowl because I take pride in winning," Watkins said. "I've never been on a team that's lost much and I definitely love winning.
"It's all about team effort and team goals."
---
---