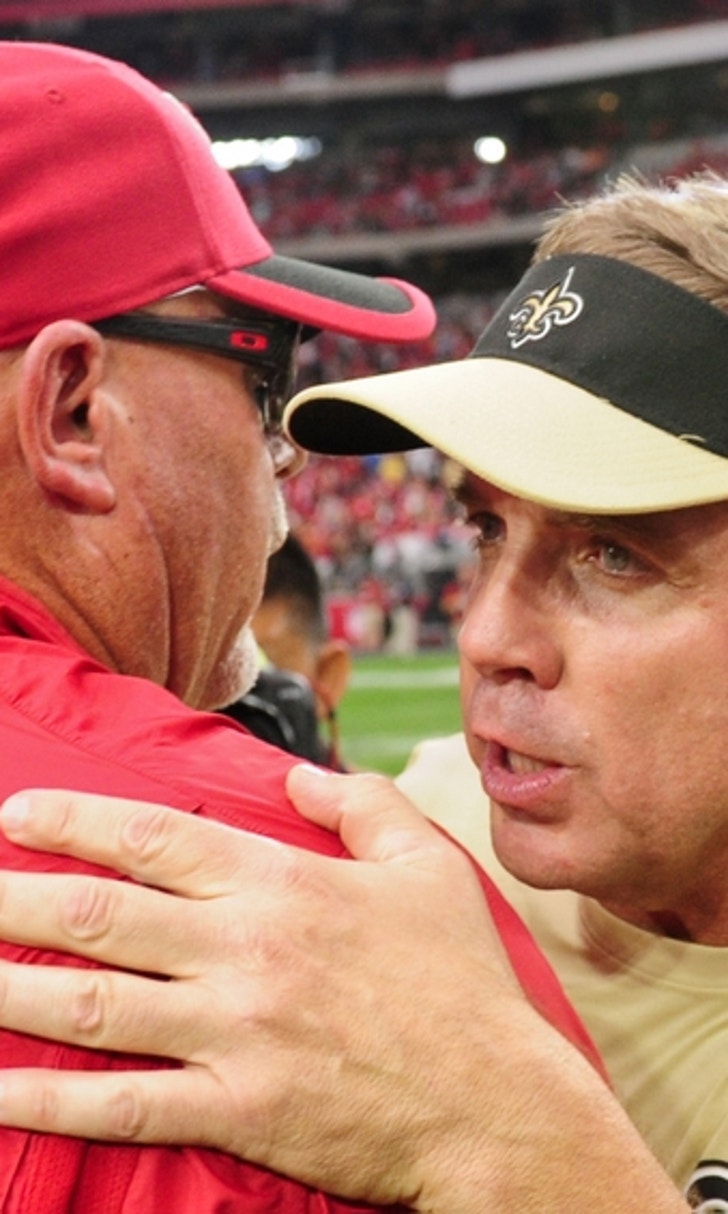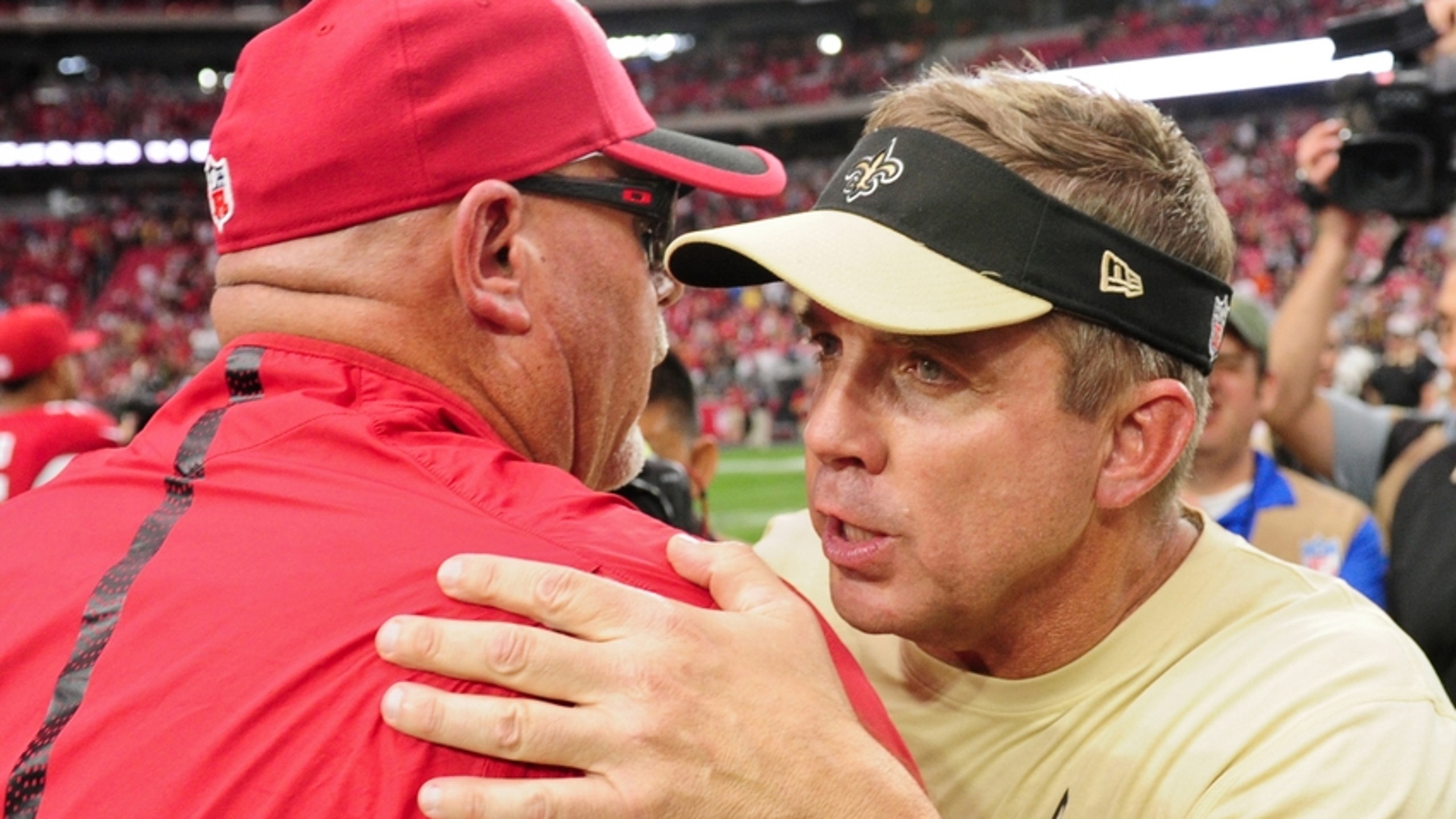 Saints vs. Cardinals: Five brave predictions
BY Fansided and Ty Anania/FanSided via Who Dat Dish • December 17, 2016
The Saints travel to Arizona this week to play the Cardinals. The Cards were recently eliminated from playoff contention, and the Saints are surely set to follow suit. So let's have some fun with our five brave predictions!
Predictions, predictions, predictions. After two disappointing performances against the Lions and Buccaneers, the Saints are desperately looking for some signs of life. Well, offensive signs of life. And unfortunately, those may be hard to come by against this stingy Cardinals defense.
Defensively, though, the Saints have reason to hope. They've played well recently, and the Cardinals offense has regressed its way to mediocrity. We may be in for another low-scoring game.  But then again, it feels like the Saints always shatter those sorts of expectations.
Anyway, without further ado, the first of my predictions:
The Saints sell out on the run, yet still intercept Palmer twice.
Dec 11, 2016; Miami Gardens, FL, USA; Arizona Cardinals quarterback Carson Palmer (3) looses control of the ball against the Miami Dolphins during the second half at Hard Rock Stadium. The Miami Dolphins defeat the Arizona Cardinals 26-23. Mandatory Credit: Jasen Vinlove-USA TODAY Sports
There's no doubt the Saints will sell out on the run. The Cardinals offense, once a high-powered aerial attack, has this season devolved into a high-powered David Johnson attack. The all-purpose back leads the NFL in yards from scrimmage by more than 100 yards. He's dangerous on the ground, but what makes him special is how capable of a pass catcher he is. He has 200 more receiving yards than any other RB. The Saints will do everything they can do keep him in check.
And normally, that would open things up for the passing game. But Carson Palmer, a former MVP candidate, has looked absolutely lost in 2016.
It's not only that he's failed to read the field well. He doesn't seem to make routine throws with any sort of accuracy, and that's really crippled the offense. He's not quite at Brock Osweiler levels, but 13 INTs to 20 TDs is not an impressive stat.
He's not helped by the Cardinals porous offensive line. And against a Saints team that finally gets after the passer, that could spell trouble for the veteran QB.
So under pressure and out of rhythm, I predict that the Saints come away with two picks on the day. And, hell, why not, I'll predict some players.
Number one: Jairus Byrd. I feel it in my gut. He's getting one today.
Number two: Roman Harper. Another safety felt right. I almost gave this to Vonn Bell, but a Harper INT would just be oh so sweet. Make it happen #41.
Dec 11, 2016; Miami Gardens, FL, USA; Miami Dolphins linebacker Mike Hull (45) tackles Arizona Cardinals running back David Johnson (31) during the second half at Hard Rock Stadium. The Miami Dolphins defeat the Arizona Cardinals 26-23. Mandatory Credit: Jasen Vinlove-USA TODAY Sports
The second of my brave predictions: The Saints sell out on the run, yet still allow David Johnson to gain 100+ yards and a pair of touchdowns.
So I said the Cardinals' offensive line has struggled. As has Carson Palmer. About the one thing keeping this team in games is that "transformer" back, David Johnson.
The Saints will do everything they can to take him out of the game. But, really, how much can they do?
With Dannell Ellerbe finding his niche as a pass rusher, I expect Johnson will see a lot of Nate Stupar or Craig Robertson in coverage. Those players are fine, just fine, I like em, but they're going to struggle against someone as talented as Johnson.
This is the sort of game Vaccaro would do wonders in. And having Delvin Breaux would allow the safeties to play some sort of contain on the short game to Johnson. But without those things, it'll be hard to stop the man from getting his.
So sell out all you want Dennis Allen: we're predicting David Johnson breaks 100+ yards from scrimmage, easily. If he gets to 170 somehow, he'd eclipse 2000+ yards from scrimmage on the year. Not bad, DJ. Not bad.
Dec 11, 2016; Tampa, FL, USA; New Orleans Saints defensive tackle Nick Fairley (90) against the Tampa Bay Buccaneers during the second half at Raymond James Stadium. Tampa Bay Buccaneers defeated the New Orleans Saints 16-11. Mandatory Credit: Kim Klement-USA TODAY Sports
Nick Fairley gets a pair of sacks but otherwise fails to contain David Johnson, further confusing this front office.
Nick Fairley is the great offseason question for 2017. I can't remember the Saints having such a tough decision for quite some time.
More from Who Dat Dish
So, of course, Fairley does whatever he can to make that decision more difficult. A pair of sacks would put him atop the DT sack list for 2016. That sort of player breaks the bank. It's also the sort of player this team needs.
Conversely, Fairley can be a somewhat inconsistent presence on the defensive front. We predict that shows up in a big way on Sunday, as David Johnson goes nuts running through gaps left by Fairley.
Is there really any credible reason to believe Fairley will break gap discipline and let DJ break free? No. There's not. Don't let my predictions sour you to the breakout DT. For the record, I believe the Saints should do what they can to keep him, provided he doesn't want upwards of $13 mill. (Which he may very want.)
I just think it's a classic twist of fate that Fairley does everything he can to make the decision more difficult for the Saints front office. A pair of sacks would balloon his 2017 contract, and a bad performance against the run would raise red flags. Classic.
Nov 29, 2015; Houston, TX, USA; New Orleans Saints tackle Zach Strief (64) and quarterback Drew Brees (9) lie on the ground after Houston Texans defensive end J.J. Watt (99) makes a sack during the game at NRG Stadium. Mandatory Credit: Troy Taormina-USA TODAY Sports
The Cardinals front seven sack Brees four times.
Apologies for anything I stir up with that picture. Streif is having himself a career year. But it's a funny picture, admit it.
Anyway, Brees hasn't been sacked four times all year. In fact, his sack numbers are down from any recent year. He's only been sacked 20 times in 2016.
That stat may be a little surprising considering most watching the team attribute their recent offensive struggles to failures in pass protection. But while Brees has faced a great deal of pressure, he's actually done a great job of avoiding sacks.
Well, why not, we predict that all comes crashing down on Sunday. Terron Armstead is out, Max Unger is questionable. A defensive line led by Calais Campbell gets after Brees early and often. Payton entertains thoughts of bringing the veteran QB out of the game to protect his precious, aging body. (No he doesn't.) Brees has nightmares about this day for weeks to come.
The Saints offense breaks out of it's slump, goes off for 40+ points.
Is this going to happen? No.
But I am brave for predicting it?
Well, no. Because I don't really see it happening.
But what the hell, I'm just trying to keep myself entertained. Drew Brees is sacked four times, the ground game struggles, Coby Fleener drops a few more passes, maybe Cadet drops another touchdown. But the Saints break out of their slump.
So Brandin Cooks scores twice. Maybe Michael Thomas scores twice. Hell, John Kuhn scores twice. Why not.
Okay, let's make this a bit more reasonable. How about, say, 30 points. No, 31. Yeah, that sounds about right. 31 points. So seven to Cooks, fourteen to Thomas, sure, we'll stick with Kuhn for seven more, and Lutz gets us up to 31. Not a bad day for the offense.
And of course, the Saints lose by 20.
Ha, but no, I actually like the Saints in this one.
Bonus, final round of my brave predictions: Saints win, 31 to 14.
---
---