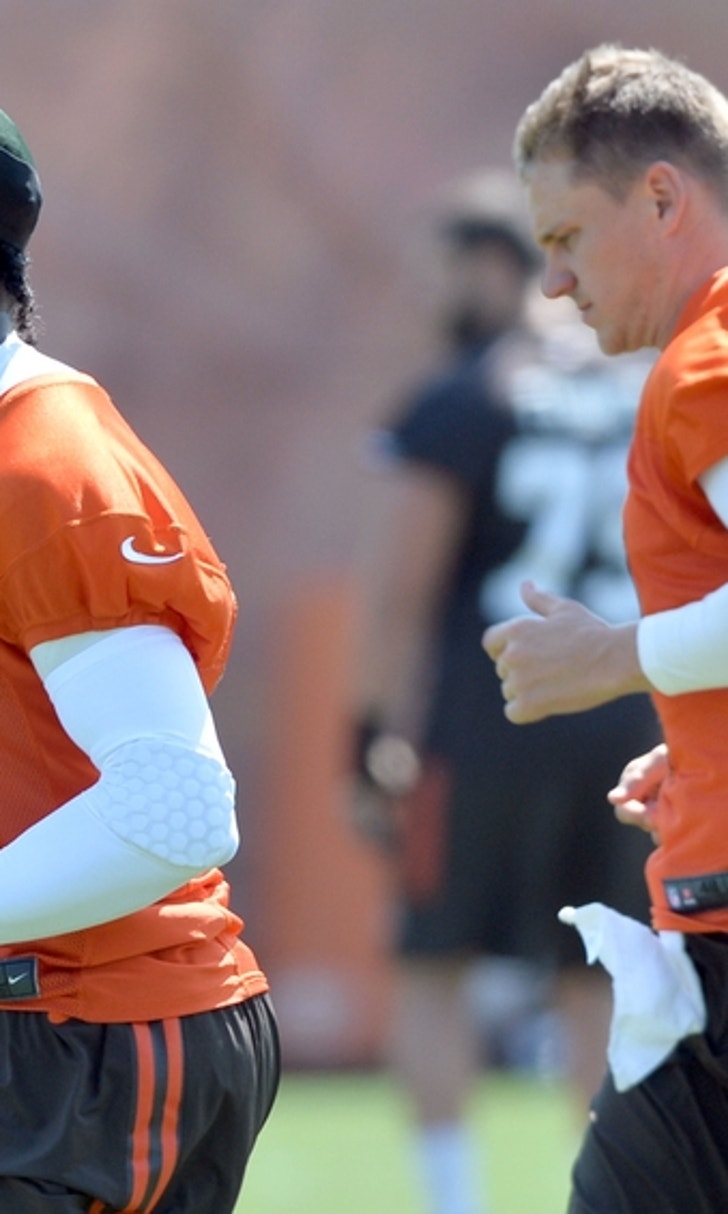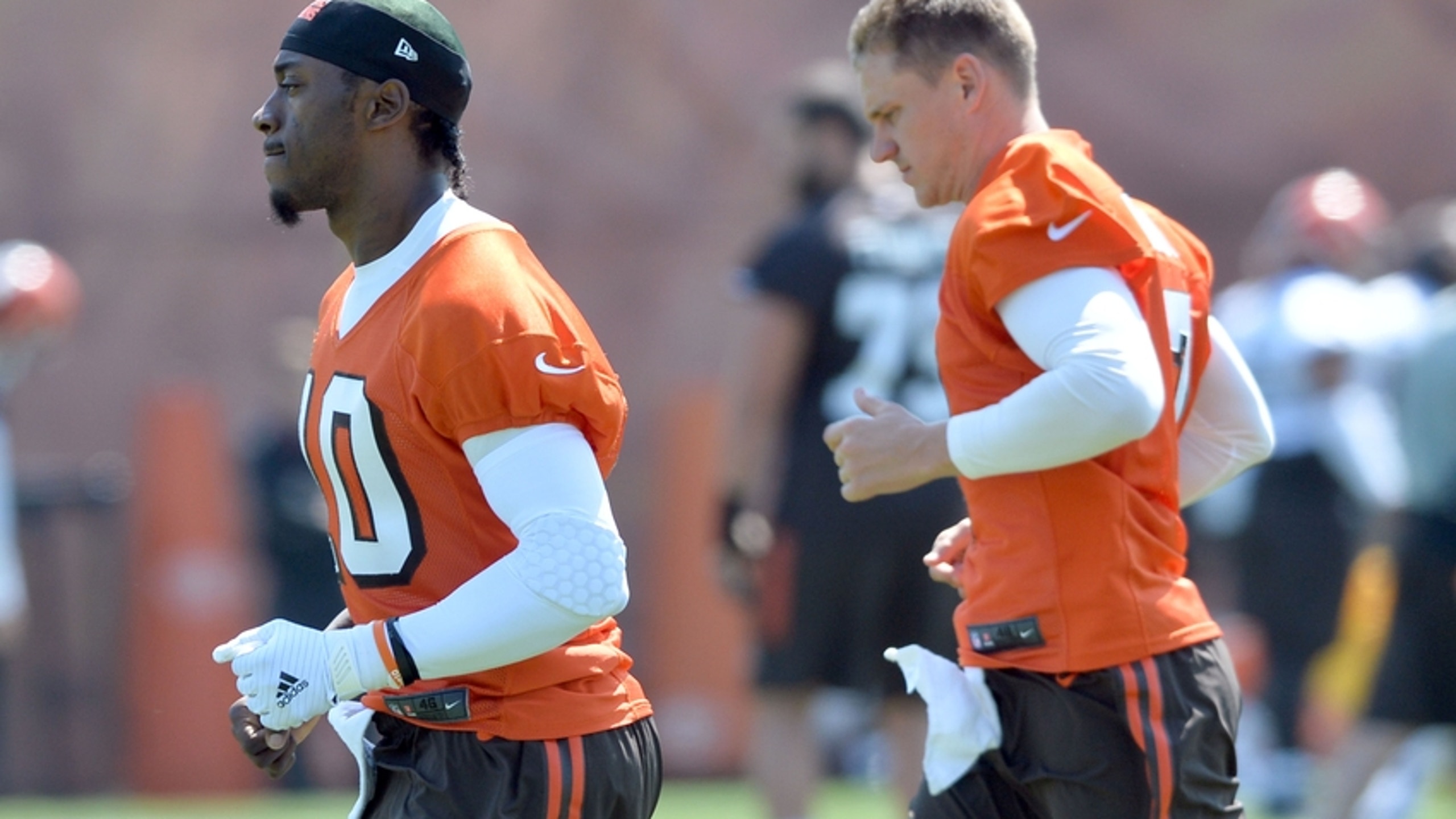 Ranking All 6 Cleveland Browns Quarterbacks in 2016
BY foxsports • June 30, 2017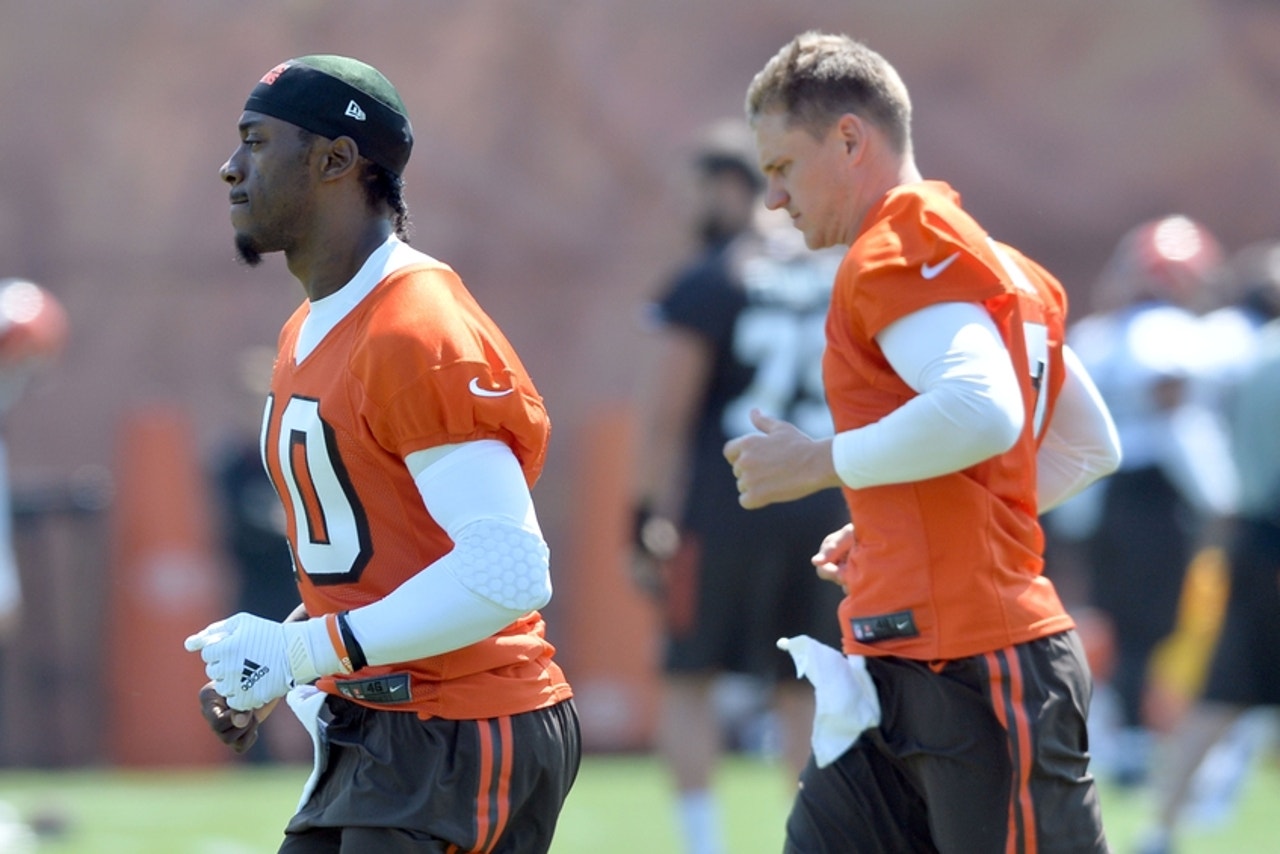 The quarterback carousel for the Cleveland Browns has been spinning all season in 2016. How do all six players who have taken snaps rank in comparison?
Playing quarterback for the Cleveland Browns has long been an exercise in futility. It's generally accepted that, if you're taking snaps for the Browns, there's a good chance you're failing. That's the way it's been since their return in the 1999 season. With that being the case, there have been an unusually high number of players with the opportunity to fall short in Cleveland during the 2016 NFL season.
The Browns have had six different players take snaps and throw passes at quarterback on the 2016 season. This includes two rookies, a 37-year-old veteran, a broken-down once-supserstar-in-the-making, a receiver, and the messiah of the sidelines. In order, those players are Cody Kessler, Kevin Hogan, Josh McCown, Robert Griffin III, Terrelle Pryor, and "Clipboard Jesus" Charlie Whitehurst.
If you're thinking that sextet is one of the most underwhelming that you could possibly imagine, you'd be right. The play of the quarterback is one of the primary reason why the Browns are the lone remaining winless team in the NFL entering Week 12. There are surely other reasons, but if you have one of those six players playing quarterback this season, that's not a good thing.
Just as is the case with most things, though, there are varying levels of awfulness when it comes to the quarterbacks in Cleveland. Some have been disappointing, some have just put up poor numbers, and some have been a bit of both. But how do they stack up against one another?
Let's find out, ranking the six quarterbacks to to play for the Cleveland Browns in the 2016 season.
Sep 11, 2016; Philadelphia, PA, USA; Cleveland Browns quarterback Robert Griffin III (10) passes against the Philadelphia Eagles during the first quarter at Lincoln Financial Field. Mandatory Credit: Bill Streicher-USA TODAY Sports
6. Robert Griffin III
Coming into the season, there wasn't much hope at all for the Cleveland Browns. Fans and front office members were either lying to themselves or seeing things that simply weren't there for this team. However, if there was one glimmer of hope for this team entering 2016, it was the chance that Robert Griffin III would be able to recapture the magic he had during his rookie season with the Washington Redskins. Considering he's only played one game in 2016, suffice it to say that hasn't happen.
More from NFL Spin Zone
RG3 injured his shoulder in Week 1 and hasn't played since. What's worse, the former Washington legend-to-be was quite atrocious in his lone outing for Cleveland. Griffin completed only 12-of-26 passing attempts, good for just a 46.2 percent completion rate. His 7.31 yards per attempt on the day wasn't completely putrid, but the fact that he ended his day with just 190 yards passing, no touchdowns, and an interception indeed was. He had some value as a rusher, averaging 7.4 yards per carry on five runs.
However, Griffin comes in last in these rankings for the simple fact of what he represents. He's yet another player that the Browns found false hope in—and he followed the path of many others in immediately revealing that hope as misguided. Now RG3 looks like he may return to health and play again in 2016. As for now, though, he's bringing up the rear in these rankings.
Oct 23, 2016; Cincinnati, OH, USA; Cleveland Browns quarterback Kevin Hogan (8) throws a pass against the Cincinnati Bengals in the first half at Paul Brown Stadium. Mandatory Credit: Aaron Doster-USA TODAY Sports
5. Kevin Hogan
Rookie quarterback Kevin Hogan is the one of two first-year signal-callers to take snaps for the Browns in the 2016 season. The fact that he was ever called into action (as a starter or otherwise) this season is unfair to him. Cody Kessler has the same argument for him—but more on that in a bit. However, it's even more so the case when it comes to Hogan.
The Stanford Cardinal product was initially on the Browns practice squad, but had to come into action when Kessler was injured in Week 7. All things considered, things could have gone far worse for Hogan. He threw the ball 24 times and completed half of his attempts. However, it was lackluster in that he only threw for 100 yards at 4.2 yards per attempt while also throwing two interceptions.
Now I understand if you think that Hogan should be higher than No. 5 because of what he did on the ground in relief of Kessler in Week 7. Hogan rushed for 104 yards and a score on only seven attempts. However, the rookie's abysmal yards per attempt, low completion percentage, and absurdly high turnover rate is enough to essentially negate what he did on the ground. Maybe he develops into a dynamic player down the road—but he's currently not near that place and it showed.
Oct 9, 2016; Cleveland, OH, USA; Cleveland Browns quarterback Charlie Whitehurst (15) throws a pass during the second quarter against the New England Patriots at FirstEnergy Stadium. Mandatory Credit: Ken Blaze-USA TODAY Sports
4. Charlie Whitehurst
To start, we need to address the fact that a team never wants to sign the vaunted Clipboard Jesus, Charlie Whitehurst, with the intention of starting him for an extended period of time. However, the Browns needed him to start in Week 5 this season due to injuries to RG3, Josh McCown, and Cody Kessler. He was tasked with the unfavorable job of going head-to-head with Tom Brady in Touchdown Tom's return.
In fairness to Whitehurst, he was every bit the quarterback that any team signing him would expect him to be. Clipboard threw the ball 24 times on the day, completing 14 of those passes for 182 yards. Whitehurst tossed a touchdown, but also was picked off once on the afternoon. Though you can't blame him for his defense getting annihilated, Whitehurst led the Browns to a resounding 33-13 defeat.
While Whitehurst may not have been any different than what you'd expect from him as a starting quarterback, there's a reason that he's a career backup in this league. He's going to have a below-average completion rate, a mediocre average yards per attempt, and is going to throw just as many interceptions as scores (if not more). Subsequently, being the exact player that the Browns expected is only good for No. 4 in these rankings.
Nov 6, 2016; Cleveland, OH, USA; Cleveland Browns wide receiver Terrelle Pryor (11) throws a pass prior to the game against the Dallas Cowboys at FirstEnergy Stadium. Mandatory Credit: Aaron Doster-USA TODAY Sports
3. Terrelle Pryor
Why yes, Terrelle Pryor is the No. 1 receiver for the Cleveland Browns this season. The converted college quarterback has been one of few bright spots for this team throughout the year. His emergence as an elite playmaker and pass-catcher in this offense is something that the Browns have to be hoping that they can lock up for the future as he enters free agency this offseason. However, Pryor also earns the distinction of being the third best quarterback to line up under center for this winless franchise in 2016.
To be fair, Pryor has had the fewest chances of any player to make mistakes this season at quarterback. The receiver has thrown just nine passes through 11 games, though he has lined up and taken off on quarterback draws on a few occasions as well. Of those nine throws, he's completed five for 41 yards. He doesn't have a touchdown, interception or fumble to go with his throws. So why then does he come in at No. 3?
Simply put, having Pryor at quarterback—at the very least—adds something dynamic on the offensive side of the ball. He's far from being a talented passer; hence the positional change to receiver. However, he can throw the ball at least somewhat decently while being a real threat to stride around the edge and take off for big chunks of yardage. For simply being a threat, he slots in at third on this list.
Oct 30, 2016; Cleveland, OH, USA; Cleveland Browns quarterback Josh McCown (13) looks downfield for an open receiver against the New York Jets during the first quarter at FirstEnergy Stadium. Mandatory Credit: Scott R. Galvin-USA TODAY Sports
2. Josh McCown
Despite the Browns obviously struggling, there were times last season when Josh McCown was healthy that he looked like a competent player. Yes, that was always going to be a bit of fool's gold. We've seen McCown play throughout his career and know that "competent NFL quarterback" isn't among the phrases first used to describe him. However, there's been a major drop off from last season and even from his career numbers with the abhorrent supporting cast around him.
The fact that McCown has been the second best quarterback for the Browns this season is quite damning of the situation (if 0-11 wasn't already enough so). McCown has thrown the ball 122 times this season and just 65 have been caught by his teammates. Even worse than completing only 53 percent of his passes, McCown has only thrown for 778 yards on the year and averages an abysmal 6.38 yards per attempt. Just in case you're thinking that he might be at least taking care of the ball, he's also thrown six interceptions and fumbled five times compared to only five touchdown throws.
While I understand the value that having a veteran on the field can yield, there's no such value to be mined in Cleveland. The roster around McCown and the defense supporting him are not nearly the level of quality to where his experience level matters. He may rank No. 2 out of the six players to take snaps in Cleveland this season, but there's still not much good that can be said.
Nov 10, 2016; Baltimore, MD, USA; Cleveland Browns quarterback Cody Kessler (6) rolls out to pass during the first quarter against the Baltimore Ravensat M&T Bank Stadium. Mandatory Credit: Tommy Gilligan-USA TODAY Sports
1. Cody Kessler
Frankly, there's no question in my mind that rookie Cody Kessler has been the best of a bad situation in Cleveland this season. Granted, that's like giving out the saddest participation trophy in history. However, there's a lot of vitriol that gets thrown around about his performance. When you consider, though, that he was supposed to be a project not sniffing playing time this season, he's been at least solid.
With injuries interrupting his time along the way (such as possibly in Week 12), Kessler has at least been respectable by some standards. He's completed 126-of-192 throws on the season, good for a 65.6 percent completion rate. Moreover, he's tossed the hide for 1,369 yards on the season to go with six touchdowns and just two interceptions.
Yes, there are warranted criticisms when it comes to Kessler. Just like every other player who's played or started at quarterback for the Browns in 2016, he hasn't led this team to any wins. More specifically, Kessler has struggled mightily when it comes to effectively throwing the ball downfield. That's one of the primary reasons Jackson pulled him on Thursday night in Week 10.
However, Kessler has behaved like a veteran quarterback and played within himself for the most part throughout his rookie season. If he's this player for the rest of his career, than you can call it a failed experiment by the Cleveland front office. But for being thrust into action when that was never in the plans, I stand firm that there's reason to be impressed by what the USC product has shown at times.
This article originally appeared on
---
---