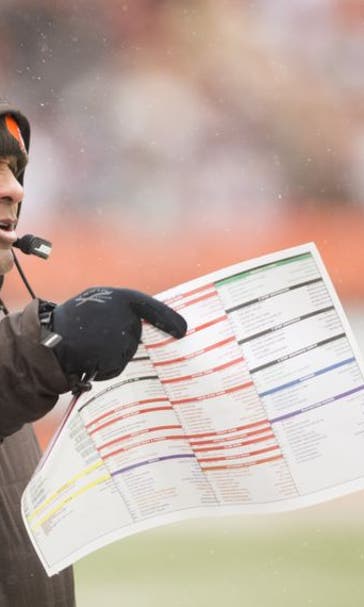 Projected 2017 NFL Draft Order: Week 16 Update
December 27, 2016

Fansided, Jon Dove/FanSided via With the First Pick
We are one week away from knowing a large majority of the 2017 NFL Draft Order.
The 2017 NFL Draft Order is closer to becoming a less fluid situations. Next week will give us the final result of the top 20 picks with only the playoff results needed to produce a finalized order. This week's project 2017 Draft Order is based on current standings.
I also went through the playoffs and predicted the winners in order to get the last 12 picks in order.
The most intriguing storyline heading into the final week of the season is the fact that the Cleveland Browns have a great shot of landing two top-10 picks. This is a franchise that needs all the help it could get and securing two picks inside the top-10 would go a long way.
It's been a rough month or so for the Minnesota Vikings and things could get much worse. There's a chance that the Vikings will need to send a top-10 pick to the Philadelphia Eagles because of their deal to land Sam Bradford.
Losing that high of a pick will sting, but not nearly as much as the late-season collapse the team suffered. Minnesota will head into the offseason with plenty of questions and less options to make adjustments.
1. Cleveland Browns
2. San Francisco 49ers
3. Chicago Bears
4. Jacksonville Jaguars
5. Tennessee Titans (via LA)
6. New York Jets
7. San Diego Chargers
8. Cincinnati Bengals
9. Carolina Panthers
10. Cleveland Browns (via Phi)
11. Arizona Cardinals
12. Buffalo Bills
13. Indianapolis Colts
14. Philadelphia Eagles (via Min)
15. New Orleans Saints
16. Tennessee Titans
17. Baltimore Ravens
18. Tampa Bay Buccaneers
More from With the First Pick
19. Denver Broncos
20. Washington Redskins
21. Houston Texans
22. Detroit Lions
23. Miami Dolphins
24. New York Giants
25. Green Bay Packers
26. Seattle Seahawks
27. Kansas City Cheifs
28. Oakland Raiders
29. Pittsburgh Steelers
30. Atlanta Falcons
31. New England Patriots
32. Dallas Cowboys
---
---