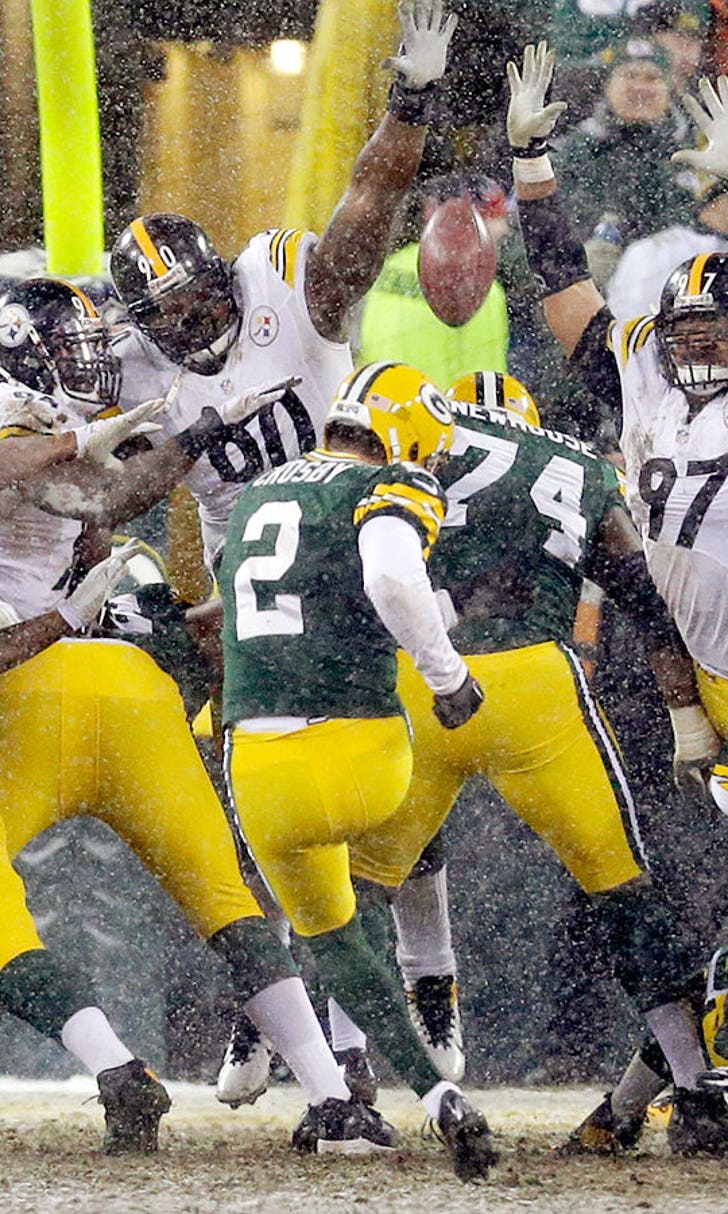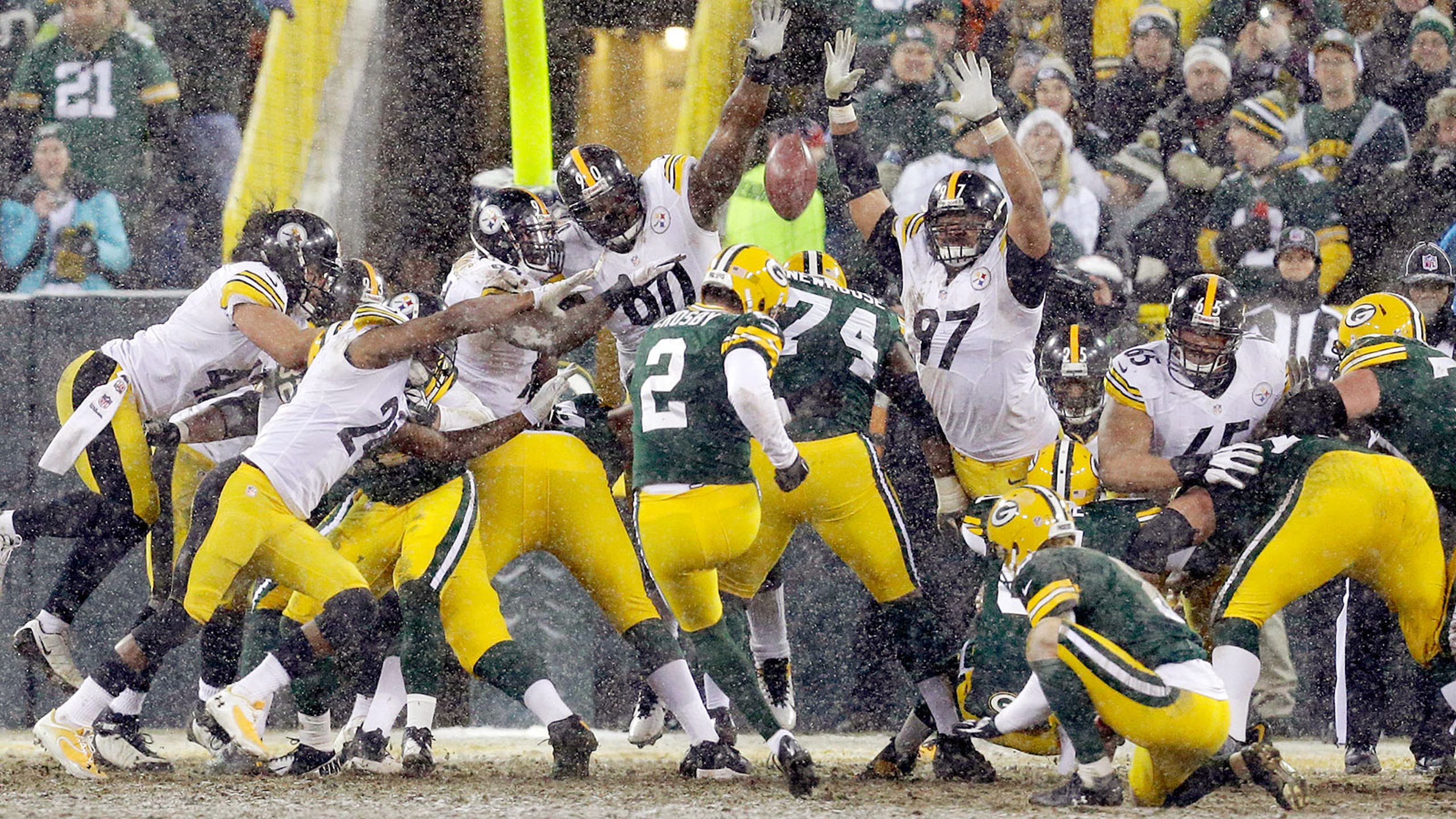 Pereira: The madness unfolds at Lambeau Field
BY foxsports • December 22, 2013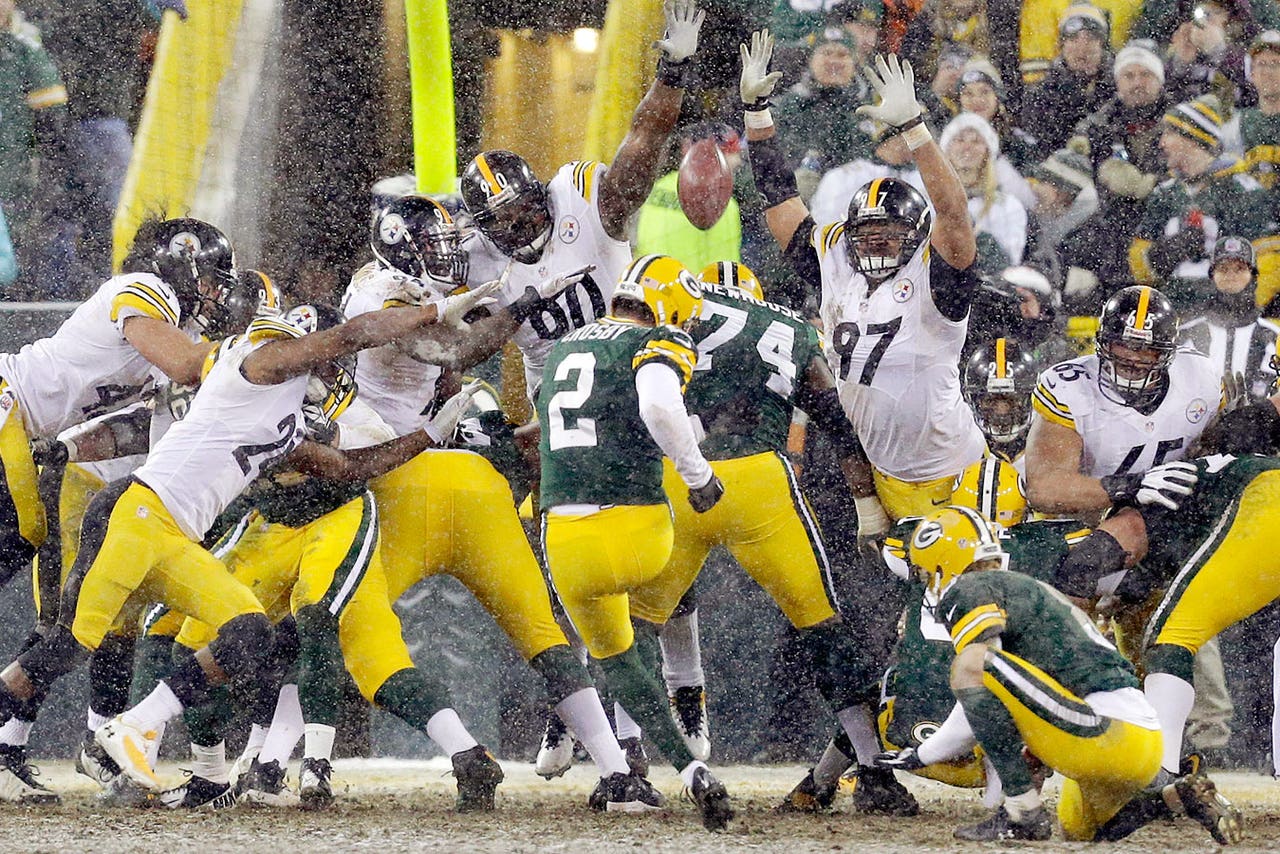 For those who like chaos, Christmas came early in Green Bay.
It seems like every week we see a crazy play and Week 16's gift of confusion happened late in the third quarter of the Steelers-Packers game.
Here was the situation: Green Bay had the ball, fourth-and-5 at the Pittsburgh 5-yard line with 5:32 left in the third quarter. Pittsburgh led 17-14. The Packers' Mason Crosby attempted a 23-yard field goal that was blocked Steve McLendon. Pittsburgh's Ryan Clark appears to recover the blocked kick and pitches it backwards to William Gay. Gay muffs the ball and then Ziggy Hood bats the ball forward out of bounds. Hood was called for an illegal bat and Green Bay was awarded the ball back for a first and goal at the Pittsburgh 2-yard line.
Puzzled? You should be.
What we had was a blocked field goal attempt that never crossed the line of scrimmage. The ruling on the field was that Clark never fully possessed the ball. So therefore, it remains still a kick and not a fumble.
The key element of this play involves instant replay. A kick is a loose ball and recovery of a loose ball -- who recovers a loose ball -- is not reviewable if it occurs in the field of play. If it is in the end zone, it is reviewable since a scoring play trumps it. And it is at the sideline, if the recovering player might have been out of bounds when he first touched the ball. But in the field of play it is not.
Since they ruled that Clark had not possessed the loose ball, that aspect is not reviewable. The only thing they could do was to go to the illegal batting and enforce it from the line of scrimmage, which was correct.
In my opinion, Clark did possess the ball and his knee was down. So Pittsburgh should have retained possession.
So what's the solution? Maybe it's time to make recovery of a loose ball in the field of play reviewable. And I think it makes sense to do so. You make judgement calls in replay whether or not a pass receiver maintains control of a pass long enough to perform an act common to the game.
If there is a clear recovery out in the open in the field of play, like there was in this one, then I'd make that reviewable.
---
---