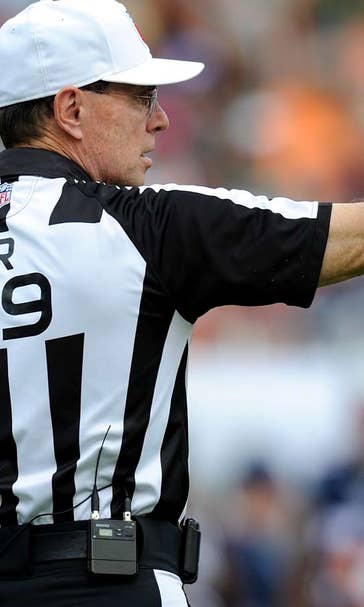 Pereira: Refs still have some work to do after average performance
January 12, 2014

Will rain equal reign?
It remains to be seen, but the NFC's top seed and the No. 2 seed in the AFC both advanced to Conference Championship games next week after defeating both the rain, wind and their opponents behind two amazing performances by a couple of running backs Saturday.
Marshawn Lynch rushed for a Seattle playoff-record 140 yards and two touchdowns as the Seahawks defeated New Orleans 23-15 and LeGarrette Blount rushed for a New England playoff-record 166 yards and four touchdowns as the Patriots bested Indianapolis 43-22.
As far as the officiating goes, it was a split decision. The NFC game was excellently called, while the AFC crew struggled a bit. In the second game, the Colts got blown out, the first blowout of the playoffs so far. There were 10 penalties called, eight accepted, with four being called against each team.
In both games Saturday,  it was a battle to try and keep control as it often happens in the playoffs, because there is so much on the line. Players do get pretty testy and get in each other's faces.
Overall grade in the AFC game: C
Why a C, when the penalty totals were even and there was only one review that didn't lead to a reversal? Because there were some big misses, including a missed tripping call that wasn't made against New England's Joe Vellano when the game hadn't yet gotten out of hand. Vellano had tripped Colts quarterback Andrew Luck with the Patriots only leading 29-22 early in the fourth quarter. The trip would have given the Colts a first down, instead the Patriots got the ball back and scored to put the game out of reach.
Also, there was a late-hit, roughing the passer call missed on Luck earlier in the game. To me, there were too many misses in this game that should have been called. I would even say the pace of the game was a bit ragged. And it seem to take a long time on a confusing safety right before the half. Pace wasn't what it should have been.
Of all of the playoff games so far, I think the performance of the officials in this game left a bit to be desired. 
UNDER FURTHER REVIEW: THE FINAL STATS
TOTAL FOULS: 10
TOTAL FOULS ACCEPTED: 8
PENALTY BREAKDOWN: Indianapolis 4-42, Seattle 4-35
REPLAY REVIEWS: 1 (Stands)
---
---