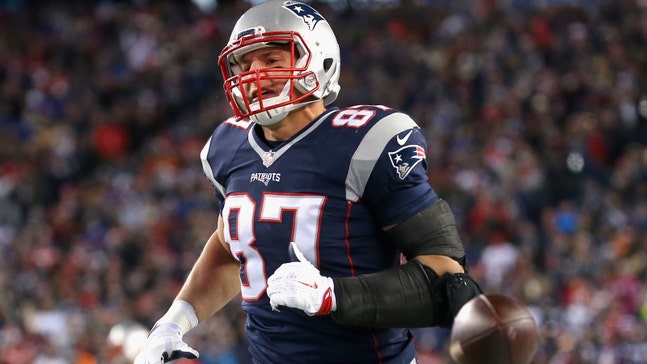 Patriots TE Rob Gronkowski has bone bruise, knee sprain
Published
Dec. 1, 2015 7:42 p.m. ET

FOXBOROUGH, Mass. — Rob Gronkowski suffered a bone bruise and sprain of his right knee during the New England Patriots' 30-24 overtime loss to the Denver Broncos on Sunday night.
The tight end will be evaluated on a weekly basis and there is no timetable for his return.
"During Sunday night's game, Rob Gronkowski sustained a bone bruise/sprain of his right knee," the Patriots and the Gronkowski family said in a joint statement.
"His status will be evaluated on a week-to-week basis and listed accordingly on the practice participation and injury reports."
Gronkowski was carted off the field with 2:49 remaining in Sunday's game after taking a hit to the knee. The Patriots (10-1) led 21-17 at the time, but went on to lose their first game of the season.
Prior to his injury, Gronkowski had six catches for 88 yards, including a 23-yard touchdown pass from Tom Brady with 11:24 left in the first quarter.
Gronkowski has 57 catches for 931 yards and nine touchdowns in 11 games this season.
On Tuesday morning, Gronkowski voiced his frustration on Twitter with the NFL's officiating, saying he agreed with a local sports radio station's suggestion that the league was targeting him on offensive pass interference calls.
Gronkowski was flagged for the infraction twice Sunday and has a league-leading six offensive pass interference penalties this season.
New England also announced it has signed wide receiver and kick returner Damaris Johnson and claimed running back Trey Williams off waivers from the Dallas Cowboys.
Johnson, 26, takes the place of Chris Harper, a rookie wide receiver who was released by the team Monday after fumbling a punt return in Sunday's loss.
Also, the Patriots placed defensive lineman Trey Flowers on injured reserve and signed wide receiver Austin Hill to the practice squad.
---
---