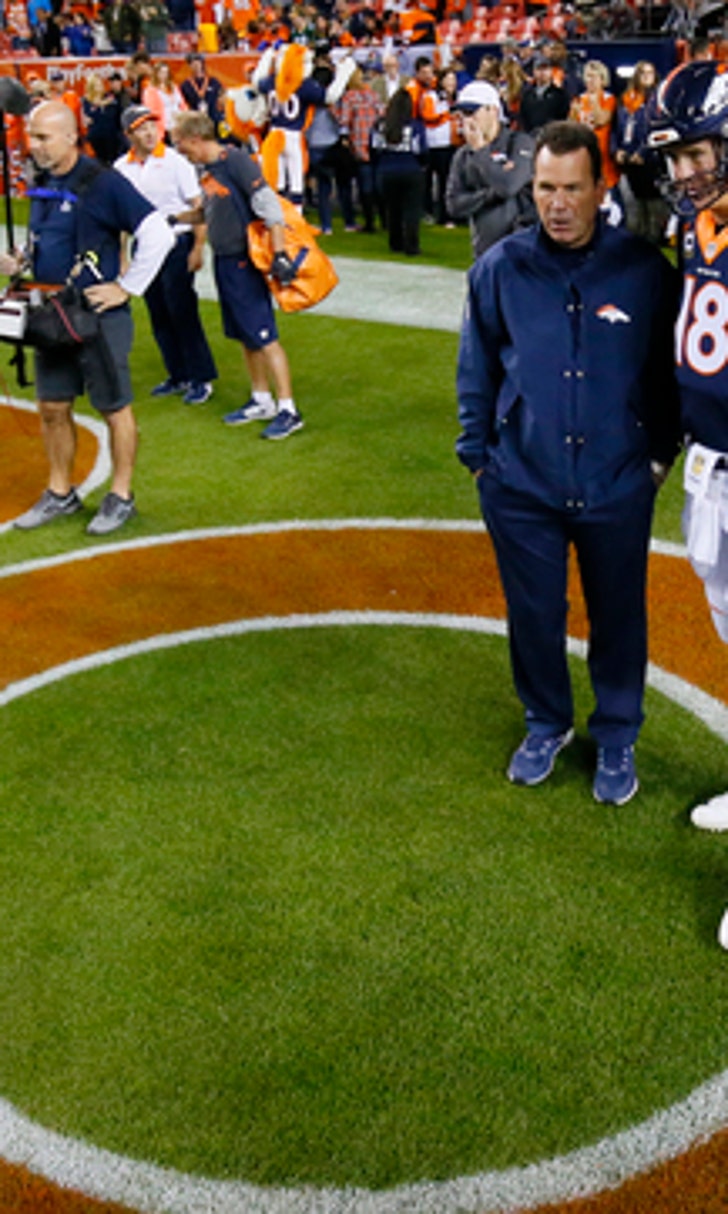 Patriarch of these Denver Broncos? Former coach Dan Reeves
BY foxsports • February 5, 2016
SANTA CLARA, Calif. (AP) Dan Reeves has barely merited a mention in the lead-up to the Super Bowl, his imprint on these Denver Broncos an afterthought.
Maybe it's just too easy to forget that every key architect of this season's Broncos, from general manager John Elway and coach Gary Kubiak on down, was mentored by Reeves, who led Denver to three Super Bowl appearances nearly three decades ago. And too hard to realize that, in a roundabout way, he influenced the way this edition of the team was built.
The bloodlines run deep, yet the patriarch is well outside of the current inner circle. On Sunday, he'll turn on the TV at home in Atlanta and watch from afar as Denver faces the Carolina Panthers in the big game, ''cheering for the Broncos, without question,'' the 72-year-old Reeves said in a telephone interview. ''I've got too many great friends there, so many people in that organization I think the world of.''
Start with Elway, the quarterback for most of Reeves' Denver tenure from 1981-92, who says his efforts to build a No. 1 defense were inspired at least in part by his former coach.
Then there's Kubiak, Elway's backup back in the day. Rick Dennison, the offensive coordinator, was a linebacker for Reeves. Wade Phillips, the defensive coordinator, originally was brought to Denver for that job by Reeves in 1989, then replaced a fired Reeves as head coach in 1993.
Bill Kollar, the defensive line coach, was an assistant to Reeves with the Atlanta Falcons. And Joe DeCamillis, the special teams coordinator, began his NFL career working for Reeves with Denver in the 1980s, then later went with him to the New York Giants and Falcons. Taking Reeves' role as father figure even further? DeCamillis is his son-in-law.
''The one thing about coach Reeves that you'll always get a feel for when you talk to him is how much he cares for his former players and his former coaches. He couldn't be happier for us,'' DeCamillis said. ''He's got his fingerprints on a lot of the guys that are here, which is pretty neat.''
Perhaps no one more than Elway, which might seem counterintuitive, given their publicly complicated and sometimes-contentious coach-player relationship, connected to Elway's desire to have a better-equipped and more wide-open offense. They were the key figures on Broncos clubs that reached the 1987, 1988 and 1990 Super Bowls, coming up short each time.
''Dan was very structured and very discipline-oriented. If you have a direction and you don't waver, then you'll be successful. That's what I (learned from) him. Right or wrong, he was going to stick to his guns if that's what he thought he should do,'' Dennison said. ''And we were successful. We had a great run. Just couldn't win the last one.''
Elway later won titles in each of the last two seasons of his Hall of Fame career - the second one against Reeves' Falcons.
''When you lose three Super Bowls, as we did, there's two people that get the blame for it: the head coach and the quarterback. ... Nobody could have been happier than I was (when Elway won his first), because he deserved to win championships,'' Reeves said.
''The next year, I wish he hadn't won, because I was on the other side. But I did think: If I'm going to get beat, I'm glad it's by someone I cared a lot about and respected a great deal,'' continued Reeves, whose 201 coaching victories, including playoffs, rank ninth in NFL history. ''Because there's no way I would have ever accomplished what I accomplished in the National Football League without John Elway.''
After a pause, Reeves added: ''I just wish I could have won one with him.''
Elway returned to the Broncos in 2011 as executive VP of football operations, adding the GM title in 2014. His biggest move was signing Peyton Manning. After their high-flying offense was routed by the Seattle Seahawks in the Super Bowl two years ago, Elway made an effort to revamp his defense - a unit that deserves most of the credit for reaching Sunday's matchup against Carolina.
''I learned from (Reeves) that you have to play great defense. He had a lot of great defensive teams, and that's where I get my instincts on the defensive side,'' Elway said. ''That defense kept us in a lot of football games when I was young, because we weren't doing much offensively, until the chains came off late in the game and we were able to win some.''
Reeves' take?
''You've also got to worry about defense. You've got to worry about special teams,'' he said. ''And now (Elway) understands that a lot better than he did when you're just the quarterback.''
The long-ago Reeves-Elway dynamic also involved assistant coach Mike Shanahan, whose play-calling helped the QB flourish - but whose close relationship with Elway also led to friction with Reeves.
''Are we really close friends? No. I mean, I don't call him or talk to him or whatever,'' Reeves said about Shanahan. ''But I have a tremendous amount of respect for him.''
That last sentence echoes sentiments expressed by folks on today's Broncos connected to Reeves.
''I learned a whole lot from Dan. Not just how to coach a game or be in the game and do certain things certain ways, but also how to compete,'' Phillips said. ''He should be in the Hall of Fame.''
It was Phillips' father, Bum, who once recommended Reeves to an owner for a head coaching job. Not, Reeves explained, because they had worked with each other, but because their daughters spent time together during a charity golf tournament.
''I said, `Why did you recommend me?' He said, `Because I figured anybody who's a good family man would make a good coach,'" Reeves recalled. ''Which, if you think about it, is really true. If you handle that football team like it's your family, and you care for `em, try to teach `em the right things, try to get `em to do the right things, it'll work.''
On Sunday, Reeves will be rooting for his family.
---
AP National Writer Eddie Pells contributed to this report.
---
Follow Howard Fendrich on Twitter at http://twitter.com/HowardFendrich
---
Online:
AP NFL website: www.pro32.ap.org and AP NFL Twitter feed: http://twitter.com/AP-NFL
---
---