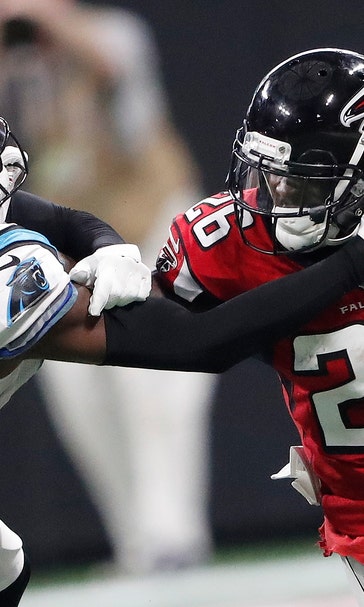 Panthers coach Rivera won't tolerate 'lazy' play on defense
September 17, 2018
CHARLOTTE, N.C. (AP) — Panthers coach Ron Rivera is still fuming about his team's performance, saying he won't tolerate laziness on defense following his team's 31-24 loss to the Atlanta Falcons.
Carolina's eighth-year head coach was upset after watching his normally stingy defense allow Matt Ryan and the Falcons to roll up 442 yards on offense Sunday and score on five of their first seven possessions.
The Falcons, playing without starting running back Devonta Freeman, ran for 170 yards and Ryan completed 23 of 28 passes for 272 yards and combined for four TDs. Tevin Coleman ran for 107 yards, snapping Carolina's string of 21 straight games without allowing an opposing running back to run for 100 yards.
Rivera described Carolina's problems as part-mental and part-physical. He said Monday that the team struggled with its run fits on defense and "a couple of times (we were) playing behind and playing a little lazy — and we can't accept that."
Rivera said the performance was not up to the standard set by former defensive coordinators Sean McDermott and Steve Wilks, both of whom have gone on to become NFL head coaches. The Panthers have consistently been one of the league's top-ranked defenses since Rivera arrived in 2011.
"We are not going to tolerate it," Rivera said. "We are going to put players out on the field that we believe are doing it our way and playing hard and giving us every opportunity to succeed."
Panthers new defensive coordinator Eric Washington, who was promoted from defensive line coach this past offseason, called it a "tough day at the office."
When asked about Rivera's comments about the defense being a little lazy, Washington replied, "If that is the way coach characterized it then I will follow suit with that. If we need to play faster, with more effort and more energy than that is what we are going to do."
Washington said the Panthers struggled with the Falcons' zone-wide blocking scheme.
He pointed to the team's defensive tackles, saying they need to play with better technique and "set the table" for the rest of the defense to make plays.
Too often on Sunday, middle linebacker Kuechly's path to the ball carrier was hindered by blockers getting to the second line of defense.
"When we talk about that scheme we emphasize with our defensive tackles they have to play great," Washington said. "That means they have penetrate and get great edges set and allow our linebackers have to play downhill. A couple of times we weren't exactly doing that to the degree we've done it in the past. It created some indecision with the second level of the defenders. It wasn't as clean of a look for those guys."
Carolina's Dontari Poe agreed that he and the team's other defensive tackles need to be on their game and play more physical against the Falcons, but wouldn't go as far as to characterize the play of the defense as lazy.
"We missed some stuff at times, and a couple of times people could have made plays that they didn't," Poe said. "It's just small things we need to fix."
Washington's job isn't going to get any easier this week when the Panthers host the Cincinnati Bengals.
The Panthers could be without starting cornerback Donte Jackson (hamstring) and safety Da'Norris Searcy (concussion), which means some adjustments in the secondary. Both players left the Atlanta game with injuries.
But he's confident the Panthers defense will bounce back.
"We will shore those things up, and we will be ready to go," Washington said. "You will see the Panthers defense we are all accustomed to seeing."
---
---