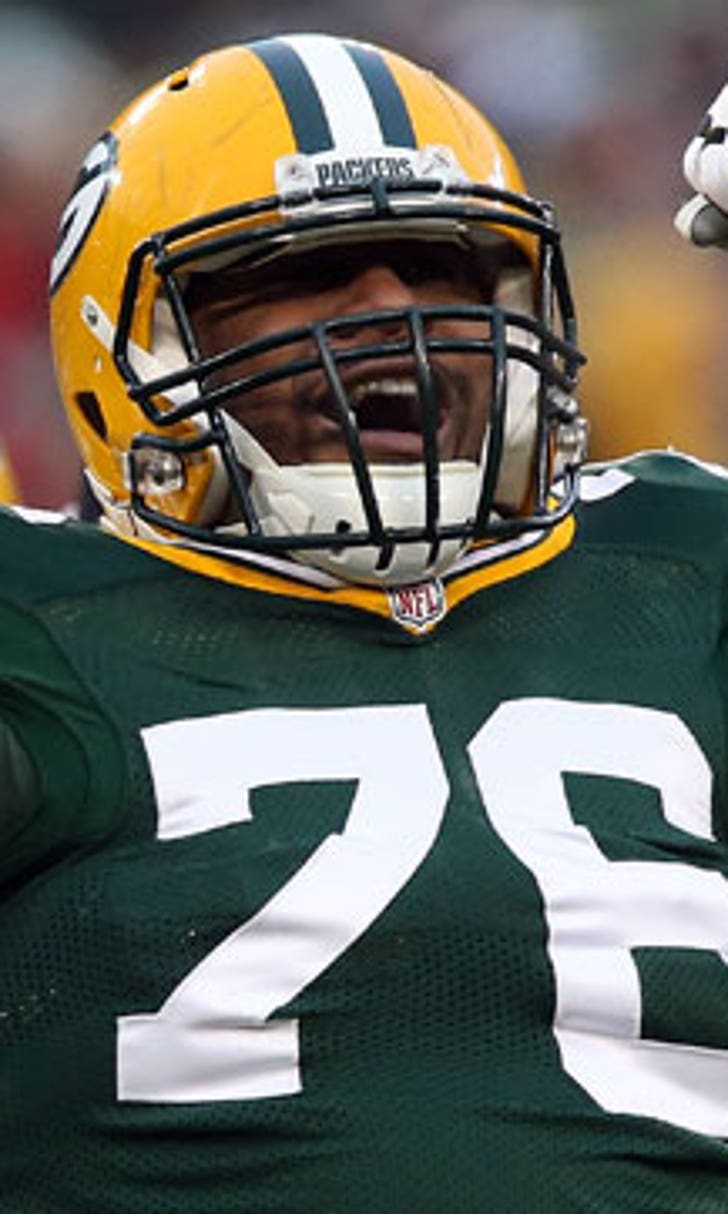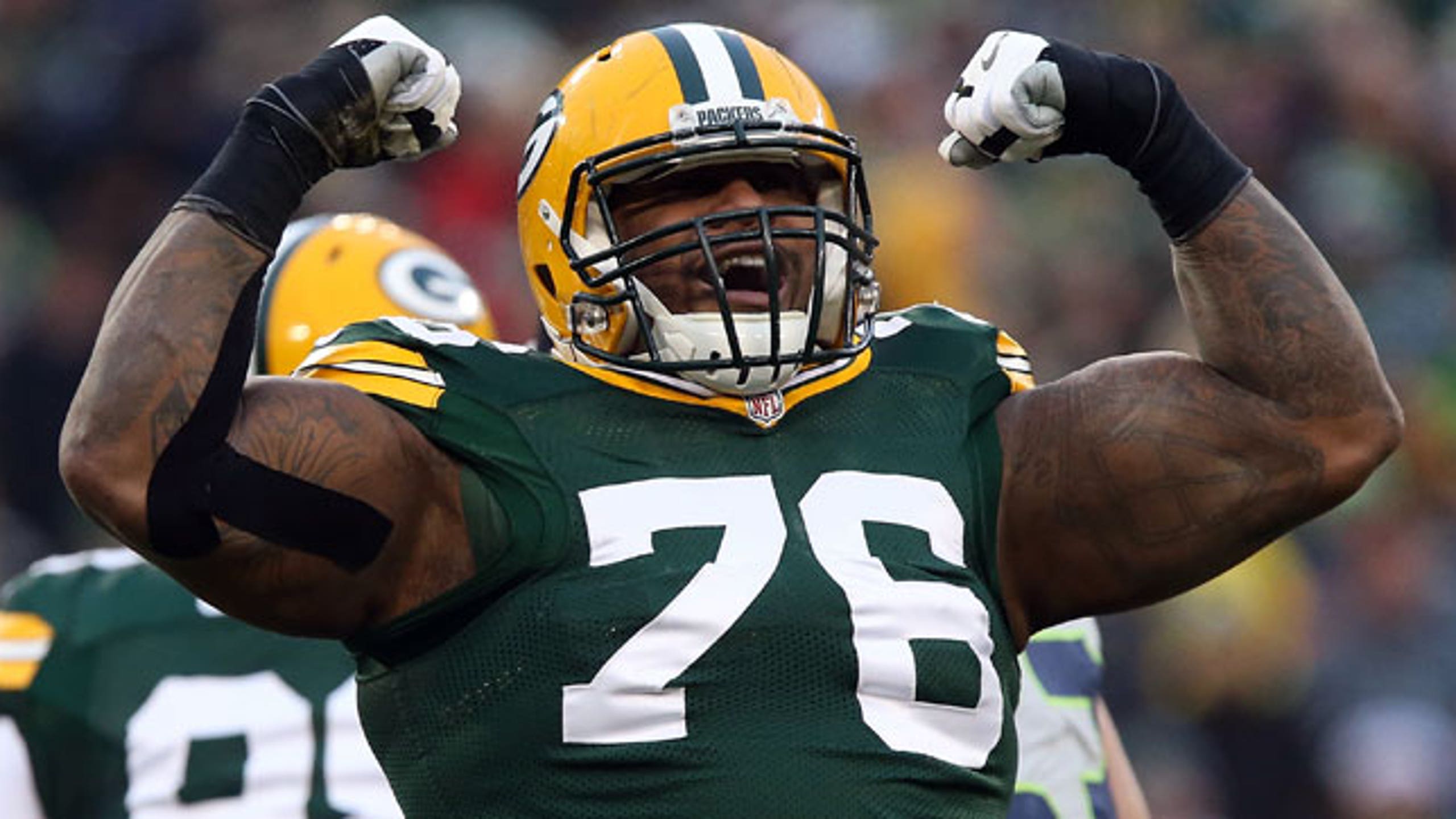 Packers DT Mike Daniels: Sassy and Brash
BY Sports Illustrated and Kalyn Kahler/Sports Illustrated via MMQB • December 30, 2016
GREEN BAY, Wis. — Before I can start interviewing Mike Daniels, the Packers' defensive tackle lives up to his reputation for having an outsized personality by snagging the first question. "What made you pick me?" he asks as we sit down in an interview room at Lambeau Field. "I've heard you are a loquacious guy," I say. Daniels pulls out his phone to look up loquacious. "I've heard that word, but I'm not exactly sure," he says, pausing a moment before reading the definition aloud. He sums it up with a nod and says: "OH! OK, yeah, verbose, voluble and talkative. Yeah, I am very talkative."
Here is what Daniels had to say in mid-December about shower rants, getting fined, maintaining his fire, and why he strives to be a great communicator. And as the Packers look to extend their winning streak to six games against the Lions on Sunday night, The MMQB followed up with a phone interview to talk more about this onetime 4-6 team being a win away from the NFC title.
KAHLER: You've been a pretty vocal leader throughout your five years in Green Bay. After a loss to the Colts dropped your record to 4-4 this season, you were in the news for a "shower rant" that was caught on tape after the game. What's the story behind that?
DANIELS: One of my teammates and I were talking and it got overheard. It was a conversation that wasn't supposed to be heard; it was supposed to be between my teammate and I. Him and I were both expressing our dislike towards the current state of what had happened that day. We lost the game and we thought we should have won. I expressed my dislike a little louder than he did, and cameras and microphones were around when it happened and caught it. It's like how James Harrison talked about on Hard Knocks how he didn't like the fact that cameras were in the locker room. So during that time the cameras overheard a conversation that was only meant for me and my teammate. So they took it as a rant, but I was just saying how everybody felt. I've always just tried to be a guy who will lead by example and I feel like if something has to be said, I will say it. I strongly believe in the power of communication, which is definitely something that you learn as a parent and as a husband. Communication is key in any relationship—especially in a team sport, and football is the ultimate team sport. I think communication is critical.
• NFL BLACK MONDAY: What to Expect as the Carousel Spins
KAHLER: How have you learned the importance of communication as a parent?
DANIELS: You can never repeat something too much when your kids are very, very small. You have to tell them until they get it and once they get it, keep telling them to the point to where—when they have kids or they are mentoring somebody or giving advice—they feel the same way and say, man I am going to make sure you know how important this lesson or this piece of information is. As a parent you just want to really make sure your kids understand what you are trying to say as much as their maturity level will allow them to.
KAHLER: What keeps you fired up? You got paid a big contract last December but that hasn't seemed to affect your drive. What motivates you?
DANIELS: I really love this game and I express my love for the game in a unique way. There are a few guys I know that wear their emotions on their sleeves; I'm one of them. I am a bit sassy, with some sarcasm thrown into the mix, but stoic at the same time—and brash. That's not to say that guys who don't do that don't love this game, I'm not saying that, but I am somebody that is definitely going to vocalize how I feel because I want my teammates to know how much I care and they definitely let me know in their own way. We're all different. You look at a guy like Julius [Peppers] and he doesn't say a word but we know how much this means to him. So, the comment you made about a person getting paid and simmering down, that just goes with the human nature of becoming complacent. None of this was handed to me. I wasn't a first-round pick, I had one scholarship and I rode the bench quite a bit my first couple years. I know how hard it is to just earn that one snap, so that's why I just try to leave it all on the field.
KAHLER: A loss at Washington in Week 11 dropped the record to 4-6. Since then you've won five straight. What changed at that turning point?
DANIELS: Everybody's focus just improved from there. We lost four in a row and then we turned around and played solid football back-to-back and it seems like we are really getting back on track, I just think that is a matter of everybody's focus, tightening it up.
• BENOIT'S ALL 32: Why the Matt McGloin Raiders Aren't Sunk
KAHLER: You're an interior lineman, so who is the best guard in the league? The hardest for you to beat?
DANIELS: Of the guys I played this year, definitely [Cowboys guard] Zack Martin, [Redskins guard and fellow Iowa Hawkeye] Brandon Scherff, he has really grown into his own. He has really matured. I remember when he was a freshman at Iowa and now he's a second-year guy. I played against him last year as a rookie and then this year, and he is definitely growing and getting better every year. I am very proud of him. Those two guys have played really well this year.
KAHLER: Former Packers running back Ahman Green recently showed The MMQB his passion for video games and comic books. He said that it is more acceptable to be a nerd in today's NFL. I've heard you are also a nerd?
DANIELS: I'm a super geek. I'm big into video games, big into anime, Dragon Ball Z. I am such a freak. I'm a huge geek. I'm not going to lie to you. I can't hide it. It is who I am. Proud of it. Now that we are in the era of the superhero movie genre, I am having a blast with that. I am old enough to understand it, yet I am still young enough to appreciate it.
KAHLER: How do you like living in Green Bay, a place so different than many other NFL markets?
DANIELS: It is definitely more comfortable and people are used to seeing you around town so you can just go to the store. I've got buddies that play in bigger cities and it's like they can't even go to the store without being stopped. Here it is definitely a family-oriented organization and that is a reflection of the town, it is so easy to live in.
KAHLER: You were fined for roughing the passer (Sam Bradford) earlier this year. What was your reaction to that?
DANIELS: That was annoying. First of all, I got fined but I didn't have to pay it because I ran into him. I didn't load up and spring into his helmet. I'm short, he's tall. All he has to do is [look down] and all of a sudden he is going to touch the top of my helmet. I think he had turned down and his face mask hit the top of my helmet, but I hit his shoulder. But I have a good history so I won my appeal. I just had to do a phone conference, but once that was over I was done with it. What I was told is, I haven't been fined before, I've been in the NFL for five years, my first fine, so it was like, this was clearly an anomalous situation. This is not something that you do often, and we see why it was even a mistake. So I think that's how I won.
• ROBERT KLEMKO: Tony Romo Isn't the Answer in Denver
KAHLER: You are six feet tall, which is short for a defensive lineman. Does your height help you in any way?
DANIELS: Yeah, good leverage. I think [height] is something that is starting to go a little bit to the wayside. You aren't going to see a team with nothing but 6-0, 6-1 guys across the board, but you do see a couple of them. I've played and went and shook hands with guys after the game and there are quite a bit of defensive tackles in the NFL that I am eye-to-eye with. And I say, So you were called short too? They go, yep. I'm like, yep. They said we couldn't make it, yet we're both here. It's a short-guy brotherhood. The "experts" said, Oh he's not long enough to play the run. Shut up!
KAHLER: Is that where your fire comes from?
DANIELS: Combination of that and some experience with bullying as a kid a little bit. Maybe I was a sensitive kid, who knows, but I just didn't appreciate people screwing with me for no reason. That, and I had one scholarship. My high school football team, we weren't that good, so I've always had a chip from that. I had one scholarship offer from Iowa and that came a week before signing day. I took my visit the week before. I didn't play a whole lot starting out at Iowa and then all of a sudden I "came out of nowhere." And then coming to Green Bay, I didn't play a whole lot initially. Nothing was just sitting there like, Hey Mike, come take it! No, I had to work for it. And that's cool, I like it like that. It keeps you humble.
• REPLAY REVIEW: The MMQB's Best Stories from 2016
KAHLER: There's a lot on the line this Sunday: the NFC North title and a postseason berth. Green Bay's run defense is much improved this year, currently ninth in the league. Last time you guys played Detroit, you only allowed 50 rushing yards. But Matthew Stafford threw for 385 yards—the most you've given up this season. How have you prepared to beat Stafford and not allow him to have a repeat performance?
DANIELS: We just have to make him uncomfortable and hit him hard and hit him often. I feel like that is a perfect formula for stopping anybody in the NFL. The guy can run and he can move and he is a smart experienced quarterback. He will make you pay when you make mistakes. 
KAHLER: After four straight losses, Aaron Rodgers said, "I think we can run the table." According to the Elias Sports Bureau, only three teams in the past 38 years have flipped a losing record after 10 games into six consecutive victories and a playoff berth. You're one win away. Assuming you guys pull this off, do you think Rodgers's prediction will go down as one of the best in sports history?
DANIELS: If that's true and all the facts are there, it definitely will. It was a bold statement and we just have to follow up Sunday.
KAHLER: When Rodgers said that, did you wholeheartedly believe that you guys could win out?
DANIELS: Of course. I am always positive. I have nothing but confidence in the men in this locker room. So when he made that statement, he was really just speaking for all of us. That is how we all felt.
Question? Comment? Story idea? Let us know at talkback@themmqb.com
---
---