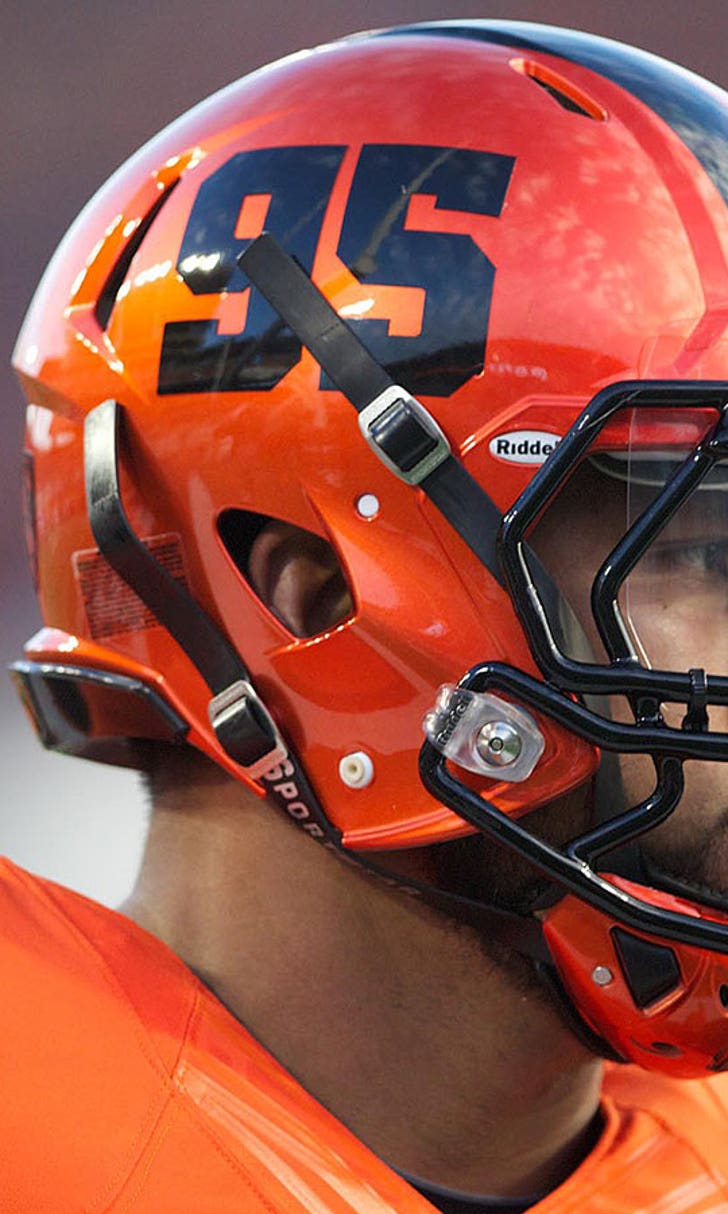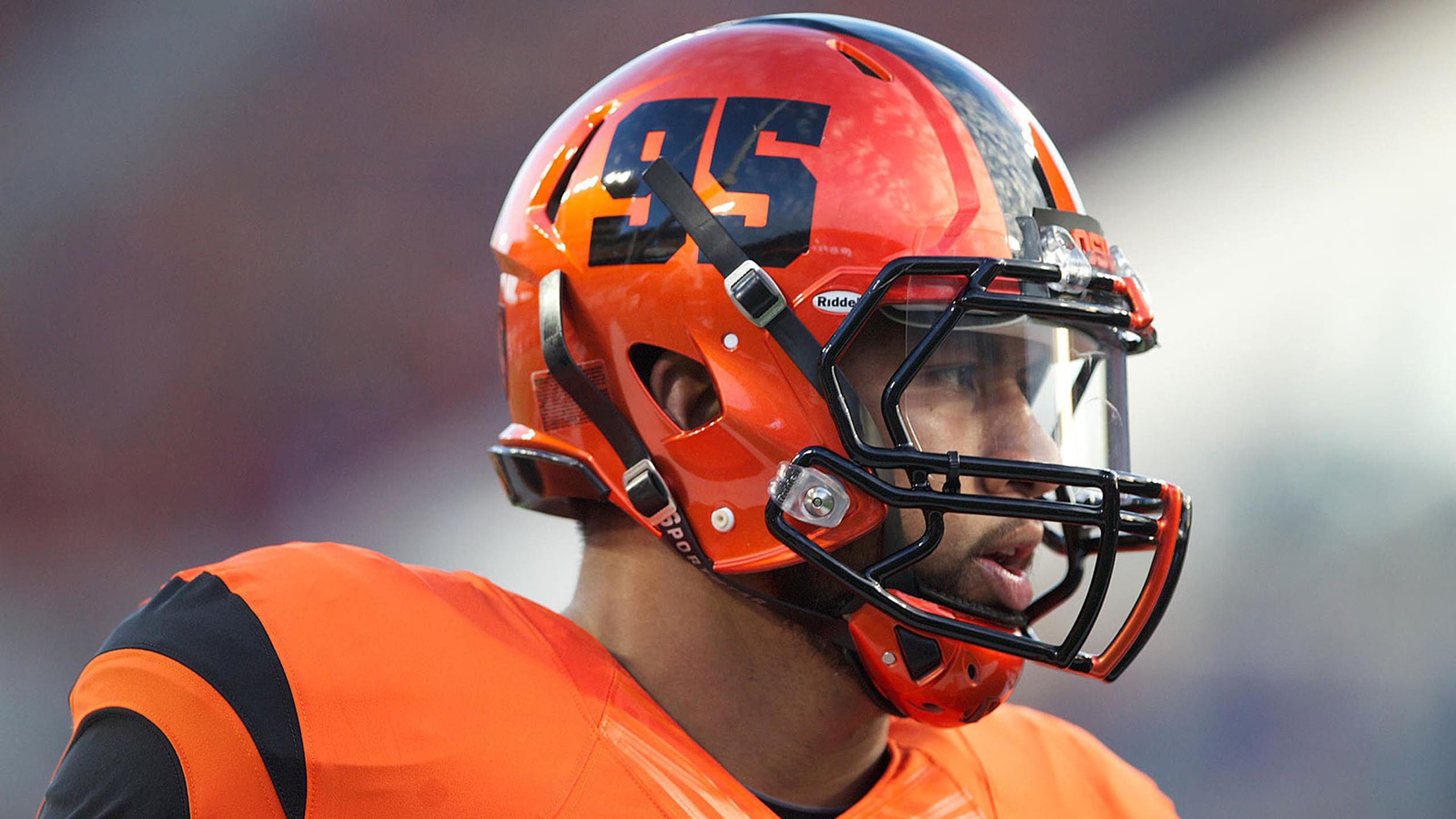 Oregon State DE Scott Crichton eager to make impact felt
BY Ross Jones • April 28, 2014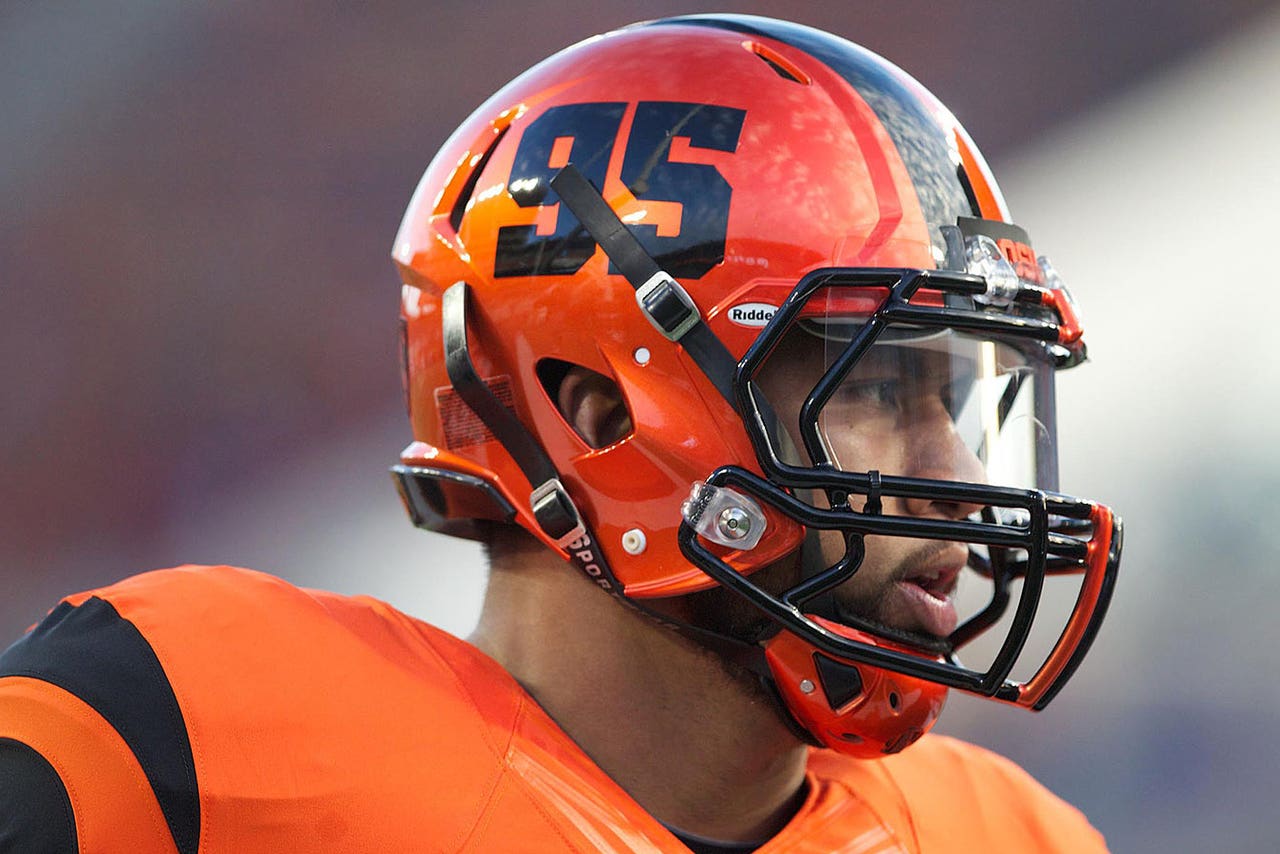 Scott Crichton doesn't take much for granted.
The former Oregon State defensive end's humble beginnings taught him to make the most of each moment.
Each play on the football field is another opportunity to make his 6-foot-3, 273-pound presence felt. One attribute draft analysts commonly note is his "relentless motor." There aren't any questions about this player's work ethic.
"I just try to play until the whistle ends," Crichton told FOXSports.com in a telephone interview. "I know I may take a play off here and there, but for the most part I go all out. That's how I was coached. You can never be wrong with relentless effort. You never know when you can make a play."
Chasing quarterbacks is how he'll earn a living at the next level, but the projected second-round pick's real value is in the turnovers he creates.
Forcing fumbles is an art , which defensive coaches stress. It's a skill -- like anything -- that can be polished and almost perfected. Crichton takes pride in his ability to strip the ball carrier and give his team's offense added possessions. During his three-year career in Corvallis, Crichton racked up 10 forced fumbles, good for the school's all-time record.
"That's all my coach talks about is getting turnovers and giving opportunities to our offense," Crichton said. "He would get mad at me when I would get a sack and didn't get a forced fumble. When you're there, you might as well get the ball too."
All of the accolades made Crichton a desirable prospect by the time his redshirt junior season came to a close in December. When the season ended with a win over Boise State in the Hawaii Bowl, Crichton took a couple weeks to mull the decision. It didn't take long as he had his mind made up.
"The main factor was my family," Crichton said. "I just felt like I wanted to take care of them. We were struggling, too because my grandpa passed away. It hit all of us. Money was getting tight with all of the funeral stuff. I just wanted to take care of my family and I don't want to see them struggle anymore. Entering the NFL Draft is a great way to do so."
Crichton's mother is a nurse and works at two retirement homes. Her day typically begins and 7 a.m. and won't end until 11 p.m.
Crichton's father, who has an artificial leg, works Monday through Friday at a warehouse.
The two raised four children (Crichton is the youngest) in Tacoma, Wash. and cared for Crichton's grandfather until he passed away.
"My parents are the two hardest working parents you can ask for," Crichton said. "They've done everything for me. We didn't have much, but my parents are smart. They knew how to take care of us and they knew how to give us the childhood that every kid would want. I enjoyed every minute of it. They just worked and worked and worked so we can have the life that they never had. I'm just trying to return the favor."
Since the draft process began, Crichton has been on the move often. Aside from his preparation for the NFL Combine and pro day, he's had visits with the Bills, Redskins, Steelers, Cowboys, Broncos and Chargers. He has also had workouts with the Panthers, Patriots and Falcons.
Last week, Crichton was among a group of regionally eligible participants, who were invited to work out for the Seahawks. The time back home was a breath of fresh air and a reminder of the rare opportunity in front of him.
While Crichton is noted as having one of the most pure 4-3 defensive end frames, some teams value his versatility and believe he can play either outside linebacker or defensive end in the 3-4. Teams covet players who are willing to play multiple roles. As the NFL Draft steadily approaches, he isn't concerned about where he'll land, but he does have one small request.
"I love the cold weather," Crichton said. "I've adapted to the cold weather in the Northwest and I love playing in it. It's my environment. It's non-stop air conditioning."
---
---