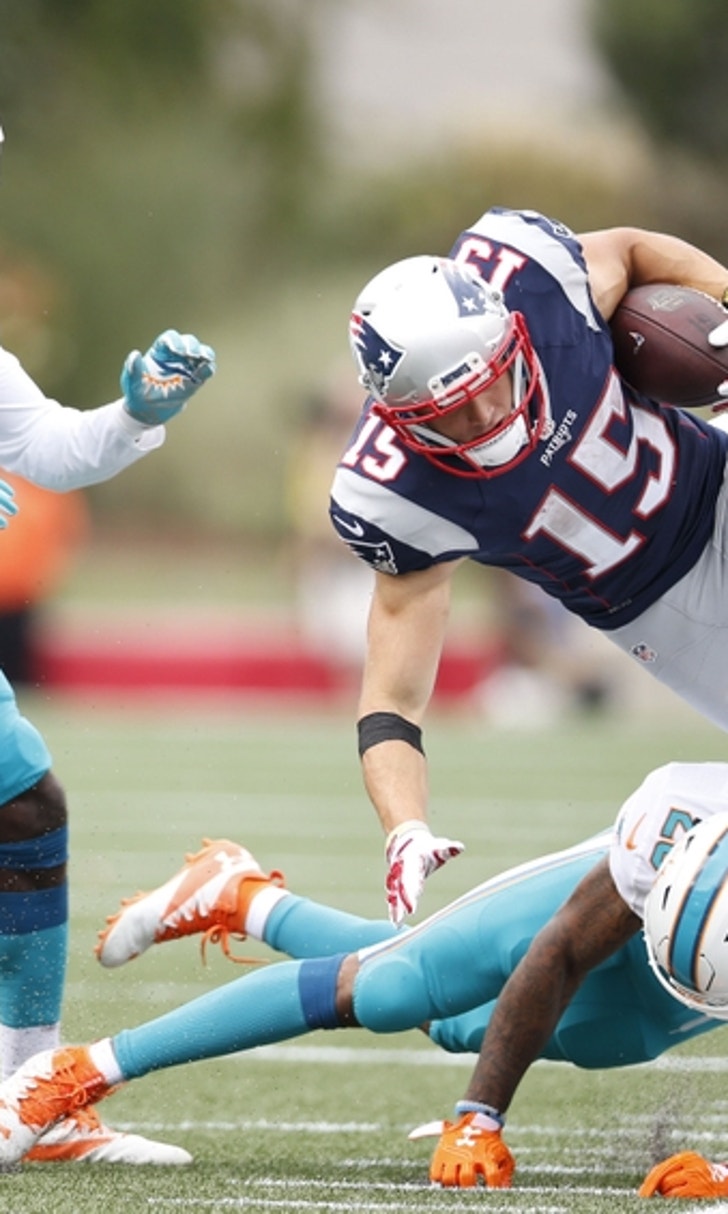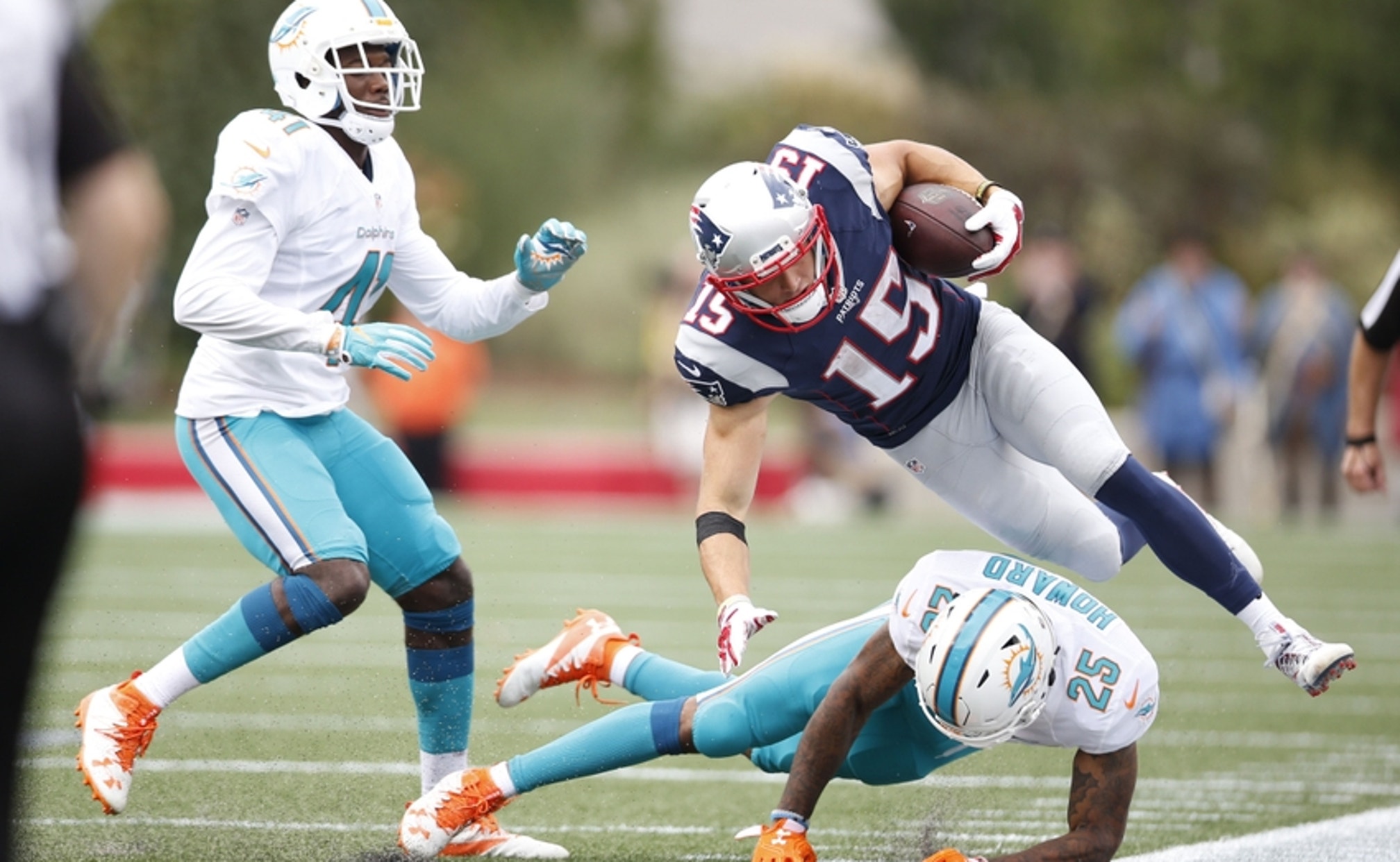 New England Patriots at Miami Dolphins: Top 5 Matchups in NFL Week 17
BY Fansided and Hal Bent/FanSided via Musket Fire • January 1, 2017
Sep 18, 2016; Foxborough, MA, USA; New England Patriots head coach Bill Belichick watches from the sideline as they take on the Miami Dolphins in the second quarter at Gillette Stadium. Mandatory Credit: David Butler II-USA TODAY Sports
The 13-2 New England Patriots travel to South Florida on Sunday to face the surprising 10-5 Miami Dolphins.
Much like the New York Jets last season, the Dolphins are the latest AFC East rival to rise up and challenge the Patriots.
New England needs a team to challenge them in the division so they are battle-tested in the regular season and stronger in the playoffs. This season it appears that it is the Dolphins who are in good shape to be that team going forward.
Clearly, the best offseason move in Miami was the hiring of head coach Adam Gase. An offensive genius–he orchestrated the Denver Broncos offenses that maximized and aging Peyton Manning and he even made Jay Cutler look like a competent NFL quarterback–Gase  has been better than advertised as a leader of both sides of the ball and in the locker room.
The Patriots need to win in Miami (where they have lost three straight games) in order to clinch the number one seed and have home-field advantage throughout the playoffs. Miami is trying to keep the momentum of having won nine of their last ten going into the playoffs. The Dolphins will likely have a tough path in the playoffs likely having to go to Pittsburgh in the first round as a wild card team.
With an important game in week 17, the Patriots and Dolphins face-off to kick-off 2017 on Sunday under the sun of South Florida. Here are the top five matchups to watch on Sunday which will determine who goes into the playoffs on a winning streak:
Dec 12, 2016; Foxborough, MA, USA; New England Patriots defensive end Trey Flowers (98) waits for a snap during the first half of a game against the Baltimore Ravens at Gillette Stadium. Mandatory Credit: Bob DeChiara-USA TODAY Sports
1. New England Pass Rushers vs Miami Offensive Line
Sorry for the generic title, but the Patriots lack that one superstar pass rusher and instead rotate in four defensive ends almost equally throughout the game. They will line these pass rushers up anywhere on obvious passing situations including inside at defensive tackle and sometimes dropping Rob Ninkovich to linebacker.
With defensive end Chandler Jones traded to Arizona in the offseason, the Patriots have used a team approach to replace his prodigious production. Second-year pass rusher Trey Flowers has blossomed (flowers-blossomed, get it?) this season and leads New England with seven sacks. Jabaal Sheard has five, Chris Long has four, and Rob Ninkovich also has four sacks (all statistics from Pro-Football-Reference.com unless otherwise noted).
The Patriots' pass rushers have a tough battle against a Miami offensive line which has kept Matt Moore upright the last two weeks allowing just one sack. For the season, they have allowed just 30 sacks after allowing 45 sacks last season.  Even without Pro Bowl center Mike Pouncey the Dolphins have done well as a unit.
The Dolphins' offensive line has kept Ryan Tannehill upright and with Matt Moore stepping in for the rest of the season and playoffs, the offense has not skipped a beat. Center Kraig Urbik has done well filling in for Pouncey and former tackles Laremy Tunsil (first round pick and future left tackle) and Jermon Bushrod have been solid at guard.
Veteran Brandon Albert has been a steadying influence at left tackle while Ja'Wuan James has found his niche at right tackle. James was picked in the first round in 2014 as the left tackle of the future but inexplicably struggled on the left side while excelling on the right side. With Tunsil dropping in the first round to Miami this past year they have their replacement for Albert.
New England's defense has stepped up in the second half of the season once they started generating pressure. That will not be easy against Miami this week. The defense may struggle if they cannot get past Miami's strong offensive line.
Dec 24, 2016; Orchard Park, NY, USA; Buffalo Bills free safety Corey Graham (20) dives to try and tackle Miami Dolphins running back Jay Ajayi (23) during the second half at New Era Field. The Dolphins beat the Bills 34-31 in overtime. Mandatory Credit: Kevin Hoffman-USA TODAY Sports
2. New England Linebackers vs Jay Ajayi
The Miami offensive line has also played well in springing running back Jay Ajayi and likely sending him to the Pro Bowl this year. Ajayi was benched for disciplinary reasons in Week one and did nothing against the Patriots in week two. In that first match-up he rushed five times for just 14 yards.
Ajayi busted out in week six with 204 yards against Pittsburgh, 214 the next week against Buffalo, and then 111 against the Jets in week nine. Since then, defenses have stacked the box to slow Ajayi and he did not reach 80 yards rushing in a game again until last week when he again ripped up Rex Ryan's defense for 206 yards on the ground.
Prior to lighting up Buffalo last week, in the six prior weeks he rushed for 79, 77, 45, 61, 48, and 51 yards. In three of the last five games he averaged less than three yards per attempt. The numbers raise more questions than answers about what version of Ajayi shows up on Sunday.
New England benched starting defensive tackle Malcom Brown last week due to allegedly arriving late to practice. Like with Jabaal Sheard earlier in the season, Bill Belichick seems determined to push this defense to perform at their peak level and is doing so very publically. Brown leads the defensive tackles in sacks with three.
Last week was rookie Vincent Valentine's first start and he acquitted himself well. For a draft pick who was lampooned by certain draft experts (Yes, walterfootball.com, USAToday, NFL.com, and everyone in the state of Nebraska, I remember. For the record, I graded him as a "B"), Valentine has been motivated, strong at the point of attack, and even shown occasional ability to penetrate into the backfield.
Alan Branch–who was suspended by the team in the preseason–ended up beating out Terrance Knighton (aka Pot Roast) in the preseason to keep his roster spot and starting role and has continued to be a beast in stopping the run. Teaming with inside linebacker Dont'a Hightower (who is questionable to play with a knee injury after missing the game last week), Branch has been a huge part of the improved run defense.
The Patriots gave up 111 yards rushing to the Jets last week snapping a four week run allowing less than 65 yards rushing. For the season the Patriots are third in the NFL allowing just 1,342 yards on the ground in 15 games. They have allowed the fewest rushing touchdowns (6), and are ninth in the NFL in yards per attempt allowing just 3.9 yards per rush.
For Miami to beat the Patriots, they will need Ajayi to break off a number of long rushes for big chunks of yardage. In his top four rushing games of the season, Ajayi has rushed for 40 first downs (with five touchdowns). In the other ten games, he has made just 21 first downs three touchdowns.
Basically, Ajayi has 735 yards in four games and 478 yards in the other ten games. Ajayi is basically feast or famine. Other than one big game against the Steelers, one game against the dysfunctional Jets, and two games against the horror show which was the Buffalo Bills defense and Ajayi has been average to below-average.
New England's big, strong defensive line needs to set the tone early stuffing Ajayi and putting the Dolphins' offense in second and third-down-and-long situations. If they can do that, they can make Miami one-dimensional and improve their chances of victory. 
Dec 4, 2016; Baltimore, MD, USA; Miami Dolphins wide receiver DeVante Parker (11) celebrates with teammates with teammates after scoring a touchdown during the fourth quarter against the Baltimore Ravens at M&T Bank Stadium. Mandatory Credit: Tommy Gilligan-USA TODAY Sports
3. Malcolm Butler, Eric Rowe and Logan Ryan vs Kenny Stills, Jarvis Landry and DeVante Parker
Miami has a trio of talented wide receivers in Jarvis Landry, Kenny Stills and DeVante Parker. Stills provides the deep threat, Landry can catch anything thrown anywhere near him, and Parker is the big and athletic outside receiver. The loss of tight end Jordan Cameron has hurt as he is talented and none of the back-ups scare opposing defenses.
Jarvis Landry is the best of the bunch despite being overshadowed in college by teammate and friend Odell Beckham Jr., and Landry has 85 catches for 1,060 yards. Landry had 84 receptions for 758 yards as a rookie and was selected to the Pro Bowl last year as he had 110 receptions for 1,157 yards. His yards per reception average has increased each season from 9.0 to 10.5 to 12.5 yards this season.
The emergence of Kenny Stills this season has given Landry more room to operate as the former New Orleans Saints receiver is averaging a ridiculous 18.0 yards per reception. He has touchdown catches in each of the last three games and leads the team with eight.
Stills struggled last season in his first year in Miami but has come on this year. Stills is a weapon in that he must be accounted for by at least one safety whenever he is on the field. Even when not making the catch, Stills gives the team opportunities to draw defensive pass interference penalties.
DeVante Parker is in his second season after having been Miami's first-round draft pick in 2015. Parker had an up-and-down rookie season due to injuries but has two of his three career 100-yard receiving games against New England. In last year's week 17 upset of the Patriots, Parker hauled in five catches for 106 yards.
After missing the first game of 2016, Parker returned with a bang catching eight passes for 106 yards in week two against the Patriots. Parker can still be inconsistent and disappear during a game, but he is long (six-foot-three) and solid (209 pounds) and is fast.
Parker should get plenty of attention from New England cornerback Eric Rowe, as Rowe is the only player in the secondary with the length to compete with Parker. If the defense is playing press coverage, he may see Logan Ryan as well since Ryan can use his strength and aggressiveness to negate length.
Malcolm Butler and Ryan will likely switch back-and-forth in coverage of Stills and Landry. Stills burnt Ryan for a 24-yard touchdown in Week two and Landry had ten receptions for 135 yards after a slow start and costly first half fumble. Butler and Ryan did not play particularly well in that game and need to continue their strong play of late.
Even without Ryan Tannehill, the Dolphins' trio of young and talented wide receivers create a match-up problem for many teams. This should be a good test for the New England secondary heading into the playoffs.
Dec 24, 2016; Foxborough, MA, USA; New England Patriots quarterback Tom Brady (12) throws the ball during the first half against the New York Jets at Gillette Stadium. Mandatory Credit: Bob DeChiara-USA TODAY Sports
4. Tom Brady vs Miami Secondary
Here is the dirty secret about the Miami Dolphins and their 10-5 season: they have the same kind of defense that the Patriots were repeatedly criticized for here in New England between 2009 to 2014. The Dolphins are 30th in the NFL in total yards allowed but are winning because they are sixth in the league in turnovers.
The Dolphins' secondary has been ravaged by injury in 2016: starting safeties Reshad Jones (week seven) and Isa Abdul-Quddus (this week) are both on injured reserve. Bacarri Rambo and Michael Thomas are solid but not close to the talent level of Abdul-Quddus (who was having a Pro Bowl caliber season in his first year in Miami) and Jones (a well-deserved Pro Bowl selection last season).
One of the biggest surprises of 2016 was the play of cornerback Byron Maxwell. Many (myself included) ridiculed the Dolphins for trading down in the first round with Philadelphia and taking on Maxwell and linebacker Kiko Alonso in return. Both players have performed better than expected. After struggling in Philadelphia after four years in Seattle, Maxwell bounced back with an impressive season in 2016.
Maxwell's status for Sunday is up in the air, however, due to an ankle injury (UPDATE: He has been ruled out). Fortunately for Miami, rookie Xavien Howard is back from injury. Howard was injured much of his rookie season but is he is loaded with athleticism and has potential. Opposite him for the Dolphins is last year's fifth-round draft pick and converted wide receiver Tony Lippett.
Lippett is a great success story. He was converted from cornerback to wide receiver at Michigan State and did not play cornerback again until Miami drafted him last year.  He has grown by leaps and bounds and in his first full season as a starter has grown into a solid number two cornerback and leads the team with four interceptions.
Of course, in Week two Miami did not face Tom Brady. Miami was lit-up by Jimmy Garoppolo before injury knocked him out and the Patriots had to turn to rookie Jacoby Brissett. That game seems like it was played last year it was so long ago and the two teams have changed so much since then.
Brady has been otherworldly in 2016 despite being 39 years old. He has completed 66.7% of his passes for 3,278 yards (298 yards per game average), with 25 touchdowns and just two interceptions. His 110.7 quarterback rating would be his third highest of his career only topped by 2007 and 2010–both seasons in which he won the MVP.
Young and inexperienced cornerbacks and back-up safeties should have Brady drooling in anticipation of facing Miami's secondary: Miami just got lit-up by Tyrod Taylor last week. Seriously. Taylor had 329 yards passing with three touchdowns, no interceptions, and a 118.4 quarterback rating leading the Bills to 31 points.
Brady will no doubt see that in week two his back-up Jimmy Garoppolo went 75-yard touchdown drive, 75-yard touchdown drive, and 76-yard touchdown drive to start the game against a healthy Dolphins defense.  Brady may be without Malcolm Mitchell due to injury, but should have Julian Edelman, Chris Hogan, newly acquired Michael Floyd, and tight end Martellus Bennett at his disposal.
Bennett had a big game against Miami in week two catching five passes for 114 yards and a touchdown. Miami has struggled to cover tight ends all season. Last week Charles Clay went off for eight catches for 85 yards and two touchdowns.
Kiko Alonso has surprised many with a strong bounceback season at linebacker against the run but struggles in coverage at time. The loss of veteran Koa Misi hurt the linebacker coverage ability and neither Neville Hewitt, Donald Butler, nor Spencer Paysinger are athletic enough to stay with tight ends in coverage. Jelani Jenkins–unlikely to play with a knee injury– had been their best coverage linebacker this year after flashing potential last year.
Also, expect Brady to continue to incorporate running backs Dion Lewis and James White into the passing attack. The Dolphins safeties and linebackers could be overwhelmed by the New England running back duo in the open field.
Brady has a lot of options in the passing game still and should have the advantage targeting the Miami secondary.
Dec 24, 2016; Foxborough, MA, USA; New England Patriots running back LeGarrette Blount (29) reacts after scoring a touchdown during the second half against the New York Jets at Gillette Stadium. Mandatory Credit: Bob DeChiara-USA TODAY Sports
5. LeGarrette Blount vs Miami Front Seven
On defense, the Miami Dolphins have struggled in 2016 despite a number of talented individual defenders. While much has been made of the struggles of the pass defense, the Dolphins are 30th in the NFL against the run. They have allowed 2,127 yards over 15 games with an awful 4.9 yards allowed per rush average,
On the defensive line, all focus is on Ndamukong Suh. Miami overpaid for him in free agency but he remains one of the most disruptive and talented defensive line players in the league. Unfortunately, his zeal to rush opposing quarterbacks and pile up sacks results in him being out of position when teams run the ball.
Veteran defensive tackles Earl Mitchell and Andre Branch are solid veterans but have struggled maintaining gap integrity. On the edge, Cameron Wake has remained an elite pass rusher at age 34 and remains solid against the run. Meanwhile Mario Williams seems washed up at age 31.
The Dolphins also get production from veteran Jason Jones up front while working impressive second year defensive tackle Jordan Phillips into the rotation. Phillips is raw and often makes a strong play and then is burnt being out of position on the next play reviewed on the game film.
The biggest issue is the linebackers. Kiko Alonso has been the most consistent and has stayed healthy (only missing one game). Jelani Jenkins (out injured again in week 17) has been the best of the rest but he has been ruled out for Sunday's game and will have missed seven games this season. Koa Misi went on injured reserve after the third game of the season.
Alonso, Jenkins, and Misi were the starters at linebacker in week two when New England running back LeGarrette Blount rushed 29 times for 123 yards and a touchdown.  Last week Alonso had Donald Butler and Neville Hewitt starting alongside him.
Hewitt is a second-year undrafted free agent back-up and special teams player who has had to step into a starting role recently. Hewitt has some good instincts showing up on tape–particularly two strong plays for significant losses in the backfield. However, youth and inexperience does not cover up the fact that he is undersized and may be best as a pass rusher rather than trying to take down LeGarrette Blount.
Butler seemed to be in the middle of big plays in the running game last week–but for all the wrong reasons. He seems to be the key player out of position time and time again when LeSean McCoy was piling up yards on the ground for Buffalo last week. Butler was a starter in San Diego for the past five years and should have been better than he was stepping in when he did during this season for Miami.
The problem for Miami is that they are running out of warm bodies at the position. Spencer Paysinger is a journeyman who did little in four years with the New York Giants and was brought to Miami to play on special teams. He is dealing with a knee injury and is questionable to play as it is. The only other linebackers (Mike Hull and Trevor Reilly–who was signed from the New England practice squad two weeks ago) are special teams contributors only.
Blount pounded the Dolphins' healthy defense in week two and should continue to pound the weak Miami front seven. The Dolphins have only held an opponent under 100 yards rushing in three games all season (San Diego in week ten was the most recent) and last week the Bills piled up 272 yards on the ground on their way to 589 total yards. Only the ineptitude of Buffalo's defense and decision-making prevented them from beating Miami in regulation and overtime.
Blount has been the bellcow the Patriots needed this season piling up 1,110 yards in 15 games with a league-leading 17 touchdowns. Although averaging a tick under four yards per carry, Blount has picked up the tough yards and been able to pound the ball home in short-yardage and goal line situations.
Blount and the Patriots should be able to find ample running room against the porous Miami run defense. Getting Blount going early is good for the entire offense and should open up some play-action opportunities for Tom Brady to make a number of big plays downfield.
More from Musket Fire
This article originally appeared on
---
---