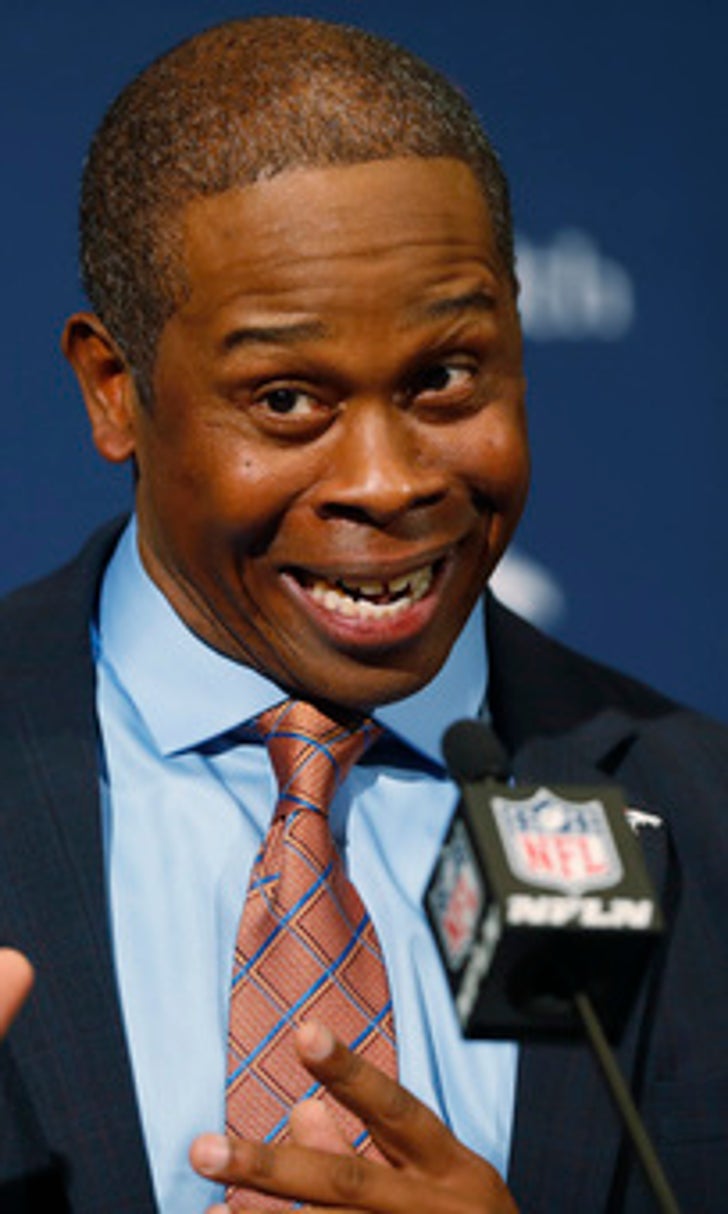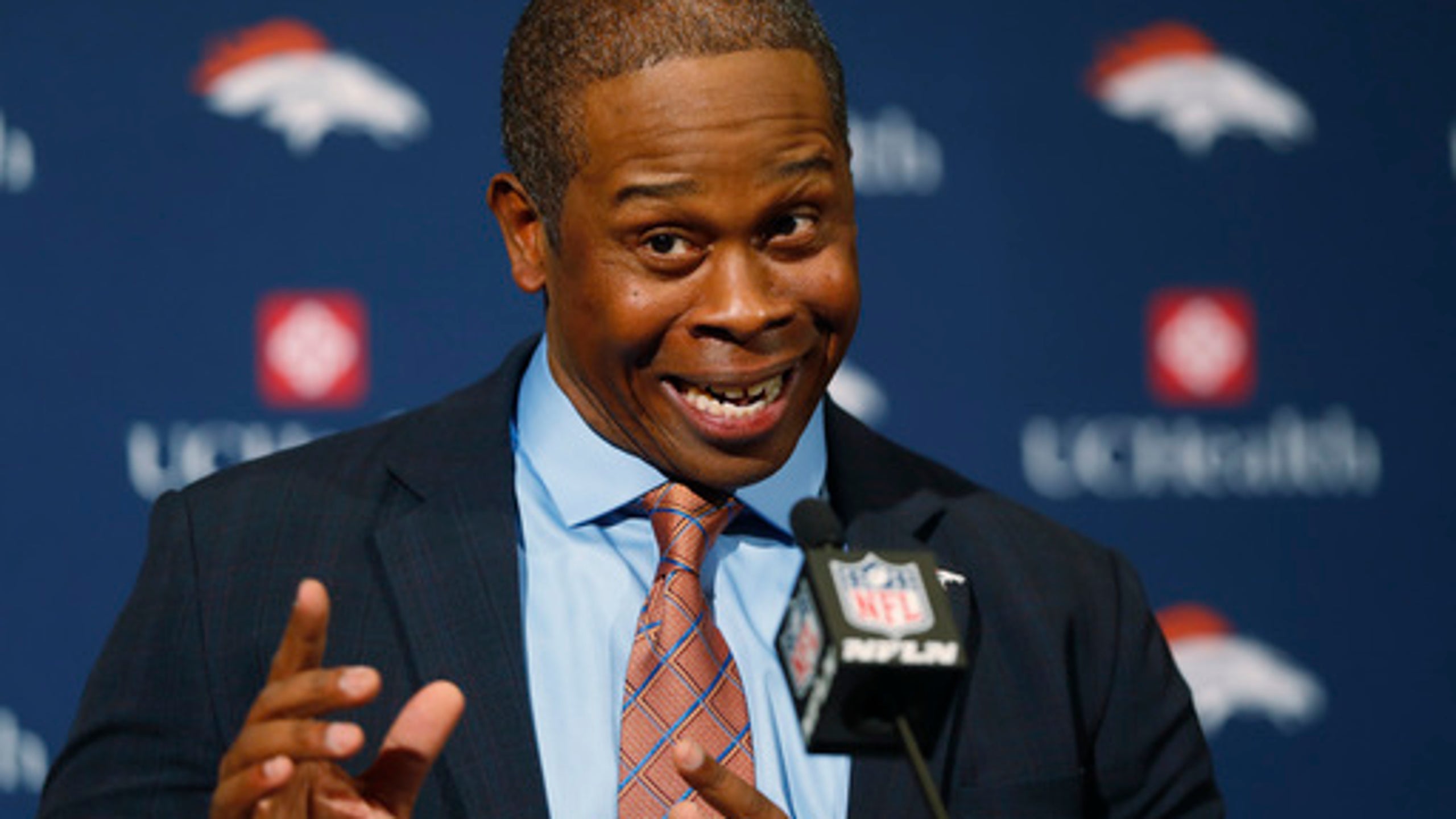 New Broncos coach has a tough act to follow
BY AP • January 12, 2017
ENGLEWOOD, Colo. (AP) In the Denver Broncos, Vance Joseph saw a championship culture, impressive roster, proven front office, esteemed ownership and fervent fan base, a combination not often seen in an NFL head coach opening.
''It's not a rebuild, it's a reboot,'' Joseph said Thursday as he was introduced as Gary Kubiak's successor.
While not broken, the Broncos do need some work after failing to make the playoffs to defend their Super Bowl 50 title.
In Joseph, Elway saw just the man for the job .
''This team is less than a year removed from a world championship,'' Elway said. ''So it's very important to find somebody that can fit the culture that we have'' and mix in some fresh ideas. ''Vance checks that box. He has that.''
Elway said Joseph has that rare mix of command and charisma, communication and control, and ''after the shock of Gary stepping down ... I couldn't be happier with the ability to fill Gary's shoes with Vance Joseph.''
''He's the perfect fit for us,'' Elway said of the 44-year-old former University of Colorado quarterback who's built a reputation as one of the bright, young defensive minds in football over his dozen seasons as an NFL assistant.
''I will say this: he's very smart - he's an ex-quarterback,'' Elway said with only the slightest of smirks. ''So, you think he only knows the defensive side, but he's aware of what we need to do on the offensive side, too. And I think that why the combination is tremendous.''
Joseph called it his dream job, one that's more of a touch-up than a fixer-up.
''It's my job to find the small tweaks to make this team a winning team again. That's my call of duty right now and hopefully we can do that quickly,'' he said.
It's also a pressure cooker that's driven out the last two coaches with two years left on their contracts.
Kubiak cited health concerns in stepping down last week. He went 24-11, including a 24-10 win over Carolina in last year's Super Bowl that came a year after John Fox bolted to the rebuilding Bears following a 49-22 run in Denver.
Joseph said he views that pressure as a positive.
''Absolutely, we have to embrace the culture here,'' Joseph said. ''I mean, who wants to lose? So, I'd rather get a job where you're expected to win than a job where winning four or five games is OK.''
Elway was wise not to let Joseph leave town after their interview Tuesday. After dinner at Elway's signature steakhouse that evening, Joseph canceled his California trip to meet with the Chargers, 49ers and Rams about their head coaching vacancies.
Joseph spent the first half of his NFL coaching career in San Francisco.
''I'm a great friend of (49ers CEO) Jed York's, so that was intriguing also,'' Joseph said. ''But again, for a first-time head coach to have a chance to be with a team like the Denver Broncos, that's a winning football team, that's not broken, that's rare. Your first opportunity is usually an opportunity to rebuild.
''It's very similar to when Mike Tomlin took over in Pittsburgh and they were a year out of winning the big game and Mike took over with two experienced coordinators and they didn't miss a beat.''
Joseph could do the same in Denver by hiring either Mike McCoy or Bill Musgrave as his offensive coordinator and renewing Wade Phillips' contract as Denver's defensive coordinator.
Joseph noted, however, that Phillips is a ''free agent, so he's free to go where he wants to go.''
If Phillips leaves, secondary coach Joe Woods is a strong candidate for promotion.
Whoever gets the gig will be calling the plays on defense.
''I prefer not to call plays - I want to be the head coach here, but if I have to I will,'' Joseph said.
As for Joseph's offense, the Broncos will resemble Fox's air-it-out style more than Kubiak's grind-it-out ways.
''I want an offense that is attacking,'' Joseph said. ''Being a defensive guy my entire career, only 14 seasons, when you play an offense that is attacking, it makes you be careful of your calls. If an offense was conservative, I loved it because I can be the attacker, but if the offense was attacking, with multiple personnel groups and all types of formations? That is what I want them to look like.''
''Obviously defense wins championships, but you have to score points,'' he said. ''I want an offense with swagger and I want an offense that's up-tempo and has a chance to score a lot of points.''
The offensive coordinator will inherit both a QB competition between Trevor Siemian and Paxton Lynch and a unit that was largely ineffective the last two seasons under Rick Dennison.
The offensive's propensity to start slow - just two sustained first-quarter TD drives all season - defanged a stellar secondary led by All Pro cornerbacks Aqib Talib and Chris Harris Jr. and a premier pass rush led by linebacker Von Miller.
By season's end, there were words exchanged between the ''No Fly Zone'' secondary that led the league in pass defense and the O-linemen who were the main culprit in Denver's 27th-ranked offense.
A big part of Joseph's job will be to restore locker room unity .
''The best teams win, not the best offense, defense or special teams,'' Joseph said. ''That's going to be the culture.''
---
For more NFL coverage: http://www.pro32.ap.org and http://www.twitter.com/AP-NFL
---
Follow Arnie Melendrez Stapleton on Twitter: http://twitter.com/arniestapleton
---
---