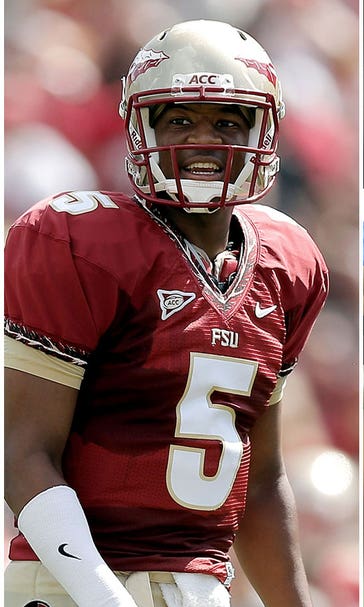 Never too early: Peter Schrager's top 32 prospects for 2015
BY Peter Schrager • May 15, 2014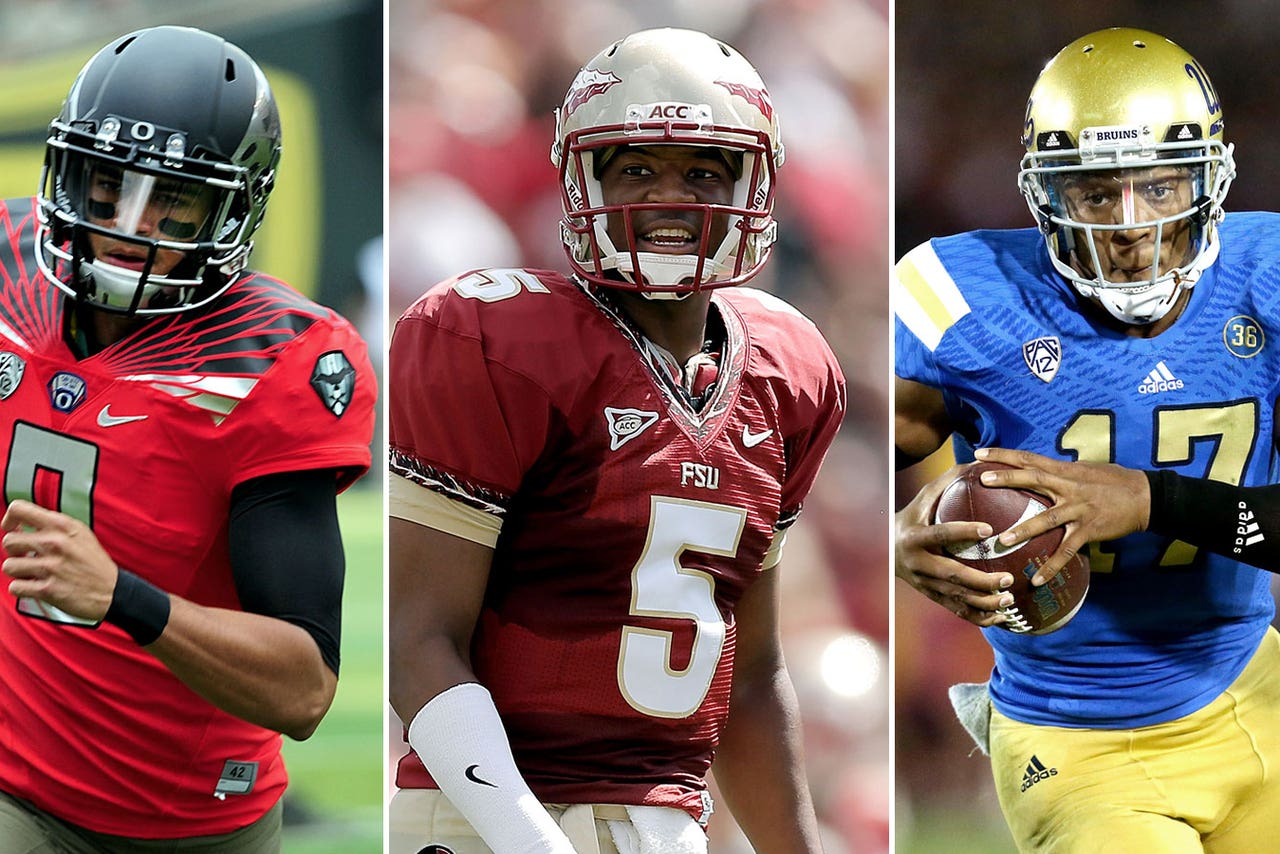 There was a bit of chatter online earlier this week about the record number of underclassmen who declared for the NFL Draft this year and went undrafted. Of the 98 juniors and redshirt sophomores eligible for the Draft, 37 never heard their names mentioned. That's a lot.
My immediate response? If you're not a sure first- or second-round pick and you think you can improve next season, stay in school. I know everyone's situation is different, and yes, the quicker you get into the league, the quicker that next contract kicks in -- but I'd rather be drafted than not. I'd rather have the body of work out there to show just what I can do.
But that wasn't everyone's opinion.
Fingers were pointed left and right -- agents were to blame, the new CBA was at fault -- and amazingly, media members who do mock drafts were taken to task, too.
The thought process on that one was this: A kid sees his name in mock drafts, figures he'll at the very least be drafted on the first few days if he's being heralded as a first-round pick online, and then is convinced he, in fact, will be drafted. 
So, let me use this paragraph as a disclaimer: A mock draft in May, a full 12 months before the actual NFL Draft, is by no means the letter of the law. The following 32 players are listed based on casual, preliminary discussions with NFL scouts and personnel men. These 32 names will undoubtedly change between now and next May, and this only serves as a mere blueprint for some players whose names are on the league's radar.
We've included underclassmen on this list, without any knowledge of whether said players are going to turn pro or remain in school.
As for the NFL teams and their order, we've decided not to go there this time around. It's stupid. How could we predict accurately not only a full season of football, but also free agency, as well? We can't. So, it's just a 1-32 ranking on the top players heading into next college football season. Print this out and start tracking these guys now. 
 +++++
1. Marcus Mariota, QB, Oregon, Junior: Mariota's 6-foot-4 with a better arm than Manziel. He might have even greater escapability in the pocket. I spoke to multiple people who've been around the Oregon program, and the biggest "knock" -- if any -- is that he needs to become more consistent and be more of a leader. That doesn't always mean the most vocal guy, but he'll have the chance to show he's the man in Eugene this season. One scout told me that he believed if Mariota entered the NFL Draft this past year, he would have been the No. 1 quarterback on his board. That's huge.
2. Brett Hundley, QB, UCLA, Junior: Hundley's shown that he can do it all on the college field, but there are questions as to whether his game translates to the pros. They said the same thing about RG3. Give him a good offensive coordinator and let's go to battle. I like Hundley's size (6-foot-3) and athleticism. He was the leader of a good UCLA team last year. I'm higher on him than others.
3. Jameis Winston, QB, Florida State, Sophomore: As one scout put it to me, "You're giving your first-round quarterback the keys to the most expensive car on the lot. If he keeps on getting in fender benders, you'll eventually want to give the keys to someone else." Crab legs or not, Winston needs to stay out of the news this year. As Johnny Manziel and Tim Tebow can attest, it's not easy to repeat as a Heisman Trophy winner. Winston has the size and athleticism, and though I know at least one NFL quarterback guru has told me his technique needs some work, he has an accurate arm, too. He's first on some 2015 mock draft boards, but I think there's still so much to see from Winston.
4. Tre' Jackson, OT/OG, Florida State, Senior: Jackson's a physical beast. A 6-foot-5, 330 pound force, he could be a guard or tackle at the next level. There's potential to rise up draft boards at the same pace as Greg Robinson did a season ago. A first-time ACC selection a year ago, he could be the top offensive lineman off the board next season.
5. Cameron Erving, OT, Florida State, Senior: Another FSU offensive lineman in the top 10? Yes. Such a raw prospect, but Erving has come along so much since making the move from defense to offense. The Seminoles have been loaded with pros the past few years. Erving could be the top one coming into the league next May. Needs to work on his technique, but the size and strength and willingness to be that guy is all there.
6. Randy Gregory, DE, Nebraska, Senior: The 6-4, 255 pound Gregory transferred from JUCO, came out of nowhere, and burst on to the scene with 10.5 sacks a season ago. He could work out of a 3-4 or a 4-3 and is still such an unfinished product. If you can get to the quarterback, the NFL will find you. He can certainly do that.
7. Vic Beasley, OLB, Clemson, Senior: Beasley was one of the last underclassmen thought to be pro-ready to decide on his future and he opted to come back. Recent pass-rusher from Clemson Da'Quan Bowers saw his stock slip in his senior season. I see the opposite for Beasley, a fearless force who had 23 tackles for a loss last season.
8. Mario Edwards, DE, Florida State, Junior: Again, if you can get to the quarterback, you'll be a hot commodity. And the 2014 NFL Draft was somewhat light on pure pass rushers. 2015 has a rich class and if Edwards opts to come out, he'll be one of those guys. He's 6-foot-3, 280 pounds, and can both stop the run and get to the quarterback. He was overshadowed by bigger names on the D a season ago, but he should see his name in lights throughout 2015.
9. Michael Bennett, DT, Ohio State, Senior: I like Bennett's game a lot. He played the DT spot last season for the Buckeyes, but might be a little small to do that at the next level. If he puts on some weight, fine. If not, he could make for an awfully good 3-4 defensive end. Bennett had a very productive 2014 -- recording 7 sacks, forcing two fumbles, and notching 11.5 tackles for a loss. He's awfully nimble for a guy his size. Top 10 pick if he keeps at it.
10. Denzel Perryman, ILB, Miami, Senior: There's a long line of Miami inside linebackers in the pros, but in recent years, that pipeline's dried up quite a bit. Insert Perryman, a guy I thought popped off the screen every time I watched the Canes last season. A 6-foot, 250 pound middle linebacker, his performance against Florida last year was the stuff highlight tapes are made of. I'm told he got a third-round grade from the NFL Draft Advisory board a year ago. He's not the ideal height, but he's a tackle machine. I like the dude. Top 10.
11. Trae Waynes, CB, Michigan State, Junior: I know this may sound crazy, but I actually liked what I saw from Michigan State cornerback Trae Waynes more than what I saw from Thorpe Award winner and 24th overall pick Darqueze Dennard. Waynes could still put on a little weight, but he's got the speed, the cover skills, and the swagger to be a No. 1 corner at the next level. He's so young. There's much more to see from the guy, but there were moments of true flash.
12. Jordan Jenkins, OLB, Georgia, Junior: Jenkins was supposed to fill in for Jarvis Jones and not miss a step in UGA's 3-4 OLB spot last year. It didn't happen. He had just 4 sacks. But he was just a sophomore and all the talent in the world is there. He tied for the Georgia lead in tackles for a loss with 11, but I'd expect a huge year after an offseason spent training with a speed coach. He can fly. He just needs to figure it all out. Circle this name.
13. Cedric Ogbuehi, OT, Texas A&M, Senior: There's talk that if Ogbuehi came out this year, he would have been taken even higher than teammate Jake Matthews. I don't think he's quite the prospect Matthews is, but there is considerable upside here. How about TAMU -- the new Offensive Tackle U?
14. Leonard Williams, DE, USC, Junior: Williams worked under Ed Orgeron last year. Orgeron, of course, is responsible for coaching Warren Sapp, Cortez Kennedy and Jurrell Casey in college. An impressive interior defensive lineman, he was the 2012 Pac-12 Defensive Rookie of the Year.
15. Shilique Calhoun, DE, Michigan State, Sophomore: The reigning Big Ten Defensive Lineman of the Year will be a redshirt sophomore this season. In his first year as a defensive end last season, Calhoun was all over the field. A 6-foot-4, 260 pound Jersey Shore native, he could be a top-20 pick next year.
16. Brandon Scherff, OT, Iowa, Senior: Iowa offensive line coach Brian Ferentz has called Scherff the best offensive tackle in all of college football. A 6-foot-5, 315 pound mauler, Scherff is a grinder. Could probably move to guard at the next level if needed. Should be in the running for all the major awards.
17. Devonte Fields, DE, TCU, Sophomore: Fields was a four-star recruit out of high school and the 6-foot-4, 250 pounder was a breakout star in 2012. He missed last year and was a medical redshirt. He'll be back in 2014 and has the chance to build upon a 10-sack season two years ago.  Freak athlete with big upside. Could go as high as the top five if he plays as well as I think he can next year.
18. Ifo Ekpre-Olomu, CB, Oregon, Senior: I was a little surprised Ekpre-Olomu returned to school this year, as I thought he'd be a first-round pick if he came out. He'll get his degree and a chance to rise up draft boards. Not a huge corner -- that's the rage now -- but a great one. He's 5-foot-10, 185 pounds, fast and physical.
19. Bryce Petty, QB, Baylor, Senior: Petty is the fourth quarterback in what might be a "three amigos" type quarterback draft class. The three underclassmen are going to get wall-to-wall coverage all year, but watch Petty put up better numbers than all of them. He's got the frame (6-foot-3) and coaching (Art Briles) to tempt several NFL teams to plug him in as a future NFL QB.
20. Ty Montgomery, WR, Stanford, Senior: Montgomery came back to Palo Alto for one more year and potentially a national championship run. The 2013 Walter Camp First Team All-American is a versatile kick return/pass catching specialist. He led the nation in kickoff return average last year and took two back for touchdowns. He also caught 61 passes. He's got the size and speed to be a playmaker at the next level.
21. La'el Collins, OT, LSU, Senior: Collins is a 6-foot-5, 315 pound returning All-SEC left tackle. He's not the sexiest name on the board, but I know more than a few scouts loved what they saw out of him last year. The presence of SEC stars Cyrus Kouandjio, Greg Robinson, Jake Matthews and teammate Trai Turner took a lot of the attention away from Collins. I think he stars in 2014.
22. Kurtis Drummond, Safety, Michigan State, Senior: Our third MSU defensive player in the Top 25. Drummond's got the size, the skills and the flexibility to be a first-round safety next May. The likely team captain next year, expect some big hits and a few pick-sixes. Earl Thomas mold.
23. Devin Funchess, TE, Michigan, Junior: Funchess isn't the athlete that Eric Ebron is and doesn't have the hands of a Jace Amaro, but he's my top tight end prospect for next year. Just a junior this season, there's so much more to see. The 6-foot-5, 240 pound pass retriever was named the conference's best tight end a season ago. Athletic, hard-working, with loads of potential. Fits the mold for the new brand of NFL tight end.
24. Dorial Green-Beckham, WR, Missouri, Junior: This is all about off-the-field stuff. He's already been dismissed from the team this past April. But ... and yes, it's a huge but, the 6-foot-6, 225 pound pass catcher could be the next Andre Johnson. A towering presence with incredible athletic burst, he was a star for Mizzou last year. He just needs to get his life straightened out off the field.
25. Amari Cooper, WR, Alabama, Junior: Cooper's caught over 100 balls the last two seasons combined and has rare athletic ability. Size -- he's just 6-foot-1 -- may be an issue, but it didn't hurt Sammy Watkins from going No. 4 overall. He'll rip it in the 40-yard dash. Let's see how he does without AJ McCarron throwing him balls.
26. Carl Davis, DT, Iowa, Senior: Davis, a stout 315 pound run stuffer probably would have been a Day 2 selection had he entered the 2014 NFL Draft. In 2015, he should go Day 1. Still a lot of room for improvement and already pretty darn good, he'll be in the running for all the defensive line awards next season.
27. Sean Mannion, QB, Oregon State, Senior: You probably haven't read a lot about Mannion as an NFL prospect, but he's my dark horse for next year's class. He's got NFL size (6-foot-5), has NFL accuracy, and is coached by a former NFL head coach in Mike Riley. Not the most nimble or mobile quarterback, but he's a big body who's won some big games. Someone was throwing Brandin Cooks all those passes. That someone was Mannion.
28. Andrus Peat, OT, Stanford, Junior: Peat's a big body with a big future. Only a sophomore in 2013, he was overshadowed by teammate David Yankey this year, but he's a mauler with bigger NFL potential. 6-foot-7, well-coached, and cerebral -- he could leave early and be a first-round guy.
29. Kyler Fackrell, OLB, Utah State, Junior: There will be more smaller school guys on this list by the fall, but for now, the one mid-major talent I could see rising up boards is Fackrell. Still only a junior, the 6-foot-5, 245 pound pass rusher had five sacks and 12 tackles for a loss last year. Any time you pop on Utah State tape, he stands out. He's all over the field. More to come from this guy. Perfect 3-4, OLB.
30. Nelson Agholor, WR, USC, Junior: Robert Woods was a second-round pick. Marqise Lee was a second-round pick. I see Agholor, the next USC pass catcher in line, to be a first-round talent. Capable of being a game-breaking kick and punt returner, as well as a go-to wide receiver, the 6-foot dynamo caught 51 passes for 824 yards last year. With one quarterback, one head coach, and one system -- he should elevate those numbers and his statistics dramatically this year.
31. Markus Golden, DE/OLB, Missouri, Senior: He was overshadowed by Michael Sam and Kony Ealy last year, but Golden still recorded 6.5 sacks and has the size and speed to be an NFL first-rounder. One of the SEC's best edge rushers, he's 6-foot-3, 260 pounds and can get to the quarterback. 
32. Ellis McCarthy, DT, UCLA, Junior: A 6-foot-5 , 330 pound defensive tackle, McCarthy was primarily a run stuffer in his first two seasons. Year 3 should be the breakout. He already won the team's Most Improved Player award in 2013. Had four tackles for a loss and two sacks last year. Expect plenty more in 2014. 
---
---