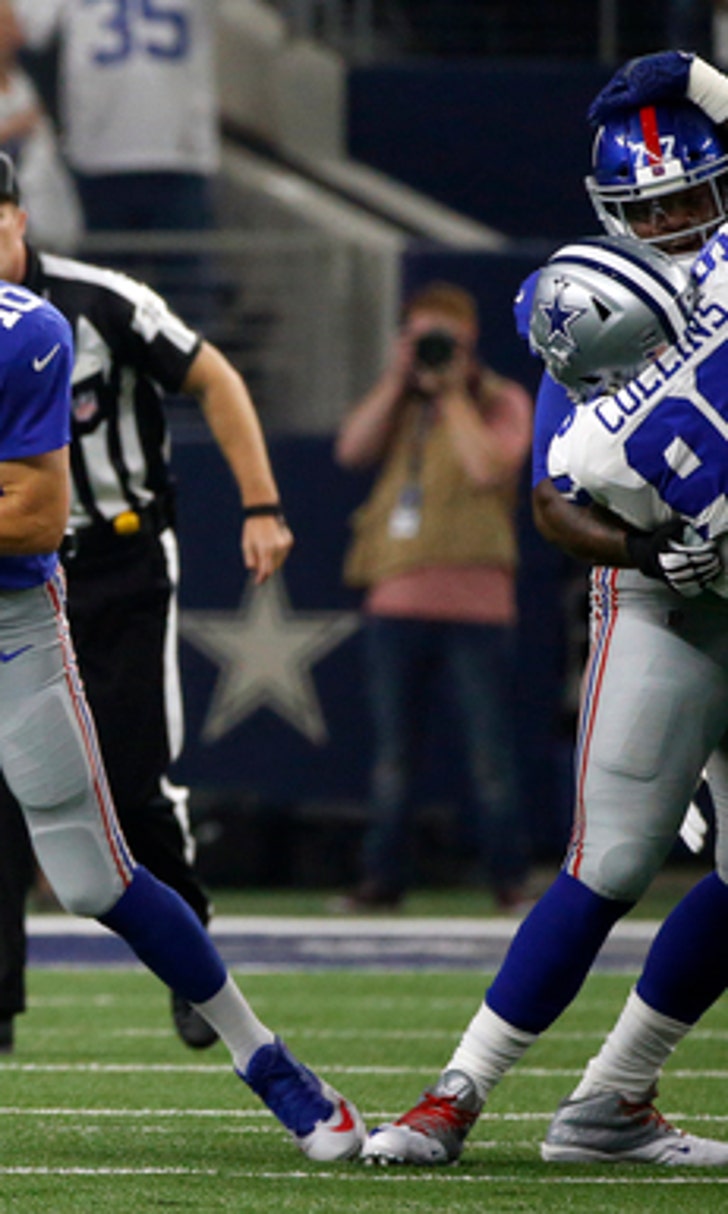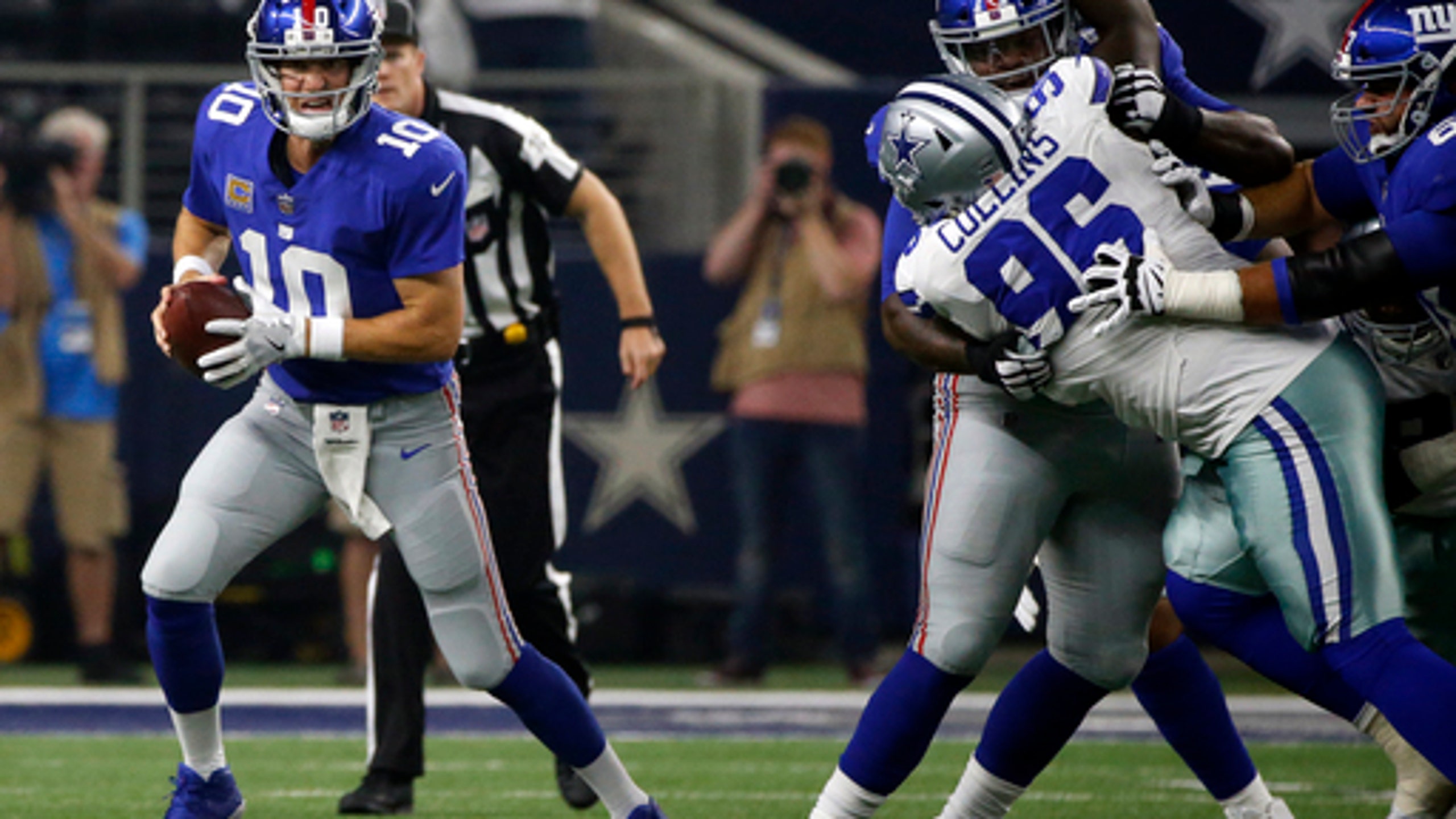 Missing Beckham: Manning, Giants struggle in opening loss
BY AP • September 11, 2017
ARLINGTON, Texas (AP) Eli Manning was missing his best option in his 200th consecutive start for the New York Giants.
And without still-hobbled receiver Odell Beckham Jr. to catch passes, the Giants offense sputtered in another season-opening loss against the NFC East rival Dallas Cowboys.
''Obviously, he's a tremendous player,'' Manning said. ''We've got players. We've got to play better than that.''
The Giants' running game was a non-factor, veteran receiver Brandon Marshall had a big drop in the open field that might have produced a first down during an early fourth-quarter drive and Manning found himself under pressure often in a 19-3 loss Sunday night.
''You can't just point the finger at one person or one position when you have an outing like that,'' coach Ben McAdoo said. ''We didn't function at a high level.''
Beckham, who last season had a career-high 101 catches for 1,367 yards and 10 touchdowns, missed the opener because of a sprained left ankle sustained in a preseason game Aug. 21. The three-time Pro Bowl pick went through some pregame drills, but McAdoo said it was a medical decision to hold the receiver out.
''We have plenty of players who can make plays on the offense outside of Odell. That's no excuse,'' the coach said. ''No one got going.''
The Giants finished with 233 total yards. They had only two first downs before halftime, and punted on all five drives - before Manning kneeled down on the final play after Dan Bailey's 42-yard field goal with five seconds left put Dallas up 16-0.
Marshall, the veteran receiver targeted four times, had only one catch for 10 yards in the final minute of the game. He was in the open field when he had a drop on third-and-12 with just under 13 points left.
Manning has started every Giants game since Week 10 of his rookie season in 2004. Brett Favre and brother Peyton Manning are the only other NFL quarterbacks who have started 200 consecutive games.
Favre had 297 consecutive starts for Green Bay, the New York Jets and Minnesota from the fourth game of 1992 through the 12th game of 2010. Peyton Manning had 208 straight starts covering all 13 of his seasons with Indianapolis before neck surgery sidelined him the entire 2011 season.
There have been much better days for the Giants quarterback who has won two Super Bowls - and been the MVP in both of those games.
This opener was no signature moment, like when Manning signed his name on the wall in the visiting locker room after the Giants won 33-31 in the first-ever NFL regular-season game played at JerryWorld eight years ago during a Week 2 primetime game.
New York started 2016 with a win at AT&T Stadium, but that is the only time in Manning's six openers against Dallas that he got a victory. All but one of those games were on the road - the Cowboys won the 2012 opener at MetLife Stadium.
Manning was 29-of-38 passing for 220 yards and one interception. That pick came midway through the fourth quarter on the next play after his game-long 31-yard completion to rookie tight end Evan Engram, who like Manning played at Ole Miss.
''The whole offense needs to make improvements, starting with me,'' Manning said. ''I've got do a better job, get better prepared. I'll start with me and go from there.''
Still, Manning is going to need some help. With or without Beckham.
---
More AP NFL: www.pro32.ap.org and http://twitter.com/AP-NFL
---
---