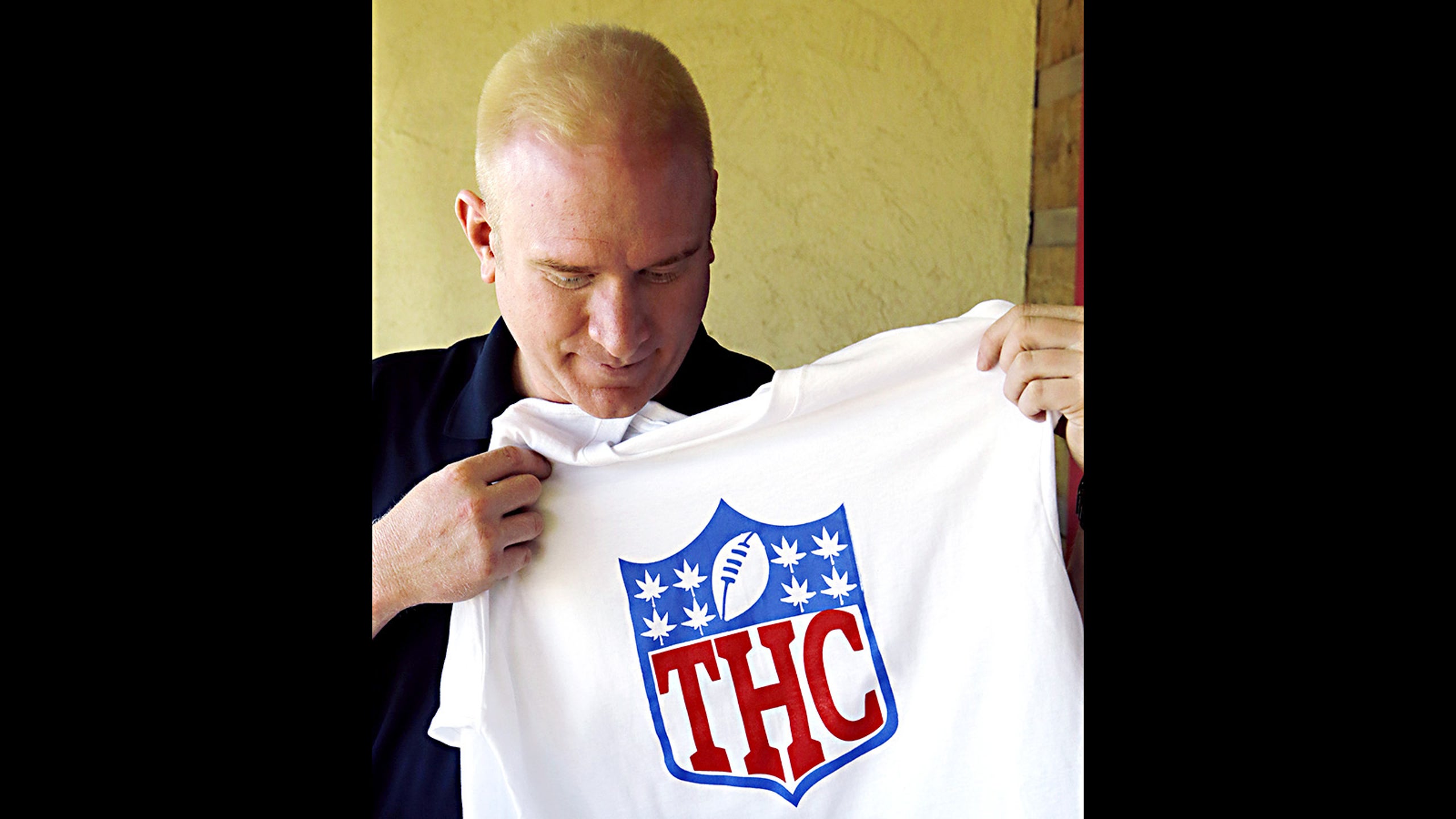 Marijuana the Super Bowl storyline that won't go away
BY foxsports • January 28, 2014
As the Super Bowl draws nearer, the anticipation for the matchup of the league's top offense vs. the league's top defense grows.
But growing nearly as quickly in New York? The shadow marijuana is casting over the big game.
Less than a week after NFL commissioner Roger Goodell said he would be open to marijuana as an option to treat head injuries should the science support it, the issue again came to the forefront Monday.
Only two states currently allow legal recreational use of marijuana — Colorado and Washington, the home states of the AFC and NFC champions — so use of the drug as a talking point in Super Bowl Week is little surprise. On Monday, Seattle Seahawks head coach Pete Carroll sounded off on the topic, telling the media in New Jersey that, regardless of the stigmas involved, the medicinal value of the drug should be examined, "because the world of medicine is trying to do the exact same thing and figure it out and they're coming to some conclusions."
Of course, it is Super Bowl Week, where not all the news is of the serious variety. And this subject is no different.
We present the case of Bryan Weinman.
Two weeks ago, the nightclub DJ and a few buddies were sitting at a sports bar in Denver, joking about how funny it would be if the Seahawks and Broncos made it to Super Bowl XLVIII. They decided to plunk down a $44 wager — the fee for registering the Internet domain www.stonerbowl.org — just before the Seahawks and Broncos won their conference championships.
It paid off. They're now using the site to hawk T-shirts and hats celebrating the coincidence. One shirt features the Vince Lombardi Trophy, reserved for the game's victors, refashioned into a bong. Another features a spoof of the league's logo, with the letters "THC" — for marijuana's active compound — replacing "NFL."
From weed-themed Super Bowl parties to a Denver company's "Stoner Bowl" tours of recreational pot shops, this year's Super Bowl offers a twist on a sporting event better known for its beer commercials. Thanks to the recreational marijuana laws passed by voters in 2012, sales of taxed pot to adults over 21 began at Colorado pot shops Jan. 1 and are due to begin in Washington later this year.
There have been a slew of predictable, ready-made puns, most of which have to do with "bowl" being the part of the pipe where pot goes. Some fans have issued not-quite-serious calls for a cannabis-friendly musician — say, Willie Nelson or Snoop Dogg — to sing the national anthem.
"I'm staying home and will be watching the Super Bowl while I light up my own Super Bowl," well-known stoner Tommy Chong, of the comedy duo Cheech and Chong, wrote on its Facebook page. The pair released a publicity photo doctored to show Chong in a Seahawks headband and Cheech Marin in a knit Broncos hat.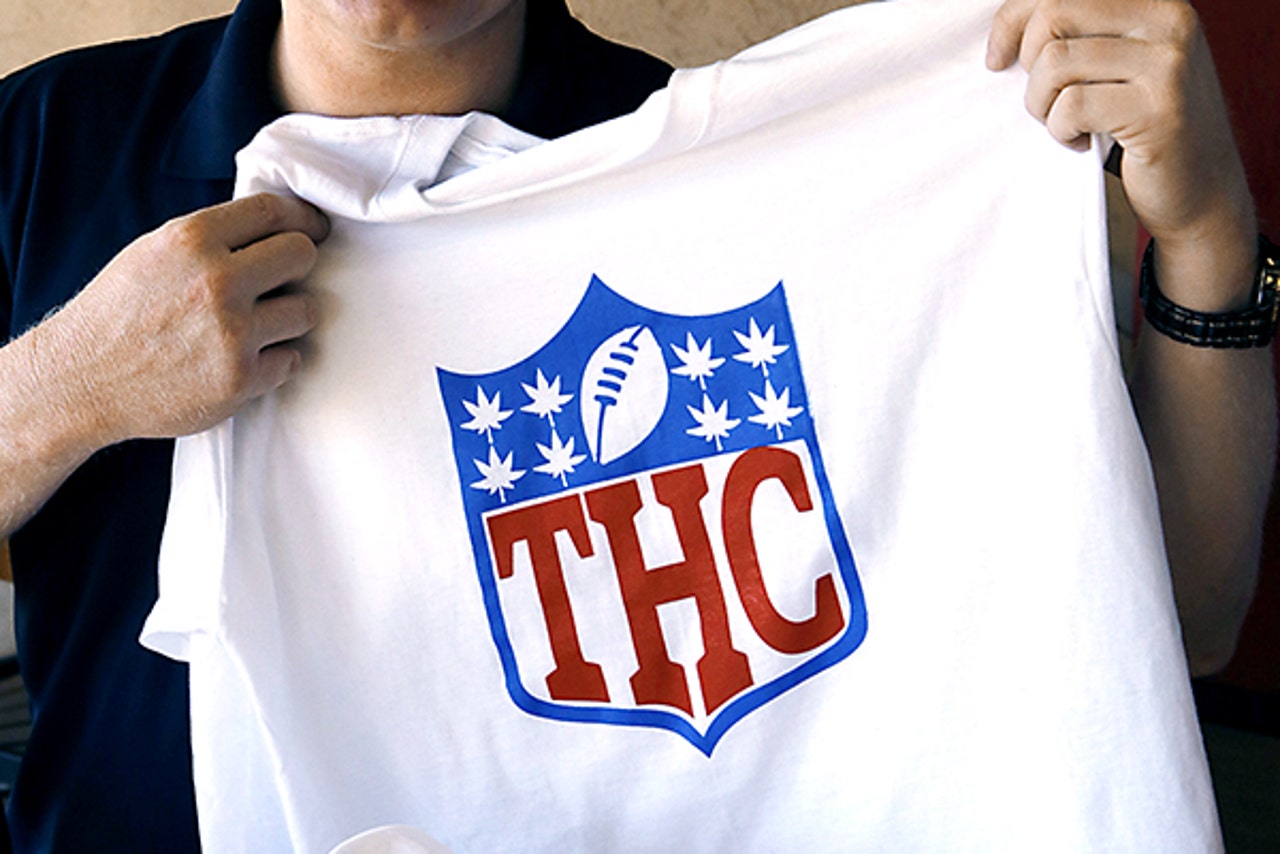 Bryan Weinman turned a bet into a business venture — stonerbowl.org and its memorabilia like this shirt. With teams from states that allow recreational marijuana use playing in the Super Bowl, marijuana has become a big talking point this week.
The Washington chapter of NORML, the National Organization for the Reform of Marijuana Laws, said it would be rooting on the "THC-Hawks." It made a friendly bet with Colorado NORML for what they're calling "Bud Bowl XLVIII."
If Denver wins, the Washington chapter has to dress in Broncos colors and sing John Denver's "Rocky Mountain High." If Seattle wins, the Colorado chapter must dress in Seahawks colors and sing "Purple Haze," by Seattle native Jimi Hendrix. Video evidence is to be posted on the winner's Facebook page for at least a week.
In deference to the importance of good officiating, High Times magazine offered a guide to spotting "Stoner Bowl" party fouls, including the offense of "holding": "When the violator takes, two, three, maybe eight hits before passing the joint."
On Twitter, People for the Ethical Treatment of Animals promoted its recipe for vegan "Colorado catnip" brownies, with caveats: "Note: This recipe is for humans only. Also note: This recipe is for legally obtained marijuana. PETA does not condone the purchase or sale of illegal drugs."
At the sports bar, Weinman, 35, and his friends scribbled down their T-shirt ideas — first on coasters, and then paper. Their motto: "One team and a lot of fans are gonna get smoked."
"There's so many easy jokes," he said. "I hope the average person finds comedy in what we're doing."
Even if the average person might, it's not clear the NFL does. "We do not have any response," league spokesman Greg Aiello wrote in an email.
Derek Franklin, president of the Washington Association for Substance Abuse and Violence Prevention, said all the attention about the "Weed Bowl or the Bong Bowl, what have you, it drives home the wrong public health message."
He noted that Washington NORML's Facebook page featured a cartoonish version of the Seahawks logo, with bloodshot eyes and a joint in its beak.
"That's the kind of thing that for kids, it's going to stick in their heads," he said. This Super Bowl is "incredible for the 'Hawks, but tough for those of us in prevention."
Medical marijuana advocates also suggested the joking over the big game underscores a serious issue: The NFL doesn't allow its players, even those in states that have approved medical or recreational marijuana, to use it to ease the pain from the beatings they take on the field. Commissioner Roger Goodell said Thursday the league could reconsider that.
"I'm not a medical expert," he said. "We will follow science. We will follow medicine. If they determine this is a proper method, we would consider it. Our medical experts are not saying that right now."
Among those hoping to make a buck on the Denver-Seattle matchup is Matt Brown, co-founder of My 420 Tours in Denver. The company is offering a three-night "Stoner Bowl" package starting at $1,409. It includes tours of local marijuana shops and indoor gardens, lots of free samples, a cannabis cooking class and a private viewing party for the game.
Brown, who grew up in Kansas City and has mixed loyalties between the Chiefs and the Broncos, said he expected about 50 customers.
"We've been joking about the 'Stoner Bowl' for a couple weeks now," he said.
—The Associated Press contributed to this report
---
---