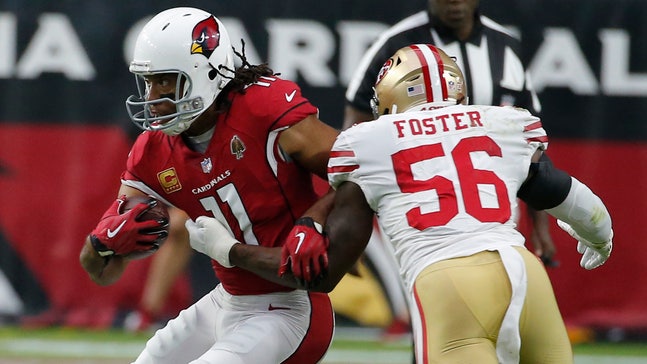 Larry Fitzgerald closing in on yards receiving milestone
Updated
Mar. 4, 2020 8:27 p.m. ET
TEMPE, Ariz. (AP) — Larry Fitzgerald is closing in on another milestone, and it's an impressive one.
The 35-year-old receiver needs to catch just 33 yards worth of passes Sunday at Kansas City to move past Hall of Famer Terrell Owens into second place on the NFL's all-time yards receiving list.
As usual, Fitzgerald brushed aside talk of the milestone in his weekly meeting with the media Thursday.
"Honestly, I don't really think about it," he said.
Modesty aside, there's no doubt that Fitzgerald is very aware of his place among the greats in the game.
Halfway through his 15th season, Fitzgerald has 15,902 yards receiving, behind Owens' 15,934 and Jerry Rice's phenomenal 22,895.
Fitzgerald needs 58 catches to pass Tony Gonzalez for second on the NFL career receptions list. Fitzgerald has 1,268 catches to Gonzalez's 1,325 and Rice's 1,549.
Fitzgerald also is closing in on Rice's record for receptions with one team. Fitzgerald, who has spent his entire career with the Cardinals, needs 14 receptions to pass the 1,281 catches Rice had with the San Francisco 49ers.
There are numbers that Fitzgerald will talk about with pride, and that's what he's accomplished in the postseason.
He has 942 yards receiving in nine postseason games, most of any player in his first nine playoff contests. His three 150-yard playoff receiving games are most in NFL history. His five 100-yard games are tied for third all-time, behind Michael Irvin and Rice. Fitzgerald is tied for third in postseason TD receptions (10), behind John Stallworth and Rice. And Fitzgerald did it in only nine games.
Fitzgerald's performance in Arizona's surprise run to the Super Bowl in the 2008 season shattered NFL records for yards receiving (546), receptions (30) and touchdowns (7).
In Arizona's divisional game against Green Bay in 2015, Fitzgerald caught eight passes for 176 yards, including the two biggest plays of overtime. He is the only player in NFL history to average at least 100 yards receiving and a touchdown in every postseason game.
"I think every player wants to be at their best in the biggest moments," Fitzgerald said. "I think my numbers in the playoffs say that I'm a guy who steps up in the bigger moments. I think that's something you look at the greats in history, the Jerry Rices and the Michael Jordans and the Kobe Bryants, the Reggie Jacksons of the world, those guys , when their teams needed them the most, they were able to find something to make a difference in the games."
But Fitzgerald may never appear in the playoffs again.
The Cardinals limp into Kansas City at 2-6 and Fitzgerald repeated Thursday that he hasn't decided whether this is his last season. It's hard to imagine him ever playing for another team.
Fitzgerald has been conspicuously absent from the statistics as the Arizona offense sputtered through seven games, leading to the firing of offensive coordinator Mike McCoy. With Byron Leftwich as the new coordinator, Fitzgerald had his best game of the year in the team's 18-15 victory over San Francisco two weekends ago, catching eight passes for 102 yards and a touchdown, just his second of the season.
Notes: S Budda Baker, a critical component of Arizona's defense, did not practice Thursday due to a foot injury. He was not on the injury report Wednesday. He was the only player who did not practice on Thursday.
---
---