Kirk Cousins choked away the playoffs, but the Redskins should still give him $100 million
BY Chris Chase • January 1, 2017
When it meant the most, when the team he'd led all season, setting records along the way, played the only game that mattered, Kirk Cousins looked nothing like a franchise quarterback who should be commanding a nine-figure contract two months from now. But despite Cousins having his worst performance of the season in the Washington Redskins' do-or-die, 19-10 death to the New York Giants -- and despite what you'll hear from the knee-jerk armchair general managing this week and beyond -- his market value is unchanged.

Cousins will be back in Washington, for somewhere in the area of -- and this is just a guess -- $100 million with $55 million guaranteed. That's the market, and unless the Redskins have an alternate plan in mind -- which they don't -- Dan Snyder is going to have to cut that check.

Up until Sunday, Cousins had thrown for 4,630 yards with a 67.3 percent completion rate, 24 TDs, 10 interceptions and a 98.6 rating and took a team with one of the worst defenses in the league on a wild ride that fell a field-goal short of giving the Redskins their first back-to-back playoff berths since Joe Gibbs' final season -- the first time (1992). What he did Sunday (22-for-35, 287 yards, one TD, two interceptions, four sacks, 74.3 rating and the season-ending interception with the 'Skins 10 yards out of range of what would have been a game-tying field goal) will be talked about ad nauseam on cable TV debate shows, D.C. radio and in Washington bars, restaurants, offices and homes. It'll completely overshadow those first 15 weeks, and it's not totally irrational to believe that it should.

If you can't play well in the big game, then you have a ceiling, and if you have a ceiling then how can a team justify taking up most of its cap space (when there are needs at almost every position) on a guy who might get you to the wild-card round every year? How can you pay Andy Dalton like he's Aaron Rodgers?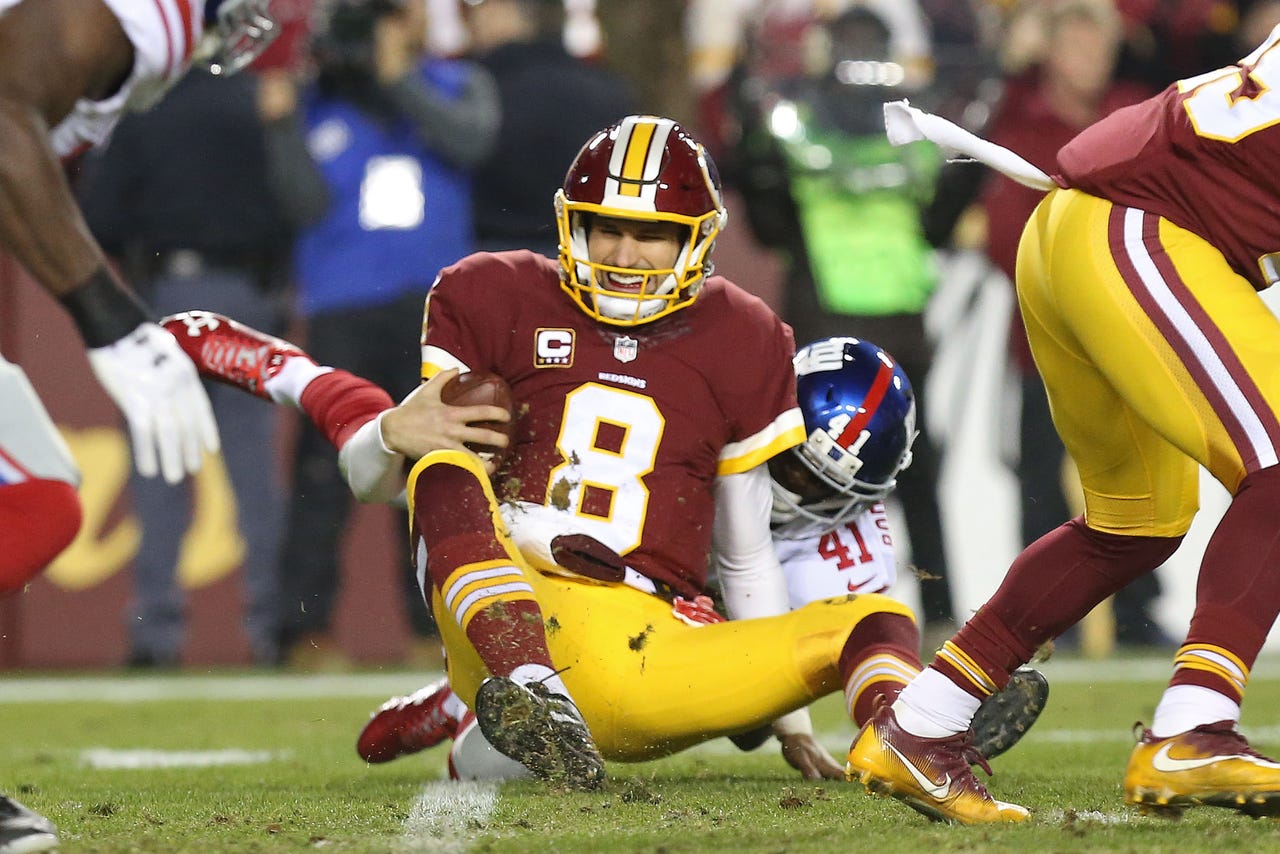 Cousins was off from the start Sunday, and it was noticeable in all facets of his game. If he wasn't overthrowing wide-open receivers he was completely missing the fact they were sprinting in the middle of the field without a white jersey in the vicinity. He played shellshocked after a couple early sacks, failing to go through his progressions, checking down at the first opportunity, and he stubbornly tried to make the difficult play instead of settling for a simple one that would have netted 4 or 5 yards. And until Washington got its first points of the game late in the third quarter, Cousins played each series like he was trying to make up the whole 10-point deficit on one throw.

It was there for the taking. The Giants played so conservatively in the second half you began to wonder whether Ben McAdoo would pull a white flag from his sock. They started the third quarter by going for it on fourth-and-2 from the Redskins' 16, a decision that no team playing to win would ever make. On its next four possessions, New York went three-and-out every time. It wasn't until Eli Manning's 44-yard pass to Taverres King with 4:02 left and the game tied that it appeared the Giants gave a crap about the end result of the game. And even then, Washington couldn't take advantage.

The Redskins, who, again, were playing a win-or-go-home game, had moments where they didn't appear to care, either. In the most baffling sequence of the season, Washington got the ball on its own 27-yard line with 39 seconds left in the first half and all three of its timeouts. After a short pass to Chris Thompson, Cousins walked to the line of scrimmage without any urgency, time ticking off the clock while there was still that "3" in the timeouts column, and took the second-down snap with 15 seconds left, a full 21 seconds after the last play had ended.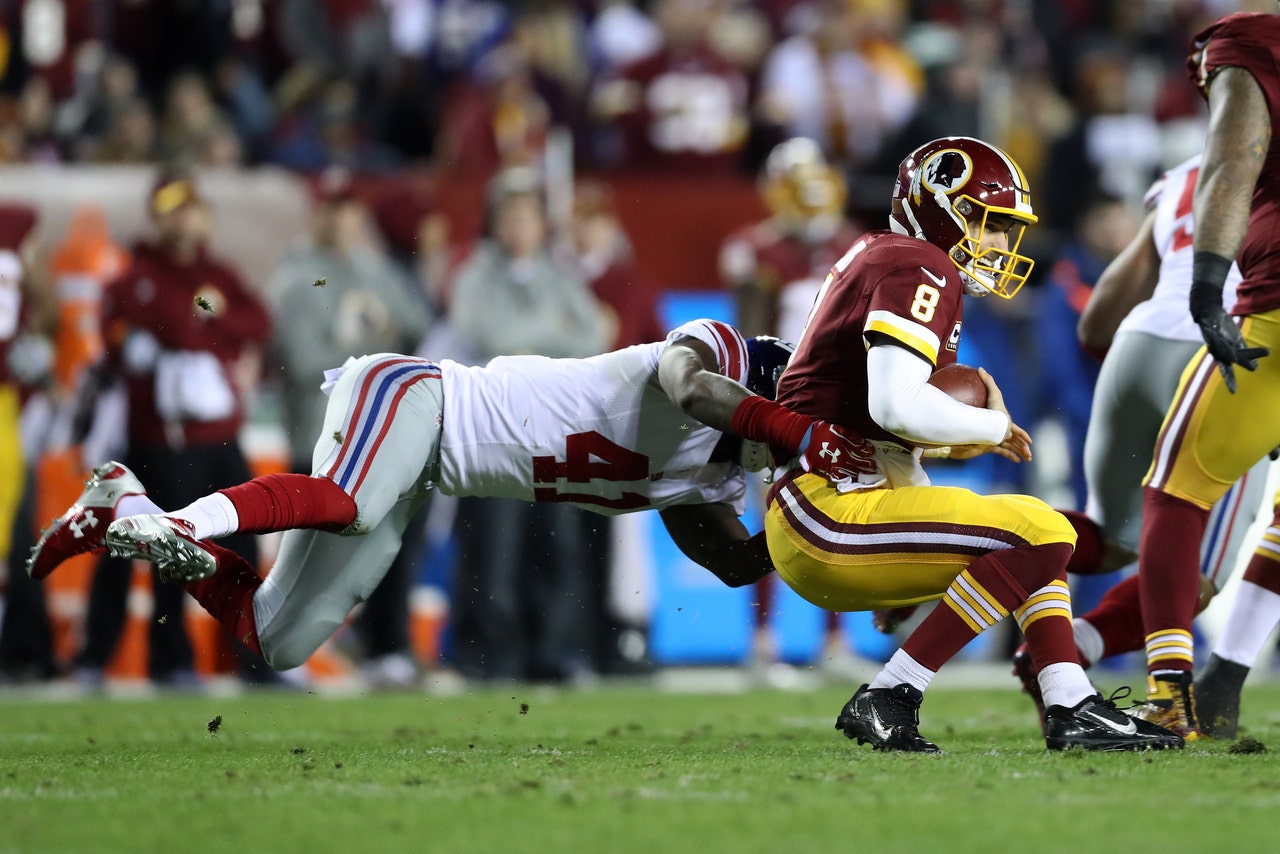 On that play, the Redskins got a first down and called timeout. On the next play, Cousins threw one of his best passes of the day to DeSean Jackson, who quickly fell at the Giants' 39 so Washington could attempt a field goal with 1 second remaining. Dustin Hopkins, the NFL leader in missed field goals, then attempted a 57-yarder that was 4 yards longer than his season best. It went predictably. With a timeout at the start, Washington would have had plenty of time to get into reasonable field-goal range. (That Hopkins still would have probably missed shouldn't ruin this hypothetical.) The whole series was baffling. If they wanted to take a knee, fine, take a knee. They might have heard some boo birds, but at least it's an ethos. To half-play the series, though? It was as if they were trying to copy the Giants' Week 17 identity crisis.

Cousins' second interception, the one that sealed the game, came on a play that's exactly like the ones the anti-Kirk faction cites as a reason he shouldn't get big money. It was rushed, ill-conceived and horribly executed. He cocked his arm, ducked his head to avoid a sack that wasn't coming, pulled his arm down and then, with his momentum pushing him forward, threw the ball flat-footed. Without any oomph on the ball, it fluttered into the hands of Dominique Rodgers-Cromartie, thus ending the Redskins season. Bad decision, bad throw, worst time. Exhibits 1, 2 and 3, your honor.




To blame Cousins for the whole debacle is, of course, unfair. If he was out of sorts, then the Redskins were in a full-fledged panic. Everything they did in the opening series of the game (win the toss and take the ball, Jordan Reed catching a pass on second down and needing only to fall down to get a first but opting instead to spin around in an attempt to get a few more yards and running third-and-1 from the I-formation) was the exact opposite of what got Washington within 60 minutes of a playoff berth. Plays were called that depended on Vernon Davis or Ryan Grant blocking. Passes were drawn up for rookie Maurice Harris, he of the seven-reception season. (One of those was picked.) Jamison Crowder, Washington's breakout receiving star in 2016, caught two balls and was left wide open on two separate occasions, once in the end zone. Jackson only had one other catch in the game after his end-of-half grab. The team had 19 rushing yards through three quarters and only 38 overall. The defense continued to play third-downs like the first-down line was an open border. On New York's sole offensive touchdown, Rashad Jennings went into the end zone untouched from the jumbo package. It was all bad.

Still, the loss belongs to Cousins, the same way a win, a win that should have come so easily, would have. It's a loss fraught with more meaning than most: a missed playoff berth, questions about the coaching staff and an offseason that doesn't just see Cousins as a free agent but his two best targets - Pierre Garçon and DeSean Jackson - too, among others. With one bad throw, Cousins threw so much into doubt.

But wasn't that going to be the scenario no matter what? Unless the Redskins somehow would have won the Super Bowl (leading to a Joe Flacco contract), the season was almost certainly going to end with Kirk Cousins having a disappointing game. The question was aways going to remain a question until the Redskins either franchised Cousins, signed Cousins or let Cousins go elsewhere. There was no way around it.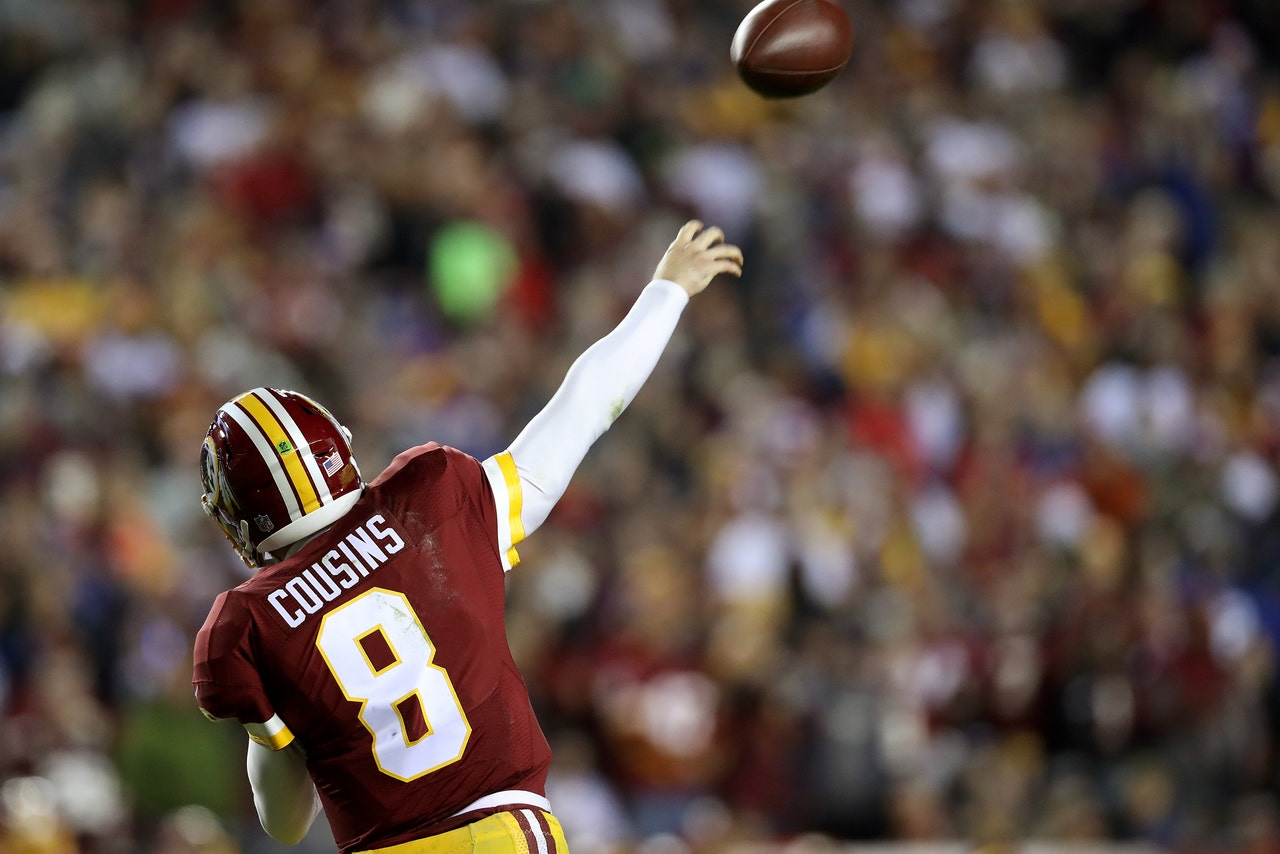 There should be little discussion about how to proceed. Barring Cousins demanding an ownership share or points on the back-end of merchandise sales, the Redskins have to re-sign him. It's a no-brainer. With the exception of three quarterbacks Joe Gibbs turned into one-hit wonders, Washington hasn't had a real QB since LT snapped Joe Thiesmann's leg. Let Cousins walk and the alternative is to keep wandering in that football desert along with the Browns, Jaguars, Texans and Jets, hoping and praying that the next guy isn't the next ex-guy, knowing what the odds say about such things.

Cousins may have a ceiling, but at least there's a foundation. And if GM Scot McCloughan can get a defense that even resembles the one he helped created in Seattle, there's no reason Cousins couldn't be a Super Bowl quarterback. If Flacco and Manning The Younger can hoist a trophy, why not Kirk?

"It's really not my decision to make," Cousins said about his future in Washington (via WTOP). "Right now, the ball's not in my court."

The ball was in his court on Sunday and Kirk Cousins threw it over the fence. He'll still get paid and he'll deserve it, even though the memory of Sunday's collapse won't soon fade.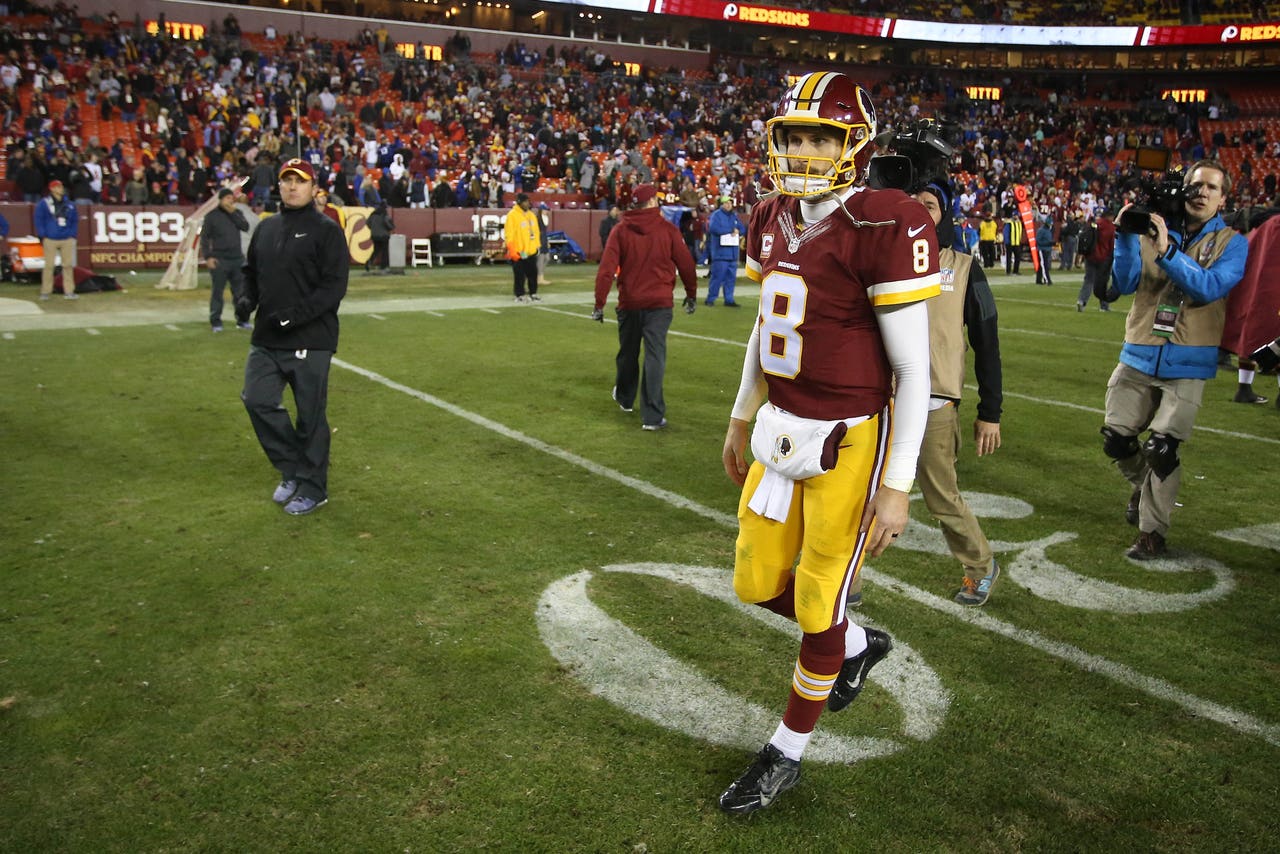 ---
---