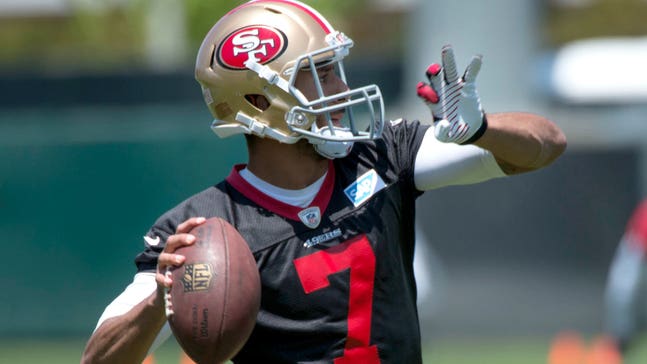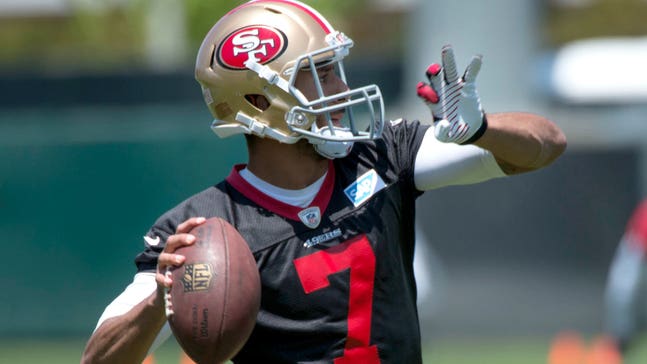 Kaepernick wasn't gambling when he took 49ers' deal
Updated
Mar. 5, 2020 12:21 a.m. ET

Now that the real numbers are in on Colin Kaepernick's new contract, there's a notion making the rounds that the San Francisco 49ers quarterback bet on himself by taking a deal with a small percentage of it fully guaranteed.
That assessment is both inaccurate and unfair.
As ProFootballTalk.com reported early Thursday morning, and as FOX Sports has confirmed, Kaepernick received a little more than $13 million in fully guaranteed money. The rest of the $61 million in guarantees that was reported shortly after the deal was struck Wednesday is guaranteed for injury only.
The 49ers are on the hook for that initial $13 million this year. After that, they get to decide before April 1 in each of the next three years whether they want to cut Kaepernick or guarantee that year's salary ($12.4 million in 2015, $13.9 million in 2016 and a little more than $5 million of his $16.5 million salary in 2017). It's a very team-friendly deal for a player who has taken the franchise deep into the postseason in each of the past two years but doesn't have a long track record of individual success.
But to say Kaepernick's accepting that deal is gambling on his future success isn't an entirely correct assessment. If he wanted to gamble, he'd have played out this current year on his rookie deal, which would've paid him $973,766 for 2014. Now that would've been taking a risk.
At that point, assuming he would have had a season in line with the past two for both him and the team, the 49ers would've given Kaepernick the franchise tag for roughly $17 million. That would've been a great starting point for Kaepernick's agents to negotiate a long-term contract with full guarantees for multiple years, a la the recent deals for Tony Romo, Matt Ryan, Jay Cutler and others to which many were quick to compare Kaepernick's deal.
But Kaepernick wasn't interested in waiting to gain such leverage.
Per a source familiar with the negotiations, the former second-round pick realized he was signing a deal that gave the Niners chances to cut him before paying a large percentage of the overall value. But the source said Kaepernick doesn't foresee his skills declining and therefore cared only to protect himself against injury. He accepted a deal with the upside to pay him $126 million in "new money" over six seasons, though the team will get back $125,000 for each game Kaepernick misses because he has $2 million in roster bonuses in each of the next six seasons that are paid on a per-game basis.
Kaepernick also has annual $2 million de-escalators that can chop off a total of $12 million from the total value of the deal. He can stop those de-escalators as soon as this year by taking 80 percent of the snaps in a single season and either starting the Super Bowl or being named a first- or second-team All-Pro. Considering how tough those last two accomplishments are, that was a wise way for the 49ers to save some money going forward.
But again, by no means is this a gamble for Kaepernick. Joe Flacco gambled when he waited to a sign a deal the summer before winning the Super Bowl. But Flacco had more than $6 million coming his way. So to compare his betting on himself to a potential risk for Kaepernick is unfair.
Kaepernick could've dragged out negotiations a little longer, though. If talks had lasted into training camp and toward the start of the regular season, there might have been more public pressure on the team to get a deal done. Perhaps then, Kaepernick would've avoided the de-escalators and gotten more money fully guaranteed. But he, his agents and family have had a good relationship with the organization so far and that will certainly continue for the foreseeable future.
Plus, Kaepernick is set to bank $27.8 million total by the end of the 2015 season. That's about $10 million more than he would've gotten via his rookie deal and one year on the franchise tag. That's a big win for him and his agents.
As for what this means for quarterbacks going forward, well, the 49ers just laid out the blueprint for how to pay a player who has been impressive early in his career but isn't as established as some other QBs. And such a boiler plate was needed because the NFL hadn't seen so many young, NFL-ready quarterbacks find success early in their careers until this recent crop arrived. So this is relatively new territory for teams, who had gotten used to paying first-round quarterbacks at the end of six-year monster deals under the old collective bargaining agreement. By that point, they had a much larger sample size with which to work.
What Kaepernick's deal announces to these young quarterbacks, who want to renegotiate sooner because of the reduced rookie rates under the new CBA, is that teams will write a contract that pays the big bucks if they're earned. But those clubs will feel the need to protect themselves in the process. Andrew Luck notwithstanding, many of these young passers will be faced with the dilemma of playing out their rookie deals to paltry salaries or taking the type of contract Kaepernick just signed.
For Kaepernick, the decision was apparently easy. For others, it might not be.
---
---