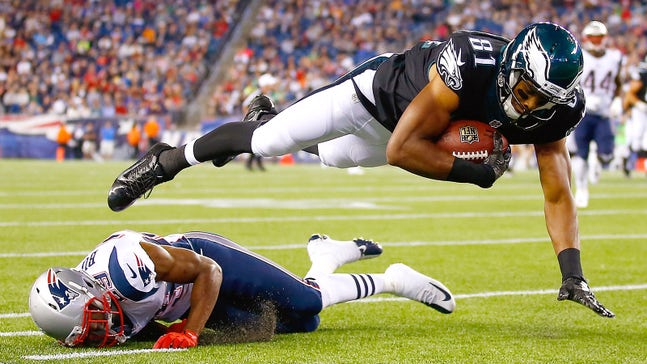 Jordan Matthews in line for breakout sophomore season
Published
May. 26, 2015 2:00 p.m. ET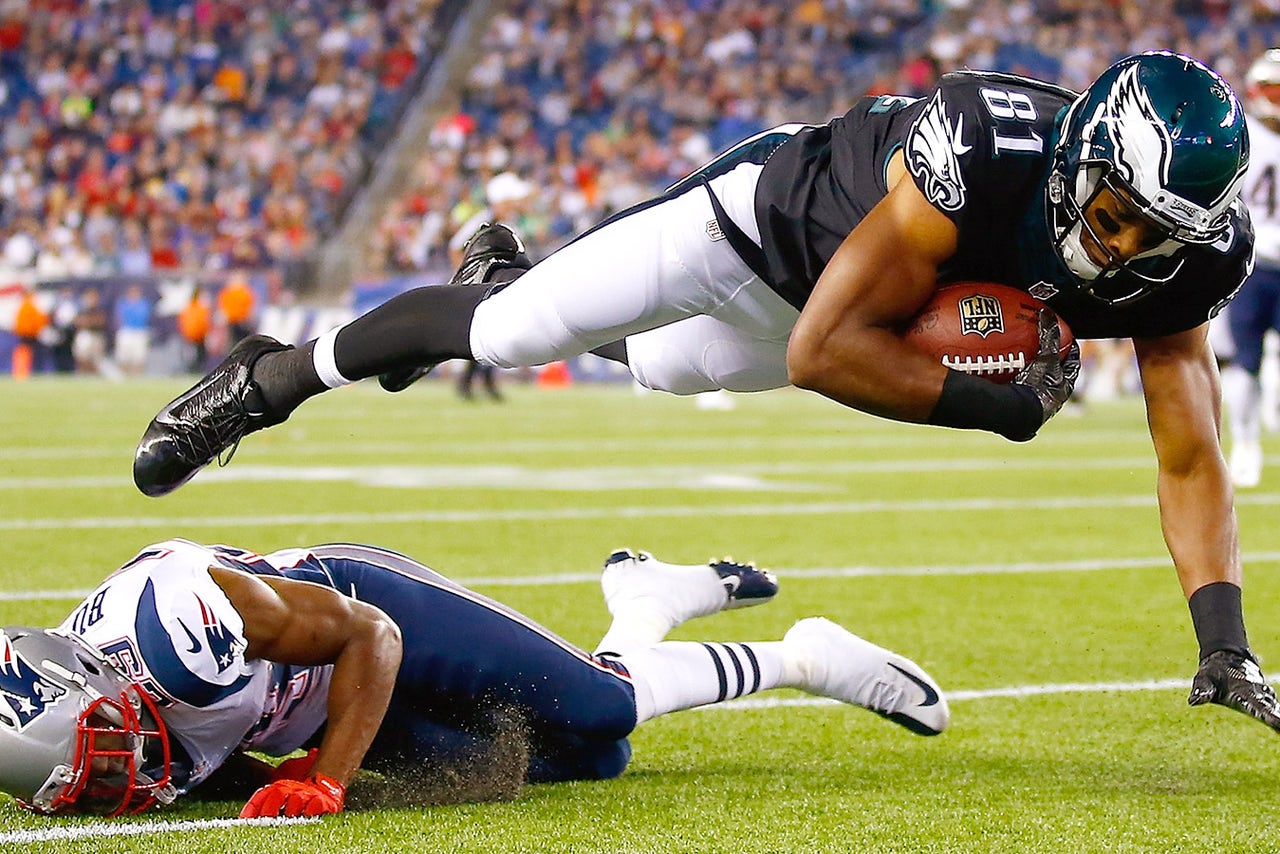 Second year Philadelphia Eagles wide receiver Jordan Matthews will enter the 2015 season with very high expectations. Matthews emerged as the Eagles' slot wide receiver as a rookie, and he finished with 872 yards receiving and eight touchdowns on 67 receptions. Now that Jeremy Maclin has left via free agency, Matthews has a chance to emerge as the Eagles' top receiving threat after finishing only behind Maclin from a production standpoint in 2014.
Despite the buzz surrounding Matthews' potential progression, he refuses to consider the "number one wide receiver" narrative to be anything more than something for the media to play around with.
"In all honesty, the type of offense we play in is very dynamic," Matthews Howard Eskin and the 94WIP Morning Show on Tuesday. "It's a lot of weapons out there, so you can't really say, 'Oh this guy is this option, this guy is this option.' I mean, if you go look at a depth chart, I think of our best players on the whole offense most people think he's a number three running back. I doubt that Darren Sproles is a quote-unquote number three running back."
Matthews is right. The Eagles' offense does tend to function in a spread-the-wealth like mentality, but that doesn't mean one pass catcher can't emerge. In 2014, Maclin finished with 140 targets, good for the seventh-most in the NFL. He finished with 1,318 receiving yards and 10 touchdowns on 85 receptions. Maclin also finished with the 15th-most yards per route run, according to Pro Football Focus.
Matthews is no stranger to being peppered with targets as the focal point of the passing game. If he does emerge as the leader of the pack for the Eagles at wide receiver, he can lean on his role at the collegiate level for guidance. Over his final two seasons at Vanderbilt, Matthews racked up a ridiculous 2,800 receiving yards and 15 touchdowns on 206 total receptions.
"I played at a college where it was more west coast, where we ran the same offense kind of the [San Francisco] 49ers ran," Matthews said. "Usually the "Z" was considered the number one receiver. I would never like to talk in that type of language, but that's just what it is.
With another year in Chip Kelly's offensive scheme, Matthews has the upside to bolster his production in all major areas. Learning a new offense is always difficult, but Matthews has earned a reputation as a hard worker who should only improve with more repetitions in the same offense.
In 2014, Matthews only played 779 snaps and ran 484 snaps in route, according to Pro Football Focus, but he managed to rack up 1.81 yard per route run--putting him right behind Alshon Jeffrey and Kelvin Benjamin.
The key to Matthews' progression could be where the Eagles decide to line him up. In 2014, Matthews ran 447-of-484, or 92.4 percent of his routes in the slot, according to Pro Football Focus. If the Eagles move Matthews to the outside on more snaps, he has a greater chance of making more big plays in 2015.
Last season, Nick Foles and Mark Sanchez combined for 96 deep passes (passes that were charted traveling at least 20 yards in the air). The Eagles led the NFL in deep passes. The Colts (88) and the Steelers (79) were next on the list in deep pass attempts. Matthews only saw 15 of the 96 deep shots while Jeremy Maclin saw 34 and Riley Cooper saw 21. Maclin is gone and Cooper could be benched after struggling on all routes in 2014, including the deep pass attempts.
If Matthews transitions to a hybrid role where he sees more snaps on the outside, big things could be coming for him in his second NFL season. Someone will emerge as the key receiving cog in Kelly's high-powered offense, and Matthews is the best bet as we head into OTAs.
(h/t CBS Philly)
Photo Credit: Jared Wickerham/Getty Images
---
---