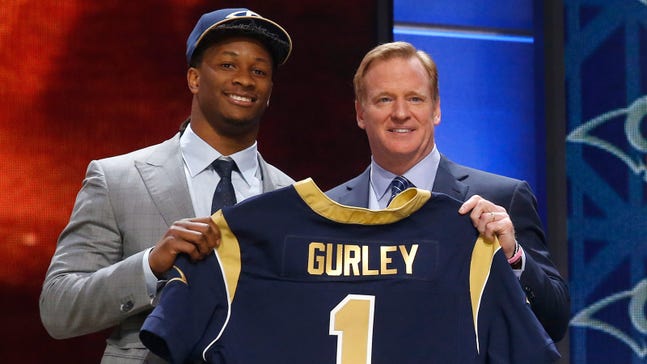 Joe Horn: Rookies are 'hugging the devil' by embracing Roger Goodell
Published
May. 27, 2015 2:48 p.m. ET

Joe Horn has no problem sounding off on Roger Goodell, just like many other players and former players. Apparently, he may cringe just a bit every time that he sees a rookie draft pick go up to hug the current NFL commissioner.
It started with a report by Larry Holder of NOLA.com, which comes from an interview with TheFootballGirl.com. Horn was asked what he thought about the state of the NFL. He prefaced his answer by asking, "Can I be honest?"
Then came Horn deciding that he had held his tongue long enough.
"I don't like what Roger Goodell is doing," Horn told TheFootballGirl.com. "He has so much power that he can almost shut people down. I just don't like him. And I don't like that on draft day these kids don't know that they're hugging the devil. I hate to see kids that are lost and then happy but they really don't know that the man they're hugging will rip their throat apart.
"If he has an opportunity to take money from them, or there's a situation where they're guilty before they go to court, he'll rip them apart. And there's nothing no one can do about it. If the owners are happy with Roger Goodell, the fans, the media, no one can take his job from him.
"I hate it."
That, my friends, is called a mic drop.
(h/t NOLA.com and TheFootballGirl.com)
Photo Credit: AP Photo/Charles Rex Arbogast
---
---